Thousands of book lovers, booksellers, and scholars will converge in Southern California for the 53rd California International Antiquarian Book Fair over the weekend of February 7-9, 2020. One of the nation's largest exhibitions and sales of rare books, the 2020 California Book Fair celebrates the 100th anniversary of Women's Suffrage with a special exhibit -- Votes for Women -- documenting women's effort to secure political equality. Materials will be on display from the special collection libraries of The Claremont Colleges; University of Southern California; University of California, Los Angeles; California State University; Dominguez Hills; and the Los Angeles Public Library.
Recognized as one of the world's pre-eminent exhibitions of antiquarian books, this eagerly anticipated annual fair gives visitors the opportunity to see, learn about, and purchase the finest in rare books, manuscripts, autographs, maps, fine prints, photographs, and more. Featuring more than 150 booksellers from the Antiquarian Booksellers' Association of America (ABAA) and International League of Antiquarian Booksellers (ILAB), the California Book Fair presents volumes from six centuries of printing, as well as original manuscripts that predate Gutenberg. Books at the Fair will cover every imaginable area, from the history of travel and exploration to early science and medicine to classic literature, modern first editions, as well as children's and illustrated books. Prices can range from just a few dollars to six figures.
As we look ahead to the important role women will play in the 2020 election, it is particularly relevant to shine a light on the long struggle for women to secure the right to vote," said Jennifer Johnson, Book Fair Committee Chair. "Through the writings of leaders of the movement such as Susan B. Anthony, graphics and imagery designed to advance the cause, and archival news coverage from the Los Angeles Times, the Votes for Women exhibit paints a fascinating portrait of this revolutionary crusade for social change. For those who want to go home with a piece of women's history, many of the exhibiting booksellers will also be showcasing items with significance to women's suffrage and the ongoing fight for equal rights.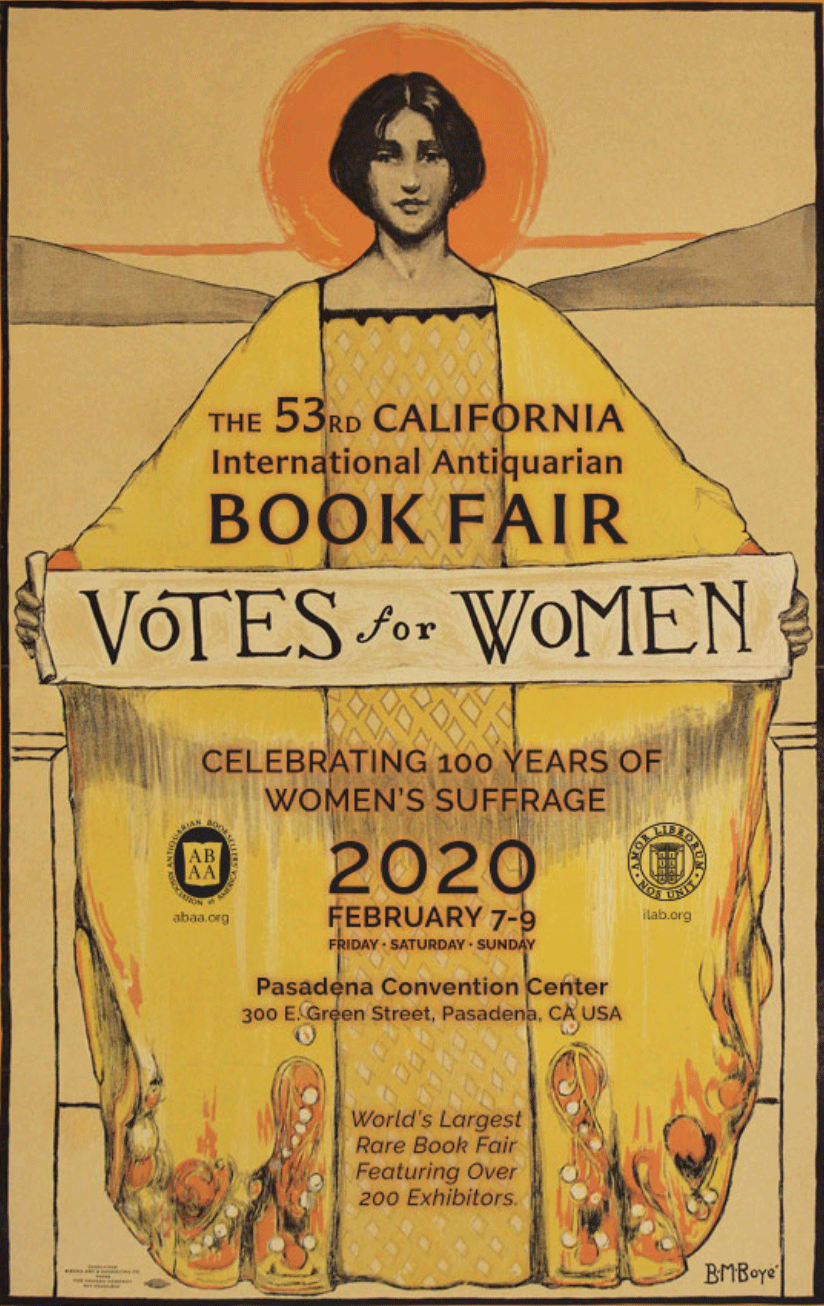 The artwork used in the promotion of the book fair (above) is reproduced from artist Bertha Boye's beautiful "Votes for Women" poster, created to draw attention to the California women's suffrage campaign. On October 10, 1911, California became the sixth state where women could vote equally with men, nine years before the 19th Amendment enfranchised women nationally.
Boye's artwork is probably the most popular poster produced during the American suffrage movement. Her design, featuring a draped western suffragist posed against the Golden Gate as the sun sets behind her, won first place in a contest sponsored by the College Equal Suffrage League in San Francisco. The image was later reproduced on cards, fliers, and publicity stamps.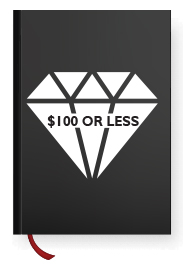 This weekend extravaganza of rare and beautiful books will also include a special tribute marking the 100th birthday of legendary author Ray Bradbury, a panel discussion related to the Votes for Women exhibit, and seminars on various aspects of book collecting. Discovery Day on Sunday lets attendees present three items to experts for free evaluation. Designed with the budding collector in mind, Book Fair Finds is a program in which dealers spotlight collectibles priced at $100 or less.
SEMINARS & LECTURES
Paid admission to the California Book Fair includes seminars appealing to both the dedicated collector and those new to the world of rare books. (Note: schedules are subject to change.)
Saturday, February 8
FIVE HUNDRED YEARS OF WOMEN'S WORK

1:00 pm: Women's Work. The phrase usually conjures up domestic duties or occupations largely associated with women—such as teaching, nursing, or housekeeping. The Lisa Unger Baskin Collection at Duke's Sallie Bingham Center for Women's History and Culture upends those associations. By bringing together materials from across the centuries, Baskin reveals what has been hidden—that Western women have long pursued a startling range of careers and vocations and that through their work they have supported themselves, their families, and the causes they believed in. Lisa Unger Baskin leads an illustrated talk about collecting this unique material, how crucial her relationship to the book trade was in the process, and the scholarship involved in the catalogue that introduced it to the public.

Presented by the Bibliographical Society of America and ABAA.
3:00 pm: Profiles in Suffrage: Depictions of Women and Their Struggle for Equality. Celebrating the 100th anniversary of 19th Amendment, this panel discussion will explore the people, the movements, and the literature that helped women win the vote and how women have been depicted in literature.

Our panel:
Discussion moderated by best-selling author and Pulitzer Prize-winning and Emmy-winning reporter Patt Morrison (Los Angeles Times, NPR).
Ellen Carol DuBois is a professor of history and gender studies, who retired in 2017 from the University of California, Los Angeles in 2017. She is the author numerous books on the subject of suffrage, including "Suffrage: Women's Long Battle for the Vote" (2020), which was recently published by Simon & Schuster.
Lisa See is the author of numerous best-selling books, including On Gold Mountain: The One Hundred Year Odyssey of My Chinese-American Family (1995), which was a national bestseller and a New York Times Notable Book. The book traces the journey of Lisa's great-grandfather, Fong See, who overcame obstacles at every step to become the 100-year-old godfather of Los Angeles's Chinatown and the patriarch of a sprawling family.
Bookseller Miranda Garno Nesler earned her Ph.D. in literature and gender studies from Vanderbilt University and is the director of women's history and the liaison for Whitmore Rare Books in Pasadena.
Sunday, February 9
SOMETHING WONDERFUL THIS WAY CAME: 100 YEARS OF RAY BRADBURY
12:00 pm: Honoring the centennial of the celebrated science fiction writer Ray Bradbury's birth, our panel of experts explores his mastery of the subject and enduring legacy. This event is moderated by David Kipen, former literature director of the National Endowment for the Arts. Born and raised in Los Angeles, Kipen opened the Boyle Heights lending library Libros Schmibros in 2010, contributed to multiple volumes of California cultural history and teaches in the UCLA writing program.

Panelists:
Steven Paul Leiva, author and film producer, and long-time friend of Ray Bradbury, is the author of Searching For Ray Bradbury (2013). Levia was the lead organizer of Ray Bradbury Week (2010), and involved in the naming of Ray Bradbury Square in Los Angeles, as well as the dedication of the Ray Bradbury Room at Palms-Rancho Park Library.
John F. Szabo, City Librarian of the Los Angeles Public Library and Chair of the OCLC Board of Trustees, hosted the naming of Ray Bradbury Square in Los Angeles.
Tim Powers, bestselling author of science fiction and fantasy (On Stranger Tides, Last Call, Anubis Gates), is the two-time winner of both the World Fantasy and Philip K. Dick awards. His novel, On Stranger Tides, was adapted into the Disney Pirates of the Caribbean film of the same name (2011).
Joe Mantegna (invited), actor currently starring in the television series Criminal Minds, is longtime friend of Ray Bradbury. He often gives praise to Bradbury for starting his career after he starred in the successful play "The Wonderful Ice Cream Suit" (Bradbury's Magic Suit) in 1974.
Obadiah Baird, owner of The Book Bin in Salem Oregon, is a specialist in rare and collectible science fiction, fantasy and horror. He also edits and publishes The Audient Void: A Journal of Weird Fiction and Dark Fantasy.
DISCOVERY DAY
1:30 – 3:00 pm: Discovery Day is open to the public, free with paid admission. Exhibitors will offer interested individuals an opportunity to receive free appraisals on up to three books. Appraisals are available on a first come, first served basis within the scheduled times.
BOOK FAIR HOURS
Friday, February 7, 2020 -- 3pm to 8pm
Saturday, February 8, 2020 -- 11am to 7pm
Sunday, February 9, 2020 -- 11am to 5pm
The 53rd California Book Fair takes place at the Pasadena Convention Center at 300 East Green Street, Pasadena, CA. Tickets on Friday, February 7 are $25 for three-day admission. Proceeds from Friday tickets benefit Huntington Library, Art Collections, and Botanical Gardens. Tickets on Saturday or Sunday are $15 and permit return entry to fair. Book Fair tickets also offer a $5 discount into the Huntington Library during February 2020.
For more information, visit www.cabookfair.com...
---
Items of interest: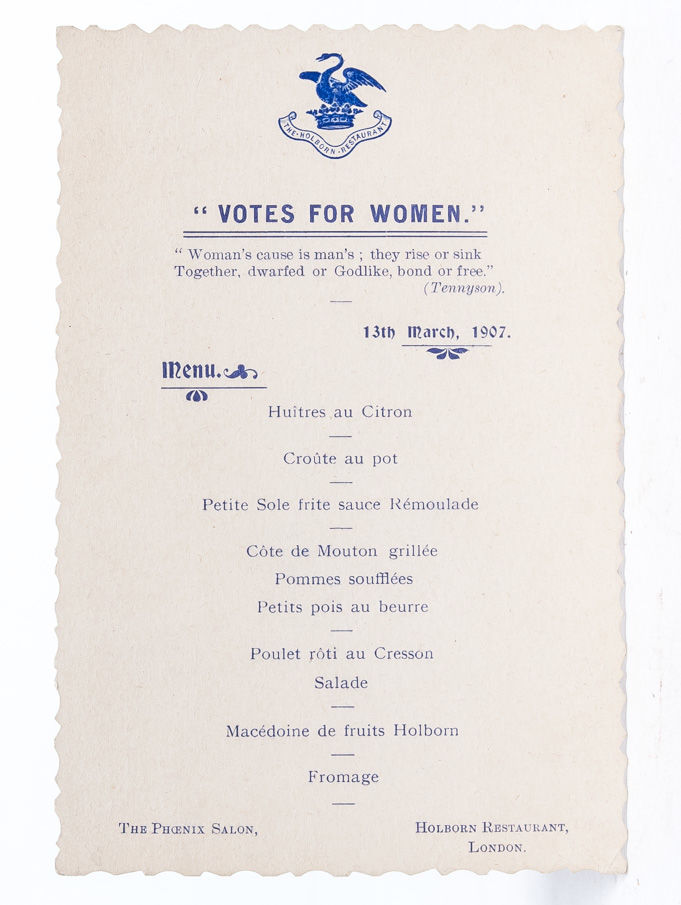 1907. First edition. Fine. Menu card with deckled edges, on Holborn Restaurant stationery measuring 101 x 165mm. Printed on recto in blue with a menu for a meal in celebration of the release from prison of several key suffrage activists.
The tradition of hosting a meal to celebrate the release of suffrage prisoners from Holloway Prison seems to have begun a year earlier, in December 1906, when the non-militant National Union of Woman Suffrage Societies suffragists and the militant Women's Social and Political Union suffragettes came together for a banquet at the Savoy Hotel. Planned by Millicent Garrett Fawcett of the NUWSS to commemorate the work of Emmeline Pankhurst and women of the WSPU, it was the women's opportunity to mutually agree that "although the work of quiet persuasion and argument created a firm basis...the suffrage campaign had received a great impetus from the courage and self-sacrifice of the suffragette prisoners who had touched the imagination of the country" (Murphy). By 1907, the WSPU had adopted the practice more widely, hosting lunches and dinners at the Criterion, the Gardenia, and the Holborn to celebrate prisoners' release and reward them with a good meal after what was frequently a harrowing period of starvation or force-feeding in Holloway.
The present meal, hosted at the Holborn Restaurant's Phoenix Salon, honored "Patricia Woodlock, Olivia Smith, and Mr. Croft" with a private, seven-course lunch (Crawford). Woodlock had already made great contributions to the cause, helping to found the Liverpool WSPU and becoming a regular demonstrator at protests; she would go on to become one of the group's most influential organizers (Mapping Woman Suffrage). Olivia Smith by this point was a fixture at protests, and a year later she would famously chain herself to the railings of the Prime Minister's home at 10 Downing Street. Mr. Croft, a dedicated male ally, served as a "suffrage motion mover," urging in committees and conferences for votes to be called on behalf of women (Trouve-Finding). In celebration of these three, the menu is headed with a quote from Tennyson, a favorite of the movement: "Woman's cause is man's; they rise or sink together, dwarfed or Godlike, bond or free." Roll of Honour of Suffragette Prisoners, 1905-1914 (London School of Economics). LSE History. Woman and Her Sphere. Fine.
Offered by Whitmore Rare Books.
AUTOGRAPH NOTE, SIGNED, BY SUSAN B. ANTHONY, WRITING ABOUT THE "CROWNING RIGHT OF CITIZENSHIP - THE RIGHT TO VOTE"
by Susan B. Anthony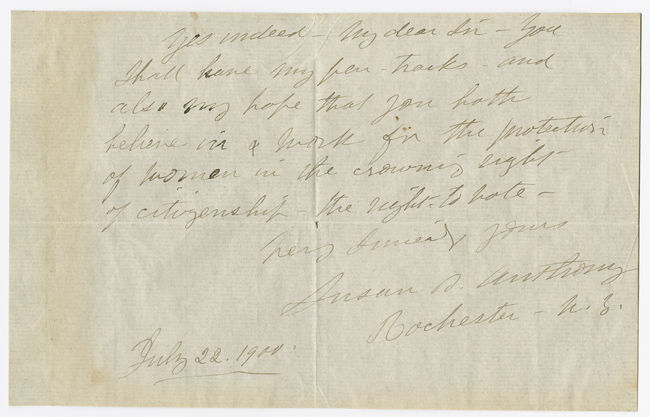 Rochester, N.Y., 1900. [1]p. Likely clipped from a larger sheet of paper for display in an album, pasted to card stock along top and bottom horizontal edges, minor toning. Very good. A brief but punchy autograph note, signed by the legendary women's suffrage leader and social reformer. Susan B. Anthony first came to prominence in the early 1850s as she grew increasingly more involved with the women's suffrage movement. Her defining act in her adopted hometown of Rochester came in 1872 when she was arrested after registering for and then casting a vote in the presidential election. The resulting trial saw Anthony convicted of illegally voting, and she was ordered to pay a $100 fine for her "crime." She never paid the fine, nor was she penalized further for refusing to do so. Six years later, Anthony and her close friend and fellow activist Elizabeth Cady Stanton convinced a California Senator, Aaron Sargent, to introduce a constitutional amendment granting women the right to vote. The amendment, which came to be known as the Susan B. Anthony Amendment would not be ratified until 1920 as the Nineteenth Amendment to the United States Constitution. Here, at eighty years of age, Anthony responds to an unknown male recipient: "Yes indeed - my Dear Sir - you shall have my pen-tracks - and also my hope that you both believe in & work for the protection of women in the crowning right of citizenship - the right to vote. Very sincerely yours Susan B. Anthony Rochester, N.Y. July 22, 1900." Sadly, Anthony would not live to exercise her franchise right. She passed away in 1906 after battling heart failure and pneumonia - and a lifetime of injustice.
Offered by William Reese Company.
by Julia Ward Howe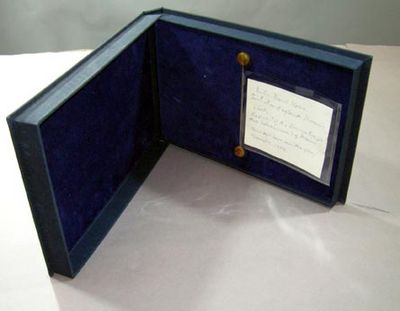 [NP], 1904. Card size: 4-3/8 x 4-5/8". The quote reads "Julia Ward Howe / Pres' New England Women's / Club / Ex-pres' of the Association for / the Advancement of Women. / Mine eyes have seen the glory" and is all in Howe's hand. On the verso is the autograph of "Charles W. Eliot / Harvard University / 1904". Julia Ward Howe has summed up her life's work citing contributions to women's rights first. Housed in custom-made blue linen clamshell box, lined with blue velvet, indent for quotation housed in plastic sleeve that can be flipped to view either side without removing, although plastic is open at top edge for removal as well, red morocco label on spine stamped in gold gilt, fine. Julia Ward Howe (1819-1910) was catapulted to instant fame in February 1862 when the Atlantic Monthly published the "Battle Hymn of the Republic." Mrs. Howe's activities increased after 1868 in the burgeoning postwar woman's movement. She served as President of the Massachusetts Woman Suffrage Association, the New England Woman Suffrage Association and was a leader in the national organization was a suffrage leader and one of the founders of the New England Women's Club and the New England Woman Suffrage Association. She founded the weekly "Woman's Journal" in 1870. She was the first woman elected to the American Academy of Arts and Letters (1908), a precedent not repeated until 1930. In this autograph note written at age 85, just six years before her death, Mrs. Howe seems to be summing up her life. What is particularly fascinating is the order - one assumes listed in importance - of her not inconsiderable achievements. She first lists "President New England Women's Club (which she founded in 1868, assumed presidency in 1871, holding this office almost continuously until her death). The second achievement she lists is "Ex-pres of the Association for the Advancement of Women" (which she helped found in 1873 with the pioneer New York woman's club, Sorosis). The last achievement Mrs. Howe lists is "Mine eyes have seen the glory-" which is, of course, the opening line of "Battle Hymn of the Republic." It is interesting that this is in "third place" in her catalogue of accomplishments. Charles W. Eliot (1834-1926) was the President of Harvard and the most influential leader in the educational activities of the country during his tenure there (1869-1909). We can find no mention of a meeting between Howe and Eliot in 1904. Her biographers note that Howe almost never refused a request for a verse or sentiment and in 1904, Charles Eliot was fund-raising for teacher's salaries at Harvard. In any event, this is a wonderful piece, confirming that Julia Ward Howe, author of one of America's most famous poems, felt her real contributions were to women's rights. Richards and Elliott, Julia Ward Howe, V. II, pp. 355-356. DAB, pp. 71-78. NAW pp.225-229.
Offered by Priscilla Juvelis.
(Original Cartoon for Life Magazine): "Votes For Women" (1913)
by Albert D. Blashfield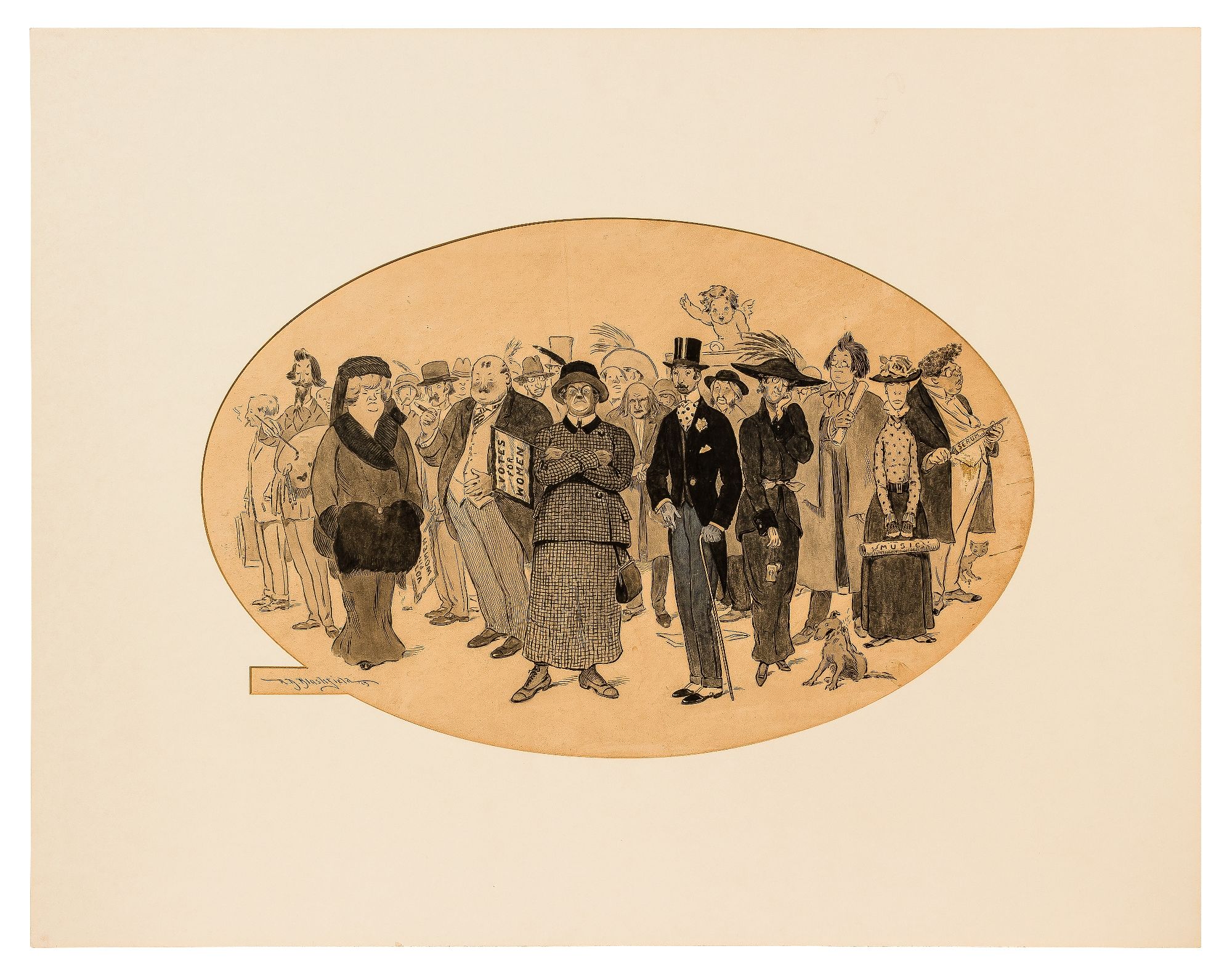 [New York], 1913. Near Fine. Original pen and ink and watercolor drawing on Bainbridge Illustration Board. Image measuring 22" x 14" in a modern oval-cut mat frame measuring 26" x 20.5". Modest toning and a few small stains, near fine. Signed and dated by the artist. Born in New York City in 1860, Albert Blashfield, "whose popularity is deservedly great," studied at the Art Students League in New York, and joined the staff of *Life* magazine in the early 1890's. His signature contribution to the magazine is the *Life* cupid (depicted here above the man in a top hat). A satirical cartoon lampooning the Women's Suffrage movement. It was published in the special "Husbandette's Number" of *Life* (February 20, 1913). His work also appeared in *Puck* and *Harper's Bazaar*. A scarce original satirical cartoon. Curtis. "Humorous Artists of America," *Strand Magazine*, 1902.
Offered by Between the Covers Rare Books.
by Ray Bradbury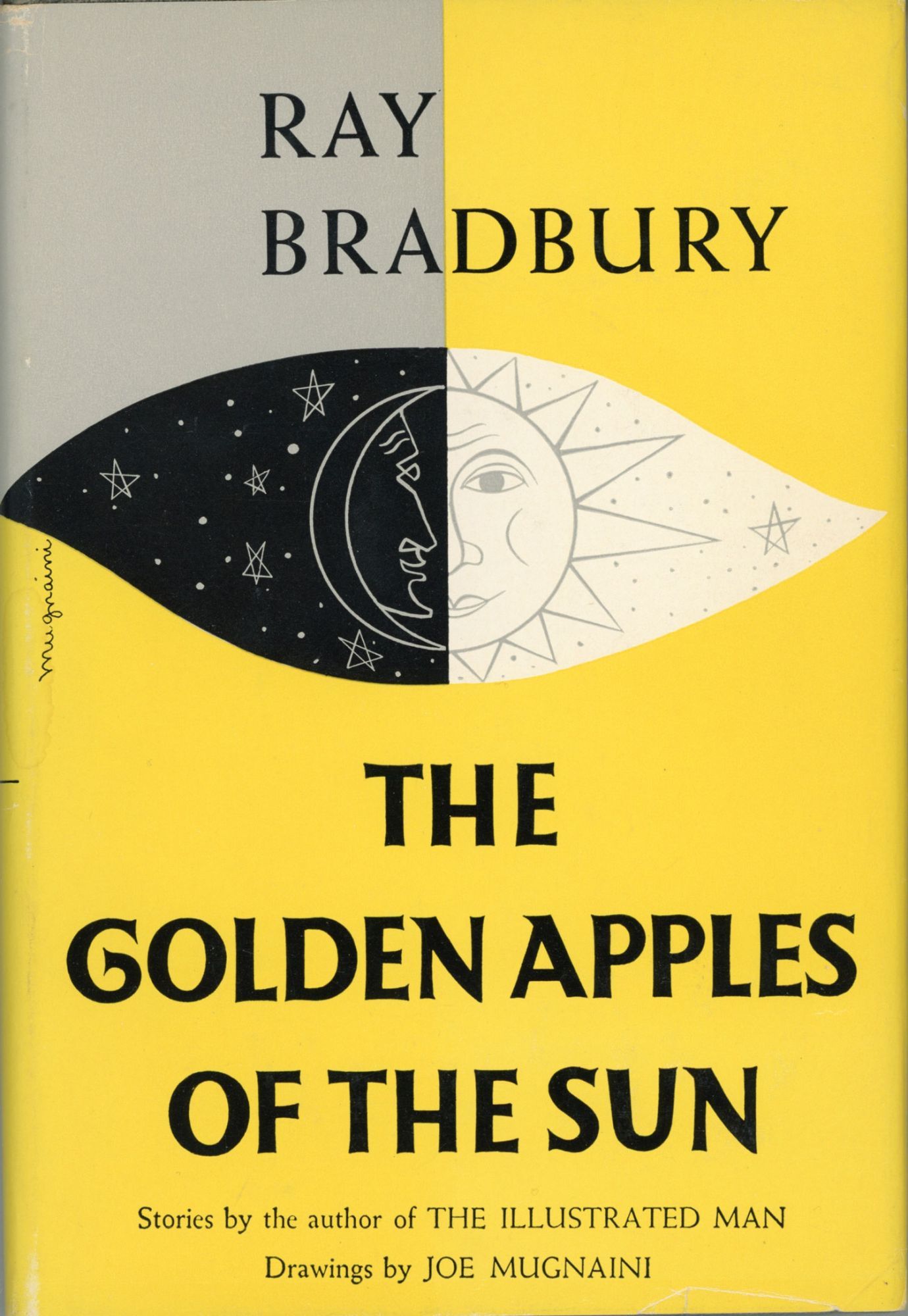 Garden City: Doubleday & Company, Inc., 1953.. Octavo, boards. First edition. Brief signed inscription by Bradbury on the half title page. Collects twenty-two stories including "The Fog Horn," "The Pedestrian," and "A Sound of Thunder." Anatomy of Wonder (1987) 3-62. Bleiler, The Guide to Supernatural Fiction 258. Sargent, British and American Utopian Literature, 1516-1985, p. 242. A fine copy in nearly fine dust jacket with some internal tanning and a needless and virtually unnoticeable internal tape mend at upper spine end. A lovely example of the jacket. A major collection of 1950s short fiction.
Offered by L.W. Currey.