It's common knowledge that Thomas Jefferson penned the Declaration of Independence, but did you realize he was also the first American to record a recipe for ice cream? Jefferson's recipe was for vanilla ice cream and he, sadly, did not name it Declaration of Deliciousness (which would be a perfect name if Ben & Jerry's decided to make a tribute flavor!).
Precursors to ice cream, often ice mixed with fruits or juices, appeared in ancient Greek, Chinese, and Persian cultures. It's believed that the first milk based icy treat and the earliest device to make a 'ice cream' appeared in China during the Tang Dynasty (618-907 AD). These frozen iced-based drinks gained popularity in Europe, and in the 17th century it became popular to turn these drinks into frozen desserts. Italians added sugar to the concoction and sorbet (then called sorbetto) was born. A Neapolitan, Antonio Latino, is credited with creating the first milk-based sorbet, the earliest form of our modern day ice cream.
The French also were experimenting with their own form of ice cream called fromage, a misleading designation since there recipe did not contain cheese, and by the 18th century it had become a popular treat. Here's where Jefferson enters the picture. Ice cream is thought to have come to America with settlers in the early 18th century, so Jefferson may have encountered the dessert in the colonies, but there is no doubt that he enjoyed it during the five years he spent in France (1784-1789). Four ice molds accompanied him back to the United States and ice cream became a staple in his kitchens for the rest of Jefferson's life.
Jefferson was the first American to write down a recipe for ice cream, but the first published instructions appeared in The New Art of Cookery by Richard Briggs (Philadelphia, 1792). Jefferson's recipe is undated, but likely was recorded during his time in France. Below is a full transcription of Jefferson's recipe as well as a modern adaptation, courtesy of Marie Kimball's Thomas Jefferson's Cook Book (University Press of Virginia, 1976).
Ice Cream.
2. bottles of good cream.
6. yolks of eggs.
1/2 lb. sugar
mix the yolks & sugar
put the cream on a fire in a casserole, first putting in a stick of Vanilla.
when near boiling take it off & pour it gently into the mixture of eggs & sugar.
stir it well.
put it on the fire again stirring it thoroughly with a spoon to prevent it's sticking to the casserole.
when near boiling take it off and strain it thro' a towel.
put it in the Sabottiere
then set it in ice an hour before it is to be served. put into the ice a handful of salt.
put salt on the coverlid of the Sabotiere & cover the whole with ice.
leave it still half a quarter of an hour.
then turn the Sabottiere in the ice 10 minutes
open it to loosen with a spatula the ice from the inner sides of the Sabotiere.
shut it & replace it in the ice
open it from time to time to detach the ice from the sides
when well taken (prise) stir it well with the Spatula.
put it in moulds, justling it well down on the knee.
then put the mould into the same bucket of ice.
leave it there to the moment of serving it.
to withdraw it, immerse the mould in warm water, turning it well till it will come out & turn it into a plate.

Modern Version (Adapted by Marie Kimball)
Beat the yolks of 6 eggs until thick and lemon colored. Add, gradually, 1 cup of sugar and a pinch of salt. Bring to a boil 1 quart of cream and pour slowly on the egg mixture. Put in top of double boiler and when it thickens, remove and strain through a fine sieve into a bowl. When cool add 2 teaspoonfuls of vanilla. Freeze, as usual, with one part of salt to three parts of ice. Place in a mould, pack in ice and salt for several hours. For electric refrigerators, follow usual direction, but stir frequently.
Bon Appétit!
---
THE NEW ART OF COOKERY, ACCORDING TO THE PRESENT PRACTICE; BEING A COMPLETE GUIDE TO ALL HOUSEKEEPERS, ON A PLAN ENTIRELY NEW; CONSISTING OF THIRTY-EIGHT CHAPTERS... BY RICHARD BRIGGS, MANY YEARS COOK AT THE GLOBE TAVERN FLEET-STREET, THE WHITE HART TAVERN, HOLBORN, AND NOW AT THE TEMPLE COFFEE-HOUSE, LONDON
by BRIGGS, RICHARD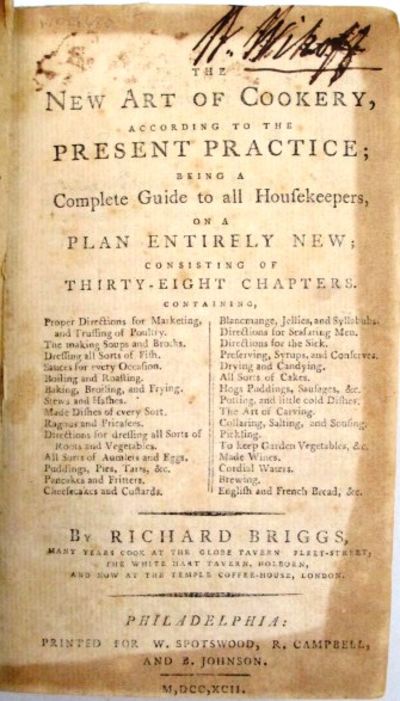 Philadelphia: Printed for W. Spotswood, R. Campbell, and B. Johnson, 1792. xii, xi-xvi, 557, [1- advert. for Spotswood's books] pp. Front free endpaper absent; light to moderate foxing; one gathering bound upside down; about five leaves trimmed too closely, occasionally affecting a word or letter. Bound in attractive contemporary calf, with gilt-lettered spine title on red morocco, gilt spine bands; and the bookplate of the noted Americanist Michael Zinman. Good+. This is the first American edition of one of the earliest cookbooks printed in America. Reprinted in Philadelphia in 1798, it originally issued from London in 1788. Briggs's prefatory remarks are dated 1788 and addressed to his readers "in hopes that they will find the Directions and Receipts more intelligible than in most Books of the Kind." The chapters include material on wine and wine making, cordials, brewing, "proper rules to be observed in marketing," "rules for trussing," sauces, baking, broiling, and everything else.FIRST AMERICAN EDITION. Evans 24145. Lowenstein [3d ed.] 8. (Offered by David. M. Lesser, Fine Antiquarian Books)