Bibliophiles everywhere are invited to join the hunt for rare books and all manner of fine works on paper March 4-6 during the Antiquarian Booksellers' Association of America's California Virtual Book Fair. Exhibitors from 14 countries will present a carefully curated collection of more than 4000 books, maps, manuscripts, photographs, and rare historical artifacts.
"The ABAA's California International Antiquarian Book Fair has always been the most eclectic and inclusive, and we expect this virtual fair to be no different. More than 150 exhibitors from 14 nations will be offering a diverse array of rare books and fine works on paper. This one's not to be missed," said Brad Johnson, ABAA President.
Exhibitors will offer a rich selection of manuscripts, early American and European literature, modern first editions, children's books, maps and autographs, as well as antiquarian books on history, science, law, architecture, cooking, wine, and a wide range of other topics. Visitors will also be able to interact with book, map, autograph, and ephemera sellers in real time.
"The virtual book fairs have been an important way for booksellers and collectors to stay connected during this past year of closures and canceled in-person events, and they have produced a number of unexpected benefits," said Sheryl Jaeger, ABAA Vice President and Chair, Virtual Book Fair Committee. "The obvious—you don't have to leave home, fly, or pack your wares. The virtual fairs also allow those prohibited by distance and/or cost from traveling to faraway places to exhibit at a fair or to participate. Customers can search the entire fair, quickly by product type, category, price, or keyword for those with special interests, or, if preferred, take a leisurely scroll through the aisles to visit exhibitors both new and familiar."
A variety of talks and virtual tours will also be hosted during the three-days of the virtual fair, including a special session that will feature the winner of the California Young Book Collector's Prize, now in its third year. Other guests include former California Poet Laureate Dana Gioia and Peter R. Koch, fine press printer and co-founder of Codex Foundation, which promotes the book as a work of art. In conjunction with the Book Club of California, there will be a special talk about the influence of Hugo and Nebula award-winning writer Octavia Butler. Also, "Ranger" Doug Leen will discuss his mission to track down and catalogue every unique poster made for the National Park Service by Works Progress Administration (WPA) artists in the 1930s and 1940s.
The California Virtual Book Fair opens at 9am PST on March 4 and the "doors" remain open continuously, 24 hours, until the event's closing March 6 at 8pm PST. Admission is free.
For more information, visit abaa.org/vbf.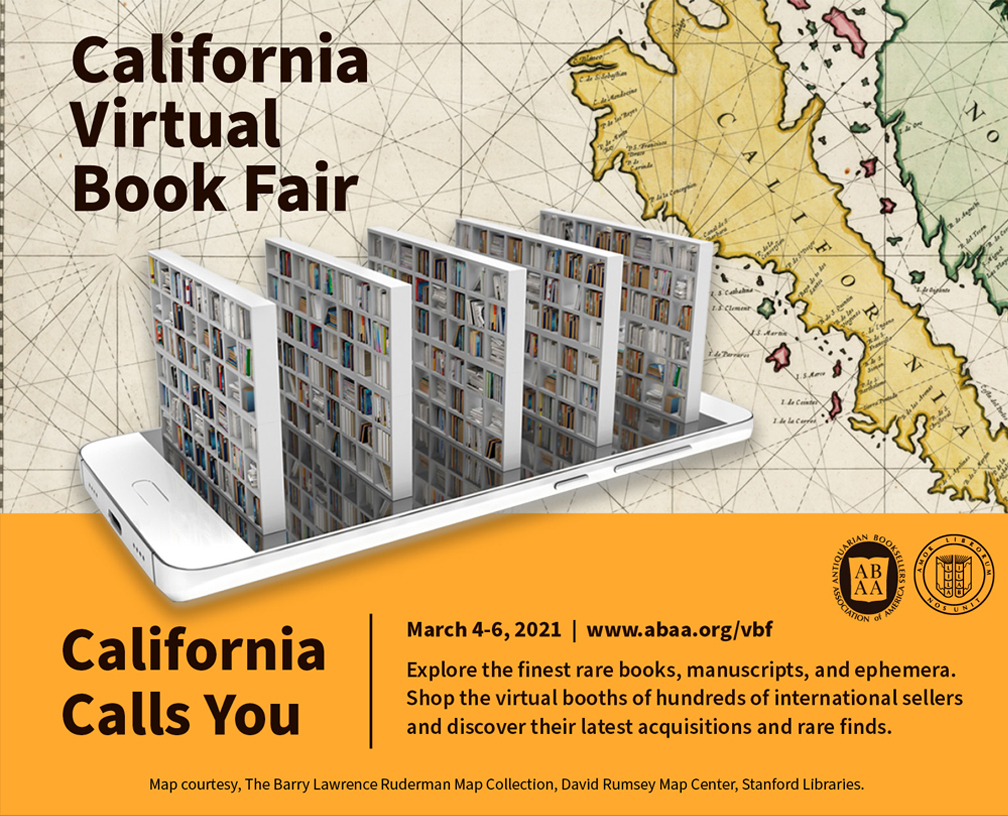 ---
Founded in 1949, the ABAA is the oldest antiquarian booksellers trade association in the United States and upholds the highest standards of ethics and professionalism. The membership includes 450 sellers of books, prints, documents, maps, and ephemera across the U.S.