The pinnacle of rare book fairs in the US is the annual New York Antiquarian Book Fair, which takes place from April 7-10 at the Park Avenue Armory.
Collectors can browse the booths of over 200 rare book dealers from around the world and all across the United States, offering a vast selection of rare books, maps, manuscripts, illuminated manuscripts, and ephemera.
This book fair is officially sponsored by the Antiquarian Booksellers' Association of America and our parent organization the International League of Antiquarian Booksellers, which means that collectors can be confident in the authenticity of the items available for purchase. (Scroll down for a few examples of the items that will be available this year.)
Hours
Preview:
Thursday, April 7, 5-9pm
Fair:
Friday, April 8, noon-8pm
Saturday, April 9, noon-7pm
Sunday, April 10, noon-5pm
Discovery Day
Sunday, April 10, 1pm-3pm
Location
Park Avenue Armory
643 Park Avenue,
New York City
Tickets
Tickets are available on the door or through Eventbrite…
Preview Pass: $50 (includes one daily re-admission)
Daily Admission: $25
Students: $10
Run of show: $40
More information: http://www.nyantiquarianbookfair.com/
---
A few of the items ABAA members will be exhibiting at the New York Antiquarian Book Fair...
An Astounding Run of all the Holmes and Watson Stories in the Strand Magazines (London and NY, 1891–1927).
75 vols. 1st editions. The 1st appearances anywhere, in the original monthly parts, of the Adventures, Memoirs, Hound (NY and London), Return, Valley, Last Bow, and Casebook, being all 56 Holmes short stories that Doyle ever wrote, and the 2 novels that were published in these magazines (only A Study in Scarlet and The Sign of Four were not published in The Strand). (Offered by Biblioctopus)
---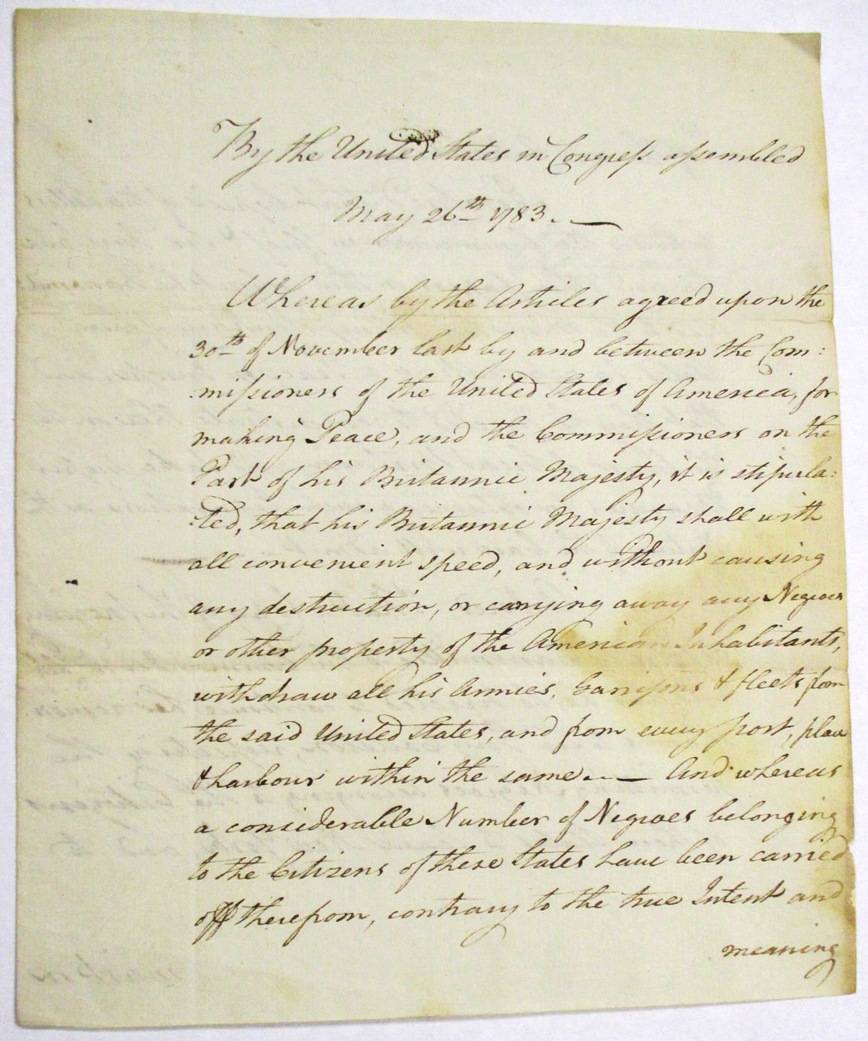 CONTEMPORARY MANUSCRIPT COPY OF THE CONTINENTAL CONGRESS'S RESOLUTION, INTRODUCED BY ALEXANDER HAMILTON, PROTESTING BRITAIN'S
"CARRYING AWAY" A "CONSIDERABLE NUMBER OF NEGROES BELONGING TO THE CITIZENS OF THESE STATES," MAY 26, 1783.
Philadelphia: May 26, 1783. Folio leaf folded to [4] pp, each page 7-1/4" x 8 3/4". Several light but large spots, not affecting legibility, else Very Good. Docketed on page [4]: "ACT OF CONGRESS- MAY 26TH 1783." The Resolution, entirely in manuscript, is signed in the same hand, 'Chas. Thomson, Secy.' Probably not written and signed by Thomson, but by one of his assistants; a reasonable candidate is George Bond, who was Deputy Secretary until October 1783. Samples of his handwriting closely match this document. (Offered by David M. Lesser, Fine Antiquarian Books)

---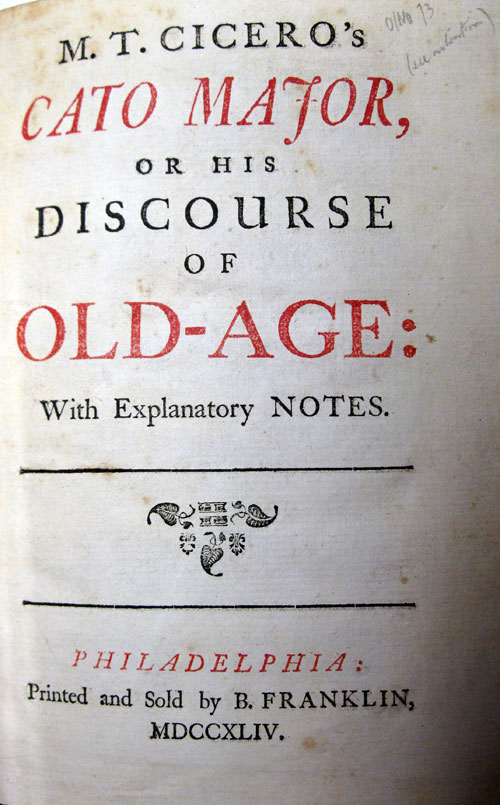 Marcus Tullius Cicero, Cato Major, or His Discourse of Old-Age
(Philadelphia: Printed by Benjamin Franklin, 1744). The most famous, and most beautiful, book to come from Benjamin Franklin's printing press. A handsome copy in the original calfskin binding. (Offered by Joseph J. Felcone, Inc.)
---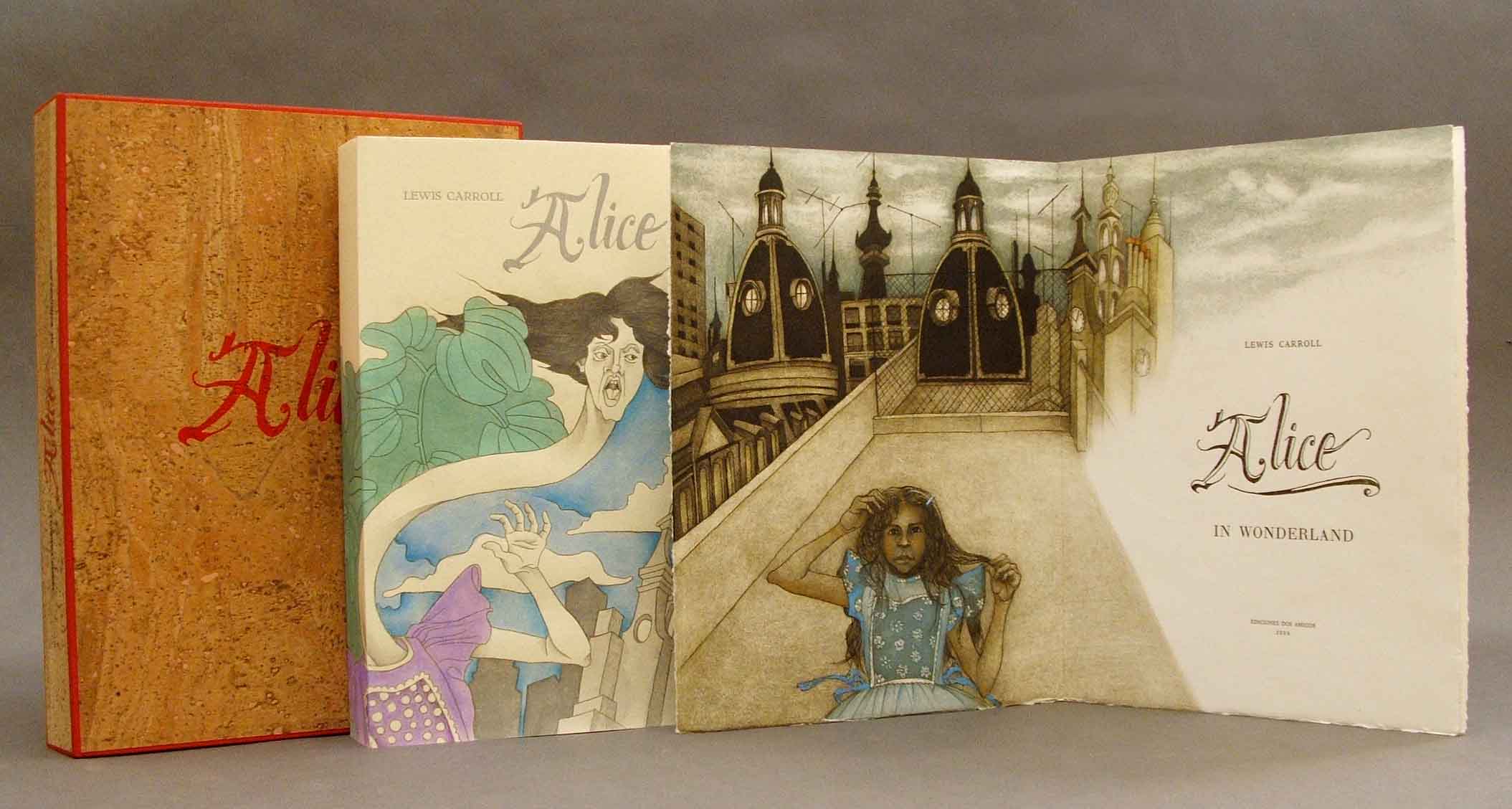 Ediciones Dos Amigos edition (long out of print) of Lewis Carroll's ALICE IN WONDERLAND with engravings by Alicia Scavino, from an edition of 25 copies. (Offered by Priscilla Juvelis, Inc.)
---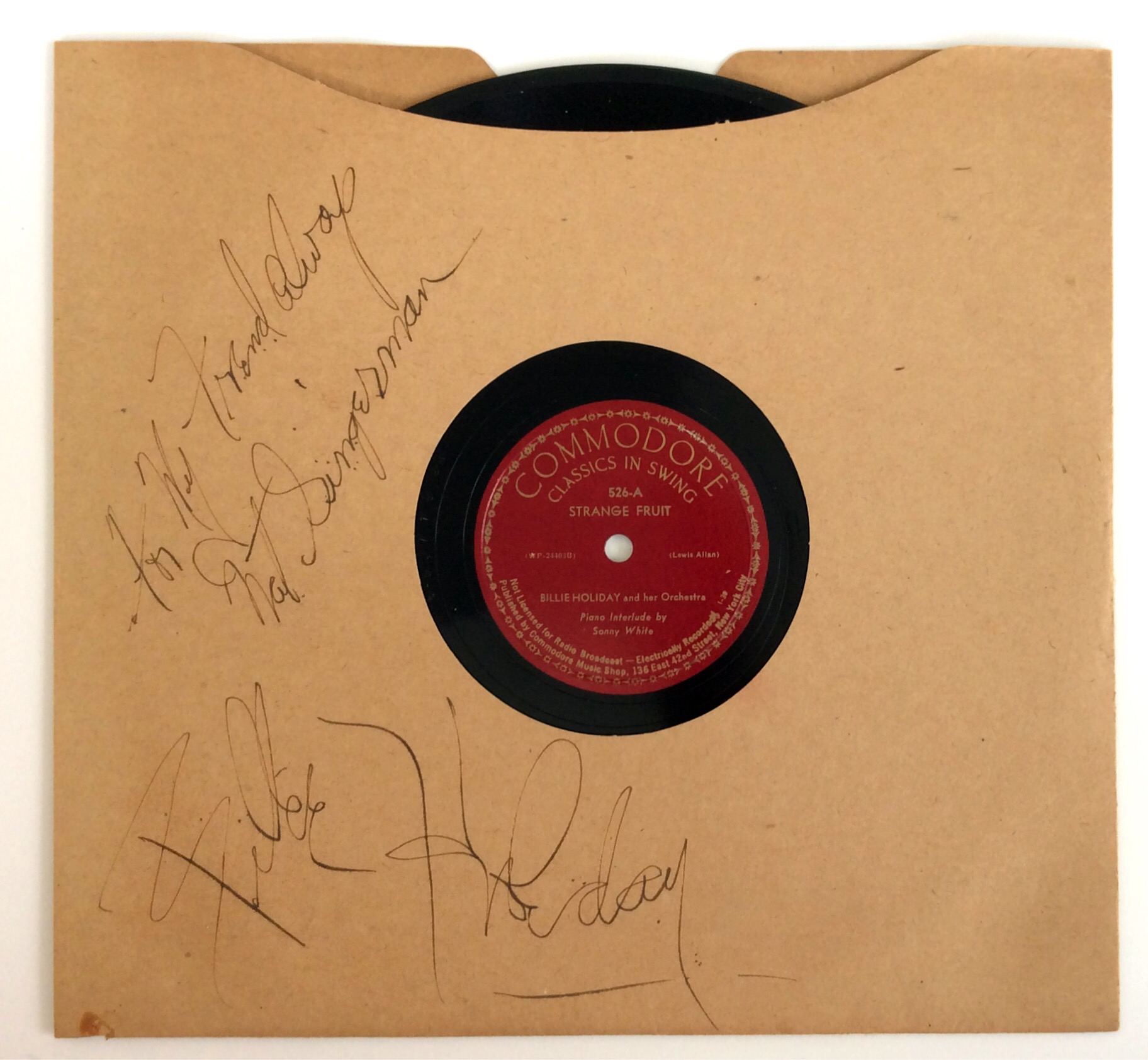 Holiday, Billie. Strange Fruit Piano Interlude by Sonny White. New York: Commodore Classics in Swing, (1939). First pressing. 10-inch 78 RPM with printed maroon labels, housed in plain paper sleeve. Record is clean and unblemished.
Original first pressing of Holiday's most famous recording; the paper sleeve has been boldly inscribed and signed by Holiday for a noted Jazz photographer and record collector, rare thus. "Strange Fruit" was written by the leftist activist Abel Meeropol -- identified on the label pseudonymously as Lewis Allan -- and stirred immediate controversy and passion when Holiday first began singing it at New York's Cafe Society in 1939. A powerful, mournful plea against lynching, it was miles and years ahead of the protest songs of the Civil Rights era. Holiday's label, Columbia Records, would not record it for fear of alienating southern record-buyers, and so the singer turned to Milt Gabler, proprietor of the respected left-wing record store and small recording label, Commodore. The recording was laid down on April 20, 1939, just a few months after she had introduced it into her repertoire. It quickly became a huge seller (both on its own merits, as well as the popularity of the record's B-side, "Fine and Mellow"), selling, according to one of the musicians on the date, 10,000 copies in its first week.With its brutally stirring lyrics, and its haunting, dirge-like orchestration, introduced by Sonny White's elegiac piano solo, "Strange Fruit" had a profound impact on emotional and social levels, with an influence that reverberated through subsequent decades. Holiday would die in 1959 at the age of 44, and her signature, while not exactly rare, is uncommon and highly sought after. Most examples are found on publicity photos, and occasionally on documents and letters. Such a bold signature on this, her most important record, is especially appealing. (Offered by Locus Solus Rare Books)
---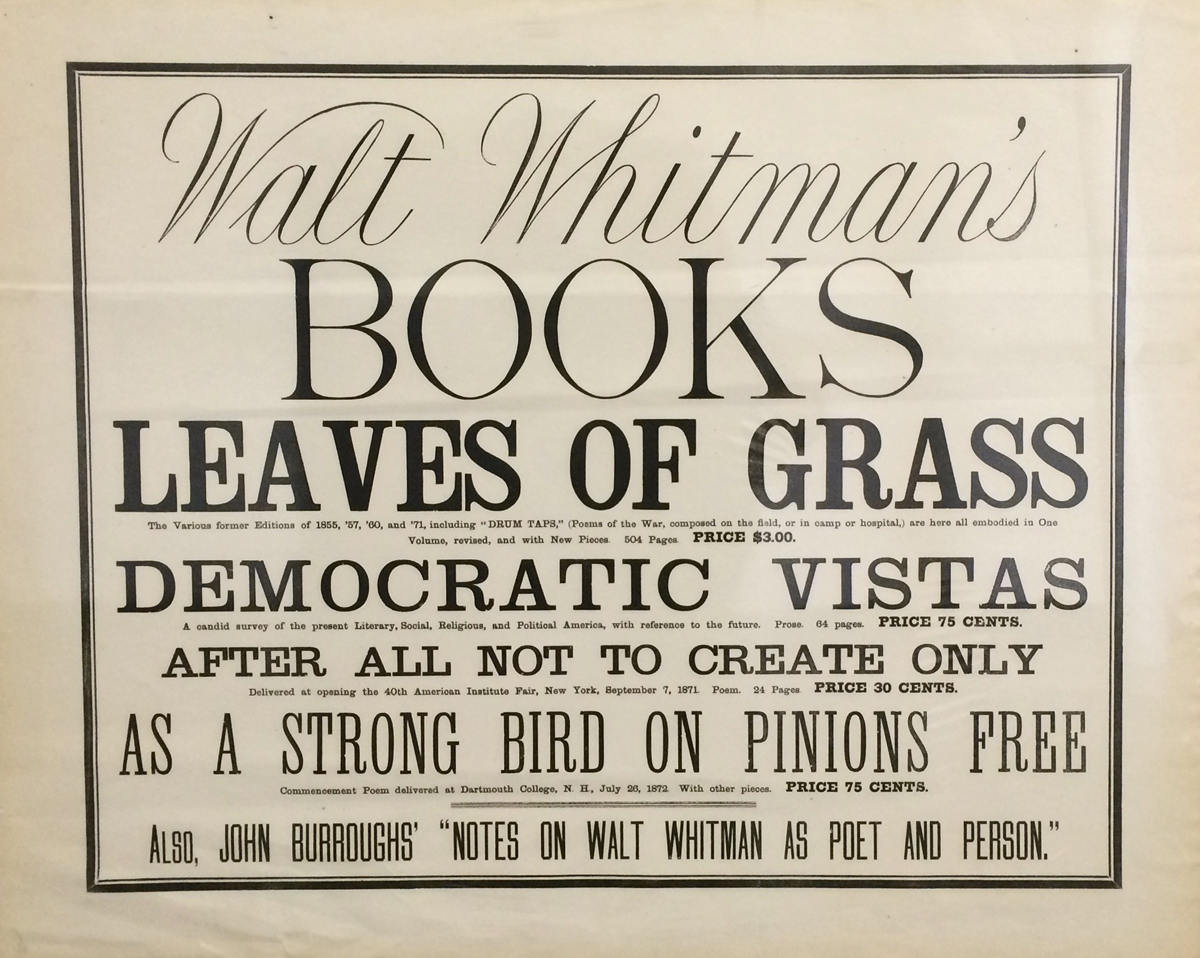 Whitman, Walt. Walt Whitman's Books (poster).
Washington, D.C.: circa 1872. Promotional poster, measuring 29.5 by 24 inches, bordered in black and printed in various metal and wooden types, headed by Walt Whitman's oversized "signature." Lightest toning to edges.
Spectacular oversized advertising poster designed by Walt Whitman for distribution to bookstores, an artifact reflecting both his printing background and his promotional energy. The primary headlines read: "Walt Whitman's / BOOKS / LEAVES OF GRASS / DEMOCRATIC VISTAS / AFTER ALL NOT TO CREATE ONLY / AS A STRONG BIRD ON PINIONS FREE / ALSO, JOHN BURROUGHS' 'NOTES ON WALT WHITMAN AS POET AND PERSON.'" Detailed descriptions and prices are given in smaller type. This example was part of the cache of "perfect" unused copies discovered in 1954, as described by William White in "A Walt Whitman Poster" (The American Book Collector, X:3, November 1959). A fine copy of an unlikely survival. (Offered by Honey & Wax Booksellers)
---
PLATINA, Bartolomeo. De la honesta uoluptate: & ualitudine.
Colophon: Venice: [Bernardinus Benalius], 1494. 8vo. One leaf of text decorated by an illuminated initial in gold with white vines on a blue, green, and red ground; at the bottom of the same leaf is the illuminated coat of arms of the Manolesso family of Venice in blue, red, and white surrounded by a green wreath and additional decoration in red, green, blue, and gilt; initials rubricated in red and blue throughout. [114] pp. Eighteenth-century boards, title in manuscript on spine, two small holes restored in the margin of leaf i4, edges stained blue. (Offered by Ben Kinmont, Bookseller)