When you pick up a book to read, do you also pick up a pencil, ready to mark up the margins with your thoughts and ideas? If so, your written additions are part of a body of writings called marginalia.
For many readers, scribbling on the pages of books is a beloved, recreational practice. For others, it's more of a necessity. Whether they are humorous jots and tittles, lessons learned from the story, or more serious notes of textual analysis, marginalia are simply fascinating.
---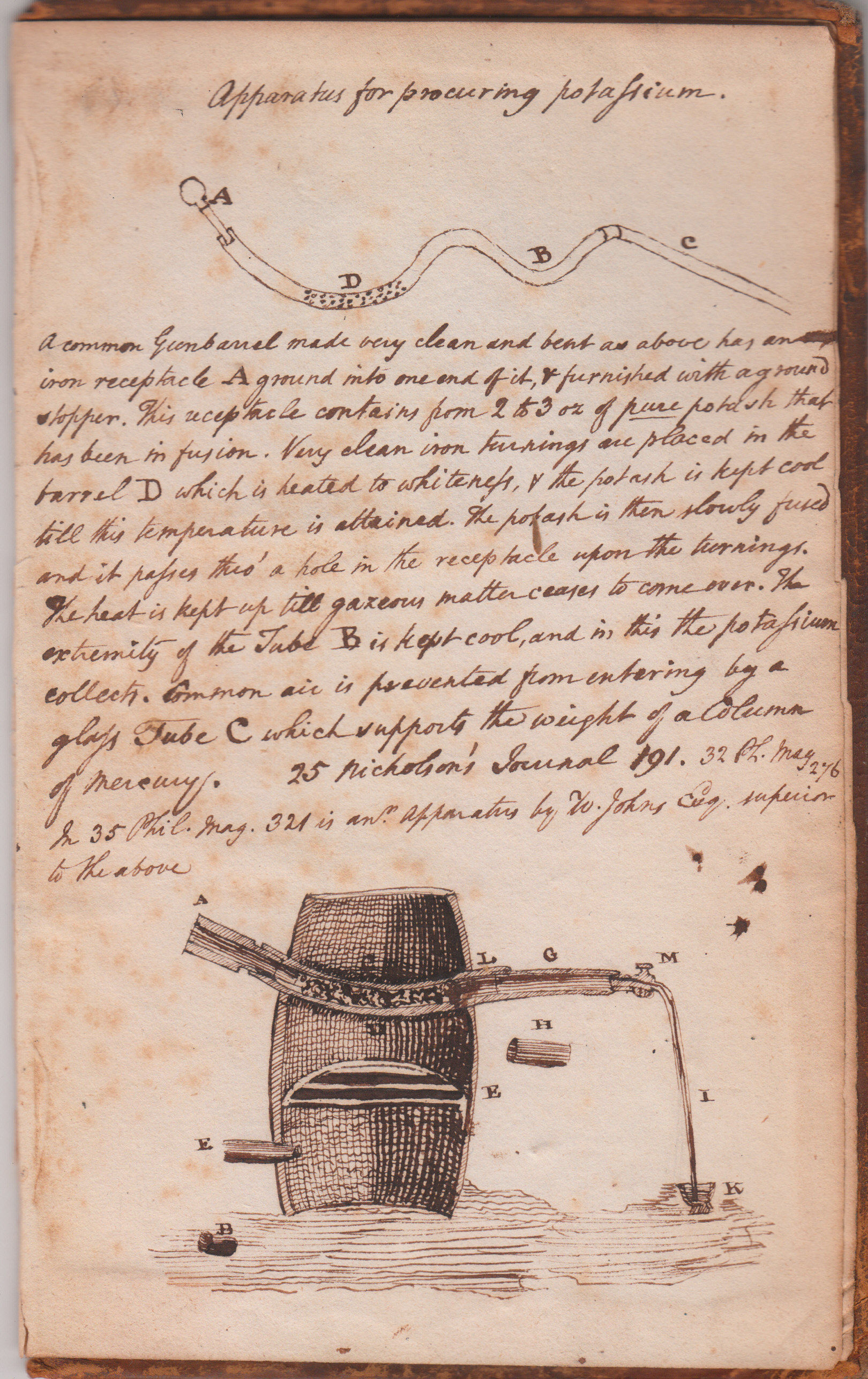 by THOMSON, T - ASSOCIATION COPY WITH THOMAS COOPER'S NOTES AND DRAWINGS
Edinburgh: Bell & Bradfute, 1807. Third Edition.. Full contemporary calf.. Good; bindings broken on all volumes; library bookplates in all volumes; otherwise quite clean and bright throughout.. 8vo, Four printed plates. The J K Mitchell, John Redman, Thomas Cooper copy. Accompanied by hundreds of pages of Cooper's original marginalia and notes with his original ink wash drawings of chemical set-ups and apparatus.
The set is signed in volume 1 on a blank portion of the title: "Thomas Cooper, Northumberland [PA]". Below that is the inscription: "Bought by J K Mitchell from Redman" - J K Mitchell has signed all the title pages of the set. What is unique about this set is that Cooper has annotated every volume with his notes and commentary. In addition he has added four original ink wash drawings to the endsheets that illustrate his coal gas apparatus, Accum's hydro-pneumatic table (Cooper eventually edited the 1814 two volume American edition of Accum's System ....), and his set-up for deriving potassium (probably the first time in America states his biographer in the DSB). Cooper had emigrated to America in 1793. He lived with Priestley in Northumberland PA for a number of years. He was later named to membership in the American Philosophical Society and taught mineralogy and chemistry at the Univ of Pennsylvania and finally at South Carolina College where he became president in 1821. Malone, Cooper's biographer, points out that all of his papers were destroyed in a fire. Therefore the detailed chemical notes he left behind in these volumes give some idea of his thoughts and evolution as a chemist that can be located no where else. Though the autograph additions and drawings that Cooper added to this book are its primary interest, it is also worth noting that this edition of Thomson contains the first printed account of Dalton's new atomic theory. A superb association copy. (Offered by Palinurus Antiquarian Books)
---

Browse books with marginalia offered by ABAA members...
Billy Collins' poem titled "Marginalia" provides an overarching look at several ways marginalia are employed. He cites the student using the margins to write things like "irony" or "metaphor." He notes how in some instances marginalia are "ferocious," while in others, "dismissive." In other cases, marginalia are used to convey affirmations of the author's intent with words like "absolutely" and "Bull's eye." Collins' take on marginalia is both humorous and spot-on, and if one were to mark up the margins next to his poem, Collins would undoubtedly receive a lot of "yeses" and "haha, so trues."
That's the beauty of marginalia. Anyone can mark up a text, and the benefits are many. First, for the one reading and making notes, marginalia add to the reading and learning process. Often times, when we write things down, we remember them better and in more detail in the future. Using the margins of our text to actively record main points and why we agree or disagree with them, rather than just passively reading page after page, helps us to more fully engage with the story, argument, or prose in front of us. Inevitably, we will take away more from the text than we might have, had we not marked it up.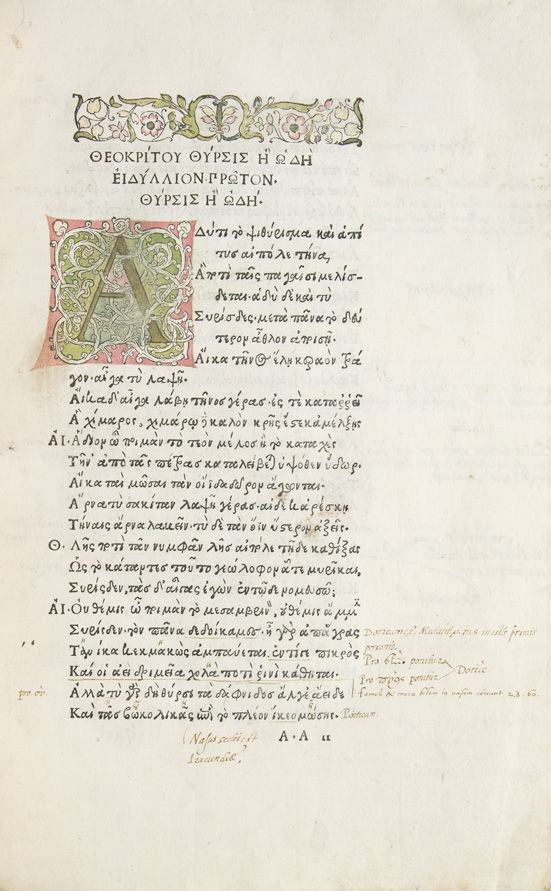 Idyllia (and Other Texts) by Theocritus. Venice: Aldus Manutius, 1495. First Aldine edition, and the first complete edition of Theocritus (printing 12 of the 30 Idylls here for the first time); the first edition of HESIOD'S THEOGONY; second edition of his WORKS AND DAYS; and first editions of most of the other minor works (enumerated below); and first setting of quires £I °E F and £K °E G..
Not only is this copy beautifully colored in a contemporary hand (none such appear in ABPC for the last 35 years, and we are unable to find any primarily to institutional copies with coloring), but the copy is notable as well for profuse, neat contemporary marginalia, mostly in Latin, but often in Greek, which fill the book.The marginal annotations are particularly extensive in the first two Idylls, where, typically underscored words are explained in the margins; occasionally, an interlinear Latin word is provided beneath the Greek in an even smaller, but always clear, hand. The notes themselves are mostly philological in scope, with notations on unusual Doric (Theocritus's dialect) forms (e.g., the Doric preposition form for the preposition 'πpòs' being 'πotì', the identification of parts of speech, and grammatical forms, poetic usage, etc. Especially notable, too, are frequent comparisons and cross references to passages from Vergil's Eclogues. A beautiful copy of a rare and important book, with fascinating early annotations. (Offered by James Cummins Bookseller, Inc.)

Marginalia are also wonderful to look back on. A worn copy of Pride and Prejudice sits on my book shelf, and in its margins are a series of notes, exclamation marks, and paragraphs starred. I can vividly remember the time I read the story and finally decided that that iconic first sentence just had to be underlined as well as highlighted with the word "love!" in the margin. In a way, marginalia make my copy of Pride and Prejudice a personal artifact of reactions to my most favorite story. I'm hopeful that you have a similar example. Looking back at marginalia is a source of great joy—a jog down book-reading memory lane, if you will.

For many, writing in the margins is a personal endeavor. One doesn't need to worry about anyone else looking at his takeaways or judging her for her reaction to particular passages, that is, unless she loans out a copy of her marked-up book, doodles in the margins of a library's copy, or tells you about them in a blog post. In those instances, for better or for worse, marginalia can be thrust into the public eye.
This is especially true when we see famous author's marginalia. What keener insight can we have to their thought processes than when we see the notes they make when reading? Herman Melville's marginalia in a collection of John Milton's poetry, an author whom Melville drew much inspiration from, prove just how deep of an influence Milton had on Melville. In an article in the Los Angeles Review of Books, William Giraldi states, "Checkmarks, underscores, annotations, and Xs reveal the passages in Paradise Lost and other poems that would have such a determining effect on Melville's own work."
---
Digression: The Marginalia of Mark Twain
Mark Twain was a prolific writer of marginalia, filling the books he owned with (often ascerbic) commentary. The image above records his poor opinion of John Dryden's translation of Plutarch's Lives.
You can browse more examples of Twain's off-the-cuff literary criticism from items held by the Mark Twain Library in this New York Times archive...
One book the Mark Twain Library does not possess is Twain's manuscript copy of Recollections of Baron De Frenilly, which was offered by Charles Parkhurst Books, Inc. last year. The description of which revealed Twain's signature ascerbity:
New York: G.P. Putnam's Sons, 1909 Mark Twain's copy, with his holograph notes within the text, and his signature and date, "S L Clemens [flourish] 1909" on the front pastedown.
Edited with an introduction and notes by Arthur Chuquet [translated by Frederic Lees]. A very good copy. Twain acquired this title in the year of its publication, for he has signed on the front paste-down, "S L Clemens/1909". Mark Twain enjoyed carping the translator's English and he gleefully corrects it as he reads and writes critical comments in the margins. Twain's annotations show his interest in the translator's failings. Ten (10) pages (30, 32, 54, 60, 74, 97, 133, 165 and 216) bear the pen or pencil corrections: "may" for "should"; "Brejole and me" for "Brejole and I", "afraid" for " frightened", "under which I should have liked to pass it" for "under which I should have liked to have passed it". Another revision appears on page 54; Twain changes a statement concerning Louis XVI from "Alas!" The King was the last sort of man to succeed Louis XV. He was a good man and a good husband-pious, chaste, virtuous, just and humane." to "Alas! The King was the last sort of man to succeed Louis XV; for the King was a good man and a good husband - pious, chaste, virtuous, just and humane." Twain then comments on his editing, in ink, in the lower margin: "It is very bad workmanship to save words at the expense of clarity. This translator could quite fairly be charged with paying compliments to Louis XV. How would he defend himself?"
---
Marginalia also go a long way in verifying the authenticity of signed books. It is one thing to forge a signature, but it is nearly impossible to imitate a whole book full of an author's marginal notes.
It's funny to me that as children, we were always instructed never to write in our books. It was seen as a form of defacement, especially if the copy didn't belong to us. But, I've found later in life that I love when I'm reading a book and see someone else's marginalia. It's as if I not only get to read the original story, but also get to imagine someone else reading it. That individual's notes give me a glimpse into what they thought was important or funny or just plain wrong. For anyone who reads a text after it has already been marked up, the marginalia are an added bonus.
Truly, marginalia are educational. So, I say, to heck with limiting our children's creative process, and that of our own. Let's write in books, even library books, within reason. Let's record what we think is funny, interesting, or ground-breaking. After all, who knows where we'll find the next Melville. Perhaps one day we'll look at your copy of Paradise Lost, read the notes you left for us in the margins, and gain a deeper insight into how that great poem influenced you to write the best-selling work you have since published. Go ahead, grab your pencil or writing instrument of choice and get reading.
---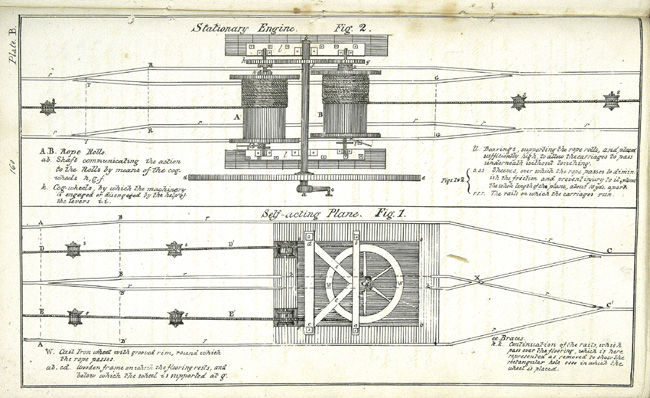 [TEN LITHOGRAPHED MILITARY MANUALS, WITH SUPPLEMENTARY MATERIAL, PRINTED AT THE LITHOGRAPHIC PRESS AT THE UNITED STATES MILITARY ACADEMY, BOUND TOGETHER FOR GEN. JOSEPH HOOKER WHILE A CADET AT WEST POINT]
West Point, 1837. Various paginations. Folio. Contemporary three-quarter sheep and paper boards, gilt morocco label of "J. Hooker" on front board. Rubbed, scuffed, and edgeworn, chipped at spine ends. Ex-lib. with small bookplate on front pastedown. Pencil notes, likely in Hooker's hand. Internally clean, tight, and very good. In a cloth clamshell case, leather label. A remarkable contemporary bound volume of ten military and technical manuals, with supplemental material, printed for use by the cadets at West Point at the school's lithographic press.
This volume was owned and compiled by Gen. Joseph Hooker, a skillful military commander and an ambitious officer, who graduated from West Point in 1837. It would seem that he had these manuals bound up while he was at West Point, or perhaps soon after his graduation, and thus preserved copies of the actual textbooks he used as a student. Upon graduation, Hooker served in Florida, the Northeast, and at West Point, until finding his first professional success during the Mexican War. In that conflict "he performed so superbly both as a staff and combat officer that he received three brevet promotions, the final one to lieutenant colonel. No other northern commander of the coming Civil War emerged from the Mexican conflict with a better record or higher reputation than Hooker" (ANB). In the 1840s he was transferred to Sonoma, California, but became disenchanted by military life and resigned in 1853, engaging in ranching and business, dabbling in politics, and incurring a large personal debt. In 1861 he applied to be reinstated to the army, and was appointed brigadier general by Lincoln. Hooker distinguished himself at several battles, including Seven Days, Second Manassas, Sharpsburg, and Fredericksburg, and he earned the sobriquet, "Fighting Joe Hooker." In January 1863, Lincoln elevated him to commander of the Army of the Potomac. Hooker resigned the commission in mid-1863 following a defeat at the hands of Lee and Jackson at Chancellorsville, but went on to distinguish himself in Tennessee and as a commander in William T. Sherman's march through the South, despite the fact that he and Sherman largely detested each other. Though Hooker's name has come down through history associated with excessive drink and licentiousness, the truth about the man is much more complex, and his accomplishments are significant. One scholar has offered this balanced assessment of Hooker's military abilities: "First, he had few equals and perhaps no superior among Union generals as a commander of a corps or any force he could personally supervise and inspire. Second, he was deficient, as revealed at Chancellorsville, in those qualities of mind and temperament needed to lead a large army in a successful offensive campaign against a foe as redoubtable as Lee and his Army of Northern Virginia. But, then, the only northern general who ever did so was Grant, and it took him a year and 100,000 casualties to do it. Thus it is quite possible that if Hooker had gone against any Confederate army commander other than Lee, he would have garnered the glory he sought" (ANB).
Hooker's pencil notes are found throughout. (Offered by William Reese Company - Americana)
---