"Lynd Ward was way ahead of his time, a visionary, in understanding the importance of the book as an object, as a container of a kind of content. His books were made with great attention to that container and he worked within it as precisely as a concrete poet works with language." — Art Spiegelman
The so-called graphic novel -- which may be no more than a successful rebranding of comics -- has become a very popular genre, with its own bestseller list in the New York Times, and growing shelfspace in new book stores. In light of this new-found prominence and respectability, it's interesting to look back at the precursors to the graphic novel, the stages the idea of the illustrated novel-length story went through before settling into the form we current know. One of these stages was the wordless novel, in particular the work of American Lynd Ward, who was both an influential illustrator of children's books (he won a Caldecott Award) and a pioneer of the wordless novel.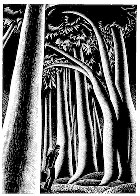 Lynd Kendall Ward grew up in Chicago and studied Fine Arts at college in New York in the early 1920s. A year studying wood engraving in Germany in 1926-'27 led to his discovery of Frans Masereel's wordless novel The Sun (1919). Told in a series of woodcuts without any words, the concept spoke to the young American artist. He returned to the U.S. in late 1927, where he began his career as an illustrator by working on drawings for Dorothy Rowe's The Begging Deer: Stories of Japanese Children.
In 1929, Ward came across another early wordless novel, Otto Nückel's Destiny (1926). This was the catalyst that caused him to act on the earlier ideas spawned by reading Masreel, and he then began work on his own wordless project.
Gods' Man, a meditation on the artist's struggle, was published by Cape & Smith in 1929. As Masreel and Nückel had only been published in Europe, it became America's first wordless novel. Gods' Man met with modest success and some acclaim, being reprinted several times.

(As an indication of its success, an American edition of Nückel's Destiny was quickly published in 1930, as other publishers immediately wanted their own wordless novel.) Two editions of Gods' Man were printed, a regular trade edition (1929) and a deluxe edition (1930), limited to 409 signed copies. Ward also created prints of select images from this, and his later wordless novels, often for promotional purposes. These are another avenue for collectors to pursue, and allow his work to be displayed more easily.
---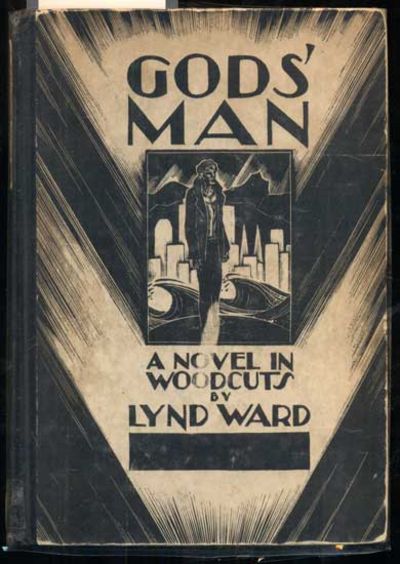 Gods' Man (Signed, First Edition)
New York: Jonathan Cape & Harrison Smith, 1929. First edition. Hardcover. SIGNED. Octavo [21 cm] 1/4 black cloth with illustrated boards and a paper title label on the backstrip. Publisher's black top stain. Black endpapers. Very good. The extremities are rubbed, with the underlying boards exposed at the corners. The paper on the spine and boards is age-toned. There are short splits in the cloth at the ends of the spine. The front hinge is a little soft. There are small losses from the top fore edge corners of the first two pages. The larger loss is from the front free endsheet, and measures 2" deep by 3/4" wide. The first of Ward's six wordless novels that is told exclusively through 144 striking woodcut illustrations. Lynd Ward was not only a talented printmaker, but he was a socially-conscious storyteller as well. "Gods' Man," a modern morality play, was the work that built his reputation. It depicts the deadly bargaining of the soul that a struggling young artist is willing to make. This copy is inscribed by Lynd Ward on the half title page. (Offered by Ken Sanders Rare Books)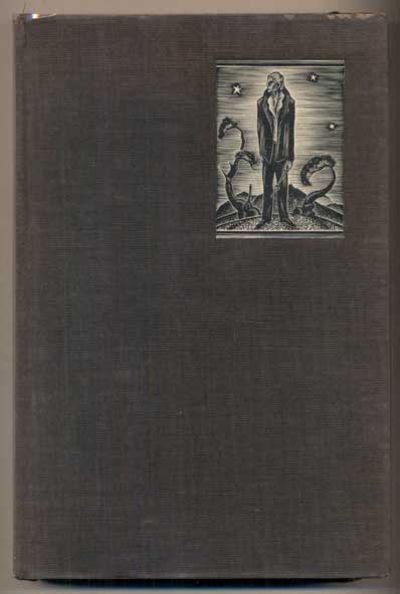 Gods' Man: A Novel in Woodcuts by Lynd Ward
New York: Jonathan Cape and Harrison Smith, May, 1930. Limited edition. Hardcover. SIGNED. 144 images. Octavo [24.5 cm] Black cloth with paper label on front board and backstrip. Top edge gilt. Good plus. The spine and boards have large areas of heavy fading. There are several splits in the cloth at the ends of the spine. The longest split is horizontal and measures 1/2 inch long. There are several losses from the cloth along the top edge of the front board, leaving the underlying boards exposed. The covers are ever so slightly cocked, and the text block has dropped just a little bit. A large illustration from a newspaper has been mounted with tape to the front free endsheet. The inside margin of the front flyleaf has a long thin light stain. Light offsetting from the titles and illustrations on the opposite pages. Pages mildly tanned. The fore edge of one of the pages at the center has a small loss and a small closed tear. The illustrations are clean, and the book is sturdy. Signed by the author/illustrator on the limitation page. Ward's first and most popular work is a visual tale of a young artist and the creative process. A smashing success upon its release, it announced the arrival of a genius. This signed edition was limited to 409 copies, this is copy 229. (Offered by Ken Sanders Rare Books)
---
Ward devoted a lot of care to the book's overall design, not just the woodcuts themselves. Spiegelman says "Ward was interested in the book. The kind of markings around each picture. The kind of paper the book's printed on.... He didn't take for granted that it had to be a certain way. Having this kind of control allowed him to make something that almost insists that every copy of the book is the original work of art."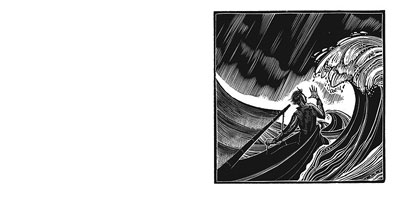 The most-obvious way that Ward's approach differed to conventional books is that his images were only printed on the recto (right hand) pages, leaving the verso blank in order that there was no distraction from the image. Later editions and reproductions of Ward's books changed this, and often crammed as many as four images onto the page. The comic strip was by then firmly established, and publishers sought both to save paper (and therefore money) and present the stories themselves in a more-familiar form for readers. (When the Library of America collected edition of Ward's novels came out in 2010, they thankfully restored the original format, with the verso left blank.)
Gods' Man was a success (despite being published at the beginning of the Great Depression), and Ward published five more wordless novels over the ensuing decade. His career as an illustrator also flourished; he eventually illustrated more than one hundred children's books, winning the Caldecott Medal in 1952 for The Biggest Bear, and illustrating two Newbury Medal winners as well.
Lynd Ward's Wordless Novels
Gods' Man (1929)
Mad Man's Drum (1930)
Wild Pilgrimage (1932)
Prelude to a Million Years (1933)
Song Without Words (1936)
Vertigo (1937)
---
"If I had to own only some of his books, if I was making a backpack and wasn't going to see my bookshelves for a year, I would take
Vertigo
and
Wild Pilgrimage
as my desert-island books"
-- Art Spiegelman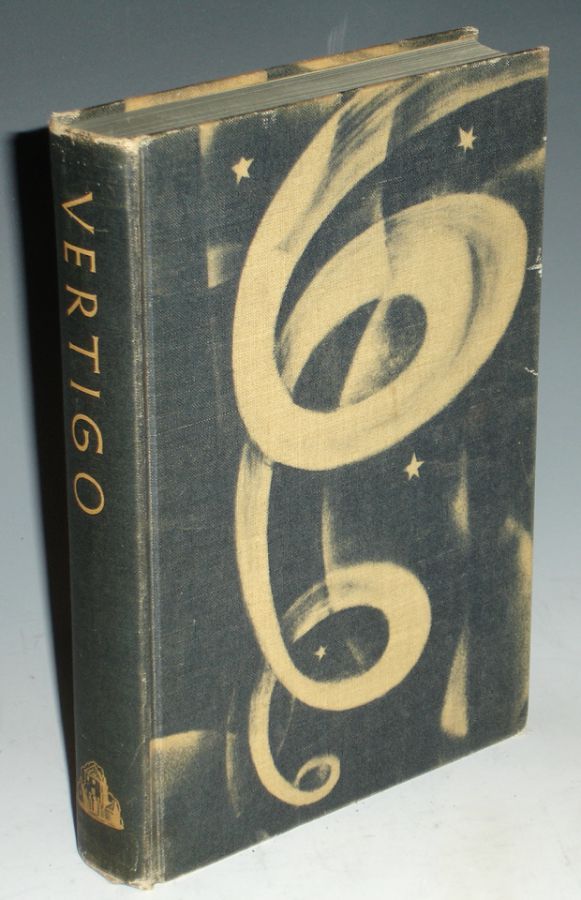 New York: Random House, 1837. First Edtiion. Octavo. First printing. Considered his masterpiece, Ward tells the story through woodcuts of the effects the Great Depression from 1929 to 1935 and follows three main characters: a young woman, a young man, and an elderly industrialist. No pagination, bound in dark blue cloth decorated in white, spine lettering orange, edges rubbed, spine ends and corners worn. (Offered by Alcuin Books & Autographs, LLC.)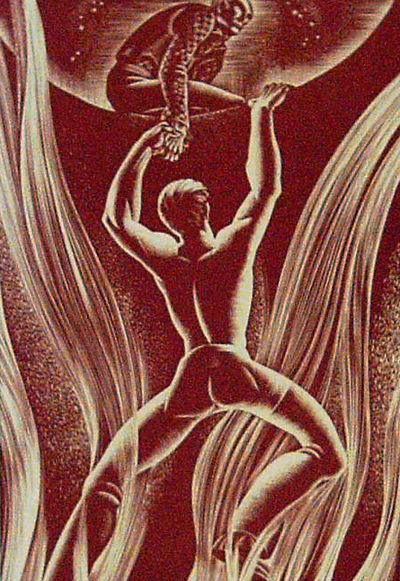 New York: Harrison Smith & Robert Haas, 1932. First Edition, First Printing. The third of Lynd Ward's critically acclaimed "wordless novels" with the Depression-era story told entirely by woodcut illustrations. In the original rust colored boards with paper illustration on cover. Cover boards are worn are clean but worn at corners and at head and tail on spine. Spine cloth is sunned and split at the bottom two inches at joints. Top edge of text block dyed black. Fore and bottom edges uncut. Interior pages are clean and unmarked, with prior owner's book plate on front paste down and inked to rear free end paper. End papers have some offsetting. Binding is solid. Unpaginated. (Offered by Boomerang Booksellers)
---
Though never famous, Ward gained enough notoriety for his innovation that in 1930, another illustrator, Milt Gross published a parody of Gods' Man, titled He Done Her Wrong. Ward's work went on to influence many artists, including Allen Ginsberg, who incorporated imagery from Gods' Man into his breakthrough work, Howl; cartoonist Art Spiegelman, who was inspired by Ward's work when developing his graphic novel Maus; and Barry Moser, who wrote the introduction to a wonderful fine press edition of Gods' Man from Centipede Press in 2015.
The wordless novel as a genre is an historical phenomenon. They appeared in the late '20s and through the '30s, before the language of visual storytelling changed with the explosion in popularity of "talking pictures." Graphic stories were then expected to have words to convey meaning, and most artists wanted to work in the more-popular media. Spiegelman, again, provides some historical context:
"[wordless novels] flourished very briefly in the '30s mostly, then only sporadically after that. But this subgenre wasn't an easy place to create any large body of work, especially because after Ward's first novel they didn't have as much of an impact. Even for Ward, his work was received well critically but the sales weren't impressive. It was a very specific zone where amazing achievement happened. Each of the artists who entered that territory brought something different to it. Milt Gross's parody of Ward—He Done Her Wrong, published in 1930—was in some ways the most subtle. It's great now to see these works re-enfolded into one's notion of what storytelling and bookmaking is."
As a step along the path from novels to "graphic novels," an alternative approach to the one taken by early comics, the wordless novels of Lynd Ward, Franz Masereel, and Otto Nückel are fascinating to read and collect.
Links:
NPR story on LIbrary of America's Collected Lynd Ward...
Paris Review interview with Art Spiegelman...
---
Featured Items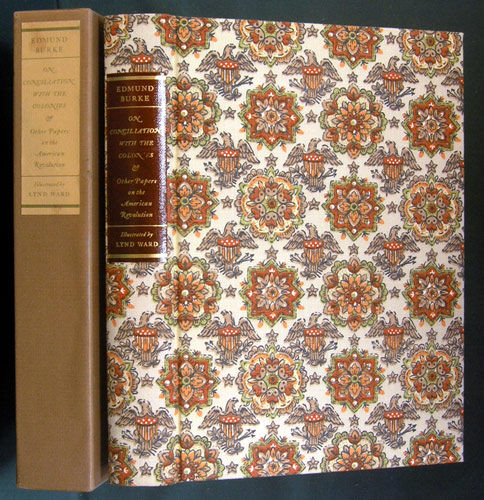 On Conciliation with the Colonies and Other Papers on the American Revolution
by Edmund Burke, Illustrated by Lynd Ward
Avon: Limited Editions Club, 1975. First edition. Decorated cloth, leather label titled in gilt. A fine copy in a near fine slip case.. xxix, 268 pp. Illus. with 25 duotone woodcuts. Peter J. Stanlis, ed. No. 1102 of 2000 copies, signed by the artist. Designed and printed at Stinehour Press. Includes Limited Editions Club monthly letter dated September 1975, No. 491. Original chipped glassine dust jacket, split, and laid in loose. (Offered by Kaaterskill Books)
---
Poster: Children's Spring Book Festival
By Lynd Ward
Offered here is the circa 1957 poster for the festival sponsored by the New York Herald Tribune. It measures 16 3/4 x 22" and is illustrated in full colors. A young boy is resting against a tree in the forest and he is reading a book. His fishing pole is next to him, but he'd obviously rather read. Done with rich colors. Rare. (Offered by Aleph-Bet Rare Books)
---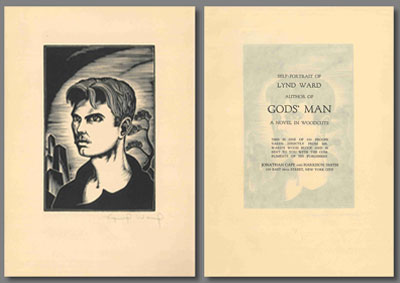 New York: Jonathan Cape and Harrison Smith, 1929. Original woodcut proof (15 x 10 cm plus large margins), with printed tissue overlay affixed by flap on verso. Fine, in publisher's envelope with return address. The upper panel of the envelope is darkened from proximity to something, not affecting the print. According to the publisher's caption, this is one of "100 proofs taken directly from Mr. Ward's wood block and sent to you with compliments of his publisher." It is signed below the image by Ward in pencil. While the edition is generous, the mode of this item's distribution, as a promotional item for Ward's first novel without words, resulted in a somewhat larger attrition rate than would normally be expected. (Offered by William Reese Company)
---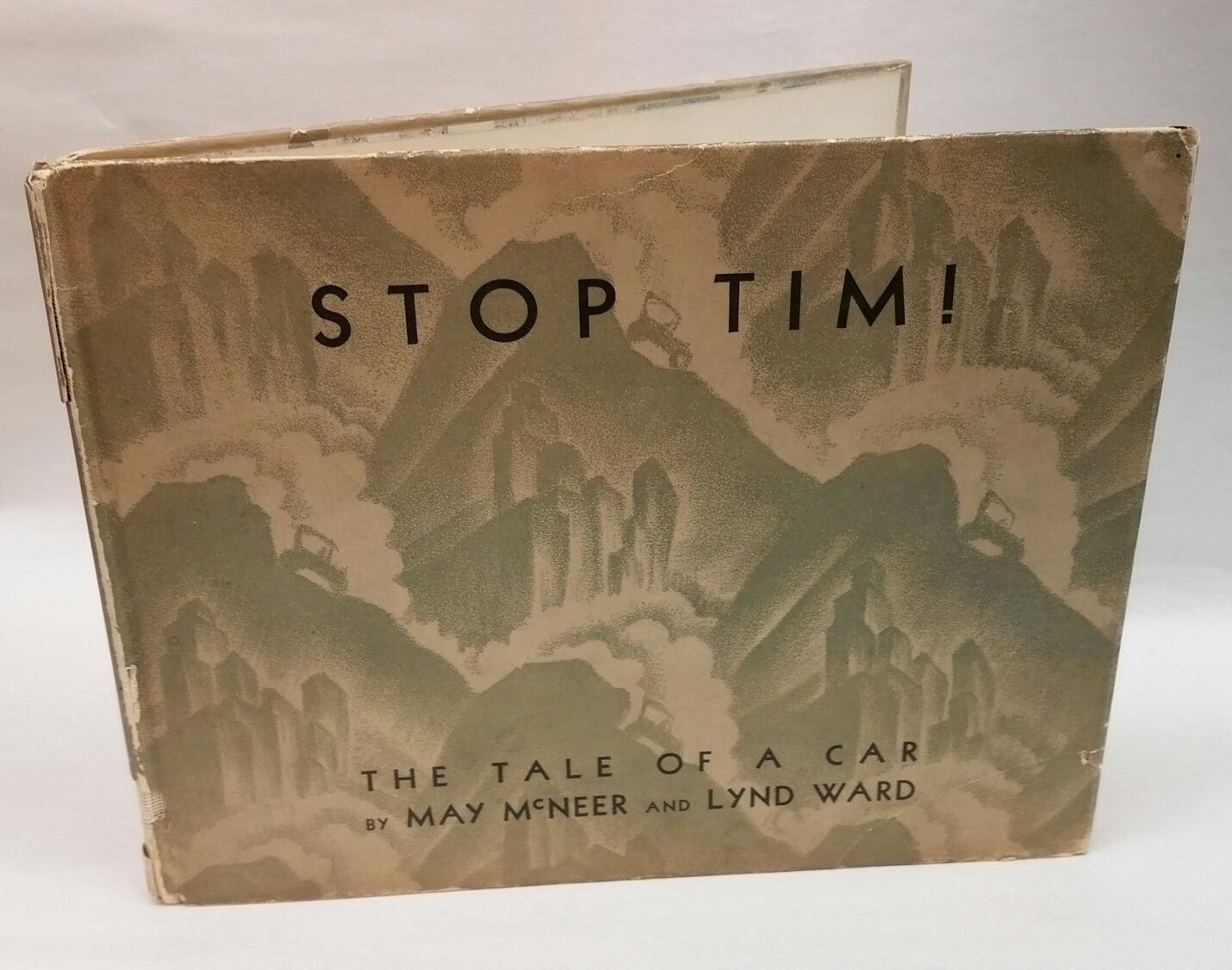 by May McNeer, Illustrated by Lynd Ward
New York, NY: Farrar and Rinehart, 1930. 39 pages of text (un-numbered). Decorative paper-covered boards (hardcover binding) with moderate rubbing and browning to the extremities; spine is chipped and worn and rear panel is moderately browned; protected in custom stiff archival mylar. A little known children's book illustrated by Lynd Ward, with text by his wife May McNeer. Children's literature. First Edition. Hardcover. Good+ condition. Oblong octavo (8vo). (Offered by Kurt Gippert Bookseller)
---
Storyteller Without Words: The Wood Engravings of Lynd Ward
New York: Harry N. Abrams, 1974. cloth, dust jacket. thick 4to. cloth, dust jacket. 24 pages of text followed by 743 illustrations reproducing Ward's woodcut illustrations. First edition. Also contains a brief bibliography of books written and illustrated by Ward. Well produced book. Minor soiling of jacket. (Offered by Oak Knoll Books)
---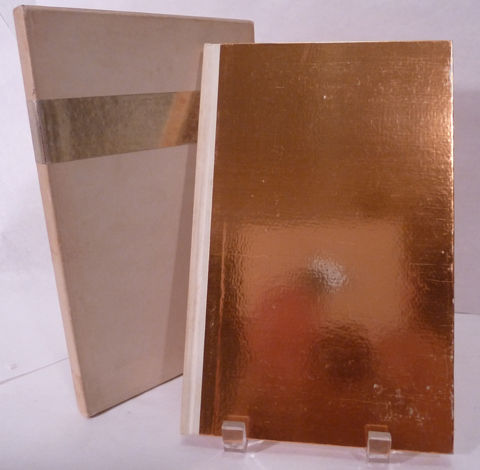 NY: Random House, 1936. First edition. Hardcover. Orig. parchment spine and laminated gold boards. Very good. Ward, Lynd. Unpaginated. 25 x 16 1/2 cm. Limited edition, copy 693 of 1250 signed by Lynd Ward. Series of black and white wood engravings printed with wide page margins on French leaved paper. Clean, bright copy, vellum spine and boards laminated in gold. Interior contents clean and fresh, back cover slightly rubbed, adhesion marks and toning to endpapers. (Offered by Roy Young Bookseller, Inc.)
---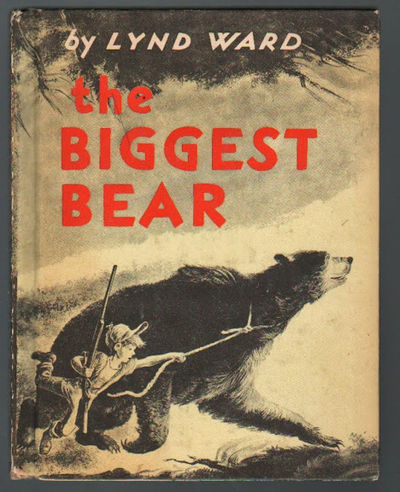 The Riverside Press, 1952. Hardcover. Good. Boston/Cambridge: Houghton Mifflin/ The Riverside Press, 1952. Twelfth printing. Hardcover. 85 pp. Good, lacking jacket. Board corners rubbed, bottom ones showing cardboard. Spine sunned, rubbed and has a couple closed tears. Tail of spine has two small chips, showing cardboard. Rear board upper edge bumped and has light staining. (Offered by Stick Figure Books)
---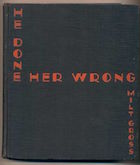 He Done Her Wrong: The Great American Novel and not a word in it - no music, too.
by Milt Gross
Garden City, NY: Doubleday, Doran & Company, 1930. First edition. [264pp] Square octavo [22 cm] Black cloth with titles stamped in red on the front board and backstrip. Very good. Regarded by many as Gross's finest work. This is an early American example of the wordless novel, a story told entirely through pen and ink drawings. This work is considered to be a light hearted spoof of Lynd Ward's Gods' Man, which was published the previous year. (Offered by Ken Sanders Rare Books)
---