One late change to the schedule for this weekend's Boston Book Fair is that guest bookbinder Mark Cockram is unable to travel due to illness, and has been replaced at short notice by Peter Geraty.
Geraty is a respected bookbinder and teacher, who focuses on restoration, fine bindings, and other creative services for book artists. He opened his own bindery in 1984, and later changed its name to Praxis Bookbindery to reflect his focus on craftsmanship.
"The word praxis best defines my approach to bookbinding. It is the practice or exercise of a skill. For me, it is the doing again and again always trying to do it better. It is what drives me and along with appreciation of the finished book, it is the pleasure I receive from the craft."—Peter Geraty
You can find examples of his work here and here...
---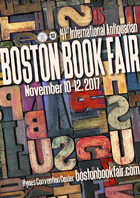 Event: Bookbinding with Peter Geraty
Sunday, November 12, 1:00pm
As owner of Praxis Bookbindery, Peter Geraty has focused on conservation, fine binding and binding of editions and presentation materials for publishers and artists. Peter is intrigued by the challenge of combining design, structure, and materials to present text or art.
---
Exhibition Binding by Peter Geraty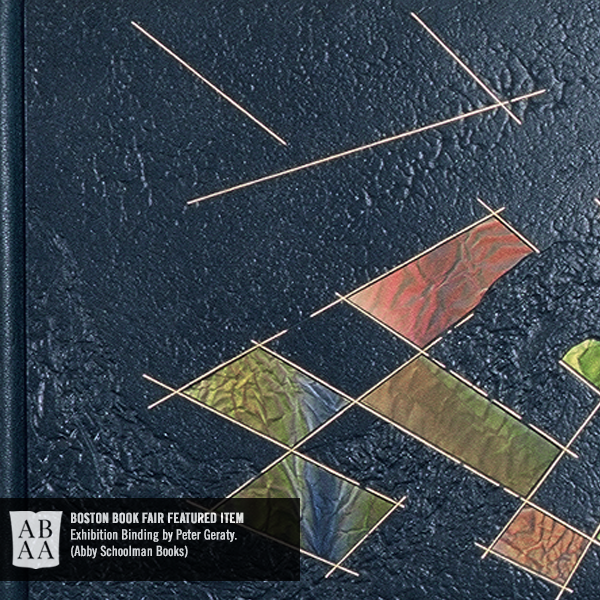 Armstrong, James and Ben Mitchell. County Survey. Kalamazoo, Mich.: Rarach Press, 1989. Signed Limited Edition.

One of 38 copies. Poems and essays by James Armstrong and Ben Mitchell, 16 etchings by Ladislav R. Hanka, typography by Amy Bollinger. This copy beautifully bound by Peter Geraty. One of two copies bound by Geraty for an exhibition celebrating Ladislav Hanka's imprint: 50 x 25: An Exhibit of 50 Rarach Press Books Bound by 25 American Design Binders (Elizabeth Perkins Prothro Galleries, Bridwell Library, Southern Methodist University, Dallas, TX. Oct. 11 1993 – Jan. 22, 1994). The exhibition also traveled to Houston Baptist College and University of California at Los Angeles.

Full green textured leather, airbrushed paper inlays, gold tooling, multi-colored hand-sewn endbands. Housed in a custom dropback box by the binder. Bound by Peter Geraty in 1993. 51.5cm x 33cm.

Offered by Abby Schoolman Books. Booth 225.