Today is the third anniversary of the sudden death of Nobel-Laureate Seamus Heaney. A ground-breaking poet, his career sought to find parallels and common ground across many different traditions. Born of a Catholic family in majority-Protestant Northern Ireland, he rejected the violence of the 1970s, yet strongly claimed his Irish heritage and identify, politely refusing to be included in anthologies of British poets and declining the post of Britain's Poet-Laureate.
His earliest poems, are described as naturalistic and explore his rural upbringing, celebrating the small comforts and familiarities of farming communities and considering his family heritage of agriculture on one side and industrialization on the other. As a fellow Irishman, his poetry was the first in which I found personal resonances, similarities to my own family stories, scenes that I could recognize from my own life, despite differences in age and geography. Over the years, I've become a huge fan and frequent reader of Heaney.
---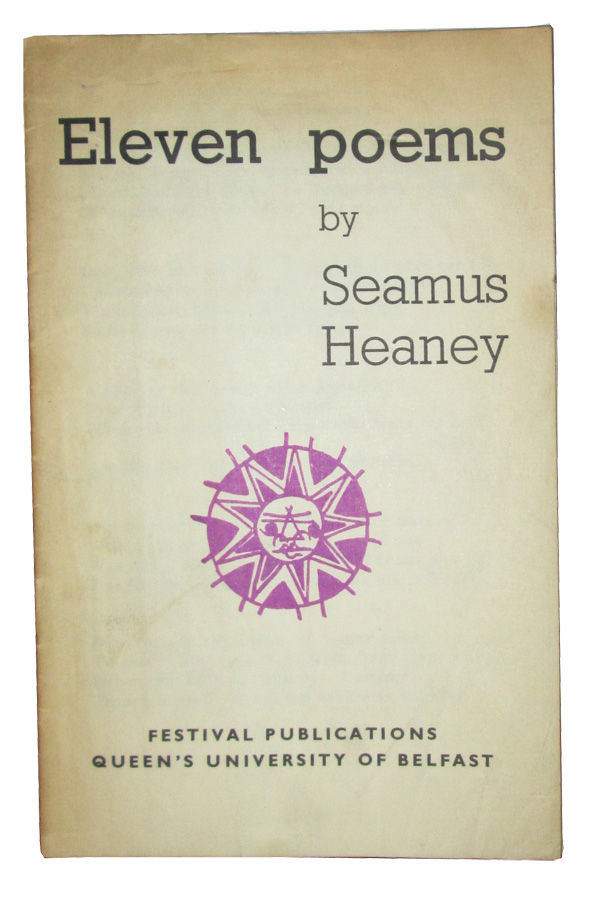 Eleven Poems — His First Pamphlet (November 1965)
Belfast: Festival Publications, 1965. First edition, first issue, with a nine-pointed purple sun illustration to the front cover, printed on laid watermarked paper. Original publisher's wrappers.
An excellent copy, with a short closed tear to the spine head, light creasing to the front wrapper, some minor soiling to the wrappers, light pencil marking to the first poem, otherwise bright and clean pages. Overall, a near fine copy of an extremely scarce title, the author's first printed publication. Housed in a custom box. Eleven Poems is Heaney's first published book of poetry, published privately by Festival Publications at the Queen's University of Belfast in Northern Ireland. Heaney attended Queen's University of Belfast as an undergraduate and graduate student, where he studied English literature and wrote poetry. After graduating, Heaney became associated with a group of young Belfast poets known as "The Group," an organization assembled by Queen's University lecturer Philip Hobsbaum. During this time, Heaney's poetry was being published by The Belfast Telegraph and The Irish Times. Fittingly, Heaney, who would come to be hailed as the greatest Irish poet since Yeats, and whose poetry is given "its distinctive strength" by "the acute observation of the (Irish) countryside and its people," released his first collection locally. Eleven Poems advertises the 1966 publication of Heaney's first major work Death of Naturalist by Faber and Faber, which would begin Heaney's long career of publishing award-winning poetry. 1st Edition. Soft Cover. Near Fine. (Offered by B&B Rare Books, Ltd.)
---
Curiously, Heaney was not given much prominence while I was at high school in Ireland during the 1980s — even though by then he had published six acclaimed volumes of poetry and won several prizes. Patrick Kavanagh — one of Heaney's inspirations — and the nationalistic work of Patrick Pearse were the poets of choice for official exams at that point. But, as I moved on to college in the 1990s Heaney's work began to be held up and studied and acclaimed. Once he won the Nobel Prize for Literature in 1995 it became impossible to talk about Irish poetry without starting with his work.
---
Although born and educated in the North of Ireland, Heaney moved to the Republic in 1972, to become a full-time writer — although he would take up many teaching posts over the years, eventually teaching at Harvard and Oxford Universities, among many others. Through his work and life, he demonstrated a dignified and profound nationalism that was in stark contrast to the shrill and violent nationalisms seen on both sides of the sectarian conflict. His example was a powerful statement, and he came to possess a moral authority that few others in Irish public life possessed. Poets are often said to act as the conscience of a nation, but with Heaney there's not an ounce of exaggeration in the statement.
He was far more than just a rural poet. Much of his work examined Irish history, both personal and national, and in a sense constructed his own version of the Irish national myth. For example, his bog poems (from the famous "Digging," which opens his first full collection, Death of a Naturalist, across many of his early collections) mythologize and seek to understand ritual violence and reconcile the past with the present. This interest in myth and place saw him turn to translation throughout his career, with his acclaimed translation of Beowulf becoming one of the most-successful books of poetry of all time. (Footnote: in 2007, the BBC claimed that Heaney's work made up two thirds of all poetry sales by living poets in Britain.) His final work, published posthumusly this summer, was his translation of Virgil's Aeneid (Book IV).
ESSENTIAL BOOKS
Among Seamus Heaney's essential books are:
Death of a Naturalist (1966)
North (1975)
Field Work (1979)
The Spirit Level (1996)
Beowulf (1999)
District & Circle (2006)
The Cure at Troy (Play)
FINE PRESS
Heaney was a frequent collaborator with fine press publishers and artists who wanted to illustrate his poems, resulting in dozens of small and fine press books, the pursuit of which will keep any collector busy for years and years.
Selected higlights from ABAA members curent listings...
---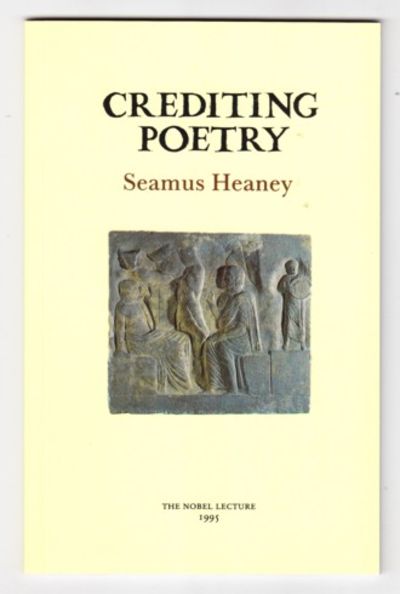 Crediting Poetry: The Nobel Lecture
Loughcrew: The Gallery Press, 1995. First edition, first prnt. Signed by Heaney on the title page. Perfect-bound illustrated wraps. Fine condition.. Signed by Author. First Edition. Soft Cover. 8vo - over 7¾" - 9¾" tall. (Offered by Revere Books)
---
London: Waddington Galleries. 1982. First. First edition. Large broadside. 17" x 22". Fine. Illustrated by Barry Flanagan. A single poem in Middle English with Heaney's translation. One of 250 numbered copies Signed by both Flanagan and Heaney. (Offered by Between the Covers Rare Books)
---
(New York): Limited Editions Club, (1982). First Edition. Hardcover. Very mild sunning to the spine. Fine in a Fine slipcase. Henry Pearson. Tall octavo (7-1/4" x 12") bound in full vat-dyed, dark-brown leather consisting of a top-grain aniline skin. The 8 illustrations by Henry Pearson, adapted from prehistoric carvings found just north of Dublin, are original graphics printed directly from relief engravings. The selection includes eight early and previously uncollected poems as well as a preface and memoir by Heaney. Copy 219 of 2000 numbered copies SIGNED by Heaney, Pearson, and Thomas Flanagan who wrote the introduction. The nature of the leather of this binding leads to some variation in color and texture. Monthly Letter laid in. (Offered by Charles Agvent)
---
COMPLETE POEMS (AUDIO)
Before he died, Heaney collaborated with the Irish National television broadcaster, RTE, to record his readings of his complete poems. The 15-CD set is now very difficult to obtain, but the rare opportunity it presents to hear a poet of Heaney's stature read his entire body of work makes it a truly special item in any Heaney fan's collection.
THE LAST INTERVIEW
Finally, the closest Heaney came to writing a biography was his collaboration with friend and fellow poet Dennis O'Driscoll on a book-length series of interviews, Stepping Stones. The two men sat up late reminiscing and discussing Heaney's life and work, and the book collects the conversations in all their far-ranging and fascinating diversions. While it's not particularly difficult to obtain a new copy while the book remains in print, the volume is a unique and valuable window into Heaney's life and personality, and as a companion to the poems, is invaluable.
Personally, if you're looking for a place to start, I'd read Heaney chronologically, via the original collections rather than through a volume of selected poems. Start with Death of a Naturalist, and you won't regret it.
SELECTED ITEMS...
---
New York: Oxford University Press, 1976. First edition. Cloth. Very Good/very good. First American edition of the poet's third major collection and one of his strongest. With some light spotting to cloth covers. A very good example in very good price-intact dustwrapper. This copy SIGNED by Heaney and dated in 1983. (Offered by Derringer Books)
---
NY: Farrar Straus Giroux, 1996. First US edition, first prnt. Signed and dated "19.xi.96" by Heaney on the front free endpage. Tight copy in Fine condition in a Fine dustjacket with an archival cover.. Signed & Dated by Author. First Edition. Hardcovers. 8vo - over 7¾" - 9¾" tall. (Offered by Revere Books)