Happy Roald Dahl Day!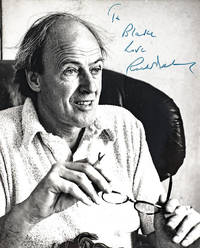 The renowned British children's book author, screenwriter, and WWII fighter pilot, was born one hundred years ago, today (September 13, 1916). Dahl (or more accurately his books) has been in the headlines often in 2016, first as Steven Spielberg's adaptation of Dahl's classic The BFG hit the theaters and again after the death of the actor Gene Wilder, whose most-celebrated role was as the eccentric Willy Wonka in the 1971 film adaptation of Dahl's Charlie and the Chocolate Factory (renamed Willy Wonka and The Chocolate Factory).
Many book collectors doubtless brought their children (or grandchildren) to see The BFG and/or played Wilder's classic Willy Wonka and the Chocolate Factory (or at least watched him sing "Pure Imagination" on YouTube -- scroll down to play the video for a little music while you peruse the rare Dahl books on this page) after Wilder's passing, and have been reading Dahl stories at bedtime. However, if you have a Roald Dahl first edition or two — especially of his earlier books — you might want to make sure they're safely out of reach on a high shelf until the next generation has learned to handle rare books properly.
Roald Dahl joined the Royal Air Force at the beginning of WWII. After surviving a crash that fractured his skull and temporarily blinded him, Dahl became a fighter ace, before lingering headaches from his injuries forced him from the cockpit. Sent to the British Embassy on a diplomatic posting in 1942, Dahl was asked by C.S. Forester to write down some incidents from his time as a fighter pilot for Forester to weave into a thrilling tale for propaganda purposes. When Forester read what Dahl wrote, he recognized Dahl's storytelling abilities and sent the story to the Saturday Evening Post as Dahl had written it. The Post published the story ("A Piece of Cake") under the title "Shot Down Over Libya" in August 1942. Dahl's first book, The Gremlins, was based on RAF lore, and appeared in 1943. Disney purchased the movie rights, and although Dahl spent time working on a screenplay, the film was never made.
After the war, Dahl left the RAF and became a full-time writer, publishing adult stories in magazines like Collier's, Harper's, and The New Yorker, while publishing his considerably more-famous children's books. In the 1960s and '70s he became a busy screenwriter and occasional television presenter. Among his screenplays were the James Bond film "You Only Live Twice" (1967), "Chitty Chitty Bang Bang" (1968) and, of course, "Willy Wonka and the Chocolate Factory" (1971).
Here are some of the highlights of signed, first edition, or rare books by Roald Dahl currently offered by ABAA members:
The BFG (First American Edition)
by Roald Dahl, Illustrations by Quentin Blake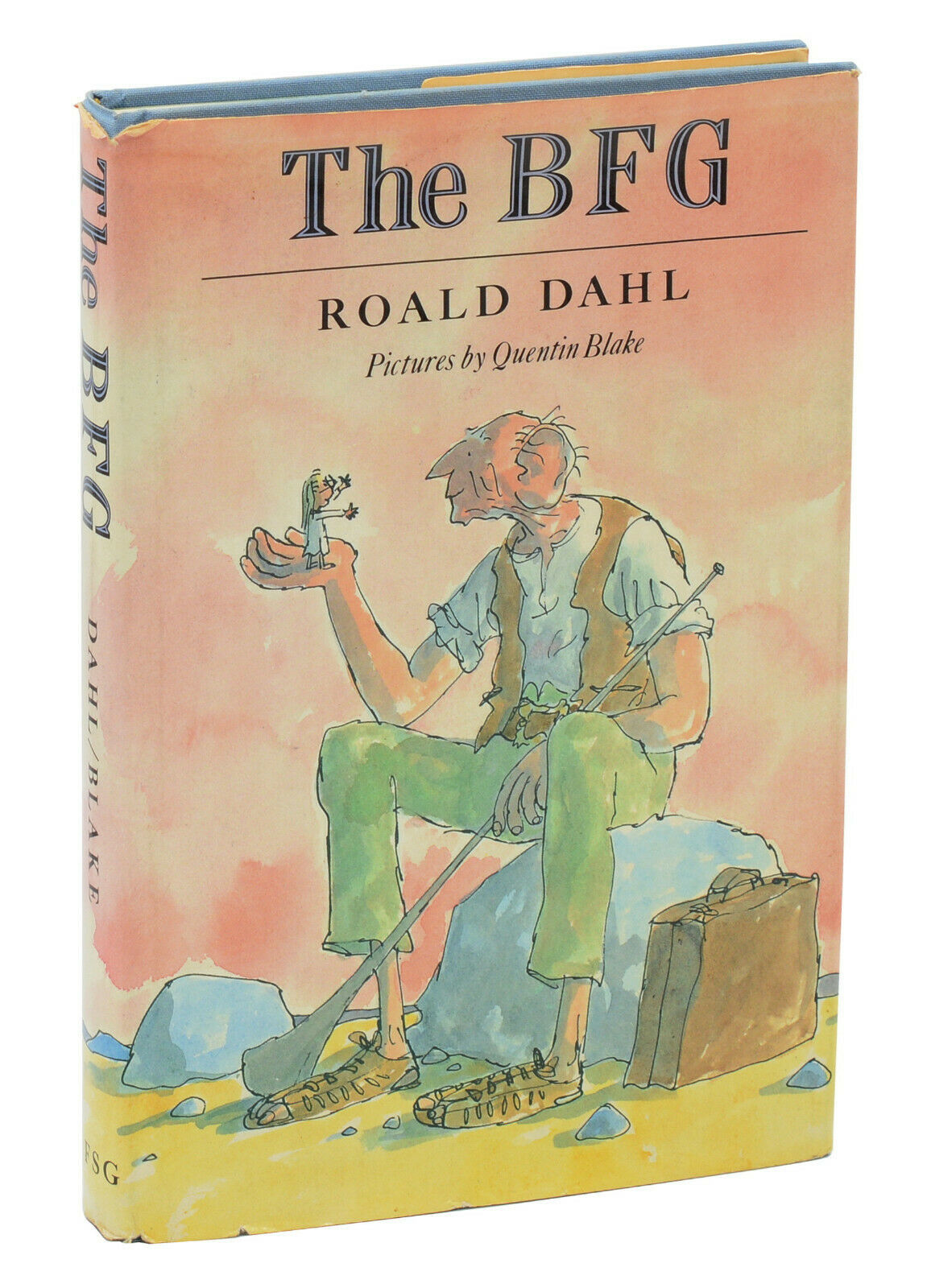 New York: Farrar, Straus & Giroux, 1982. First American Edition. Very Good/Very Good. First American edition. ix, 221 pp. Original pale blue cloth stamped in gilt, green endpapers. Very Good with slight bowing to boards and a little staining to edges, in Very Good unclipped dust jacket, curled and a bit worn along edges. The classic young adult novel.
Offered by Burnside Rare Books.
Charlie and the Chocolate Factory
by Roald Dahl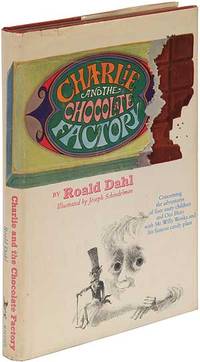 New York: Alfred A. Knopf, 1964. Hardcover. Near Fine/Near Fine. First edition, first issue. Spine lettering rubbed, and a little soiling on the boards, else near fine in a price-clipped, near fine dustwrapper with a couple of tiny tears and very slight toning. A subversive children's classic, and the basis for two memorable films, first starring Gene Wilder and later Johnny Depp as Willy Wonka. A handsome copy.
Offered by Between the Covers Rare Books.
CHARLIE AND THE GREAT GLASS ELEVATOR. The Further Adventures of Charlie Bucket and Willy Wonka Chocolate Maker Extraordinary
by Roald Dahl. Illustrated by Joseph Schindelman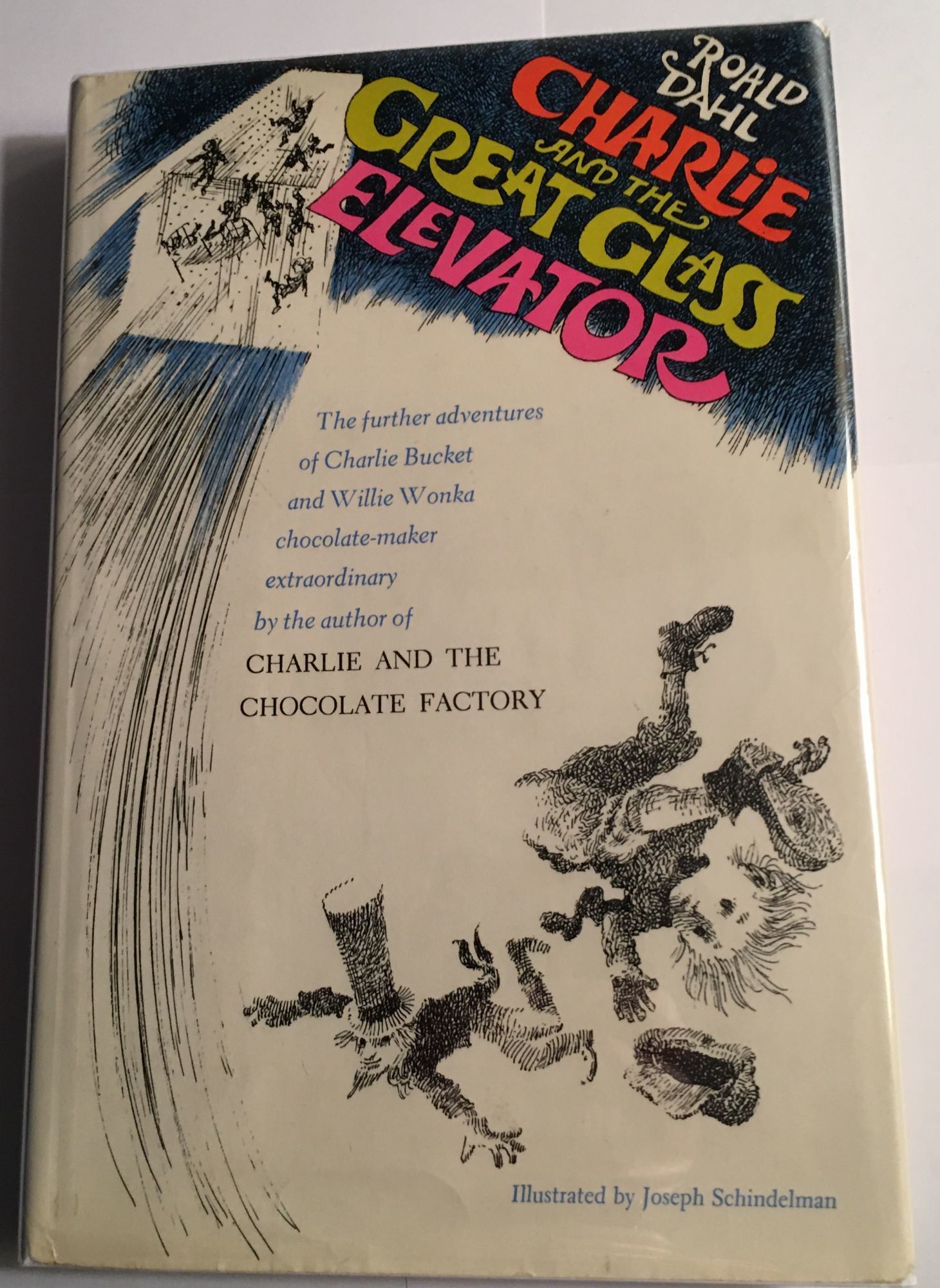 New York: Knopf, 1972. First edition. Hardcover. A very good plus, clean copy in a near fine clean dust jacket. Joseph Schindelman. Thanks to Mr. Wonka and a couple of buttons that did and did not get pushed, the Great Glass Elevator and all of its passengers find themselves orbiting in space! Stated "First Edition" on the copyright page. Front dust jacket flap price is $3.95. 164pp.
Offered by Ed Smith Books.
---
---
by WALTERS, MAUDE OWENS, SELECTED BY. (DAHL, ROALD, AND OTHERS)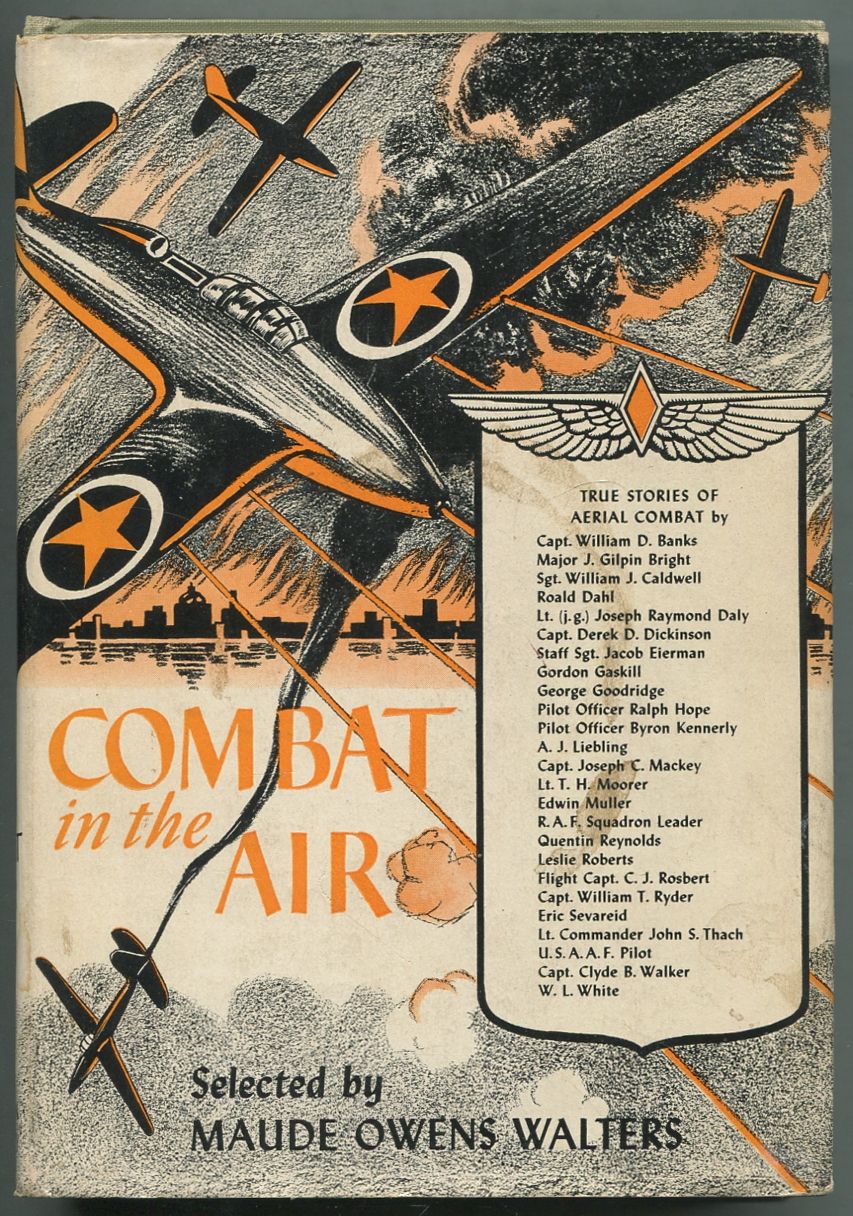 New York: D. Appleton-Century, 1944. Hardcover. Fine/Very Good. First edition. 275pp. Spine ends bumped, else fine in a very good lightly stained dustwrapper. True stories of aerial combat by Roald Dahl, Capt. William D. Banks, Major J. Gilpin Bright, Sgt. William J. Caldwell, and many others. An uncommon, attractive copy featuring "A Piece of Cake" by Roald Dahl.
Offered by Between the Covers Rare Books.
Danny Champion of the World (Association Copy)
by Roald Dahl
London: Jonathan Cape, 1987. Reprint. Hardcover. Very Good. Reprint. An association copy, signed by Roald Dahl on the front free end paper in black marker, and further inscribed "To John" by both Jeremy Irons and Sam Irons on the front free end paper. Jeremy Irons is a British Oscar-winning actor, who, with his son Sam, starred in this book's 1989 film adaptation playing the main characters William Smith and Danny. Near Fine with toning to pages. In a Near Fine dust jacket, price clipped by the publisher with new sticker price at bottom of front flap. A lovely association copy.
Offered by Burnside Rare Books.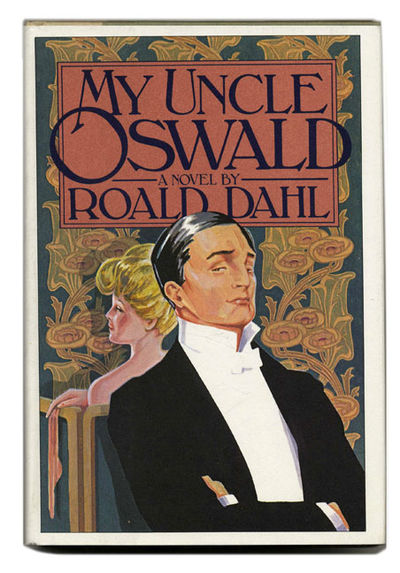 My Uncle Oswald (First edition)
New York: Alfred A. Knopf. Very Good+ in Fine dust jacket. 1980. First Edition; First Printing. 1/4 Cloth. 0394510119 . A Very Good+ first printing of the first edition that is soiled and sunned in a Fine dust-jacket.
Offered by Books Tell You Why, Inc.
by Roald Dahl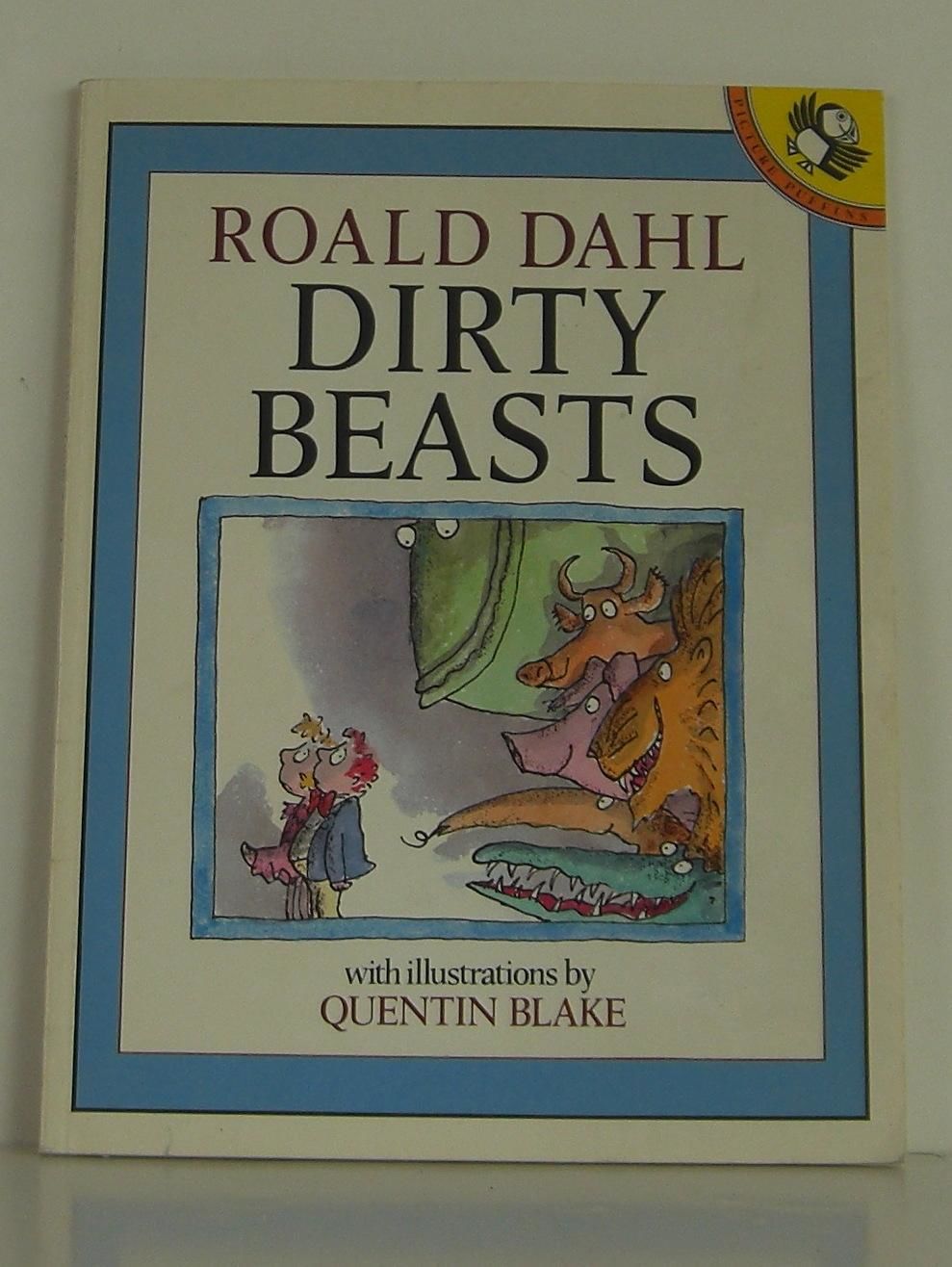 New York, New York, U.S.A.: Viking Childrens Books, 1986. 5th or later Edition. Soft cover. Near Fine/No Jacket. Near fine in stiff pictorial wrappers. SIGNED by Dahl on the inside of the front cover. First Edition, thus, with illustrations by Quentin Blake. Very slight soiling on the covers; else fine. We will provide a certificate of authenticity for this item.
Offered by Bookbid.
by Roald Dahl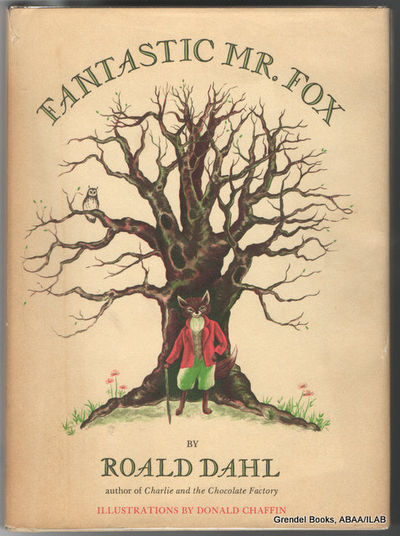 NY:: Knopf,. Very Good in Very Good dust jacket. 1970. Hardcover. 039480497X . Made into the 2009 stop-motion animated film by Wes Anderson. Stated first (American) edition. Very good or better in a very good (age toned, one short closed edge tear) dust jacket. ; 62 pages .
Offered by Grendel Books.
by DAHL, ROALD; CHAFFIN, DONALD (ILLUSTRATIONS)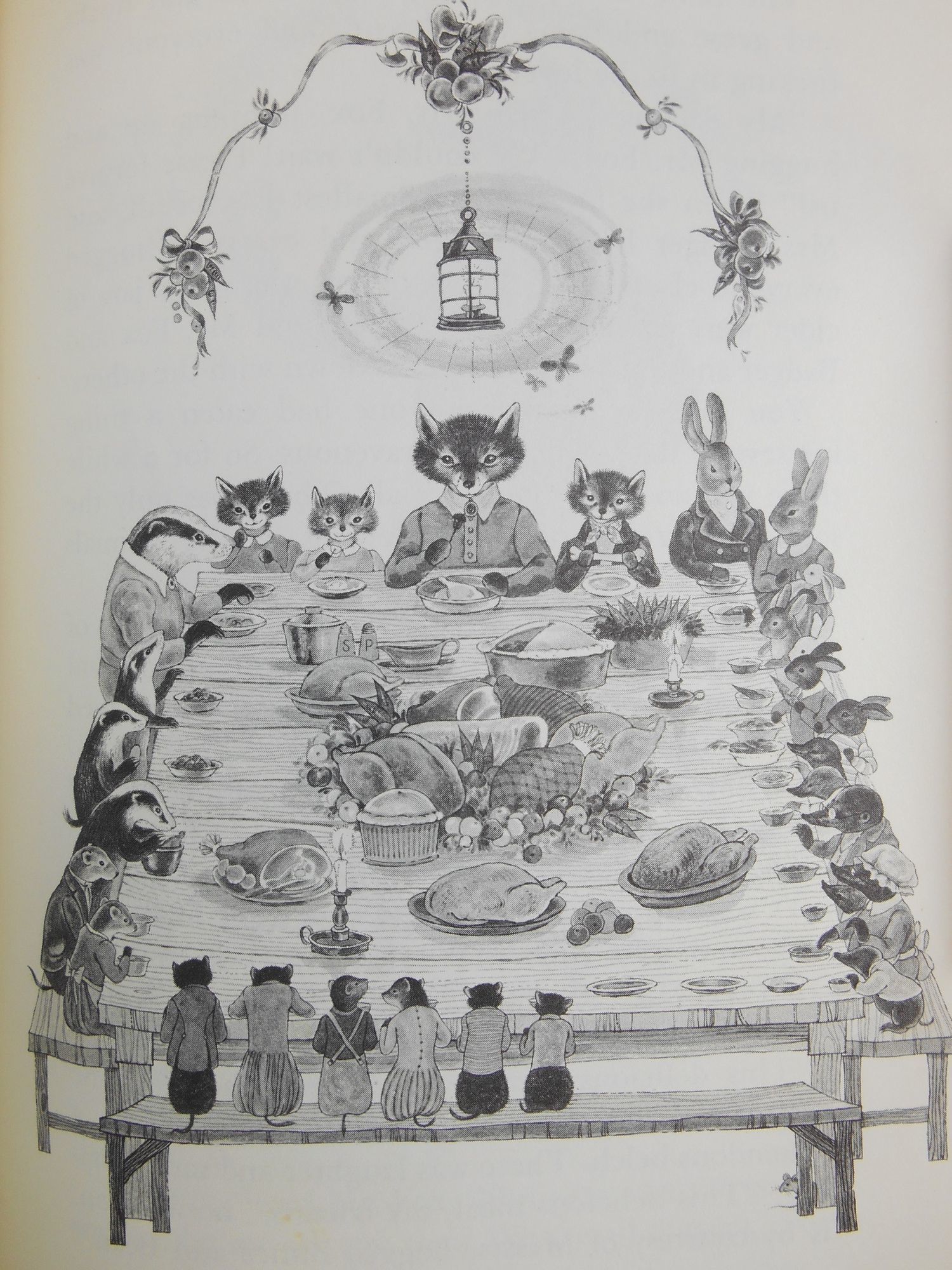 New York: Alfred A. Knopf, 1970. First Edition. Hardcover. Fine/near fine. Chaffin, Donald. First U.S. edition, octavo size, 72 pp. Roald Dahl (1916-1990) has written stories to delight children generation after generation, and his heartwarming tales such as "Charlie and the Chocolate Factory" and "James and the Giant Peach" are avidly read today. "Fantastic Mr. Fox" is filled with charming animal characters who must survive on their wits, in a world dominated by unsympathetic farmers. Bringing a delicate charm to the story are the illustrations by Donald Chaffin, a British artist known for illustrating numerous children's books; Chaffin was also a consultant for the animated film adaptation of the book, directed by Wes Anderson and starring George Clooney and Meryl Streep.
Full cream cloth, illustration of the title character with his name underneath in silver on the front board, green lettering on the spine, green endpapers, double-spread title page with black-and-white illustration by Donald Chaffin, black-and-white illustrations by Chaffin throughout; Baskerville type, octavo size (9.25" by 6.75"), pagination: [i-viii] [1-2] 3-62 [63-64]. In a pictorial paper dust jacket with a colour illustration by Chaffin and green, black, and red lettering on the front panel, green and black lettering on the spine, reviews of Roald Dahl's other books on the rear panel, a description of the book on the front flap, and author bio on the rear flap; the dust jacket is unclipped with the original price of $3.95 on the front flap.
A fine copy; the covers clean, the corners straight and unrubbed, the binding tight with solid hinges, and the interior clean and bright; there is a prior owner inscription in pen on the front paste-down endpaper, dated "'71", else fine. The dust jacket is near fine, unclipped, with bright colours, clean overall with a few spots of soiling, light sunning to the spine, slight rubbing to the head and tail of the spine, and a very small closed tear to the top of the front joint.
Offered by Swan's Fine Books.
The Gremlins. From the Walt Disney Production. A Royal Air Force Story
by Roald Dahl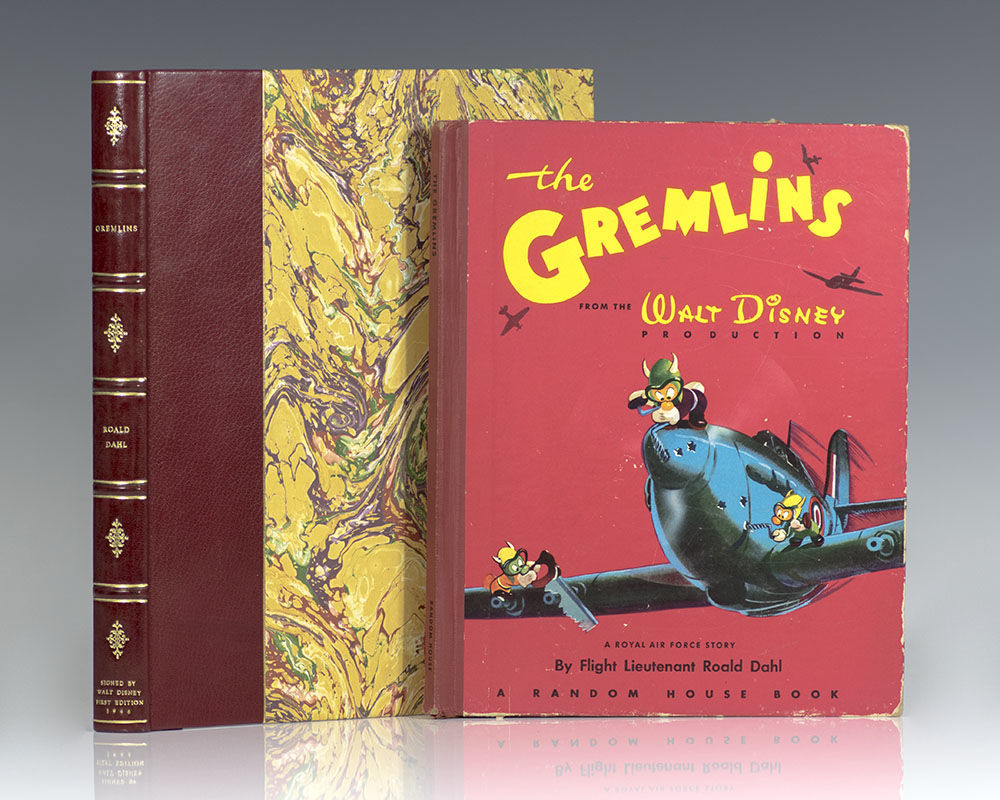 New York: Random House, 1943. First edition of Dahl's rare first book, with 14 vibrant full-page illustrations by Walt Disney Productions. Quarto, original half cloth, pictorial endpapers. Near fine in the rare original dust jacket with some small chips and wear. Dahl was sent to Washington in 1942 as an assistant air attache for the British Embassy. After having a story published anonymously in the Saturday Evening Post, he was encouraged by C. S. Forester. He produced The Gremlins, a children's story expanding on a mythical creature enshrined for years in RAF lore (notwithstanding Dahl's claims to have invented the word) and sent it to Sidney Bernstein, the head of the British Information Service, who sent it on to Walt Disney. Disney decided to make it into a movie, at one point bringing Dahl to Hollywood to work on the screenplay. The story was published in Cosmopolitan in December of 1942, and as a book by Random House six months later. The film project, however, was sidelined and has never been produced. The story was received positively: Eleanor Roosevelt read it to her grandchildren, and invited Dahl to the White House.
Offered by Raptis Rare Books.
by Roald Dahl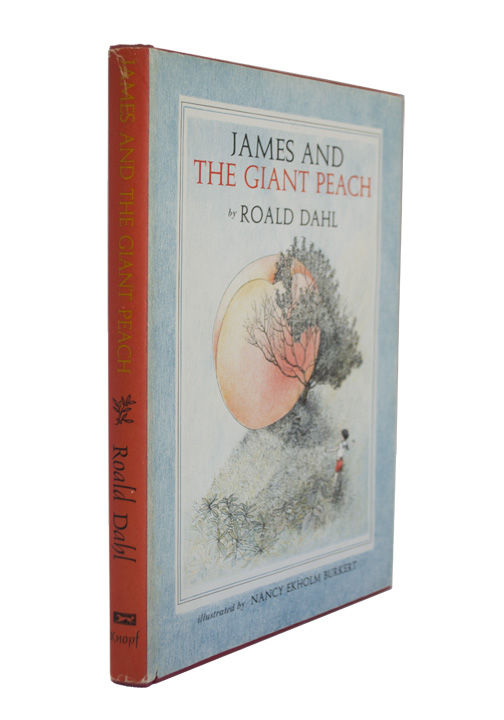 First Edition, First Issue in Original Dust Jacket DAHL, Roald. BURKERT, Nancy Ekholm, [illustrator]. James and the Giant Peach. A Children's Story New York: Alfred A. Knopf, 1961. First edition, first issue (with colophon stating this was bound by Wolff Press) of the author's first children's book. Large octavo (10 x 7 1/8 inches; 250 x 180). [8],119 [1, About the Author] pp. Illustrated with full-page color plates and with color and black & white text illustrations. Red cloth stamped in blind on the front cover and in gilt on the spine. Illustrated dust jacket. Green endpapers. Top edge dyed yellow. Very light soiling to half-title. Some minor finger soiling to a few spots. A bit of very light rubbing to bottom of the spine. Jacket a just very slightly rubbed at top and bottom of spine. Altogether, a near fine bright, handsome copy of this children's classic. "In his first book for children, the famous author of KISS KISS has woven a fast-paced, hilarious saga, in the best traditions of the fantastic..." (From front flap).
Offered by Heritage Book Shop.
THE MAGIC FINGER. Illustrated by William Pene Du Bois
by Roald Dahl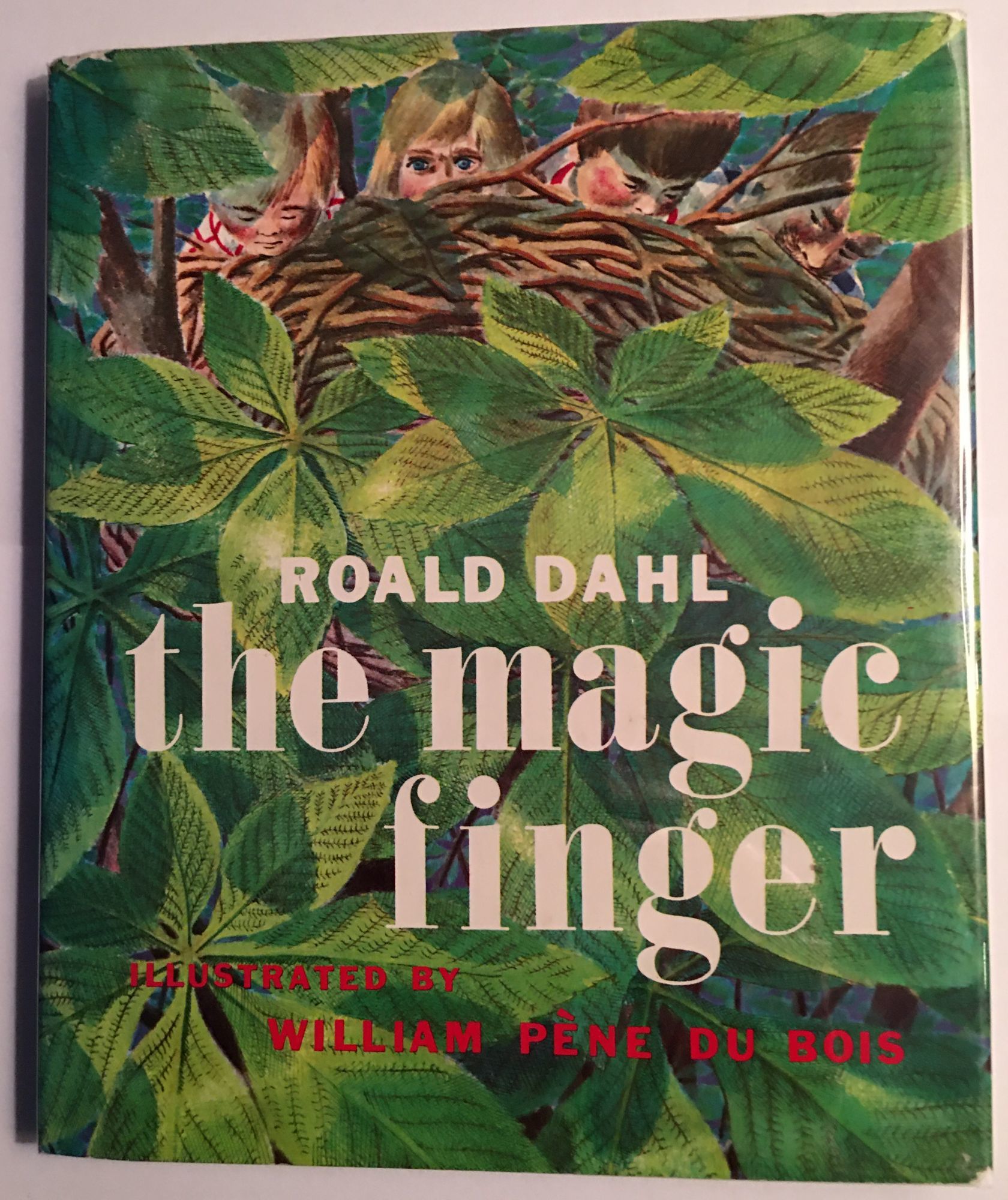 New York: Harper & Row, 1966. Later printing. Hardcover. A very good copy in a very good jacket with wear to extremities. William Pene Du Bois. Small 4to.When an irate eight-year-old girl puts the "magic finger" on the people who live on the neighboring farm, exciting things begin to happen. The author's third book for children. Price clipped jacket but code to bottom of front flap, "0868". However there is no "First edition" on the copyright page. Black cloth spine with green cloth over boards. Blue black endpapers.
Offered by Ed Smith Books.
** This article was originally published in 2016. It has been updated to feature new books.
Please note: all items listed by ABAA members are unique copies. While we make every effort to replace featured items that sell after an article goes live, you may encounter some 404 errors ("page not found"). We apologize for the disappointment, and encorage you to search our site for other copies of the title in question.
---

Search for other items by Roald Dahl...
---