The ABAA Women's Initiative organized a panel at the 52nd California International Antiquarian Book Fair to discuss the publication "Zamorano Celebrates 90", which highlights important women collectors from Southern California. Project coordinator and editor Jean Gillingwators and first woman president of the Zamorano Club Judy Sahak spoke about how the project came to fruition. Designer and printer Norman Clayton explained the significance of design choices such as the purple Japanese silk and 1/4 leather cover as well as the challenges of replicating old and sometimes deteriorated photographs in print. ABAA members Jen and Brad Johnson were contributing essayists and spoke on fine press printer Lillian Marks of the Plantin Press and bookseller Peggy Christian. Librarian and educator Gary Kurutz discussed Alice Millard. ABAA member Kait Manning moderated the panel and asked questions which elicited insightful answers and convivial banter between the panelists.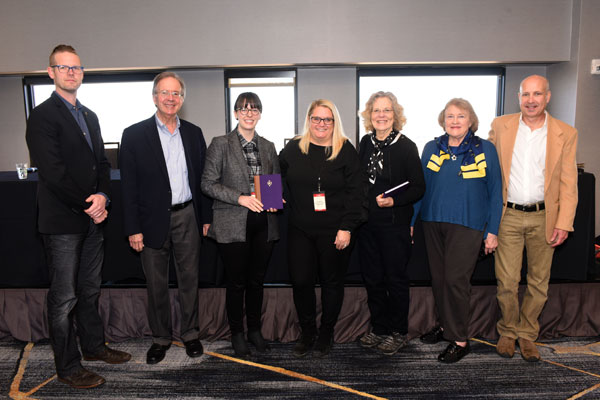 The Panelists (left to right): Brad Johnson, Gary Kurutz, Kait Manning, Jen Johnson, Jean Gillingwators, Judy Sahak, and Norman Clayton.
The Zamorano Club is Southern California's oldest organization of bibliophiles and manuscript collectors. Founded in 1928, it sponsors lectures and publications on bookish topics. Most noteworthy is the Zamorano 80 (1945)—a member-selected and -written catalogue of the most significant books in California history.
"Zamorano Celebrates 90: Honoring the Contributions of Women in Books and Book Collecting in Southern California" highlights seven women who were early collectors, printers, or booksellers. Among these seven is a piece on Agnes Dawson, whose contributions to the art of book collecting made her an honorary member of The Zamorano Club prior to the opening of membership to women in 1990. Dawson was well acquainted with many Southern California women who were knowledgeable and avid collectors.
This celebratory volume focuses on seven women who were notable for their book collections: Carrie Estelle Doheny, Alice Parsons Millard, Olive Percival, Lillian Marks, Peggy Christian, Agnes Dawson, and Mayme A. Clayton. The text and illustrations provide insight into how and why each of these esteemed women became collectors. Preface, introduction, essay, and afterword writers include Brad Johnson, Jen Johnson, Gary Kurutz, Carrie Marsh, Elizabeth Pomeroy, Laura Rips, Judy Harvey Sahak, Romy Wyllie, and Michele Zack.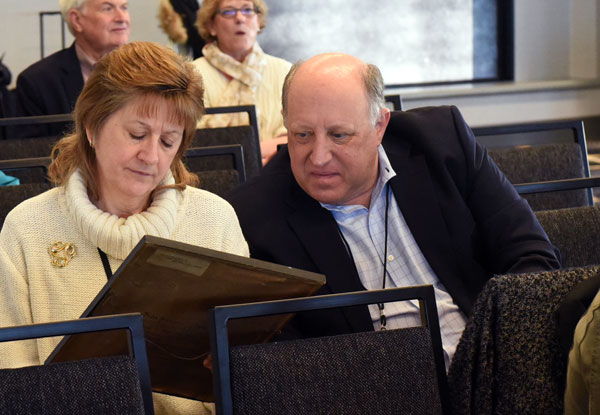 Laurelle Swan and Jeff Elfont.
Of 125 numbered copies, 50 copies are bound in cloth and offered for sale. Printed letterpress by Norman Clayton in Ojai and bound by Kater-Crafts Bookbinders in Pico Rivera. 6¼ x 8¼ x ½ in. 63 pages. $125, plus $10 shipping.
For more information or to purchase, email Jean Gillingwators at jgwators@me.com.
(Photo credits: Joseph Driste Photography)