The 52nd California International Antiquarian Book Fair returns to the Oakland Marriott City Center, Oakland, California, over the weekend of February 8-10, 2019.
Recognized as one of the world's largest and most prestigious exhibitions of antiquarian books, the 52nd California International Antiquarian Book Fair returns to Northern California, Friday, February 8 through Sunday, February 10, 2019 at the Oakland Marriott City Center. Sponsored by the Antiquarian Booksellers' Association of America (ABAA) and the International League of Antiquarian Booksellers (ILAB) and featuring the collections and rare treasures of nearly 200 booksellers from over 20 countries around the world, the three-day book fair offers a rich selection of manuscripts, early American and European literature, modern first editions, children's books, maps and autographs, as well as antiquarian books on history, science, law, architecture, cooking, wine, and a wide range of other topics.
This year's Book Fair will include a special exhibit by the Book Club of California, an active association of over 800 major California collectors with interests in rare books and manuscripts of all types. Founded in 1912, the Club's library is dedicated to collecting and sharing works of California fine printers; resources on book making, book design, and book history; and books of historical significance. One side of this bi-faceted exhibit will display a selection of materials by California women printers and book artists, with a spotlight on Jane Grabhorn's test prints for the illustrations of the Grabhorn Press' Shakespeare plays. Also on display will be some of the Club's oldest and most sought-after books, including a beautifully ornamented Virgil printed by Miscomini in 1476 and Ansel Adams' Taos Pueblo.
Joel Harris, a local member of the International Wizard of Oz Club, will be loaning a portion of his collection for a curated exhibit of first edition books by L. Frank Baum and the subsequent authors of the "Wizard of Oz" series. The theme of a Saturday lecture jointly sponsored by the Antiquarian Booksellers' Association of America and the Bibliographical Society of America will be "Cyclone on the Prairies: The Magic of the Land of Oz."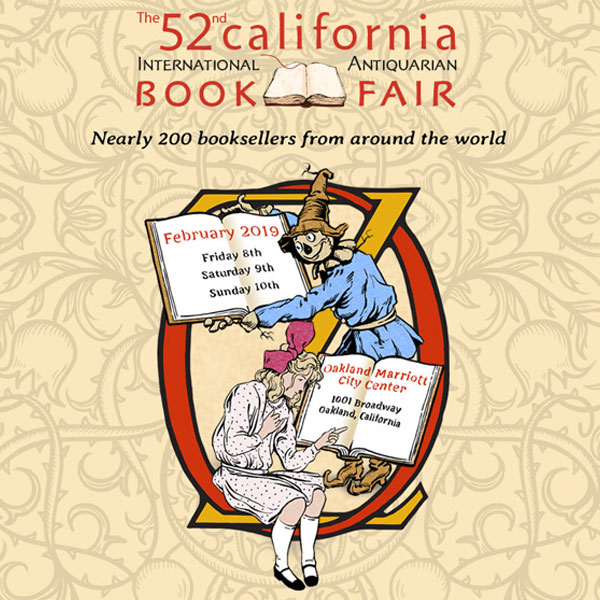 In recognition of the next generation of bibliophiles, the California Book Fair announced The California Young Book Collectors' Prize. The competition is open to collectors aged 35 and under who are living in California. (Entries for 2019 have now closed, but details can be found here...)
Designed with the budding collector in mind, "Book Fair Finds" is a program in which dealers spotlight items priced at $100 or less. Visitors can look for the Book Fair Finds sign in participating booths.
Other highlights of the Book Fair include an interactive and entertaining exhibition that showcases local artists and organizations specializing in book arts. Local libraries and universities will be exhibiting one-of-a-kind works from their collections. Calligraphers, bookbinders, and a small press operator will once again be creating unique souvenirs for attendees to take home.
---
Preview item:
Leonardo da Vinci: Artist, Thinker, and Man of Science (Ashendene Press)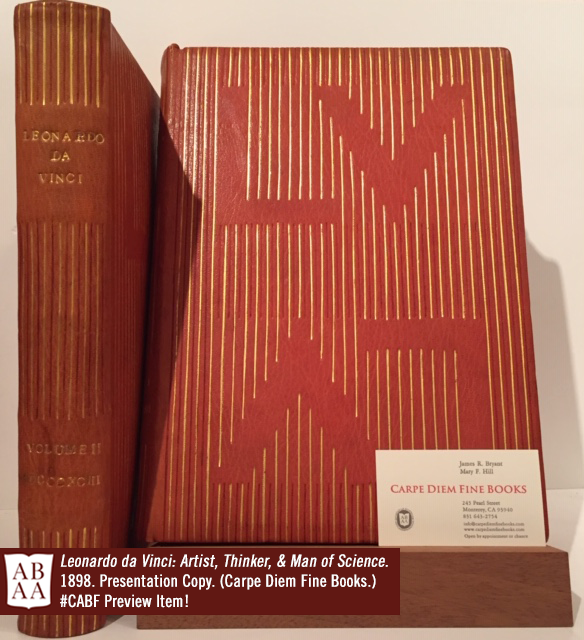 To 'C. Cassandra Barclay from St. J. and C. Hornby'
'Presentation Copy' blindstamped to title pages. Published in 1898, the year of their marriage, this set likely was a gift from Ashendene Press founders St. John and Cicely Hornby to her mother as the couple began their life together.
Offered by Carpe Diem Fine Books, booth #609.
---
Special Events and Exhibits
Saturday, February 9
1:00 pm: Cyclone on the Prairies: The Magic of the Land of Oz
Peter E. Hanff, Deputy Director of The Bancroft Library, will be presenting a lecture on L. Frank Baum jointly sponsored by the Antiquarian Booksellers' Association of America and the Bibliographical Society of America.
Sunday, February 10
9:30 am: Zamorano Celebrates 90
(Please note that this panel takes place at the Oakland Marriott City Center prior to the Fair opening and is open to the public.)
A panel discussion organized by the ABAA Women's Initiative and moderated by Kait Manning with project coordinator/editor Jean Gillingwators; first woman president of the Zamorano Club Judy Sahak; and contributors Jen and Brad Johnson who will speak on fine press printer Lillian Marks of the Plantin Press and bookseller Peggy Christian. The Zamorano Club is Southern California's oldest organization of bibliophiles and manuscript collectors. Founded in 1928, it sponsors lectures and publications on bookish topics. Most noteworthy is the Zamorano 80 (1945)—a member-selected and -written catalogue of the most significant books in California history. The event is free and open to the public.
12:30–1:15 pm: Book Collecting 101
Learn from ABAA president Vic Zoschak, Jr., (Tavistock Books) to create a strategy for collecting books, as well as how to spot a "first edition," judge a book's condition, and learn bookish terms and jargon.
1:15–2:00 pm: What's This Book Worth?
Vic Zoschak, Jr., (Tavistock Books) will discuss the primary factors that give books commercial and monetary value, as well as strategies for appraising and selling books.
2:00–3:30 pm: Discovery Day
This is the public's chance to discover if those old books gathering dust are worth something. The public will receive free, expert oral appraisals on up to three books. Appraisals are limited to a first come, first served basis – within the scheduled times.
The Book Fair is BARTable! The event's venue in downtown Oakland is an added convenience for bibliophiles. The Oakland Marriott City Center is just steps away from the 12th Street BART Station, making it easily accessible to attendees from San Francisco and all over the East Bay. Out-of-town visitors will appreciate staying onsite at the Marriott, plus fair visitors arriving at both Oakland and San Francisco airports can take BART directly to the new venue.
Sponsors for the Book Fair include: KQED, ABC7, The San Francisco Chronicle/Datebook and BART.
---
Preview item:
George Cruikshank, The Cholic.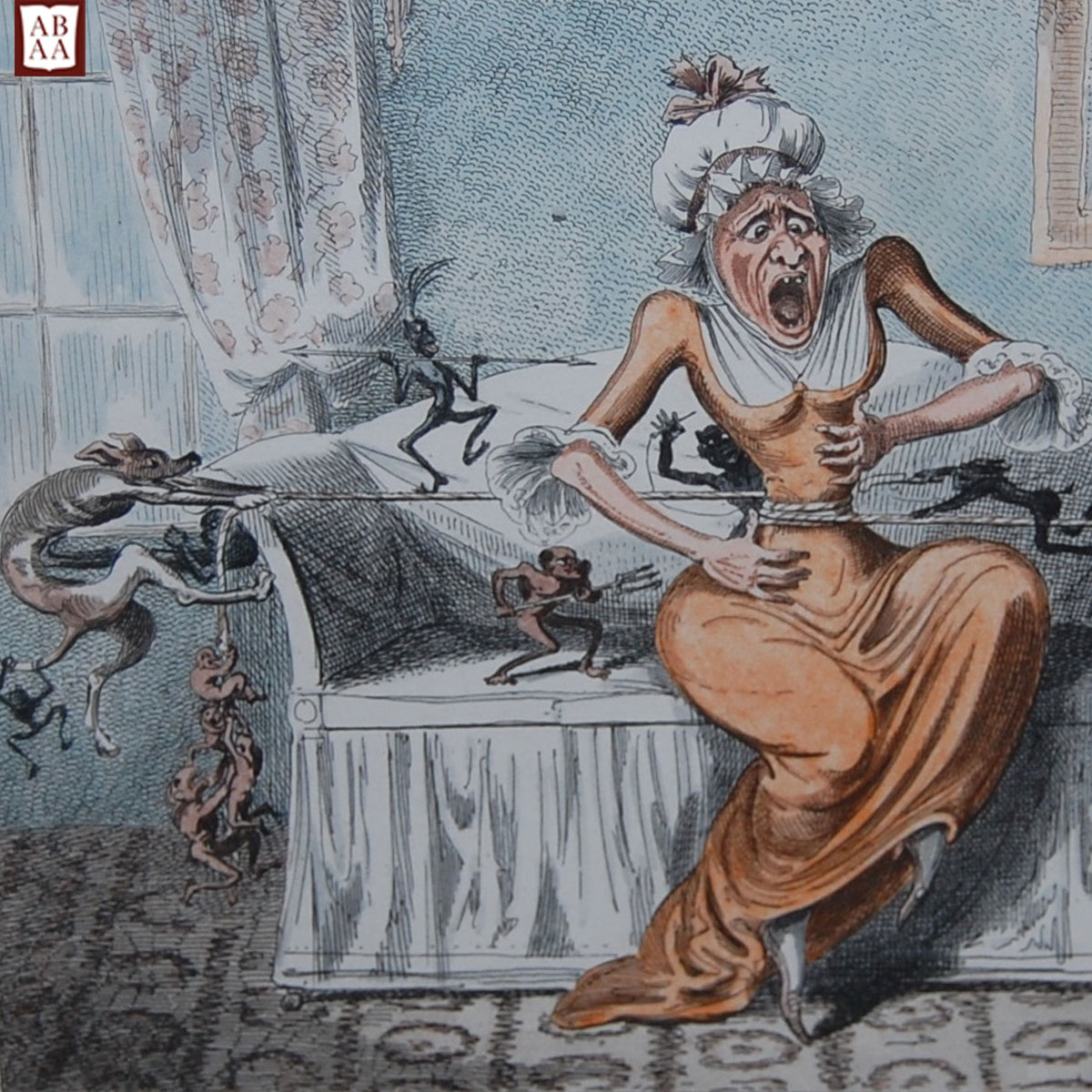 Original Hand Colored Print. London: 1835. 8 x 10 inches, 16 x 18 inches, framed.
Beautiful hand colored etching, with watercolor, on thick woven paper. Double-matted in early wooden frame, minor wear. Fine impression print, a stunning piece. Not examined out of frame. "An elderly woman, lean, old-fashioned, and spinsterish, sits on a settee, shrieking and contorted with pain. A rope is wound tightly round her waist, the ends held by vicious little demons (left and right), who tug with all their might. Four others attack her with spear, trident, needle, and knife. On the wall (right) is a picture of a fat, disreputable-looking woman drinking, bottle in hand, by a bedroom fire." [-British Museum]. Cruikshank satirizes the abuse of women and fashion of the day in this print, the woman suffering from self-imposed agony as a victim to the popular act of wearing tight-laced corsets. George Cruikshank (1792-1878), English artist, caricaturist, and illustrator who, began his career with satirical political cartoons and later illustrated topical and children's books. He quickly became one of the most popular masters in his field.
Offered by Dark Parks Books & Collectibles, booth 704.
---
Tickets and Information
The 52nd California International Antiquarian Book Fair will be held at the Oakland Marriott City Center at 1001 Broadway in downtown Oakland from 3 p.m. - 8 p.m. on Friday, February 8; 11 a.m. - 7 p.m. on Saturday, February 9; and 11 a.m. - 5 p.m. on Sunday, February 10. Tickets will be available at the door.
Friday Opening Day admission tickets are $25; Saturday and Sunday tickets are $15. Tickets allow return admission for the remainder of the fair. For more information about tickets or exhibiting, visit www.cabookfair.com. Free admission for all students with a current valid student ID.
For more information about the 52nd California International Antiquarian Book Fair, please visit the website at www.cabookfair.com or contact Fair managers Doucet Productions at info@cabookfair.com, (415) 919-9220.
Preview Items!
Visit this page to preview some of the many beautiful rare books and related items ABAA members will be exhibiting at the Fair...