The 2019 California International Antiquarian Book Fair takes place in Oakland, California February 8-10, 2019. Nearly 200 rare-book dealers from around the world will be bringing their most-outstanding items to surprise and delight book collectors. Some of the ABAA members attending preview their wares below...
Harold Arlen. "The Wizard of Oz" Record Set - Inscribed by the Composer!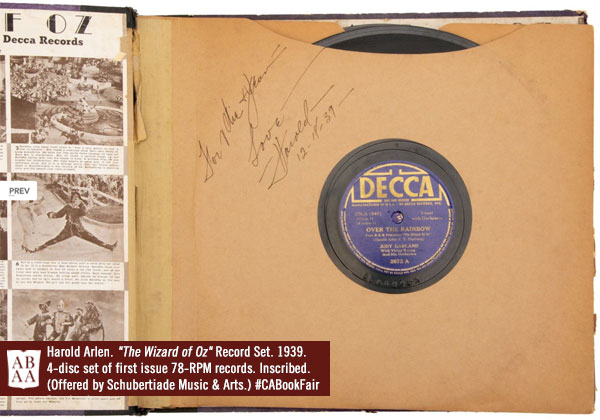 1939. 4-disc set of first issue 78-RPM records of the cast-recording soundtrack album for the beloved film, inscribed by the composer, Harold Arlen, to his brother and sister-in-law. Housed in original illustrated covers.
Inscribed in pen on the first record sleeve: "For Julie + Jean, Love Harold 12-18-39". Songs include "Over the Rainbow", "Munchkinland Part I & II", "If I Only Had a Brain", "If I Only Had a Heart", "The Merry Old Land of Oz", and "We're Off to See The Wizard". This record set includes the only known release of the movie's deleted musical number, "The Jitterbug", as the album was created and distributed before filming wrapped. Discs exhibit very little handling, but are untested. Front cover detached but present, with part of cloth tape torn. Edge wear to the covers, with cloth tape repair between inside front cover and first record sleeve. Overall very good.
Songwriter Harold Arlen (born Hyman Arluck) is to thank for some of the most iconic songs of the twentieth century, including "Over the Rainbow," "Get Happy," "Stormy Weather," and "The Man That Got Away." He collaborated with several lyricists, including E. Y. "Yip" Harburg, with whom he was hired by MGM to compose songs for The Wizard of Oz. The song "The Jitterbug", written in a swing style, was intended for the sequence in which Dorothy and her friends are journeying to the Witch's castle. Due to time constraints, the song was cut from the final theatrical version, and the film footage for the song has been lost, although silent home film footage of rehearsals has survived. A reference to "The Jitterbug" remains in the film: the Witch remarks to her flying monkeys that they should have no trouble apprehending Dorothy and her friends because "I've sent a little insect on ahead to take the fight out of them."
Offered by Schubertiade Music & Arts, booth 505.
Archconfraternity of the Stigmata of St. Francis. Illuminated manuscript on vellum, in Latin.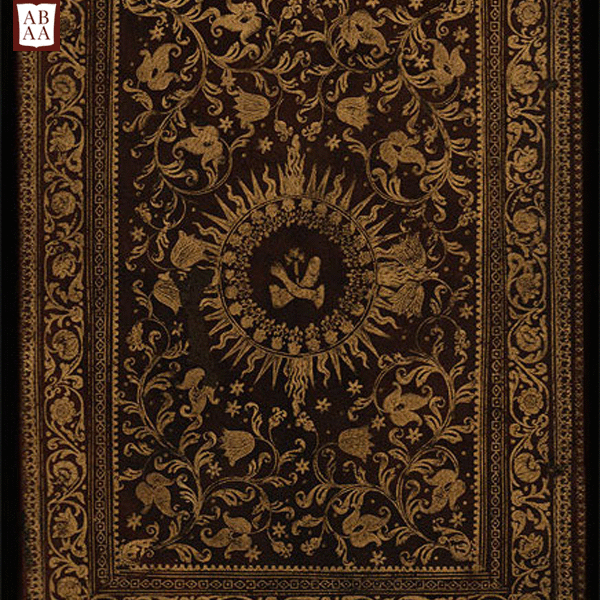 "Franciscus Tituli S. Petri & Marcellini S.R.E. Cardinalis Pignattellus ... Dilectis nobis in Christo Confratribus Confraternibus Sacror. Stigmatum & S. Antonii de Padua in Ecclia. Parrochili S. Conini Loci Cicognoli Cremonen. ... Rome: 1706. 8vo (22.7 cm, 9.5'), [10] ff.

The parish church in the municipality of Cicognolo in the province of Cremona in the Italian region of Lombardy, located about 90 kilometres (56 mi.) southeast of Milan and about 14 kilometres (9 mi.) northeast of Cremona, has petitioned to establish a chapter of the archconfraternity of the Stigmata of St. Francis.
Approval has been granted and this is the official document establishing the archconfraternity there. It is written in roman hand in brownish-black ink with extensive variously sized headings indited in gold, and has a full-page portrait of St. Francis, a medallion vignette of his hands receiving the stigmata, and a large triple-bordered decorated initial "D," all accomplished in colors and gold and incorporating or surrounded by generous flourishes of flowers painted variously in shades of rose, yellow, and blue. All leaves have borders in black and gold (and sometimes green) except one initial blank.
On the verso of the last leaf are the signatures of "custodians" of the archconfraternity in Rome below which are two paper and wax seals (one lacking the paper) with the seals' owners' names below, attesting to the completion of the application process and the granting of the petition.
Binding: Contemporary crimson morocco, covers lavishly gilt-tooled. The center panel is richly filled with floral motifs and small stars surrounding a center emblem of the hands of St. Francis within a circular border of flames. Surrounding the center panel are four outer frames created by variety of large and small rolls. Marbled paper pastedowns in an unusual "patchwork" style.
Binding as above, manuscript recased, without the original ties. Some text rubbed and illegible, clean cracks in fourth leaf, crudely repaired hole in last leaf causing text loss. Curious green tarnishing of the gold. A most attractive binding, a beautifully painted manuscript, an interesting artifact of Catholic social history, and a great tool for teaching about conservation concerns.
Offered by Philadelphia Rare Books & Manuscripts, booth 213.
The Wonderful Wizard of Oz (First Edition)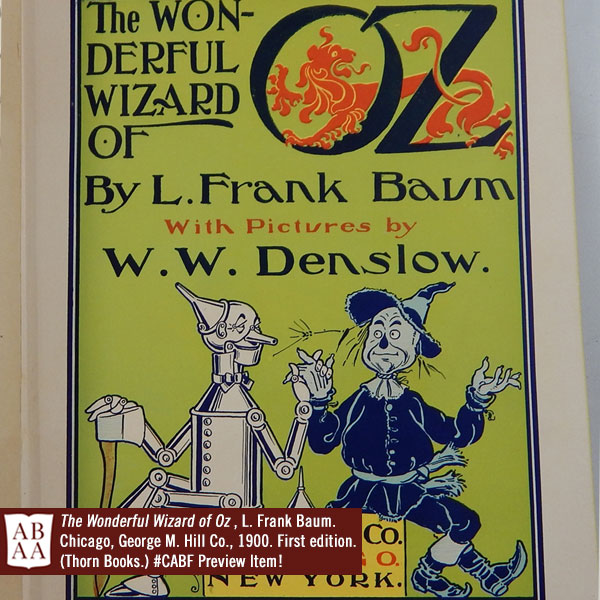 Baum, L. Frank, THE WONDERFUL WIZARD OF OZ, Chicago, George M. Hill Co., 1900. First edition. Large 8vo. Pale green cloth blocked in medium green and red. Illustrated paste-downs. Complete with 24 plates (including title).

The text has the following points: on p. [2], the publisher's advertisement has a box; on p. 14, line 1 has the misprint "low wail on the wind"; p. 81, line 4 from bottom has "peices" uncorrected; p. [227], line 1 begins: "While Tin Woodman…"; the colophon is in 11 lines within a two-line box; with unbroken type in the last lines of p. 100 and p. 186. The plate opposite page 34 is in the second state without two blue spots on the moon; the stork plate opposite page 92 is the second state without red shading on the horizon; the copyright notice is stampedo on the verso of the title. The binding is in state C but the rays surrounding the emerald on the lower cover are not outlined.

Cloth somewhat worn and soiled, with wear at spine tips and hinges, and spine darkened. Neat bookplate and ownership label, some light soil and wear to the text block but generally a good to very good copy as this title goes. Housed in a custom clamshell case, green morocco spine, marbled paper boards and trays using papers marbled by Antonio Vélez Celemín.
Offered by Thorn Books, booth 601.
Jacques Aliamet [after David Teniers]. Arrivee Au Sabat [Demons and Witches at the Sabbath].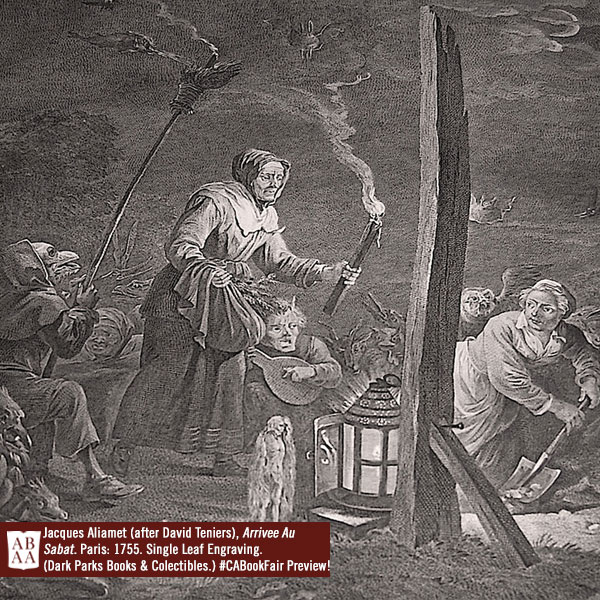 Paris: 1755. Rare first state printing. Large format. Original engraving, untrimmed (rare), large margins. Fine impression, outside margins with some light foxing, but engraving is clean. Lettered in lower margin with Aliamet as engraver and Teniers as artist, printed in Paris by Aliamet, with coat of arms in center for Comte de Vence (Claude Alexandre de Villeneuve). A true rarity to find this original untrimmed and in original large format. A beautiful issue, most suitable for framing. Nocturnal scene, arrival at the witches sabbath. With witch standing among demons with firebrand in hand, a half man-half animal holds a flaming broom, a homunculus stands at lower center next to a glowing lantern, creature holds a shovel, in the air are a flying bat, fish, and owl, the head of an ogre and a goat in the background, with other demons; Comte de Vence's coat of arms in bottom margin. The original by Teniers is forever lost. Ottley's Notices of Engravers states Incantations (Depart Sabat and Arrivee Sabat) are among the most desired prints from Jacques Aliamet (1727-1788). This original print (along with Teniers Depart Sabat)advertised in the Mercure de France, October 1755.
Offered by Dark Parks Books & Collectibles, booth 704.
CHARLES VICTOR ALEXANDER PEEL, UNPUBLISHED MANUSCRIPT WITH ORIGINAL ALBUMEN PHOTOGRAPHS "AN EXPEDITION TO THE ROCKY MOUNTAINS OF WYOMING, U.S.A. IN SEARCH OF BIG GAME".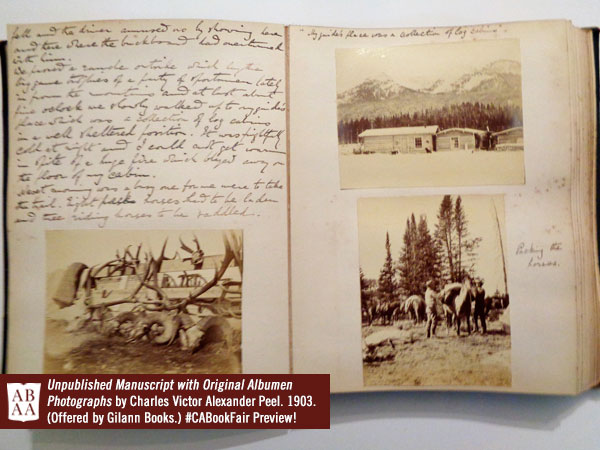 Titled and signed by author Charles Victor Alexander Peel on front end paper, dated 1903. includes 27 pages of handwritten text and 66 original albumen photographs.
Offered by Gilann Books, booth 202.
Journey to the Gold Diggins by Jeremiah Saddlebags
New York: Stringer & Townsend, [1849]. Oblong 8vo (5 1/2 x 9 inches). 63, [1]pp. Pictorial title and 112 wood engraved comic illustrations. Original green lower wrapper (upper wrapper, which repeats the title is lacking). Housed in a modern cloth slipcase. Rare first edition of among the earliest caricatures of the Forty-Niners: a classic of California Gold Rush comic book literature. "Of the American comic books on the subject of the gold rush, the best known, although it is scarce, is this." This is the story of an "Argonaut who risked the hard journey to the gold fields, found that it was all a good deal more difficult than he had thought, avoided death by a hair's breadth time and again, and came home poorer than he went. It is the best of the American comic books on this theme" (Cowan). "Jeremiah Saddlebags underwent every possible mishap in this classic spoof of the adventurers of the Forty-Niner" (Streeter). Two issues of the first edition were published, without priority, in Cincinnati and New York (present). A scarce example of the best known work of Gold Rush comic book literature. Cowan, p. 523; Howes R92; Kurutz 524b; Murrell 170; Randall 404; Sabin 68157; Streeter sale 2591; Graff 3432.
Offered by Donald A. Heald Rare Books, Maps & Prints, booth 214.
Thomas Pynchon, Gravity's Rainbow (First Edition)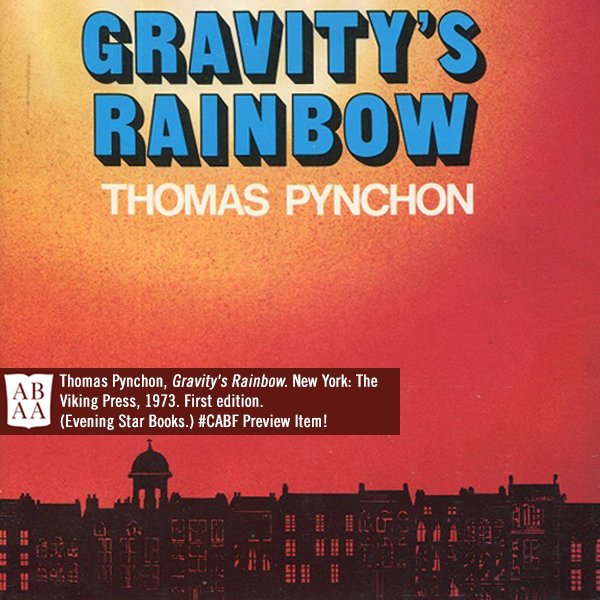 New York: The Viking Press (1973). First edition. 760 pp. Price of $15.00 on front flap of jacket. Just about Fine in a like dust jacket that is bright, unfaded, and clean. Nominated for the 1973 Nebula Award for Best Novel and winner of the National Book Award in 1974. A beautiful copy of Pynchon's masterpiece, a landmark work in post-modern literature.
Offered by Evening Star Books, booth #307.
The Wedding of Sir Gawain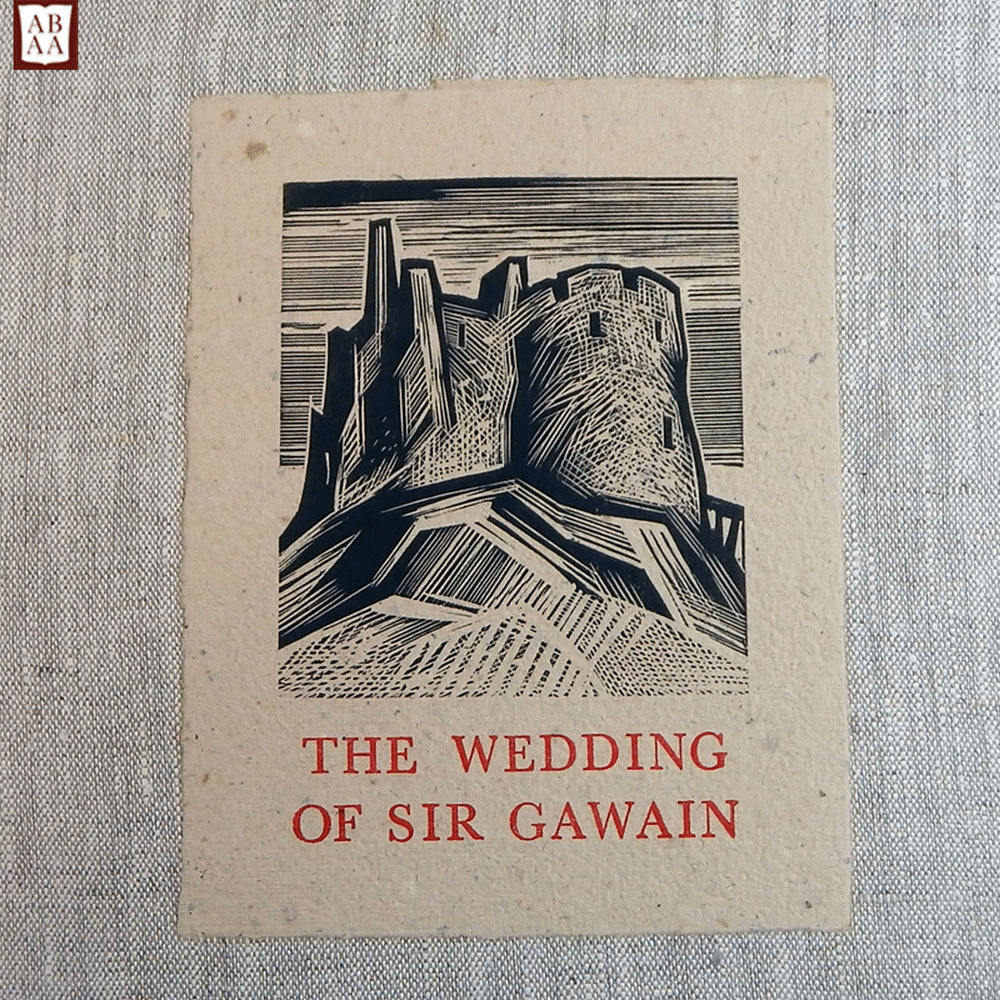 Madden, Frederick, transcriber; James J. Owens, modern English rendering; Dmitry Sayenko, artist, illustrator., THE WEDDING OF SIR GAWAIN, St. Petersburg, Dmitry Sayenko; Nikodim, 2018. Limited edition Two volumes, folio. Slipcased. One of 20 copies signed by Owens and Sayenko in the colophon. Prospectus laid in. The volumes are in fine, as new condition; the slipcase has a tiny bump on one corner else is fine.

The main volume, 56pp, hardcover is in full grey linen with a linocut paste-on and brass corners. Tan endpapers. All pages of handmade paper and uncut, replete with linocuts taken directly from the blocks and in multiple colors, with the text letterpress, deeply printed on dampened paper with Baskerville type.

Volume 2 is also folio, and in handmade paper wraps, the upper wrap with a linocut of Gawain and Ragnell taken from the block, and title by \letterpress in red. (28)pp. The text is printed offset on ivory machine-made paper and contains the complete Romance as transcribed from the sole manuscript by Frederick Madden and rendered into modern English by James J. Owens, keeping the original cadence and rhyme schemes.

The artist explains the first volume: loose pages in an attic from an old book, some chewed by rats. The owner, realizing they are from the same book, puts them together as best he can, even though some of the pages are artfully torn by the artist to imitate the effects of rats gnawing through paper.

This is the story of Gawain and the Loathly Lady, Dame Ragnell. For Arthur's sake and safety, Gawain wed her, and when he did exactly the right thing, the spell was broken, she shed her ugliness, and became beautiful. The sovereignty of women was the key.

Dmitry Sayenko is a Russian printmaker and book artist. His works are in private collections and in special collections in Russia, Germany and England, among others. For this bit of artistry, he cut over 50 blocks, made the paper, printed it with text and illustrations while damp, and bound the books. The deep impression of the illustrations and the text on the handmade paper are superbly satisfying. His renderings of a morose Arthur, a gallant Gawain, a Lady with ugliness to spare, and finally the beauty in the ending: these are a perfect match for the text.

Offered by Thorn Books, booth #601.

San Francisco Panorama

(Click through to see a higher-resolution image...)
Watkins, C.E. A stunning, four-part mammoth plate photographic panorama titled "San Francisco" on the frame, the views were taken by Carleton Watkins, circa 1865-1869, but most likely printed and published by Isaiah W. Taber sometime after 1876. One of the most striking and significant San Francisco images offered to the market in recent years, this 15 ¼" x 74" panorama, in a decorative 22 ¾" x 81 ¼" wood frame, portrays the growth of the city that was the gateway to hope for so many during the Gold Rush days.
Comprised of four mammoth plates taken from a vantage point on what is now Nob Hill, the view begins on the left with the first view looking towards North Beach and Alcatraz Island; the middle left image looks north-northeast toward Telegraph Hill; the middle right view looks northeast toward Goat Island [Yerba Buena Island]; and the right-side image looks south-southeast toward Rincon Hill and Potrero Point. The Watkins attribution, dating, and description of the 4-part panorama are taken from Naef and Hult-Lewis' book, Carleton Watkins: The Complete Mammoth Photographs (Los Angeles: Getty Publications, 2011).
Watkins' negatives and photographic studio equipment were purchased by Taber sometime around 1875/1876. Watkins had come upon hard economic times and his primary patron called in his loans. Taber began to print from Watkins' negatives and publish the photographs under his own name. Taber's inventory number, title and script logo type were placed at the bottom of most every image published by Taber. Although this panorama has not been removed from its frame, portions of a title can be seen at the bottom in several places. Partially obscured by the frame, the title at the bottom of the far-left image reads, "… California and Powell Streets, Alcatraz, San Francisco, Cal". There also is a hidden title under the frame at the bottom of the middle-left image.
Since Watkins rarely, if ever, titled his negatives, this panorama most certainly was issued by Taber almost ten years after its component photographs were taken by Watkins. Closed tears in the panorama have been repaired at the upper left and lower right corners; there is some toning to the sky area; and there are vertical differences in tone where the four photos were pieced together. There are wrinkles at both left and right upper corners. Not examined out of the frame, the panorama appears to have been backed on cloth and overall it is in Near Fine condition. This rare, incredible view of early San Francisco is an icon of western photography.
Offered by Cultural Images, booth #913.
Lothar Meggendorfer, Internationaler Circus.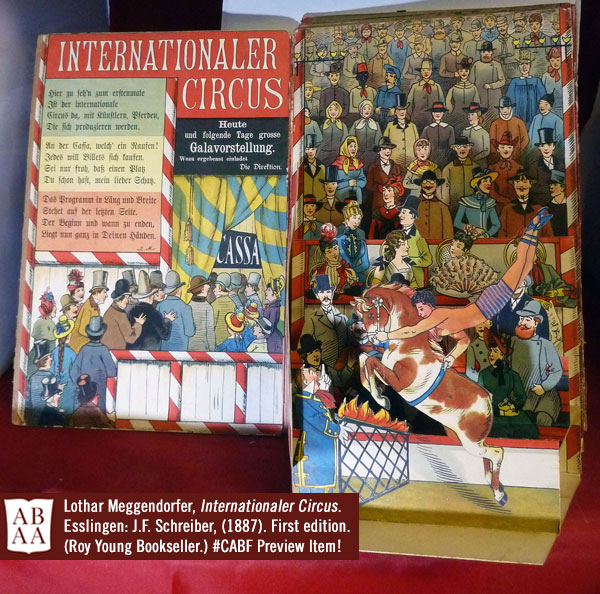 Esslingen : J.F. Schreiber, (1887). First edition. 35 x 22.5 cm. Six hinged leperello (accordion style) color lithographs, all pop-ups plus front cover and inside illustrations.
Considered one of the masterpieces of the Pop-Up Book genre. Hildegarde Krahe, in LOTHAR MEGGENDORFERS SPIELWELT, notes Meggendorfer shows in this book all his pleasure, "The extendable circus is one of the masterpieces of this genre. In the detail accuracy, in the typification of the figures shows the love of the artist for his profession..... all the characters seem directly take from life." "There is little doubt that the most elaborate and ingenious movables ever produced were those of the German Lothar Meggendorfer (1847-1925) made during the 1880s and 1890s..." (see: HAINING, Movable Books, pp.65-73). Interior contents clean and fresh, the red cotton reins tethering the horses to the driver intact, rubbing to extremities, a few nicks to the back cover publisher advertisements. Orig. publisher's pictorial boards in a multitude of colors. Very good.
Offered by Roy Young Bookseller, booth #311.
Collection of Rare Photographic Portraits of the Indigenous Peoples of Bolivia and Peru, ca. 1860-1870.
A fascinating and important collection of 52 carte-de-visite (CDV) photographs of the Aymara and Quechua people of South America by Bolivian-born photographer Ricardo Villaalba. Active in Arequipa, Peru and La Paz, Bolivia between 1860 and 1880, Villaalba was a pioneer in the field of ethnographic photography who created at least 200 different portraits of South American Indians in traditional dress. Collectively, these portraits are "one of the most impressive achievements of Andean studio photography," according to historian Natalia Majhuf, who also describes the photographer as "an interesting and certainly the least-studied photographer active in the Andean region in the nineteenth century." In addition to these portraits, Villaalba's known work includes the first photographs of the famous Misti volcano, a series showing the route of Peru's Southern Railway, and documentation of the destruction caused by the devastating 1868 earthquake in Arequipa and Arica.
The photos here comprise a veritable gallery of Andean Indians (and some mestizos), including men, women, and children dressed in a range of traditional costume—from rural peasant garb to urban fancy dress and formal military attire. They wear different styles of hats and ponchos and hold musical instruments, baskets, jugs, knives, rope, and other items relating to their occupations and social status. Most of these images were intended to represent "types" (tipos), and many use backdrops or props to exaggerate the sitters' attributes. As such, they can play only a limited role in documenting the actual lives and character of indigenous people. However, they are significant both for the clues to those lives that they do provide, as well as for their impact on the perceptions of the outside world and the formation of national identity.
We know that a least one image in this collection is straightforward portrait, taken to document the appearance of a specific individual—one of the henchmen of the notorious Afro-Aymara outlaw Salvador Chico (aka El Zambo Salvito). Chico and his band terrorized La Paz for more than a decade before they were captured, and most were executed, in 1871. Prior to the executions, Villaalba was able to take a group photo of the gang, as well as individual portraits of each of ten members. One of those photos is included in this collection. Other images here may also show known historical figures, but more research is needed to identify them.
Although Villaalba almost certainly created these CDVs for sale to the European and American tourist trade, relatively few seem to have survived. On the rare occasions they appear in the marketplace, it is generally only as single photographs, and most institutional holdings include only a handful of images. The George Eastman Museum owns an album titled Peru et Bolivie—Types et Costumes (the French title may be explained by the fact that Villaalba moved to Paris in 1880), which contains 200 ethnographic CDVs, and the Peabody Museum at Harvard owns an album of unknown size. After these, the group we offer here may well be the largest extant gathering of these captivating images.
Offered by Walkabout Books, booth #514.

Robinson Jeffers, Flagons and Apples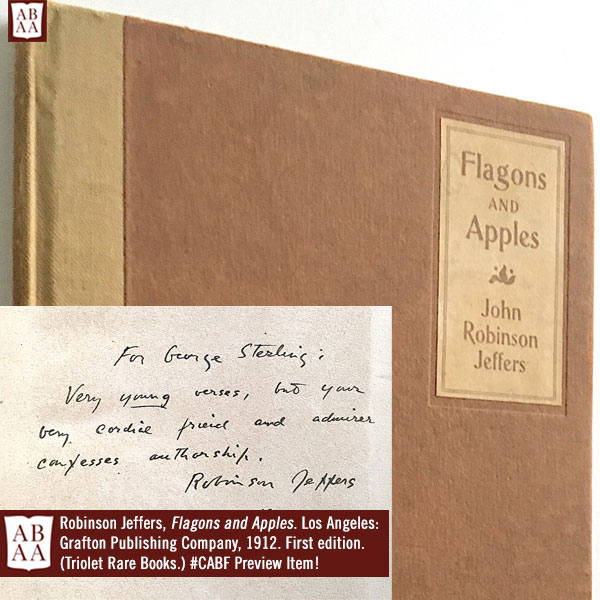 Los Angeles: Grafton Publishing Company, 1912. First edition. 46 pp. Original cloth-backed brown paper boards, printed paper cover and spine labels, top edge gilt. One of 500 copies printed at the author's expense. Spine a bit browned with label darkened and slightly chipped. Housed in a full morocco clamshell box.
Presentation copy, inscribed: "For George Sterling: / Very young verses, but your / very cordial friend and admirer / confesses authorship. / Robinson Jeffers / Carmel, December, 1925." Flagons and Apples, a collection of love poetry ("Stay me with flagons, comfort me with apples: for I am sick with love" - epigraph), was composed when Jeffers was indeed lovesick for Una, his lifelong muse who at this point was still married to her first husband. Jeffers was 26 years old when he published this book at his own expense, and its indeed young verses do not reflect the harder and more distinguished style of his mature work.
Presentation copies of Jeffers' first book are rare, especially of this significant association. Indeed, aside from Una we can imagine no better association than with Sterling. James Karman noted in his biography of Jeffers, "Sterling was important to Jeffers, more so, perhaps, than anyone else he ever met." Sterling was older than Jeffers, and a compatriot of Jack London and Ambrose Bierce, among many others, and was a linchpin of the bohemian community of Carmel (which he had left for San Francisco by the time Jeffers arrived). Sterling was responsible for Jeffers' work appearing in the anthology Continent's End (1925), which would be the catalyst for Jeffers to rise to fame. Karman's magisterial collection of Jeffers' letters includes one from Jeffers to Sterling dated December 31, 1925, in which Jeffers thanks him for the gift of his books brought during a visit to Tor House and notes that he will send Sterling several of his. Sterling's biography of Jeffers would be his last work, published posthumously later in 1926.
Offered by Triolet Rare Books, booth #512.


Ansel Adams and Mary Hunter Austin. Taos Pueblo.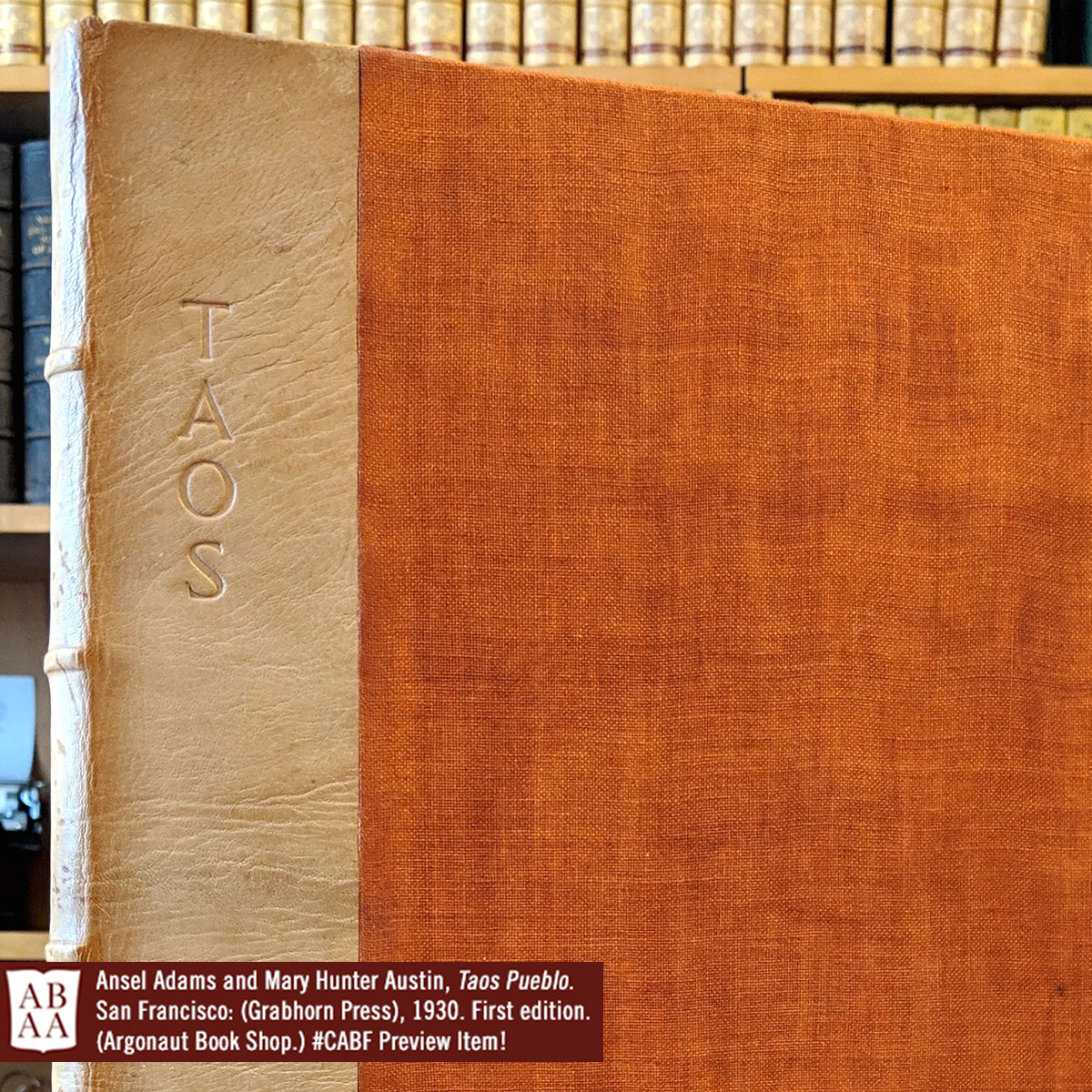 Photographed by Ansel Easton Adams and Described by Mary Austin. Folio. Twelve original silver-print photographs on special paper. Title page printed and decorated in black and orange; Indian design by Valenti Angelo. Half tan Niger leather with orange linen-covered boards, title stamped in blind on front cover; bound by Hazel Dreis. Some overall spotting to spine, else a fine and clean copy, housed in the original slipcase (light wear). San Francisco: (Grabhorn Press), 1930.
First edition. Limited to 108 numbered copies signed by both "Ansel E. Adams" and "Mary Austin" in the colophon, this being copy number 46. Significantly, Adams is using his middle name (and initial) which he later purposefully eliminated. When Taos Pueblo, Adams' first book, was published in 1930, he was only 28 years old. He had recently put aside an emerging career as a concert pianist to pursue photography full time. The twelve original photographs in Taos Pueblo include several formal portraits (reminiscent of Carl Moon or Edward Curtis) as well as intimate landscapes and architectural studies. The sheets on which the photographs were printed were sensitized by W. E. Dassonville. The book's title and colophon were printed in orange and black; the initial, title numbers, and thirteen marginal designs were printed in orange. The Indian design on title page was by Valenti Angelo, repeated as a headpiece and in the margins. The book was printed in handset Goudy New Style type on machine made paper. The book's solid success at the height of the Great Depression (all 108 copies were sold over two years at $75. each) encouraged Adams to continue in his course as a photographer of the American landscape. (Grabhorn Bibliography: 137).
Offered by Argonaut Book Shop, booth #903.

Samuel Beckett: Twelve Autograph and Three Typed Letters Signed; Reel of "Film."
Beckett, Samuel. Twelve autograph and three typed letters signed, 1964-70, Paris, Ussy-sur-Marne, Alghero Sardinia, and Nabeul Tunisia, to Sidney Meyers and his wife Edna Ocko Meyers. Together with some related correspondence and a complete 16mm reel of "Film", Beckett's 1965 motion picture featuring Buster Keaton. Five of the Beckett letters written on cards; the rest on plain paper.
The shooting and editing of "Film" brought Samuel Beckett to New York for several weeks in the summer of 1964. It was the only time he travelled to the United States, as well as his single venture into cinematic work. A rigorously conceived silent film, "Film" featured Buster Keaton in one of his final roles. Sidney Meyers, was an experienced filmmaker, documentarian, and a longtime fixture in New York circles of social documentary filmmakers, artists, and left-wing activists. An enigmatic legend in the New York film scene, Meyers had been deeply involved in radical filmmaking since the 1930s. A founder and central member of the collectives NYkino and Frontier Films, he worked closely with director Leo Hurwitz and photographer Paul Strand on the important film "Native Land" with Paul Robeson (1942). His own 1948 film "The Quiet One", done in collaboration with photographer Helen Levitt and writer James Agee, had received widespread acclaim on the international festival circuit and was nominated for two Academy Awards. It is recognized as a precursor to the "New Wave" and "Cinema Verite" movements that followed. He was close friend and trusted advisor to the great independent director Joseph Strick and, at the same time as he worked with Beckett was advising Strick on the script for his adaptation of James Joyce's "Ulysses". Strick, who served on the board of Grove Press, was instrumental in having Meyers hired as editor of "Film". Meyers's expertise in the medium proved critical, since Alan Schneider, the theater man brought on as director had never before worked in film. Beckett, Schneider, and producer Barney Rosset of Grove Press came to depend on Meyers and his role extended well beyond just editing. An extremely self-effacing man, the same age as Beckett, Meyers was deeply respected by his peers as a brilliant filmmaker yet one who shunned recognition. During the course of working side by side in the cutting room, and in their shared wanderings through New York, Meyers and Beckett formed a close friendship, as reflected in these letters.
The early letters here directly address the filmmaking process and reveal Beckett's intimate involvement in its meticulous construction. Prior to sending detailed notes on specific edits for a final cut, he writes "I am on the whole pleased with the film, having accepted its imperfections, for the most part perceptible only to the insiders, and discerned how in some strange way it gains by its deviations from the strict intention and develops something better. The last time I found myself submitting, far from the big crazy idea, to a strangeness and beauty of pure image."
As the correspondence continues, the letters become more personal and Beckett's affection for Meyers is always clear. He writes of his own anxieties, his trouble with his eyes, and his travels in Italy and North Africa. In his last letter to Meyers, which did not reach him before his death in 1969, Beckett, writing from Tunisia, refers elliptically to the news of his award of the Nobel Prize: "I came straight here from directing Krapp in Berlin and was settling down with Suzanne to a month of quiet sand, sun and sea when the bolt fell. I'm not equal to it and can't deal with it. You would understand the difficulty and keep me with it, but it's too complicated for pen and paper. The worst of the fear seems over now and I have hopes of creeping home unmolested under cover of the Prix Goncourt for ex. Or some other stupendous happening." A draft of Meyers's last letter to Beckett is present, handwritten on a page from a lined legal pad; the last two Beckett letters are to his widow, Edna Ocko Meyers, one offering pained condolences and a later one addressing the prospect of publication of some portion of the correspondence.
Other correspondence offered together in this small archive includes: a 1965 typed letter signed by Judith Schmidt, Barney Rosset's secretary at Grove Press, stressing to Sidney Meyers the need for a final cut to make the film available for the New York Film Festival; another Grove Press letter to Edna Ocko Meyers (1971) promising a 16MM print of "Film". The actual film is also present, housed in a belted film box with the Grove Press mailing label. A couple of pages of correspondence and documentation show Beckett attempting to make a donation to a memorial fund in Sidney Meyers's name in 1980. Further, there are eleven pages of correspondence between Edna Ocko Meyers (her letters are present in the form of retained copies) and Beckett's biographer Deirdre Bair (1978-1982) , concerning the friendship between Meyers and Beckett, which was not described in the biography. In some of the letters, Bair offers assurances that the addition will be made to the paperback edition, but then expresses her own dismay at discovering upon publication that her publisher had failed to make the emendation. Excerpts from two of Beckett's letters were published in the Cambridge University Press collection of The Letters of Samuel Beckett 1957-1965, and a permission document is also present in this archive.
Offered by Locus Solus Rare Books, booth #816.
Potter, Beatrix. The Tale of Peter Rabbit.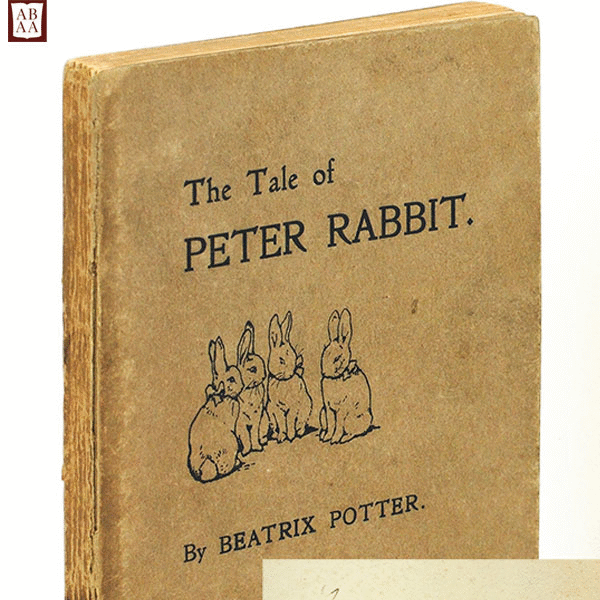 Privately printed: December, 1901. 16mo, coloured frontispiece and 41 black and white illustrations. Original grey paper boards, flat spine, decoration and titles to upper board in black. The boards a little chafed, extremities slightly rubbed, slight soiling on lower cover, otherwise a very good copy of a fragile book. In a green morocco folding box.
First privately printed edition, one of 250 copies. The true first printing of Potter's first and most famous book with the author's signed presentation inscription on the front free endpaper: "For Miss [Caroline] Hutton with love from Beatrix Potter Christmas 1901".
Potter was 27 and living at home when she wrote The Tale of Peter Rabbit. Five publishers rejected her illustrated manuscript but Potter arranged for it to be privately printed by Strangeways and its immediate success launched her career. Inscribed association copies of the first printing are truly rare; this copy, inscribed at the time of publication when she gave away several copies as Christmas presents to family and friends, unrestored and in relatively fine condition, was once said to be the "only copy to contain a personalised presentation inscription by Beatrix Potter. The remaining copies [at auction] either contain simply her signature, publication details in her hand, or an inscription dated December 22 with no named recipient." In fact, one other copy which we handled recently, was inscribed to a family retainer. The two copies in the V&A are inscribed, one in 1901 and the other in 1917. Caroline Hutton, a distant relative, was responsible for carrying Potter off to her family home near Stroud at a time when Potter was not well, and she became good friends with Caroline's father who christened her "The Busy Bee" so well did she flourish in that home. It was he who told her the story of the Tailor of Gloucester (to be Potter's second book) and it is not idle to suspect she may have conceived of Peter Rabbit while with Caroline and her father. Osborne, p 382.
Provenance: Pacific Book Auction Galleries (1996). Private collection (anonymous).
Offered by John Windle, Antiquarian Bookseller, booth #618.
Eugene Grasset, Les Mois: Douze Compositions gravÈes sur bois & imprimÈes en chromotypographie.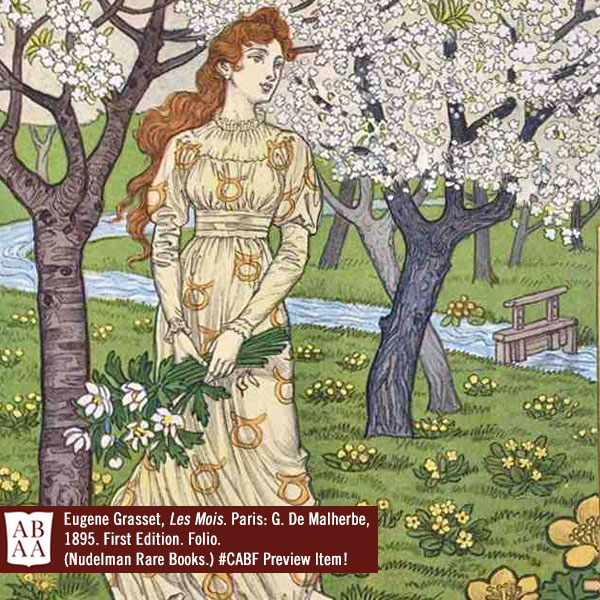 Paris: G. De Malherbe, 1895.

First edition. Folio size. Contemporary three-quarter vellum-style boards with handmade marbled paper boards, morocco label on spine as well as gilt designs on spine. TWO STATES OF THE ILLUSTRATIONS: 24 chromotypographed plates, two for each month in succession. The first being before type with month only printed, and the second after type, designed for the 1896 calendar of the Parisian department store La Belle JardiniËre. With original gray wrappers (on thick paper) for the "Imprimever Edition," by Malherbe, Paris bound front and rear. Sheets measure 17x241 mm; 12 1/2x9 1/2 inches, images are roughly 209x159mm; 8 1/4x6 1/4 inches (plates before letters are printed on the sheets, those with text cut and mounted to sheets). In the early 1890s Grasset began experimenting with a new form of printing called chromotypography, an early form of photolithography invented by his friend, Firmin Gillot. This calendar was printed in "Gillotage," a version of chromotypography where the plates are engraved on wood and printed on vellum. Covers slightly discolored with one small square at bottom left marked from a stamp, spine gilt rubbed, scattered marginal foxing. Overall very good and plates fine. A very nice set, extremely rare thus, with the calendar plates.
Offered by Nudelman Rare Books, booth #105.
Pindarus. Olympia, Pythia, Nemea, Isthmia.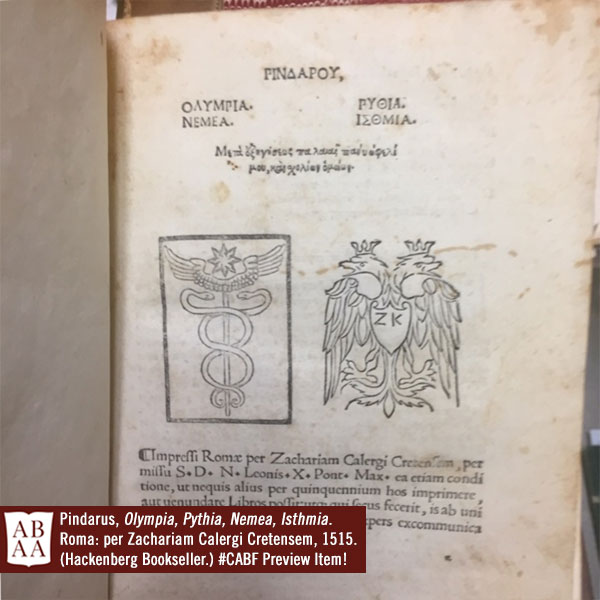 Roma: per Zachariam Calergi Cretensem, 1515. Quarto format, collates complete. Printed in red and black, bound in half-vellum with stiff boards. First use of Greek typography in Rome, and the first printed edition of Pindar with the extensive medieval scholia. Adams, P-1221 (variant).
Offered by Hackenberg Booksellers, booth #707.
A Postcard from Picasso.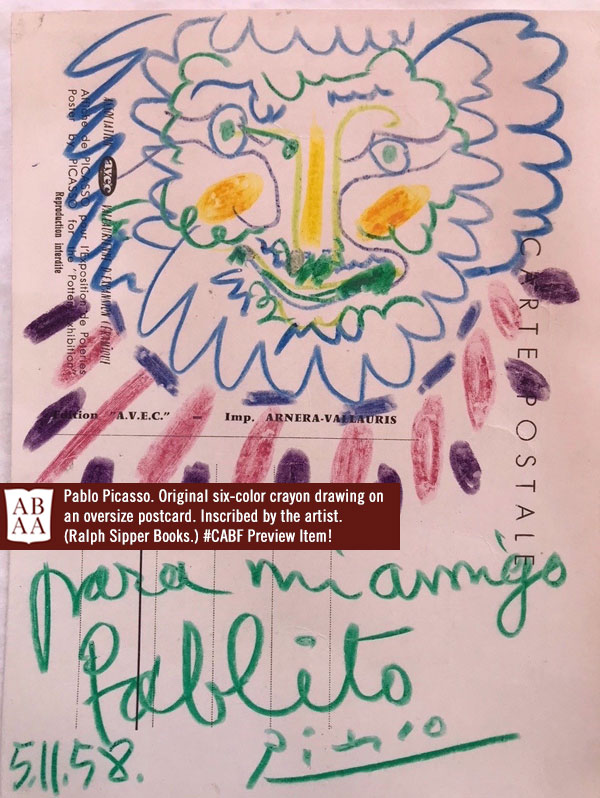 Picasso, Pablo. Original six-color crayon drawing of a grinning leonine face on an oversize postcard 4.75" x 6.5." Inscribed by the artist: "Para mi Amigo, Pablito 5/11/58 Picasso."
The drawing was mailed from Cannes, France by Picasso to the renowned woodcut artist and book illustrator, Antonio Frasconi under the following circumstances. Frasconi had sent Picasso some artwork by his precocious six-year old son, Pablo, whom he had named in honor of the great painter. Evidently, Picasso appreciated the outreach of a fellow artist and proud father by executing a vivid image that would appeal to the young boy (Picasso was in his Seventies at the time). Pablo Frasconi would grow up to become an acclaimed documentary filmmaker, an occupation that represented a moderate off-the- beaten-path departure from the artistic careers of his parents, Antonio Frasconi and Leona Pierce. This original work of art is not listed in the Picasso Catalogue Raisonne.
Provenance: Pablo Frasconi.
Offered by Ralph Sipper Books, booth #304.
Frank A. Leach Collection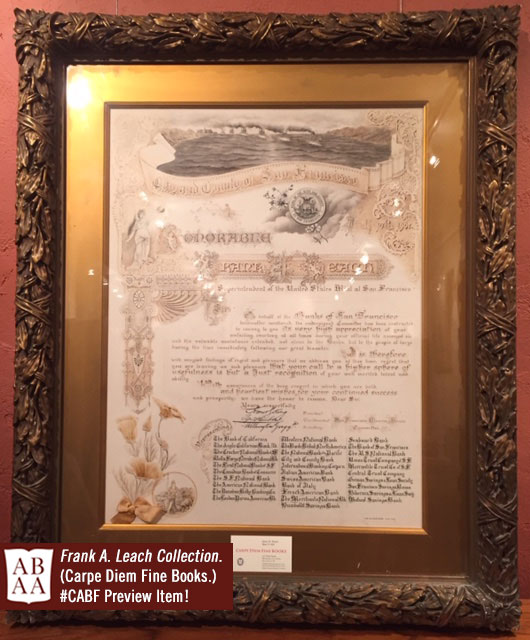 Frank Leach was publisher of the Vallejo Evening-Standard until 1886, when he moved to Oakland and founded the Oakland Enquirer. Leach retired from journalism in 1897 to become Superintendent of the San Francisco Mint.
In the aftermath of the 1906 San Francisco earthquake and subsequent fire, the heroic efforts by Leach and his men preserved the old San Francisco Mint building and the bullion that then backed the nation's currency.
In 1907, President Theodore Roosevelt named Leach Director of the United States Mint.
Among the items in the Collection is the large and ornate Certificate of Appreciation presented to Frank A. Leach on his departure to become the Director of the United States Mint. In his Recollections of a Newspaper Man, Leach described the occasion and the certificate:
"… When it became known that I was to resign the San Francisco position, the San Francisco bankers paid me a very great compliment in the shape of a set of resolutions, especially thanking me for services rendered the banking world after the fire, adopted by their association. The resolutions were engrossed in magnificent and most costly form, and presented to me by Homer S. King of the Bank of California, I Steinhart of the Anglo-California Bank, and Wellington Gregg of the Crocker National Bank…"
Offered by Carpe Diem Fine Books, booth #609.
Delegates to the International American Conference, Washington, D.C., 1889-'90.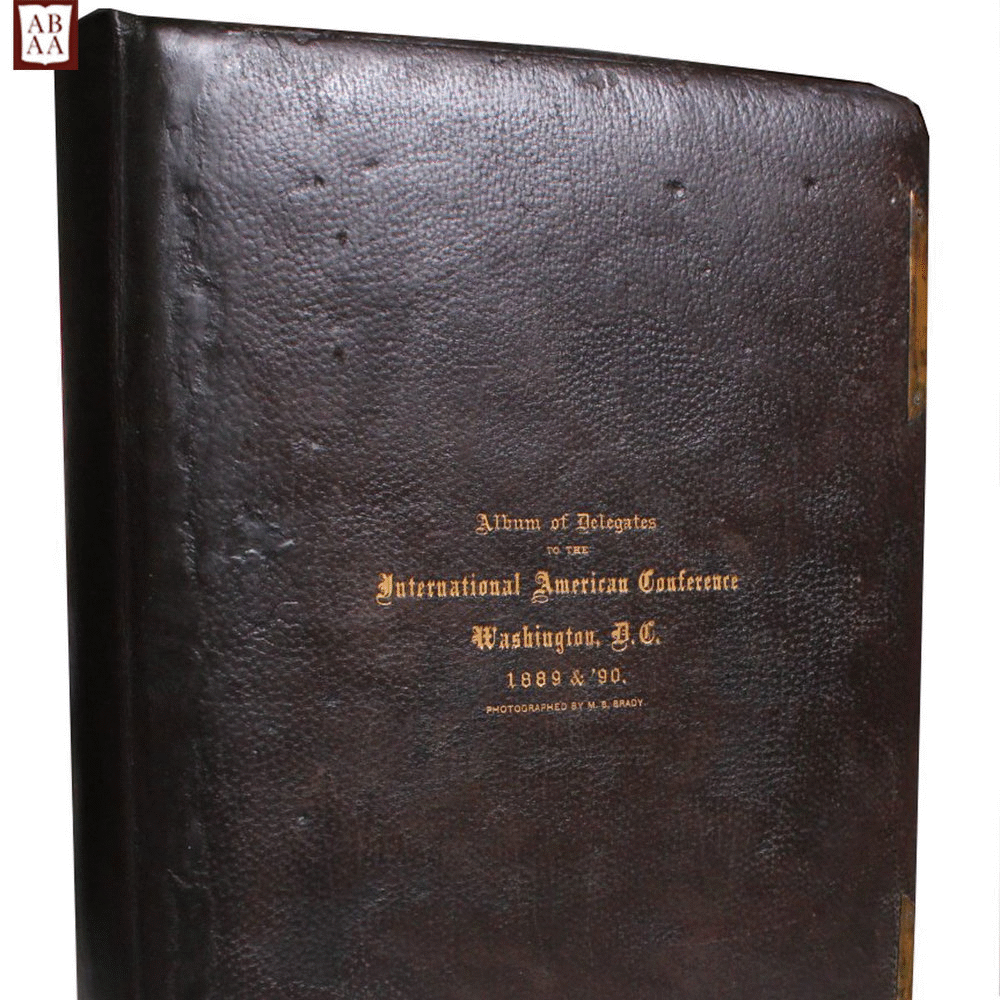 Brady, M[athew] B. Delegates to the International American Conference, Washington, D.C., 1889-'90. (Washington, D.C.): N.P., (1890). Full brown calf measuring 17¾" x 12" x 4" (457x327x104mm) with brass clasps, a.e.g, front board titled in gilt. 22 thick card leaves, each page with an albumen portrait mounted on card, which in turn is mounted inside a windowed sleeve (44 total photographs). Photographs measure 13 11/16" x 7 7/8" (346x201mm). Photographs generally very good, a few with dust soiling, all with from 3 to 12 neat wormholes; 2 photos good: heavily tanned. Album very good plus: professionally rebacked with some restoration to board corners and edges; lacking one clasp.
A massive, 21 pound monument to the series of meetings that ultimately created the Organization of American States and likely the last major work by Mathew Brady.
The first International American Conference came about, initially, because of James Blaine's desire to bring all the countries of the Western Hemisphere together to prevent war. In 1881, when Blaine was Secretary of State for Garfield, invitations to the countries were sent. After Garfield's assassination and Blaine's removal by Chester Arthur, the invitations were withdrawn. Out of public office, Blaine continued to promote the idea of a conference adding that it could also bring about trade benefits. His efforts succeeded with Congress, in 1888, adopting a resolution encouraging President Cleveland to hold the conference, "for the purpose of discussing and recommending for adoption to their respective governments some plan of arbitration for the settlement of disagreements and disputes that may hereafter arise between them and for considering questions relating to the improvement of business intercourse." Cleveland agreed, plans were made, Blaine became secretary of state again under Harrison and the conference was held. 27 delegates from 13 countries got together, but before the formal sessions were held they went on a 6 week rail tour of major industrial centers. The United States pulled out all the stops, hoping to foment friendships among the delegates through familiarity and shared experiences. The delegates met 70 times in the five months after their train trip. The most important result of the conference was the commitment to regular future meetings and the creation of the International Bureau of American Republics. It later became the Pan American Union and is now the Organization of American States. April 14, 1890, the Bureau's founding date, is now celebrated as Pan American Day, or Day of the Americas.
By the time Brady was contracted to create this album, his wife had died and his health was failing. His finances were a shambles and he often depended on the kindness of friends. Two years earlier, Brady and his nephew created an album depicting all the members of the 50th Congress, including the President and cabinet, but it was likely not published. He was still taking portraits in 1890, and he was hired to photograph the delegates to the Patent Centennial Celebration in April 1891, but we can find no record of that album's production. As such, this is likely Brady's last significant work prior to his death in 1896.
Despite the album's title, only 27 of the 43 men photographed were actually delegates with ten of them from the United States. Designation as a delegate was a point of contention when Blaine (who is seen as the first photo in the album) was nominated to be chairman of the conference. The Argentines successfully opposed Blaine's nomination on the grounds that he was not a delegate. In addition to Blaine, there is a photo of Andrew Carnegie as well as two men who each went on to become president of Argentina: Manuel Quintana and Roque Sáenz Peña. Other notables include John B. Henderson, co-author and co-sponsor of the 13th amendment and Charles Ranlett Flint, founder of the company which later became IBM. The final image shows the Wallach Mansion on Massachusetts Avenue, where the conference was held.
This is the ninth copy of the album we've been able to locate. The album is shrouded in mystery, with just a few lines mentioning it in three of the four Brady biographies we consulted. One believed that an album was created for each foreign delegate, in which case 17 were made; another hypothesizes they were given to each foreign delegation, or 12. OCLC locates a few individual images at the Library of Congress and a copy held by the Columbus Library of the Organization of American States. The National Archives states that OAS owns four total copies (two at Columbus, one with the National Archives, another in the cornerstone of the Pan American Building). A google search shows the Library of Congress has an album with 40 photos (and a longer title on the front board) and the Harvard Art Museums hold a copy (similar cover title as the copy held at LOC, and with 41 photos). A 1906 catalog of the Honduran National Library listed another and one with 43 photos sold at Swann's in 1997.
This album was given to Nicanor Bolet Peraza, a delegate from Venezuela, and comes from one of his descendants. Its having spent the last 125 years in that climate would account for the wormholes and we surmise it had been opened to the 30th and 31st photographs which would account for the two photos in lesser condition.
An important cultural artifact joining one of the most illustrious photographers of the 19th century with the diplomats who founded what is now the Organization of American States.
Offered by Langdon Manor Books, LLC, booth 211.
View more preview items from this year's Fair on our instagram account, @abaa49...
Find out more about the 2019 California Book Fair at www.cabookfair.com...