ABAA-member Frank S. Klein passed away at his home on January 12, 2019.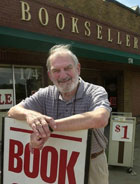 Obituary:
Upon graduation from Cuyahoga Falls High School during World War II, Frank was drafted into the Army. Following his discharge he enrolled at Kent State University where he excelled not only scholastically but also athletically as an outstanding tackle on their varsity football team. Frank, with other Kent students, founded Phi Gamma Theta Fraternity that later merged with Phi Delta Theta. He taught a few months, then decided to pursue a military career. His ROTC training at Kent State qualified him to enlist as a lieutenant in the Army's officer training program and he quickly rose through the ranks. He served in Korea and in Vietnam. Frank retired in 1970 as a Lieutenant Colonel working at the Pentagon in Army Aviation. He then took over operation of The Bookseller, Inc., a shop specializing in used and rare books that he and his father had established in the 1940s. Frank's daughter Andrea now operates The Bookseller, Inc. located in the Wallhaven area.

Until his health failed, Frank was very active in several book-related organizations. With some colleagues he founded NOBS (Northeast Ohio Booksellers Society). He was a member of the ABAA (Antiquarian Booksellers Association of America) and was recognized locally and nationally as an expert in the field of antiquarian books and ephemera. (Read the full obituary at Legacy.com...)


Friend and fellow ABAA-member Andrew Cahan shared this touching memorial to Klein on the ABAA listserv (reprinted here with permission):
I believe it was 1976; I was living in Brooklyn Heights, New York, having recently started a fledgling book business. Ron Horning, who is my long standing friend, and another bookstore habituate, suggested that I look up Frank Klein, the owner of the Bookseller.
Not long after, I was visiting my parents here in Akron and wandered into the shop on West Exchange. I was more or less just a novice, but already toying with the notion of a career as an antiquarian bookseller. Meeting Frank confirmed my suspicions that a life among books, booksellers and collectors held promise, as well the romance of a treasure hunter.
Frank schooled me in the ways of a gentleman bookseller. He unfailingly took me back to his office, opened a cabinet and pulled out a bottle of Wild Turkey – that was a signal that it was time to swap tales of the latest purchases and sales.
As the years went by, our friendship deepened. We spoke nearly daily on the phone, often with a glass in hand, swapping tales of books and the book business. Regularly, we travelled together to bookstores on scouting expeditions, to book fairs, and once on a trip through the English countryside buying books along the way.
Frank was ever the optimist, and although not a religious man, he was certainly a humanist - a man among men. He bailed me out when I hit bottom and relished my successes. He was my dear friend whom I will greatly miss.
--Andy Cahan