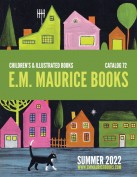 Catalog 72: Summer 2022
I meant to get a winter catalog out the door, but then March rolled around and it was too late. Then I tried for a Spring catalog, but May snuck up on me. So, here we are in early June and I finally put a list together. This catalog is mostly new arrivals with about 50 selections from our inventory.
Some of the highlights include Ronald King's limited edition pop-up ABC, ALPHABETA CONCERTINA; a first edition of Lloyd Alexander's Newbery Award winning THE HIGH KING; an uncommon book illustrated by Florence Mary Anderson, PASSWORD TO FAIRYLAND; Margaret Wise Brown's DAVID'S LITTLE INDIAN illustrated by Remy Charlip; a selection of BABAR books; Julius Hoppner illustrated edition of UNDINE; signed D'Aulaire books; the signed limited edition of I AM A PUEBLO INDIAN GIRL; Johnny Gruelle's GRIMM'S FAIRY TALES; a signed copy of Dorothy P. Lathrop's Newbery Honor book, THE FAIRY CIRCUS in dust jacket!; a fabulous French book by O'Galop (pseud of Marius Rossillon) who created the Michelin man, the book is titled LE DIRIGEABLE CAGE-A-MOUCHES NUMERO UN; and a rare WWII era book written and illustrated by the children of unoccupied France, LE MERVEILLEUX VOYAGE DE AL GOUTTE DE VITAMINE.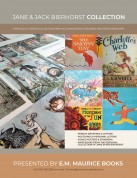 Bierhorst Collection
Jane Byers Bierhorst was one of the leading typographers and designers of children's books from the 1960s through the early 2000s and her husband, Jack is an author and folklorist specializing in the lore of indigenous Americans.
E M Maurice Books is pleased and honored to present the collection of Jane, Jack and their daughter, Alice. The collection includes a selection of their personal books as well as books designed by Jane and / or written by Jack; children's book-related posters; examples of Jane's work; and original artwork, correspondence and ephemera from familiar names in the children's book industry. The collection includes works by Maurice Sendak, James Marshall, Steven Kellogg, Antonio Frasconi, Leo & Diane Dillon, and Gerald McDermott, to name a few.
Contact the Seller
358 Ledge Dr.
Torrington, CT 06790

.(JavaScript must be enabled to view this email address)
http://www.emmauricebooks.com
Share this Profile