Enjoy this selection of preview items that our members will be exhibiting at the upcoming 42nd annual Boston International Antiquarian Book Fair. We'll be adding items to this page all week, so check back daily for more extremely rare and beautirful items!
Fantaisie-Fantasia-Fantasie-Fancy- Scenes for Ladies of Leisure to Construct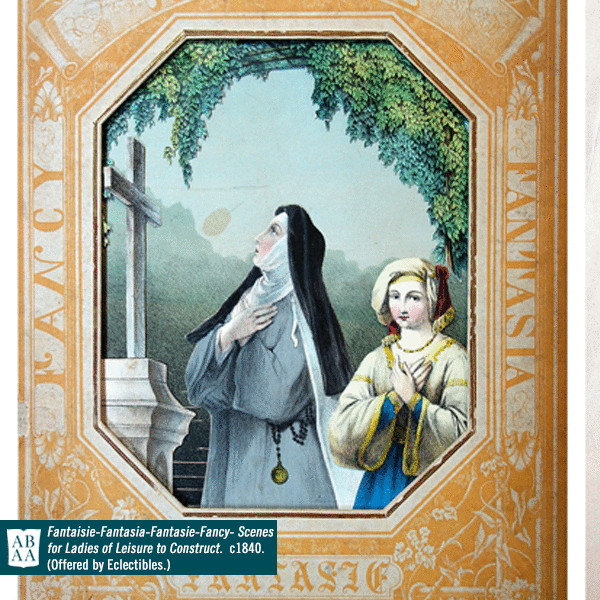 c1840. A large folio with die-cut opening in cover to create a "picture frame". It includes 2 plates and an array of cutout hand finished engraved images of women, children and accessories. The two 12" x 9 ½" plates have numerous slits at the base Each of the images has a tab at the base. The individual women are placed in the incisions or slits creating elegant scenes from the serene to the severe. Includes two pattern sheets with eight (8) different scenes. Endless scenes can be created beyond the scenes shown. Twenty-four (24) images and accessories.
Offered by Eclectibles (Booth 204).
CROZE, Austin de. [1866-1937]. [MS] La Lumière Magique. [13 poèmes magiques et poème en epilogue]
Paris, 1920. 4to. 92pp. 37pp. text and illustrations, distributed over 92pp. overall. Various papers and media utilized running the gamut from heavy card to glassine via what appears to be brown wrapping paper and other diverse elements. Bound in later full burnt yellow morocco gilt, black title labels to spine, embellished with pentagrams to both boards. A beautiful volume, strong, clean and clearly well looked after. Original cover and spine bound in. Filled with numerous pen, ink and watercolours designs with the unpublished poems in typescript.
Offered by Lux Mentis, Bookseller (Booth 520)
Schneemann, Carolee. Parts of a Body House Book. Artist's Working Proof.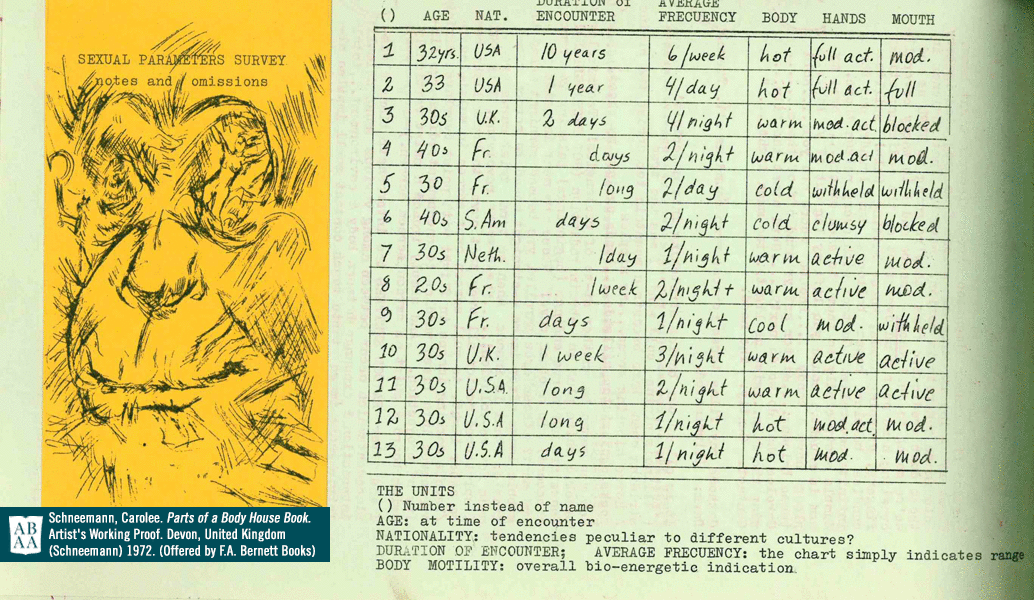 Schneemann's own working proof of her famous artist's book, with additional photographs and slides not included in the final printed copy, pencil edits and artist's corrections such as "RETYPE", variances in paper color and stock, some new pages of text, purposeful stains and coloring, rubber stamps, and hand-painted watercolor and rubber stamp additions to back cover. Illustrated. 4to. Stapled along top edges and covered with cloth binding tape. Devon, United Kingdom (Schneemann) 1972.
The Parts of a Body House artist's book was created by Schneemann during her stay in Devon, Great Britain, at Beau Geste Press. In her introduction to the book, Schneemann writes: "PARTS OF A BODY HOUSE BOOK is a prototype for my 'big book'. Each element in this edition culled from mounds of related material. It is a releasing of the recent past into the present. A unitary life view - all about the same thing...and I can't say what IT IS. But see it, live it. Clayton Eshleman saw It & edited the selected 'Notations' 1962-68 for Catepillar. Felipe felt it & said come to Devon & we'll make the book."
There were 60 signed deluxe copies and a maximum of 300 low-cost copies printed. Schneemann's proof copy provides a rare insight into her process and how the final copies of the book were created, including what was added and what was removed before going to press. The proof copy has 66 pages, some repeated, compared to 46 pages in the printed (abridged) copy. Some of the pages are in a different sequence or format, and some material was taken out altogether. Some of the items present in Schneemann's copy but not the published version are two color slides, one of Carolee with her cat and one of the skyline through a window; six black-and-white contact prints of an orgy or similar gathering printed on a single sheet; a poem titled "BODY POLITIC/BLOWING UP", a page titled "Relationship Measure" with a chart of accompanying adjectives, a mimeographed drawing, and a page titled "Blood Work". An incredibly rare book from one of the most important female visual and performance artists.
Offered by F.A. Bernett Books (Booth #113).
Martin Luther King Handwritten Manuscript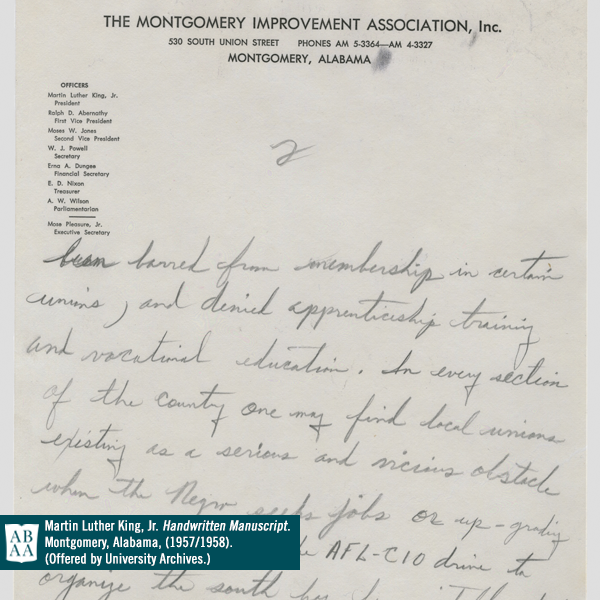 Original manuscript handwritten by Martin Luther King for his first book, "Stride Toward Freedom" – Over 60 words including "In every section of the country one may find local unions existing as a serious and vicious obstacle when the Negro seeks jobs…"
Important Autograph Manuscript in dark pencil, unsigned, 1p, 8.5" x 11". Montgomery, Alabama, [1957/1958. On a sheet of stationery of The Montgomery Improvement Association, Inc., Montgomery, Alabama, listing Martin Luther King, Jr. as President. Light smudges at letterhead. Expertly and unnoticeably conserved with fortifying silking on verso. Fine condition.
Headed 2. In full, "been barred from membership in certain unions, and denied apprenticeship training and vocational education. In every section of the country one may find local unions existing as a serious and vicious obstacle when the Negro seeks jobs or up-grading in employment. The AFL-CIO drive to organize the south has been virtually abandon because of the massive resistance of a significant portion of the organized labor oligarchy, many"
A late draft of part of Chapter XI of Dr. King's first book, "Stride Toward Freedom," published on September 17, 1958. Except for a few edits ("can" instead of "may," capitalization of "South," adding "ed" to "abandon"), what is written here is exactly as it was published on page 204 in the chapter "Where Do We Go From Here?," ironically the title of his last book, published in 1967. The words immediately preceding what Dr. King handwrote in the manuscript here offered: "Negroes have" The complete phrase after what Dr. King has written here: "many of whom have been active in White Citizen Councils."
Offered by University Archives (Booth #527).
A New Summons to Horn Fair.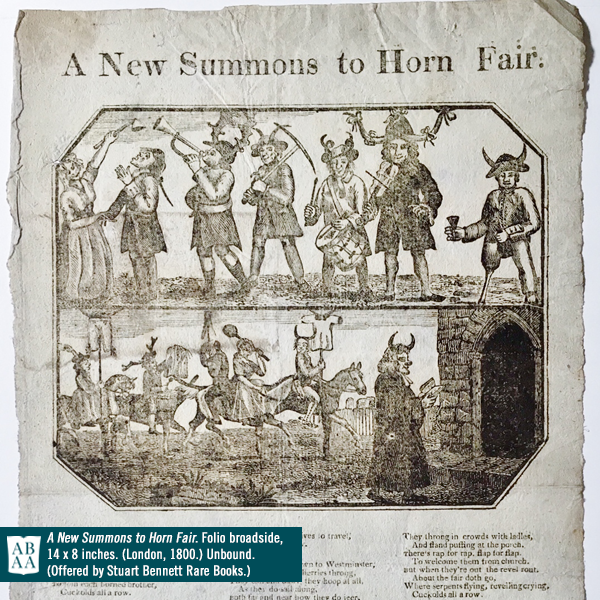 [Imprint trimmed at foot, leaving only "Street" visible, but probably London, circa 1800]. Folio broadside, 14 x 8 inches. Large woodcut in two compartments depicting revelers and many horned cuckolds, the verses in three columns, the first two six stanzas each, the last with two stanzas and ending with a separate poem in six stanzas titled "The Cuckold's Song." Unbound.
A late example of a venerable tradition, described by Francis Grose in A Dictionary of the Vulgar Tongue (second edition, 1788), as
An annual fair held at Charlton, in Kent, on St. Luke's day, the 18th of October. A riotous mob [marches] in procession, through that town and Greenwich, to Charlton, with horns of different kinds upon their heads; and at the fair there are sold rams horns, and every sort of toy made of horn. . . . The vulgar tradition gives the following history of the origin of this fair; King John, or some other of our ancient kings, being at the palace of Eltham, in this neighbourhood, and having been out a hunting one day, rambled from his company to this place, then a mean hamlet; when entering a cottage to inquire his way, he was struck with the beauty of the mistress, whom he found alone; and having prevailed over her modesty, the husband returning suddenly, surprised them together; and threatening to kill them both, the king was obliged to discover himself, and to compound for his safety by a purse of gold.
How much of the adulterous behaviour the poem seems to sanction can only be conjectured:
You horned fumbling cuckolds
In city, court, and town,
You're summoned here and must appear. . .
Poor tumbling Ned four years was wed,
His wife was half undone.
Last year in the fair, she chang'd her ware,
By which she got a son,
Alas contented animal.
He like a cock can crow
And thinks he's daddy of the baby, &c.
"The Cuckold's Song" expands on the theme:
When I unto a tavern go,
To treat a friend I chance to know,
My wife she straight whips up to bed,
And quickly hornifies my head. . . .
Versions of ballads on this theme go back at least to the seventeenth century, and several broadside variations are in ESTC. ESTC gives a version with this title and opening line, with imprint "Printed in Stone-Cutter Street" conjectured circa 1750, located at Williams College, but the College's own online catalogue gives it a different title. If the present copy is the same printing as the one at Williams, I suggest their "circa 1750" date is too early, as the present copy has a short "s." Many of the surviving examples are known only in single copies, but clearly this was a popular fair and a popular subject, with broadsides many times reprinted and widely circulated.
Offered by Stuart Bennett Rare Books (Booth #524).
MCALMON, Robert. The Portrait of a Generation.
Paris: Contact Editions/Three Mountains Press, [1926]. First edition. 98, [1] pp. Of an edition of 200 copies, this is one of 10 numbered copies on Vergé d'Arches paper, bound in full vellum over boards, front panel lettered in gilt with title stamped on mounted leather label. (The remainder of the edition was published in wrappers only.) Some minor darkening to vellum, overall near fine or better. John Martin's copy, with his small label on the rear pastedown.
McAlmon's Contact Publishing Company, primarily financed by his wife Bryher's family, published some of the most important books of the "lost generation," including Hemingway's Three Stories and Ten Poems (his first book), William Carlos Williams' Spring and All, Mina Loy's Lunar Baedecker, and Gertrude Stein's The Making of Americans, along with work by Bryher and McAlmon himself. This collection, essentially his collected poems, was described by Ford as a "realistic, sardonic, occasionally cynical interpretation of the author's life on two continents, in which he had tried to trace the breakdown of traditional values and the search for fundamentals." McAlmon fully intended it as the "portrait of an age." See Ford, Published in Paris, pp. 34-94.
Offered by Triolet Rare Books (Booth #506).

[Brollo, Basilio & Chr. Louis Joseph de Guignes.]. Dictionnaire Chinois, Français, et Latin, publié d'apres l'ordre de sa Majesté l'empereur et roi Napoleon le Grand; par M. de Guignes, resident de France à la Chine….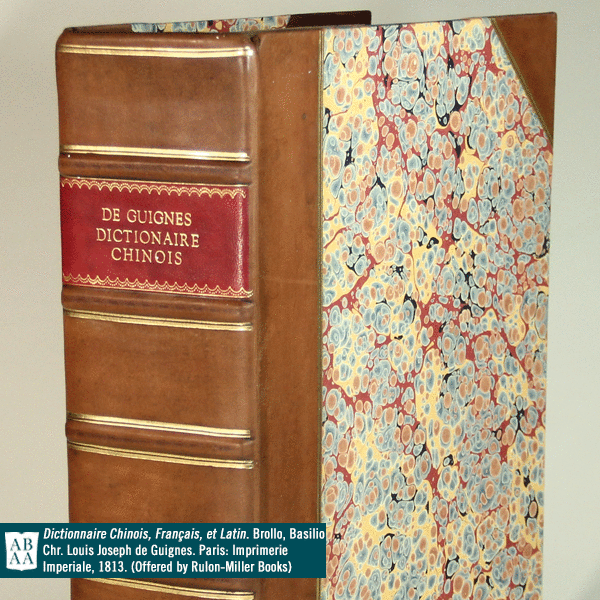 Paris: Imprimerie Imperiale, 1813-[19]. First edition, folio, pp. viii, lvi, 1112, [2] errata; recent half tan calf antique over marbled boards, red morocco labels on spine; perforated Free Library / Philadelphia stamp at the bottom of the title page and a small rubberstamp of the same on the following leaf; a nice copy.
Lust, quoting Klaproth: "As everyone knew, the dictionary had been compiled by Brollo (1648-1704) even if his name did not appear on the title-page. It can be seen that De Guignes rearranged it, translating part of the definitions of characters, though none of the compounds, into French. He does not seem to have added much."
"The Franciscan Basilio Brollo was the author of the first comprehensive Chinese-Latin dictionary, which he composed in Nanking in 1694 and in 1699, describing and translating approximately 7,000 and 9,000 ideograms respectively. For a long time these dictionaries circulated in manuscript copies, providing an indispensable tool for the first European sinologists. During the 17th century attempts were made to publish them, but the high cost always involved discouraged publication. At the beginning of the 19th century the French government decided to publish a dictionary and in 1808 entrusted this task to C.L. Joseph de Guignes (1759-1845), former consul of France in Canton. Using the manuscript copy of Brollo's dictionary then in the Vatican Library, in 1813 de Guignes published the dictionary bearing his name, and not that of Brollo, as the author. Thanks to Abel-Rémusat, and to J. Klaproth, the fraud was disclosed and the merits of the modest friar were recognized" (Guiliano Bertuccioli, "Sinology in Italy 1600-1950," in Europe Studies China (1995), pp. 69-70).
Contains an extensive historical preface, word index and tables. Handsomely printed in Chinese and Roman character. Cordier, Sinica, col. 1589; Lust 1037; Zanmuller 42; not in Vancil.

Offered by Rulon-Miller Books (Booth #528).


Euclid. The First Six Books Of The Elements Of Euclid In Which Coloured Diagrams And Symbols Are Used Instead of Letters For The Greater Ease of Learners, by Oliver Byrne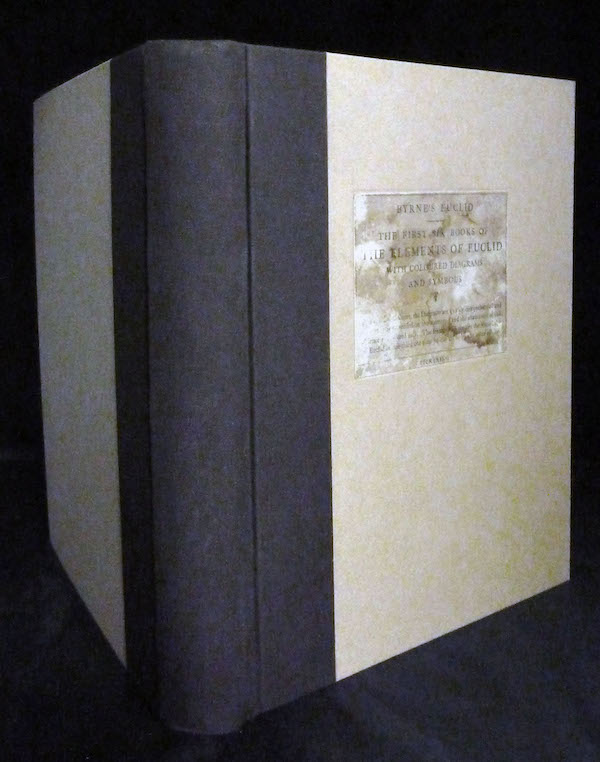 London: Pickering, 1847. First edition. 268 pages. 25 x 20.5 cm. The stark use of primary colors was envisaged by Byrne as a teaching aid. "Each proposition is set in Caslon italic, with a four line initial engraved on wood by Mary Byfield: the rest of the page is a unique riot of red, yellow and blue ... attaining a verve not seen again on book pages till the days of Dufy, Matisse and Derain" Byrne's depiction of Pythagoras is a classic, with the squares being visually interpreted so in vivid blocks of colour. In a technical tour-de-force, Whittingham skillfully aligned the different color blocks for printing to produce "One of the oddest and most beautiful books of the whole century" (see: MCLEAN, VICTORIAN BOOK DESIGN P.70).
Byrne, an otherwise unknown mathematician attempts to present Euclid's proofs in terms of pictures, using little text, and in particular as few labels as possible. PRINTING AND THE MIND OF MAN refers to it as a "gay and amusing experiment." Byrne's theory is that by means of colour, the elements of Euclid can be acquired in less than one third the time usually employed, and the retention by the memory is much more permanent. Unfortunately for the publisher, the book did not sell well, more than three quarters of the 1000 run remained unsold when Pickering went into bankruptcy. Toning and spotting as usual, faded title page inscriptions. Modern brown cloth spine and tan boards with original front cover label laid down on front cover. Very good.
Offered by Roy Young Bookseller (Booth #308).


Thoreau, Henry David. The writings of Henry David Thoreau.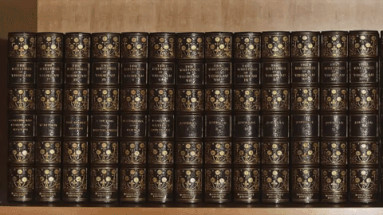 Boston: Houghton Mifflin and Co. [at the Riverside Press], 1906. The Manuscript Edition. 20 volumes. 3 portraits, 141 illustrations, most of them photogravure plates by Herbert W. Gleason of scenes described by Thoreau, including two frontispieces in each volume. 20 of the photogravures are hand-colored. Manuscript leaf in Thoreau's hand with several pencil corrections (apparently by the author) bound into volume 1. Bound in 3/4 green levant morocco extra over marbled paper, ruled in gilt, spines with raised bands in six panels decorated and titled in gilt; top edge gilt. Green silk ribbon. Limited to 600 copies, this is set #410, numbered in each volume, signed "Houghton Mifflin Co." on the limitation page. Pristine condition.
Offered by Rodger Friedman Rare Book Studio (Booth #217).
Please contact the dealer listed for more information about any of these items.
The Boston Book Fair takes place at the Hynes Convention Center, Boston, MA, November 16-18, 2018.