It's time for another batch of rare books and print ephemera that our members will be bringing to the 51st California International Antiquarian Book Fair in Pasadena, CA next weekend. (You'll find the first batch here...)
Stoker, Bram, DRACULA'S GUEST AND OTHER WEIRD STORIES
London, George Routledge & Sons, 1914.

First edition. 12mo. 200pp. With "First Published in 1914" on the copyright page. Publisher's linen-textured red cloth blocked in blind on the spine and upper board, and with a gilt spine title. We note some foxing on the edges of the textblock, a tiny spot on the upper board, and oiffset on the free endpapers where the dustwrapper ended. Otherwise this is a very nice copy. Neat ownership name on the front pastedown dated July, 1914. In scarce, full color dustwrapper with art by Handforth. The dustwrapper bears the "2/- net" sticker on the spine and so is second state. There is a trace of roughness along the edges but it is in near fine condition.'Dracula's Guest' is a previously unpublished episode from an early draft of Dracula and is published here with eight other stories by Stoker. (Offered by Thorn Books)
Pynchon, Thomas. Gravity's Rainbow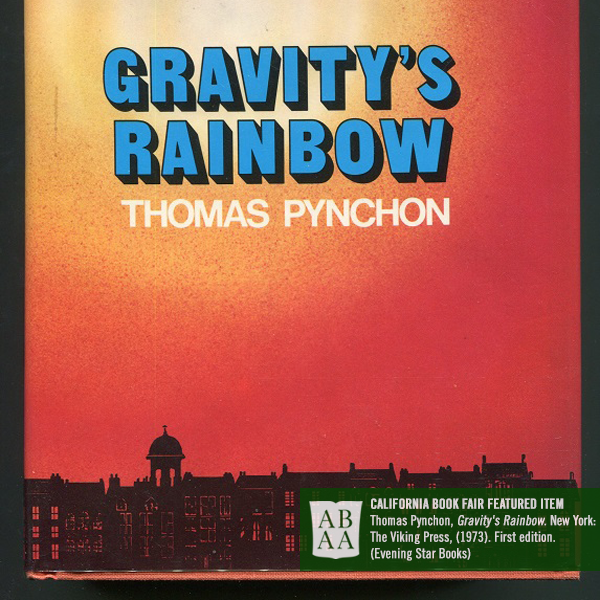 New York: The Viking Press, (1973). First edition. 760 pp. Price of $15.00 on front flap of jacket. Nominated for the 1973 Nebula Award for Best Novel and winner of the National Book Award in 1974. Just about Fine in a like dust jacket that is bright, unfaded, and clean. A beautiful copy of Pynchon's masterpiece, a landmark work in post-modern literature. (Offered by Evening Star Books)
Jane Austen, Pride and Prejudice (Second edition)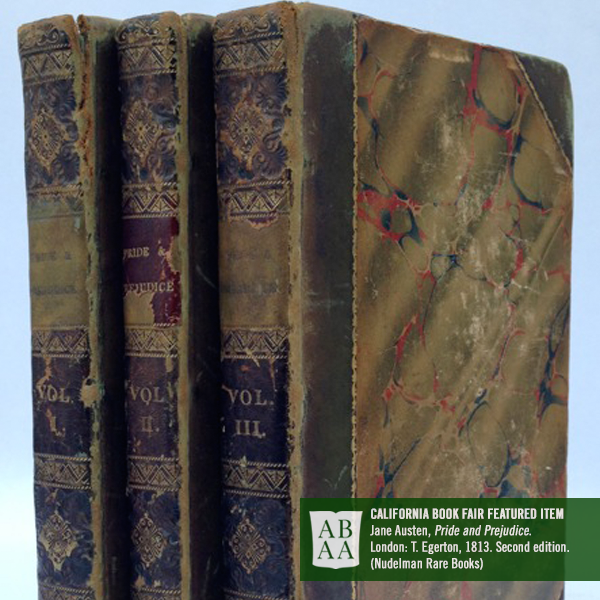 London: T. Egerton, 1813. Second edition. 12mo. Three volumes. Contemporary half calf over marbled boards, spine gilt with leather lettering pieces (two perished, one with partial loss). Half-title are not present. The second edition is scarcer than the first. According to Gilson, the publishing history is rather obscure ("The size of the edition is not known). However, it is know that the second edition was entirely reset, resulting in occasional variations with the page as well as spelling and punctuation and wording (Gilson A4 has a list of alterations). Covers and spines scuffed with some splitting along extremities, fore-edges slightly bumped in areas, joints strengthened. There is scattered light foxing and neat contemporary ownership inscriptiions on title-page of each volume. (Offered by Nudelman Rare Books)
Islam Aly, Unleash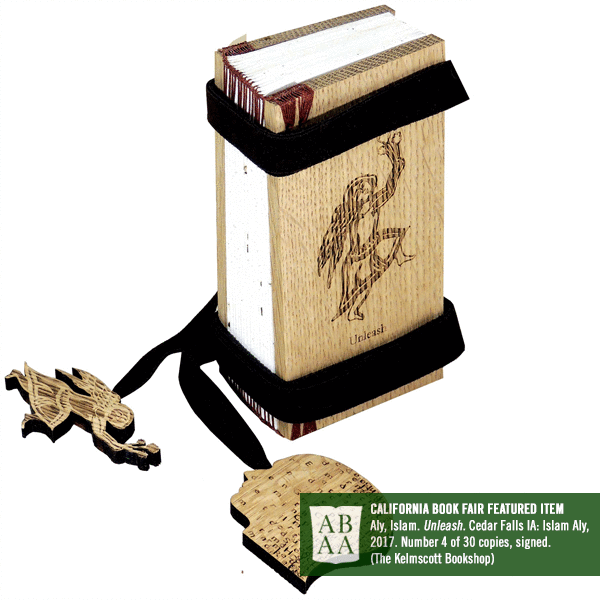 Cedar Falls IA: Islam Aly, 2017.
Number 4 of 30 copies, signed and numbered by the artist. Islam Aly is an Egyptian-born book artist and teacher based in Iowa. His books explore the possibilities of historical bindings in contemporary book art practice. Unleash is bound in a late Coptic style with laser engraved wooden boards and leather wrapping bands capped with engraved wooden pieces in the shapes of an angel and human head. The interior pages are laser cut with words about being confined, imprisoned, and restrained. All of the words fill the reader with a negative connotation suggestive of oppression, despite the lack of context. Then an angel appears. With each turn of the page, the angel makes a path through the words and breaks them apart until it is able to free itself from the book. The resulting negative space left behind forms the shape of a human face. A powerful statement about how restraint and confinement can be broken apart to restore humanity - or perhaps to force the reader to think compassionately of people who are currently held as prisoners (both literally and through societal, political, or religious decrees). Size: 3 x 6 x 2 inches. (Offered by The Kelmscott Bookshop)
TWENTY-SIX POEMS, ONE OF TEN COPIES PRINTED ON JAPAN VELLUM, WITH ORIGINAL PEN-AND-INK DRAWINGS BY DYLAN AND CAITLIN THOMAS
THOMAS, Dylan. Twenty-Six Poems. 4to, original quarter vellum & boards, publisher's slipcase. (NY & London: James Laughlin & J. M. Dent & Sons Ltd., 1949). First edition, deluxe issue. One of only 10 copies printed on Japan vellum, out of a total edition of 150 copies printed by Hans Mardersteig at the Officina Bodoni in Verona, Italy, and signed by Thomas. The ten copies on Japan vellum were divided between the publisher and the poet, the present copy being copy number five [V], one of the poet's own copies, bearing his ownership signature and address on the rear endsheet: "Dylan / Boat House / Laugharne / Carmarthenshire / Wales." The bibliographer suggests that: "the vellum copies preceded the hand-made paper issue by about two days." Rolph B13. Schmoller 94. Barr 48 (regular issue). Twenty-Six Poems is a selection of Thomas's best poems, including "I see the boys of summer", "After the funeral", "The hand that signed the paper", "There was a saviour", "Ballad of the Long-Legged Bait", "Deaths and Entrances", "Fern Hill", "A Refusal to Mourn", "In my craft and sullen art", and "In Country Sleep", among others. Presentation copy, inscribed on the front free endpaper by Thomas to the Asian American poet José Garcia Villa: "To José Garcia Villa from Dylan Thomas". Thomas's inscription is followed on a later blank page by a pen-and-ink drawing by Thomas bearing the caption "Who is Love" and the inscription "from Dylan with affection, May 1953." In addition, at the back of the book, there is a pen-and-ink portrait of José Garcia Villa by Caitlin Thomas, which is signed "Villa by Caitlin". Most importantly, there is an additional pen-and-ink drawing by Caitlin on the page facing the colophon, a picture of "Dylan & me", with the figure of Caitlin labeled "wife", and the figure of Thomas labeled "D. T.s". Above the drawing is an inscription in Caitlin's hand reading "on George Reavey's Nth birthday, May 4, 1952 at Irene Rice-Perieira's and George Reavey's apt." The date is subsequently corrected: "Really 1st May". At the time Reavey and his wife, the artist Irene Rice-Pereira, lived on West 15th St. in New York. Below the inscription are the signatures of those who were present at the party, including Dylan Thomas, Oscar Williams, Irene Rice-Pereira, and David Lougée ["one of Dylan's first American friends" – John Malcolm Brinnin, Dylan Thomas in America (Boston: Little, Brown & Co., 1955), p. 278].

Caitlin joined Dylan for his second tour of America in 1952, and the inscriptions and drawings in this book, with the exception of Thomas's ownership signature and address at the back, probably all date from the birthday party at Reavey's house in May 1952, when Caitlin would have drawn the self-portrait of herself and Dylan, and the portrait of Villa, and when their friends signed the book. It is possible, of course, that Dylan could have met
Villa again in May 1953, separately, and added the drawing and inscription to him then, but it seems more likely that he simply misdated the inscription at the time of Reavey's party the previous year.
Caitlin did not accompany Dylan on his third tour of America in April/May 1953, and only returned to America on November 5, during Dylan's fourth tour, after learning that Dylan had been hospitalized in New York. Thomas died on November 9, without having awakened from a coma, while Caitlin was recovering from a nervous breakdown at the River Crest Sanitarium on Long Island. Originally attributed to acute alcohol poisoning, the cause of Thomas's death is now believed to have been severe bronchopneumonia, which went undiagnosed and untreated – that is to say, mistreated – at the time.
When Thomas was admitted to St. Vincent's Hospital on November 5, "the simmering rivalry between Dylan's local friends flared into open hostility. On the one hand was a definite inner circle centred on these three [John Malcolm Brinnin, Ruthven Todd and Liz Reitell, John Malcolm Brinnin's assistant, with whom Thomas was having an affair] and the Slivkas [David and Rose]; on the other, a group, headed by George Reavey and Oscar Williams, who felt excluded. As well as being closer to Caitlin, they considered they had known Dylan longer and were the true guardians of his interests, literary and otherwise." – Andrew Lycett, Dylan Thomas: A New Life (Woodstock & NY: Overlook Press, 2003), p. 370.
Disentangling the truth from contemporary or posthumous accounts of the last years of Dylan Thomas's life is almost impossible, not least because so fraught with grief, bitterness and guilt. But John Malcolm Brinnin and Ruthven Todd's pre-emptive attempts to establish official narratives of Thomas's last days were, to use Caitlin's most lenient and succinct critique of Brinnin's Dylan Thomas in America, "one-sided" and "limited", and failed – or simply refused – to acknowledge the good intentions, and the good works, of the couple's other friends, especially Oscar Williams. Todd in particular completely misrepresented Williams' character and impugned the generous role he played in helping Dylan and Caitlin, a role that is well documented in later accounts. As Lycett points out: "Among his (Thomas's) circle, she (Caitlin) took to Oscar Williams, who not only had expressed interest in her writing but also seemed to understand how important it was to her as an impecunious mother in Laugharne that he sold Dylan's work for quick, ready cash." – Lycett, p. 325. The Thomases were constantly imploring Williams to raise more money for them. In October 1951, Dylan wrote to Williams: "Please, old crazy friend, get me a lot of dough bloody, bloody quick." And Williams was always trying to do just that, primarily by arranging for periodical publication of Thomas's poems, but also raising money through public appearances and the sale of manuscripts and worksheets that Thomas gave him to sell. And the money that Williams succeeded in raising, often without taking a commission, was considerable. "In the first few months of the year (1953) Thomas earned more than a thousand pounds in income that passed through his agents, and in other sums that came direct from Oscar Williams. . . . On 3 March Thomas was sending Williams the 'Prologue' drafts to see what he could raise on them." – quoted in Paul Ferris, Dylan Thomas: The Biography. New Edition. (Washington, DC: Counterpoint, 2000), p. 276.
At the time Twenty-Six Poems was published, Villa (1908-1997) was an associate editor at New Directions, whose publisher James Laughlin co-published this book, and who also published Villa's second book, Volume Two, in 1949. Laughlin was delighted with Villa when he first met him: "Marvelous little guy. Like an affectionate squirrel. . . . He worships Cummings, which puts him in good with me." – Ian S. MacNiven, "Literchoor Is My Beat": A Life of James Laughlin, Publisher of New Directions ((N. Y.: Farrar Straus Giroux, 2014), p. 196. However, Laughlin and Villa parted bitterly in 1951. Although neglected today, Villa was a highly regarded poet during the 1940s and 1950s, lavishly praised by a number of leading figures of the day such as Edith Sitwell. After leaving New Directions, he became the director of the poetry workshop at the City College of New York from 1952 to 1960, and from 1964 to 1973 he lectured at the New School. Although his "comma poems" are largely dismissed today, José Garcia Villa's love poems are widely admired. Villa and Thomas befriended each other during Thomas's extended visits to the city. Villa lived in Greenwich Village and was one of Dylan Thomas's regular drinking companions at the neighborhood White Horse Tavern, one night rescuing a discarded self-portrait by Thomas from the waste paper basket.
Villa also owned copy number 106 of the regular issue of Twenty-Six Poems, inscribed to him by Thomas.
Although Dylan Thomas's impromptu impulse to add caricatures of himself and his friends to copies of his books is familiar to collectors, Caitlin's impromptu drawings are less well known. However, Ferris notes her "own brand of wild caricature" and mentions her impulse, "unnervingly, in her more uncommunicative moods, (to) take out her notebook and begin sketching everyone around her." – Ferris, p. 324.
A fabulous copy of Dylan Thomas's rarest book. (Offered by James S. Jaffe Rare Books).

William Carlos Williams, Paterson. Books 1-5.
New York: New Directions, 1946-1958. First editions. Five volumes. Original light gray cloth, lettered in gilt and blocked in various colors, with the dust jackets. Book 1 shows some browning to the endpapers, the jacket is chipped at the head and tail of the spine and has a couple of closed tears along the lower rear spine crease and spine edge of front panel; Book Two has some browning and toning to the jacket but is otherwise near fine; Book Three has a small nick to the jacket spine and a small old number written in the corner of the front panel; Book Four has some minor browning and spotting to the jacket but is other wise near fine; Book Five has a small nick to the head of the jacket spine but is otherwise near fine, with review slip laid in. Williams' epic masterpiece, a song of Paterson, New Jersey, a companion to his friend Ezra Pound's Cantos. Wallace A24, A25, A30, A34, A44. (Offered by Triolet Rare Books)
Malory, Sir Thomas, THE BYRTH, LYF, AND ACTES OF KYNG ARTHUR.

London, Longman, Hurst, 1817. Two large 8vo volumes. (4),lxiii,(3),xxxix,(1)383,(1);(4)495,(1)pp. Printed from Caxton's edition of 1485. With an Introduction and Notes by Robert Southey, the Poet Laureate of England. First edition with Southey's notes. Each volume with a large woodcut on the title page showing a knight and a dragon. Engraved gothic and figural initials. Contemporary binding of full near black morocco, spines in six compartments with raised bands, top edges gilt; gilt inner dentelles; marbled endpapers. Text blocks are remarkably free of the usual foxing that dogs this edition. Neat bookplates in each volume. A near fine set.
This is the ninth printing of Malory, after Caxton (1485), De Worde (1498 & 1529), Copland (1557), East (ca. 1575), Stansby (1634) and two 12mo. editions in 1816. This was the first modern text of Malory which attempted to recapture the text as it was first published by Caxton. All contemporary advertisements indicate that this edition consisted only of 250 copies with 50 copies on large paper, though there is some suggestion from notes in the publisher's books that as many as 1000 copies may have been printed. This is the regular edition, still impressive at 10 inches, and a scarce and important printing. Gaines, A9. (Offered by Thorn Books)
Boccaccio, Giovanni. Delle famose donne [De mulieribus claris]
BOCCACCIO, Giovanni / ALBANZANI, Donato degli (translator) / PICCARDI, Francesco di Pagolo (scribe) / TUCCI, Angolo (cartolaio) / [MANUSCRIPT]. Delle famose donne [De mulieribus claris]. [Florence], F. di Pagolo Piccardi, 1 September 1456. (Offered by Martayan Lan Rare Books & Maps.)