A special exhibit celebrating the 200th anniversary of Mary Shelley's Frankenstein is among the many highlights of the 51st California International Antiquarian Book Fair. The display will include cornerstone works of Gothic literature, including the scarce 1818 first edition of Frankenstein, as well illustrated editions, graphic novels, and film stills from The Bride of Frankenstein and other cinematic interpretations. It will also include a selection of albums with music inspired in whole or in part by Frankenstein's monster.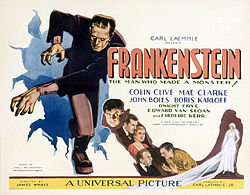 Frankenstein was first set to music in Presumption; or the Fate of Frankenstein (1823), a three-act play by Richard Brinsley Peake (Mary Shelley attended the play in London during its original run). This was followed many years later by Frankenstein, or The Vampire's Victim (1887), a musical burlesque composed by Meyer Lutz and written by Richard Henry. Another 50 years would pass before this classic tale was reanimated with musical accompaniment, first in the creepy title sequence of James Whale's iconic 1931 film adaptation and then in Franz Waxman's lush score for The Bride of Frankenstein (1935).
A generation later, Universal Studios released their catalog of classic horror films to television, sparking a monster boom among children coming of age during the late 1950s and early '60s. Several novelty records were targeted at these "Monster Kids," some of whom would go on to compose Frankenstein songs of their own. Many of underlying themes in Shelley's novel and of course, the monster himself, remain fertile ground in the modern musical landscape.
The following is a selection of albums, soundtracks, and songs that draw on Frankenstein for inspiration and stand as a testament to the enduring fascination with the novel:
Franz Waxman: The Bride of Frankenstein (1935)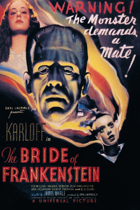 Many film critics, including Leonard Maltin, have remarked that James Whale's Frankenstein (1931) suffers from a lack of music. The score of its sequel, however, is as iconic as the movie itself. It has the epic sweep of a Wagnerian opera, yet its genius lies within its evocative strangeness. The success of Waxman's score led to the young composer's appointment as Head of Music at Universal Studios. Later, he composed the music for Rebecca (1940), Rear Window (1943), and Sunset Boulevard (1950).
Bobby (Boris) Pickett and The Crypt-Kickers: "Monster Mash" on The Original Monster Mash (1962)

"The monster mash, it was a graveyard smash"
The anthem of an entire generation of Monster Kids, "Monster Mash" reached the top of the Billboard Hot 100 chart on October 20-27, 1962 and has been a perennial Halloween favorite ever since. "Monster Mash" even inspired a dance – a variation of the Mashed Potato with Frankenstein-style arm gestures. In addition to narrating the song in the voice of actor Boris Karloff, Picket (1938-2007) also impersonated fellow horror film icon Bela Lugosi as Count Dracula with the line, "Whatever happened to my Transylvania Twist?"
Frankie Stein and His Ghouls

Between 1964 and 1965, this ersatz band churned out no fewer than five full-length albums, all released by Power Records, a subsidiary of the children's specialty label Peter Pan Records. Unlike most of the generic monster songs of the era, the music of the anonymous Frankie Stein and his equally mysterious Ghouls is surprisingly focused, haunting, and aggressive.
The Edgar Winter Group: "Frankenstein" on They Only Come Out at Night (1972)
"In a laboratory once upon a time, at work was a doctor named Frankenstein."
For an entire generation of kids raised on dad rock, this opening line to the live version of The Edgar Winter Group's "Frankenstein" – a title inspired by the process of splicing bits of tape with a razor blade – is as memorable as the first riff.
New York Dolls: "Frankenstein (Orig.)" on New York Dolls (1973)
According to lead singer David Johansen, "The song is about how kids come to Manhattan from all over, they're kind of like whipped dogs, they're very repressed. Their bodies and brains are disoriented from each other … it's a love song." The qualifier was added to the title to denote that this song was written prior to Edgar Winter's smash hit.
The Rocky Horror Picture Show (1975)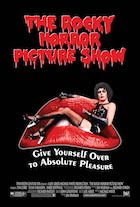 The most successful cult film ever made, although it was initially deemed a dismal failure, both at the box office and critically, when it was released in September 1975. Based on the musical with music, lyrics, and book by Richard O'Brien, The Rocky Horror Picture Show tells the story of a newly engaged couple caught in a storm and coming to the home of a mad transvestite scientist, Dr. Frank N. Furter, unveiling his new creation, a sort of Frankenstein-style monster in the form of an artificially made, fully grown, physically perfect muscle man named Rocky Horror.
Oingo Boingo: "Weird Science" on Dead Man's Party (1985)
The song opens with a sample of Colin Clive screaming "She's alive!" from The Bride of Frankenstein (1935) and describes the "plastic tubes and pots and pans, bits and pieces, and magic from the hand" that create "living tissue, warm flesh" before considering the consequences: "From my heart and from my hand, why don't people understand my intentions…" It is the theme song to John Hughes' 1925 film of the same name, which starred Kelly LeBrock as the Frankenstein-like, computer-generated perfect girlfriend.
Alice Cooper: "Feed My Frankenstein" on Hey Stoopid (1991)

The Frankenstein mythos is a favorite of the godfather of shock rock, who drew on the novel as an analogy for the alienation experienced by the unattractive, uncoordinated adolescent on "Teenage Frankenstein" from the album Constrictor (1986) and interpreted the monster with sexual metaphors on this track, which was featured in the film Wayne's World (1992). "Furry teacup" indeed.
Aimee Mann: "Frankenstein" on I'm with Stupid (1995)
"And when later we find that the thing we devised has the villagers clamoring for its demise, we will have to admit the futility of trying to make something more of this jerry-built love"
According to the introspective singer-songwriter, who cowrote the song with longtime collaborator Jon Brion, "This is about creating a Frankenstein monster of a relationship out of bits and pieces."
Ice Cube: "Dr. Frankenstein" on War & Peace: Vol. I (The War Disc) (1998)
The primary songwriting and performing member of the seminal hip-hop groups C.I.A. and N.W.A., Ice Cube is one of the founding artists of gangsta rap. Cube revels in his role as a sort of postmodern Victor Frankenstein on this autobiographical track, observing that even his detractors are "gettin' liberated by this monster I created."
Metallica: "Some Kind of Monster" on St. Anger (2003)

"The Monster lives" in this cut from Metallica's controversial eighth album. Frontman James Hetfield wrote the opaque lyrics, a stream of consciousness listing a Frankenstein-like creature's multiple harrowing attributes. The monster metaphor really resonated with the band, which had endured a great deal of turmoil, and the title was also used for Joe Berlinger and Bruce Sinofsky's 2004 Metallica documentary, a different sort of horror film.
Honorable mentions: Among the many other artists who have also looked to Frankenstein for inspiration are Blue Oyster Cult, Mel Brooks, Clutch, Sam Cooke, Crass, Helloween, Iced Earth, Lenny Kravitz, The Misfits, Motley Crue, The Nerve Agents, Rammstein, Jack Savoretti, The Ventures, and Rob Zombie.
---
A special exhibition celebrating the 200th anniversary of Frankenstein will take place during the 51st California International Antiquarian Book Fair, February 9-11 2018, in Pasadena, CA.