What caught the eye while exploring the website and perusing new catalogs this week? Why these colorful items...
Group of 19th Century Cuban Cigarette Labels
This set of slightly risqué 19th-century cigarette cards from Cuba caught the eye. What a perfect gift for the collector of print ephemera or advertising gimmicks!
From the description:
Description: "Complete series of twelve chromolithograph "Marquillas de Tabaco" labels from the Para Usted Gran Manufactura de Cigarros de Eduardo Guillo, each showing a "mentira de hermosura", or a trick of beauty women use to disguise their age or less attractive feature, with a surprised man viewing each deception through a spyglass.… Each label approx. 10.5 by 14 cm. Loose as issued, housed in photograph album pages. Havana (Eduardo Guillo) n.d. (circa 1865).
It was in the early 1860s that tobacco factories in Havana began to package cigarettes with illustrated labels called "marquillas de tabaco" or "marquillas cigarreras". For the tobacco companies, the newly-available chromolithography techniques provided an attractive and cost-effective way to package and advertise their products in an increasingly competitive market. Approximately 20 to 25 cigarettes were packaged together in rolls, each wrapped in one of these labels. The labels were often eye-catching combinations of text and bright colors, many incorporating humor and whimsy."
Offered by F.A. Bernett Books.
The Souls of Black Folk: Essays and Sketches
Du Bois, W.E. Burghardt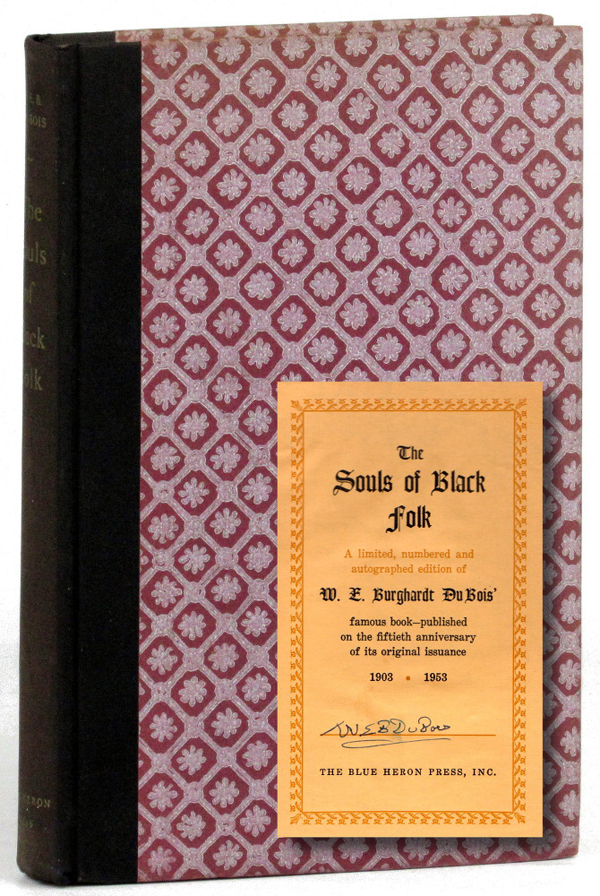 NY: Blue Heron Press, 1953. Hardcover. 265pp. Spine shows just a touch of sunning with some slight dulling to the gilt, else a very good copy in publisher's cloth backed patterned boards with just the lightest wear to the extremities. Signed by Du Bois on a publisher's bookplate affixed to the front pastedown. A nicer than usually encountered copy. Very good.
Featured in Kenneth Mallory Bookseller's new e-list: African Americana. Not listed on abaa.org.
Alleine, Joseph, 1634-1668. An Alarme to Unconverted Sinners, in a serious treatise ... : whereunto are annexed Divers practical cases of conscience judiciously resolved
From the description:
London : Printed by E.T. and R.H. and are to be sold by Nevil Simmons ..., 1672.
Small 8vo., 15.5 x 10 cm., [46], 214, 92 p. + 4 p. publisher catalog. Contents: (from t. p.) I. What conversion is not, and correcting some mistakes about it -- II. What conversion is, and wherein it consisteth -- III. The necessity of conversion -- IV. The marks of the unconverted -- V. The miseries of the unconverted -- VI. Directions for conversion -- VII. Motives to conversion. || Divers Practical Cases of Conscience with separate title. The publisher's catalog appended at the rear contains 66 works and is a interesting example of a lengthly 17th century bookseller's catalog. Binding: 19th century calf, marbled pastedowns, later blanks with old residue; internally some general toning and foxing throughout. Ref: Wing A961
EXTREMELY RARE FIRST EDITION of one of the most popular conversion manual of the 17th century. Alleine's best-known work, An Alarme to Unconverted Sinners, was published posthumously in 1672, and sold an astonishing 70,000 copies in three years. Nevertheless, like early editions of Bunyan's Pilgrims Progress, very few have survived the ravages of time. RBH does not list any copy at auction since the Anderson Galleries copy sold in 1901, described as "Extremely rare." Indeed, the Folger has only the 1675 edition. COPAC lists 3 copies at Durham, Leeds and York but none in the BL.
The book was a bestseller in the American colonies and listed as one of the ten most frequently read works in the period 1651-1700. The marks and miseries of the unconverted and the directions for conversion were also newly applied to the Native Americans. Interestingly, the work is also mentioned along with Richard Baxter's Call to the Unconverted (1657) and Elizabeth White's The Experiences of God's Gracious Dealing (1671), as the type of spiritual autobiographies that paved the way for the publication of Narrative of the Captivity and Restoration of Mrs. Mary Rowlandson in 1682 and the birth of first "authentically native American novels" [Blodgett, Jam. Protestant Evangelical Literary Culture and Contemporary Society, 1997. p. 17]
Found in Adam Weinberger Rare Books' catalog for the Bibliography Week Showcase (item #10). Not listed on abaa.org.
There's certainly lots of eye-catching material in Brian Cassidy's new catalog on Racism. Eye-catching for the blatant and unapologetic everyday racism the items document. For example, item #8: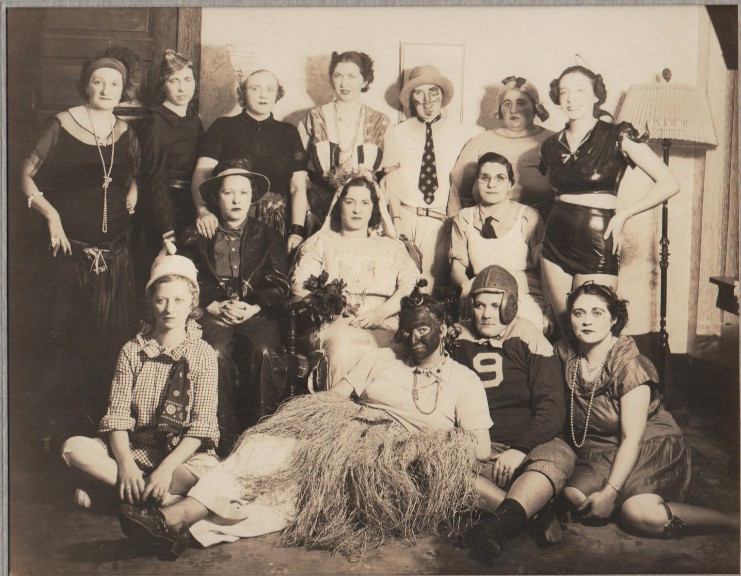 Description:
Ca. 1920s commercial photo of a costume party featuring all female attendees in various costumes, one of whom (front and center) lies down in a straw dress and blackface, an African tribeswoman.
Not listed on abaa.org.
Finally, this writer is old enough to have started his school career in a classroom with desks not unlike the image below. Perhaps others have similar distant memories?
Buffalo Hardware Co., THE PARAGON SCHOOL DESK: Patented February 1st, 1881.
Buffalo, NY: Buffalo Hardware Co. 1881. First Edition. Softcover. (4)pp, quarto, opens to 11,5" x 14.5", showing two wrought-iron and wood Paragon School Desks in color, lithographed by Clay & Richmond, Buffalo. Text on the two recto pages explains that: "Slab benches and loose slab desks have had their day..."; "No screws working out and slats falling off in the school-room..."; No ordinary dove-tail, loose slat, rickety desks for our schools..."; etc. The text pages contain nine engraved illustrations in black and white. One corner nibbled with no text loss. In the original, illustrated mailing envelope, also nibbled at the corner. Very Good.
Found in R. & A. Petrilla's e-list of Educational Items, mainly from the 19th century. Not listed on abaa.org.
Note: all items are one-of-a-kind. If a link takes you to a mising page, this means the item has been sold.