ABAA members will be exhibiting any number of rare and highly sought-after items at the 51st annual California International Antiquarian Book Fair (Feb. 9-11, 2018) in Pasadena, CA next month. Here is a small sampling to whet the appetite.
Ward, Lynd. Signed block print from Gods' Man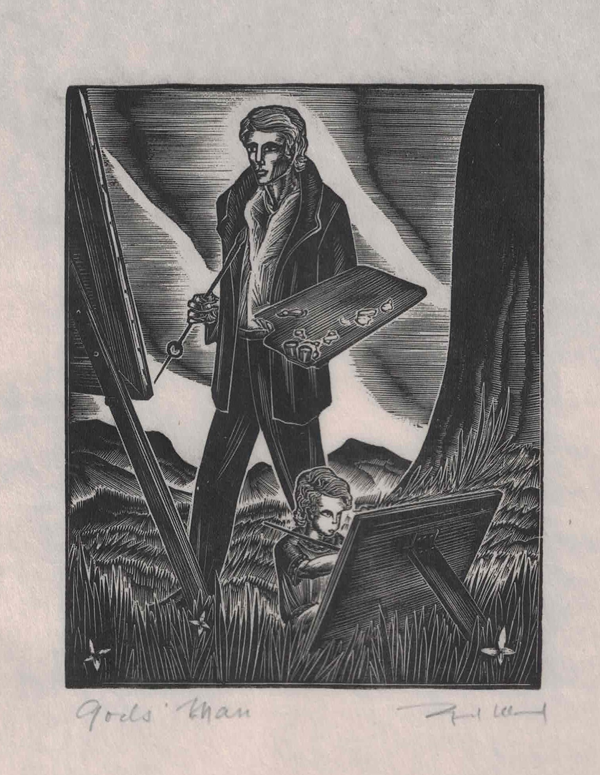 [New York: [Jonathan Cape & Harrison Smith], [1929]. An original print from Ward's first and most famous wordless novel. Printed from the original woodblock on Japanese paper, the image measures 10 cm x 13 cm. Signed in pencil by Ward under the image in the right corner, with "Gods' Man" printed in pencil opposite. Fine. (Offered by Ken Sanders Rare Books)

The Best Edition of the Poetical and Prose Works of Shelley, in a Superb Cosway-Style Binding by Bayntun (Rivière)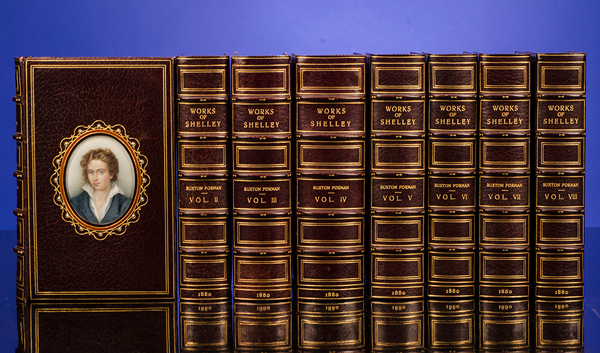 SHELLEY, Percy Bysshe. The Poetical Works of Percy Bysshe Shelley. Edited by Harry Buxton Forman. In Four Volumes. London: Reeves and Turner, 1876-1877. [Together with:] SHELLEY, Percy Bysshe. The Prose Works of Percy Bysshe Shelley. Edited by Harry Buxton Forman. In Four Volumes. London: Reeves and Turner, 1880. First edition edited by H. Buxton Forman. Together eight octavo volumes (8 7/16 x 5 3/8 inches; 214 x 136 mm.). Frontispieces and plates.
Uniformly bound by Bayntun (Rivière) of Bath (stamp-signed in gilt on front turn-in) in mid twentieth-century dark brown crushed levant morocco. Covers with gilt triple fillet border, spines decoratively ruled and lettered in gilt in compartments with five raised bands, board edges with gilt-dotted rule, gilt inner dentelles, marbled endpapers, all edges gilt. A spectacular set.
Volume I of The Poetical Works is set with a fine oval portrait miniature (3 3/16 x 2 7/16 inches; 81 x 62 mm.) on ivory under glass of Shelley, surrounded by an inner oval band of onlaid russet morocco within single gilt fillets and an outer decorative intertwining gilt border which is set with sixteen semi-precious stones. A superb example. From the library of William A. Foyle, with his bookplate on front pastedown.
"The first edition [of The Poetical Works of Percy Bysshe Shelley] appeared in 1876-7, and in 1880 the Prose Works also were published Mr. Forman. In the same year (1880) the eight volumes were issued under a collective title, The Works of Percy Bysshe Shelley in Verse and Prose, etc." (Granniss).
"It would be difficult indeed to over-estimate the gains which have accrued to the lovers of Shelley from the strenuous labours of Mr. Harry Buxton Forman, C.B. He too has enlarged the body of Shelley's poetry (Mr. Forman's most notable addition is the second part of 'The Daemon of the World', which he printed privately in 1876, and included in his Library Edition of the 'Poetical Works' published in the same year…but, important as his editions undoubtedly are, it may safely be affirmed that his services in this direction constitute the least part of what we owe him. He has vindicated the authenticity of the text in many places, while in many others he has succeeded, with the aid of manuscripts, in restoring it. His untiring industry in research, his wide bibliographical knowledge and experience, above all, his accuracy, as invariable as it is minute, have combined to make him, in the words of Professor Dowden, 'our chief living authority on all that relates to Shelley's writings.' His name stands securely linked for all time to Shelley's by a long series of notable words, including three successive editions (1876, 1882, 1892) of the Poems, an edition of the Prose Remains, as well as many minor publications—a Bibliography ("The Shelley Library", 1886) and several Facsimile Reprints of the early issues, edited for the Shelley Society" (Preface to the Oxford Edition of The Complete Poetical Works of Percy Bysshe Shelley, edited by Thomas Hutchinson [1914]). Granniss 89.
(Offered by David Brass Rare Books)
Specimen Pages of Korean Movable Types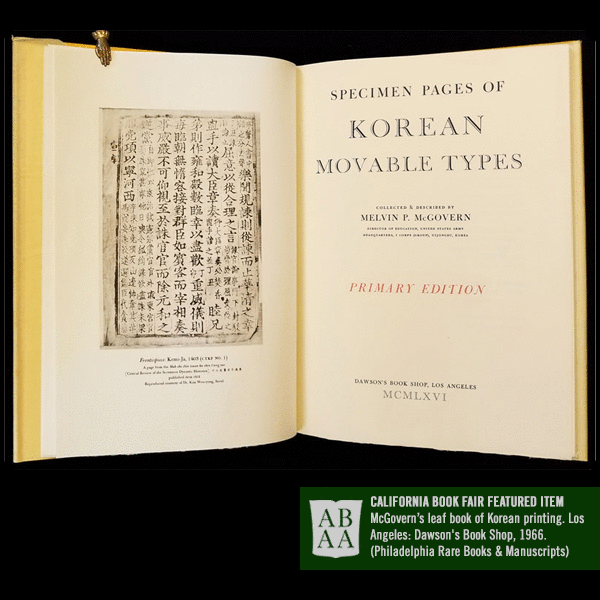 Los Angeles: Dawson's Book Shop, 1966. Folio extra (44 cm, 17.375"). [1] f., frontis., 73, [1 (blank)] pp.; illus., 22 mounted samples.
One of the Primary Edition of McGovern's leaf book of Korean printing using movable type. Our colleague Dr. Jerrold G. Stanoff of the Rare Oriental Book Company (ABAA, ILAB) writes: "This is a monumental and exhaustive work consisting of a total of 22 specimens of movable type & paper with tipped in examples. Each example exhibits a different movable type font, with a paragraph of description and identification in English with the font name in Hangul or Korean characters." In this Copy LXVI (i.e., 66) of 95 "primary" copies, all 22 specimens are original, none are facsimiles — a difference from copies of the standard edition. The earliest specimen dates from 1422 and the last from 1896. (Offered by Philadelphia Rare Books & Manuscripts)
Milosz, Czeslaw (Jan Syruc, pseudonym). Wiersze. Lwow: Bibljoteka rekopisow wydawnictwa "Brzask", 1939 (i.e 1940).
First edition. Approx. 8-1/4 X 11-1/2 in., 28 mimeographed pages, hand-sewn in plain black textured wrappers. A few short tears and small corner-chips to wrappers; some pages with finger dents; excellent.
Milosz's impossibly rare third collection of poems, printed by hand on a mimeograph machine. Signed by Milosz at a later date on the title leaf. Undertaken at the outset of the second year of nazi occupation during the Second World War, following Milosz's harrowing journey from his home city of Wilno ahead of Soviet forces to the relative safety of occupied Warsaw. For this clandestine volume he adopted not only a pseudonym for himself - derived from the name of his maternal grandfather - but also contrived a fictional Lwow publisher. The collection was in fact printed in the Warsaw apartment Milosz shared with his great love and future wife, Janina Cekalska, with help from friends Jerzy Andrzejewski and Antoni Bohdziewicz. Operating in secret, under dangerous circumstances, and facing shortages of materials, they produced only 46 copies. Andrzejewski would later recall: "Antoni Bohdziewicz came to our aid. He had a copying machine and paper . . . Milosz used an ordinary cobbler's needle to punch holes in the paper, while I cut the black sheets and Janka sewed the copies together with ornamental chenille . . . From a safety point of view, the room was a death-trap. On the table, the couch, the desk, and the floor, everywhere lay white, treacherous pages. Milosz struggled with the cheap needle, and Janka stabbed her fingers, while I, using a razor blade, did not always manage to get the sheets to the required size. And that is perhaps why we experienced during those days some of the most joyous and brightest days of the whole occupation. We were creating a small and modest thing, with our own hands, and against the nightmare of reality." (quoted in Andrzej Franaszek, Milosz: A Life, p. 202) Regarded as the first edition of underground poetry published in occupied Poland, this is an item of near legendary rarity, very few copies of which can have survived. In over thirty years of actively seeking Milosz first editions, we have never before seen a copy nor heard of another offered for sale. Milosz's bibliographers note "One copy extant in Muzeum Literatury im. Adam Mickiewicza in Warsaw". It counts among the rarest books of modern poetry, far more so, say, than the mimeograph edition of Allen Ginsberg's Howl. A towering figure in world literature, Milosz received the Nobel Prize in 1980. Volynska-Bogart & Zalewski p.6. (Offered by Locus Solus Rare Books)
Patrick Bronte, The Cottage in the Wood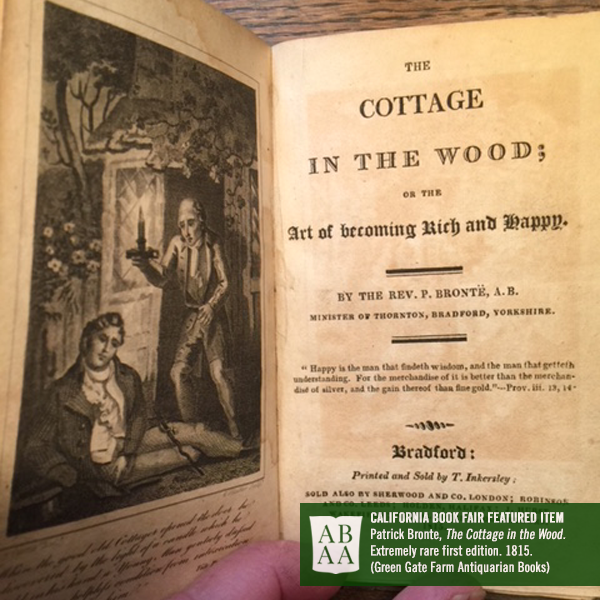 Extremely rare first edition.1815. (Offered by Green Gate Farm Antiquarian Books)
Frankenstein: First American Edition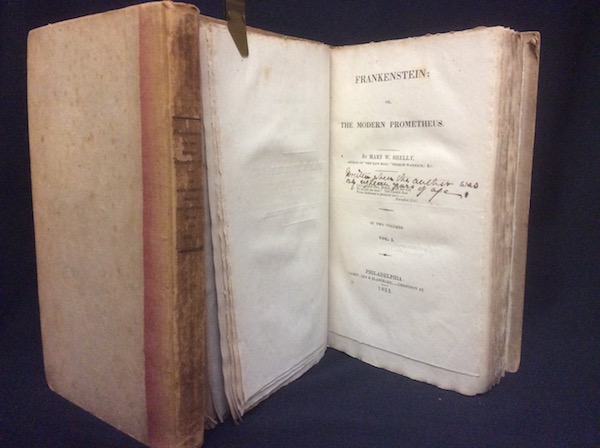 A copy in two volumes of the first American edition of Frankenstein; or the Modern Prometheus (Philadelphia: Carey, Lee and Blanchard, 1833). Rare in its original binding of drab boards, rose-colored cloth spine, and printed paper labels on the spines. (Offered by Jeffrey H. Marks Rare Books)
The Birds and Beasts of Shakespeare
Alan James Robinson, design and illustrations; text by Arthur F. Kinney.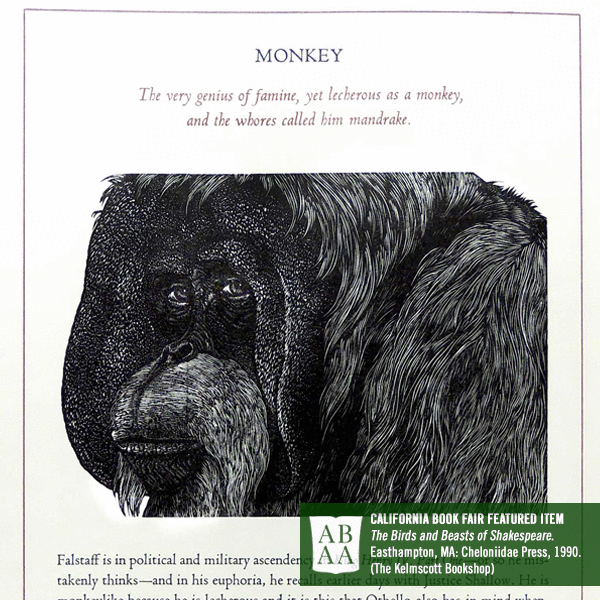 Easthampton, MA: Cheloniidae Press, 1990.
Number 41 of 100 copies. From the prospectus: This book "focuses on popular bird and animal lore and the way Shakespeare turns it into lines of haunting and indelible beauty by describing the familiar and unfamiliar ideas about [many creatures] and by showing how Shakespeare used these [ideas] to shape character and plot in his plays....Shakespeare's imaginative use of observed detail and magical fantasies is matched by the intricate and mysterious wood engravings of Robinson." This beautiful copy is custom bound in full brown morocco with gilt title to the front cover by the renowned Green Dragon Bindery. It also includes a clamshell box that houses the prospectus and a suite of 55 loose engravings each signed and numbered by Robinson. This ambitious production was undertaken by the press as a celebration of its tenth anniversary. It was printed on special Cheloniidae Rag paper carrying the press watermark that is the exact size of Shakespeare's First Folio of 1623. The type is Centaur and Arrighi and the book was letter press printed by master printer Harold Patrick McGrath. Marbled endpapers. In fine condition. Size: Book is 10.5 x 16 inches. Box is 11 x 17 inches. (Offered by The Kelmscott Bookshop)
Brave New World, Aldous Huxley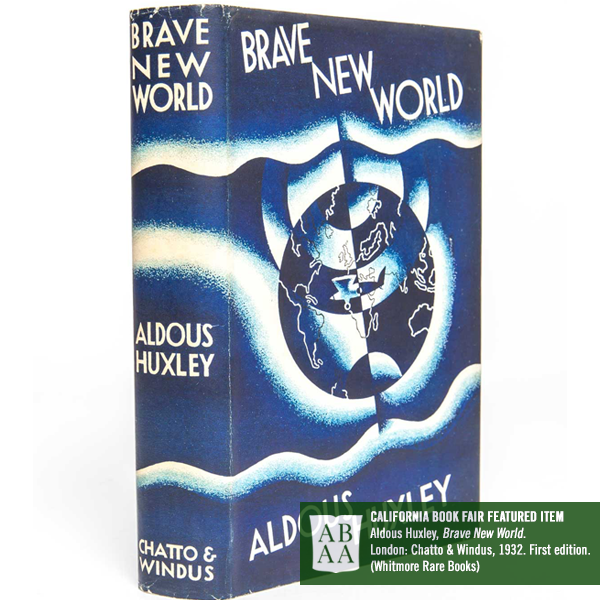 London: Chatto & Windus, 1932. First edition. A just about Fine copy, in like dust jacket. Book with spine very slightly faded and a previous owner's bookplate on the front paste-down. Jacket with slight spine toning and very minor rubbing at the top of the spine and at the corners. Housed in a custom slipcase with chemise.

The defining dystopian novel, written in response to the perceived Americanization of Europe, the mass-production technologies then being introduced and in reaction to several works showing future utopias, most notably works by H. G. Wells. Huxley's reaction is "nightmarish prognostication of a future in which humanity has been destroyed by science." (DNB) The novel is remarkable in foreshadowing several modern developments, including: reproductive technologies, sleep-learning, classical conditioning and psychological manipulation. About Fine in about Fine dust jacket. (Offered by Whitmore Rare Books)

Shelly, Mary. Frankenstein; Or, The Modern Prometheus.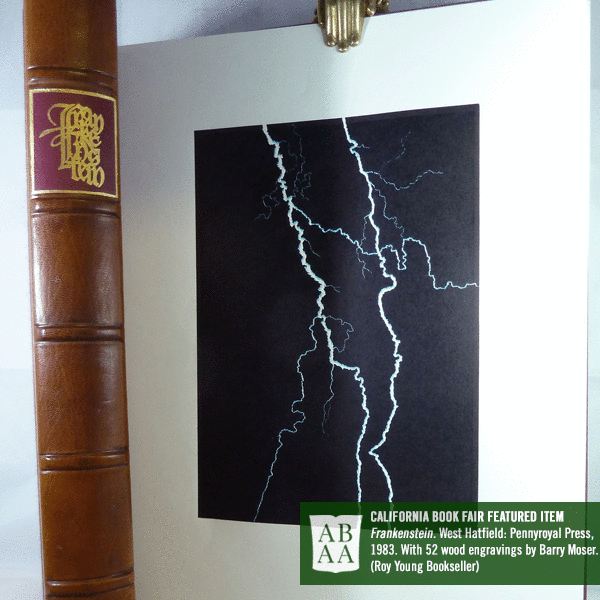 West Hatfield: Pennyroyal Press, 1983. 282 pages. 35 x 26 cm. Limited Edition, copy 140 of 350 with an extra suite of 52 unsigned engravings by Moser: The first instance of the use of multiple color block prints in a Pennyroyal book. Frontispiece in two colors, with fifty-two wood-engravings by Barry Moser, several printed in colors by Harold P. McGrath. Essays by Ruth Mortimer, Emily Sunstein, Joyce Carol Oates and William St. Clair. The epigraph from "Speeches for Dr. Frankenstein" printed with permission of Margaret Atwood. Bound by Samuel Ellenport at the Harcourt Bindery in half tan morocco over burgundy cloth boards, with a morocco lettering label on spine stamped in gilt, top edge gilt. Book and red cloth chemise housing extra print suite. Fine in near fine matching slipcase. (Offered by Roy Young Bookseller)
Shaw, Henry and Sir Frederic Madden. Illuminated Ornaments selected from the Manuscripts and early printed books from the sixth to the seventeenth centuries.
London: William Pickering (printed by Charles Whittingham), 1833.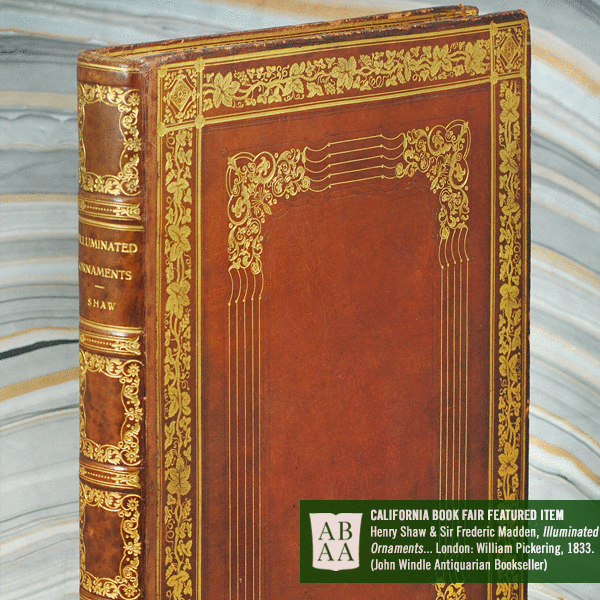 Imperial 4to on largest paper (38 x 27.5 cms.), lithographed titlepage heightened with hand coloring, printed titlepage, 18 pp. of text; 40 leaves of descriptions between 59 magnificent etched or lithographed plates heightened with printed and hand-coloring, 4 of the early plates with a highly burnished background of gold leaf; and many other plates illuminated with liquid gold, 1 addendum leaf. A very fresh copy, in its most desirable format, of a truly rare book in any of its three formats (uncolored, colored, hand-colored and illuminated with gold). Contemporary full brown polished calf beautifully rebacked, covers panelled in gilt, gilt edges, armorial bookplate of Nevile Rodwell Wilkinson. A superb copy with Robin de Beaumont's original description and price retained at the front.
§ First edition, largest paper format, of Shaw's first book with color plates (his third book overall); regular copies measure 28 x 21 cms (approximately) and have less finished coloring and the gold areas are printed in yellow. The work was issued in 12 monthly parts each containing 5 plates; it began in June 1830 and was issued at 3s 6d plain, 7s 6d colored, "and a very limited number will be printed in Imperial Quarto, and the ornaments more highly finished in opaque colors heightened with gold, at 15s each part." (prospectus).
"In the large-paper copies, one can only say that the results are hardly less beautiful than the mediaeval originals; they are hand-illuminated with the utmost skill, and the gold used is gold leaf… this does make a considerable difference." (McLean). Ing quotes Hardie p.259: "With their careful selection of pigments and their faithful colouring, Shaw's reproductions attain almost to the brilliancy of an original manuscript."
In all, an extraordinary book, described by A.N.L. Munby as "the most sensible and coherent essay about miniature painting at the time" and endorsing its continuing usefulness. In the same vein, Beckwith comments: "the first of many British 19th-century studies of illuminated manuscripts… such books opened the public's eyes to the aesthetic and historical value of manuscript arts… the format was a model for 19th-century studies of the history and methods of illumination… a landmark in the diffusion of information about manuscript arts and their history and made a significant contribution to Victorian bibliomania." This may in fact be the very first book on illumination and its history to have color plates, and can certainly be said to have had a profound influence on early Victorian taste in and appreciation of illuminated manuscripts. Abbey, Life, 234. Keynes p. 89. McLean, Victorian Book Design, p.65-66. Warren p. 155. Ing, Charles Whittingham Printer, 9: "Magnificent large paper copy with gold leaf." Friedman, Color Printing in England, 39 and illus. Beckwith, Victorian Bibliomania, 14. This copy purchased from Robin de Beaumont in 2003 and sold; repurchased in 2017. Nevile Rodwell Wilkinson was the Ulster King of Arms, the Principal Herald of all Ireland, and the Registrar of the Most Illustrious Order of Saint Patrick. His biography is extraordinary both as a very distinguished soldier and as an artist who created " Titania's Palace. This chef-d'œuvre en miniature, completed over some eighteen years, was unique in being neither a luxurious dolls' house nor a model of an existing or possible future structure. It covered a space of 63 square feet, and was finished in every conceivable detail. Wilkinson developed, with the aid of an etchers' glass, a technique for decoration he called 'mosaic painting': minute dots of watercolour, irregular in shape like mosaic tesserae, about 1000 to the square inch. The palace was opened in 1923 by Queen Mary and was much admired by the public. It was exhibited not only in the United Kingdom but also in the Netherlands, Canada, the United States, Argentina, Australia, and New Zealand, raising thousands of pounds for children's charities: the raison d'être of the entire exercise." (DNB) (Offered by John Windle Antiquarian Bookseller)

Dickens, Charles TICKET to Mr CHARLES DICKENS'S READINGS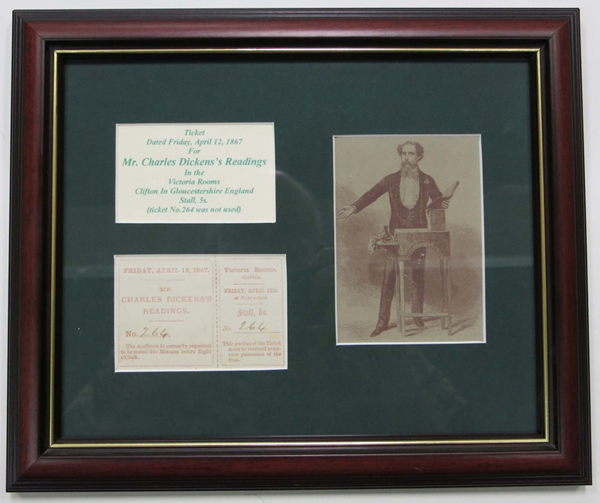 Friday, April 12, 1867. Victoria Room, Clifton. No. 264. Clifton: Friday, April 12th, 1867. Tastefully framed, with, to the right of the ticket, a b/w hlaf-tone image of Dickens at his reading podium. Green mat background. Overall: 9-7/8" x 11-7/8". Ticket: 2-3/8" x 3-1/2". Stiff pink paper stock, with red lettering. VG+. An unused ticket showing only faint wear [not examined out of the frame].

The ticket (#264) is for a 5s Stall in the Victoria Rooms, Clifton. One can only wonder why it was not used...? (Offered by Tavistock Books)

Halevy, Ludovic; Degas, Edgar (Artist). La Famille Cardinal.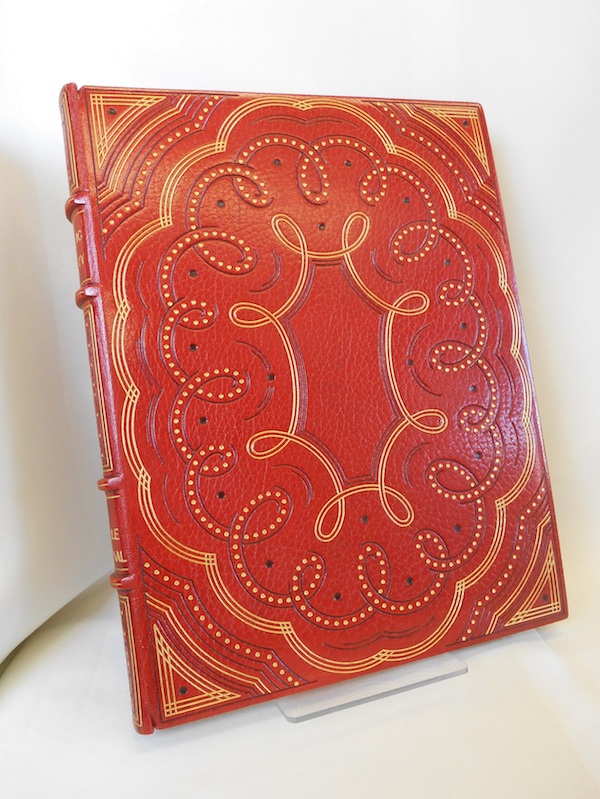 Paris: Auguste Blaizot & Fils, 1938. In a lovely design binding by the Parisian bookbinding atelier of Gruel. The only book considered to have been illustrated by Degas, with illustrations by him specifically made for this volume. Fine. (Offered by Swan's Fine Books)

The Book of Ptath by A.E. van Vogt (Special Edition)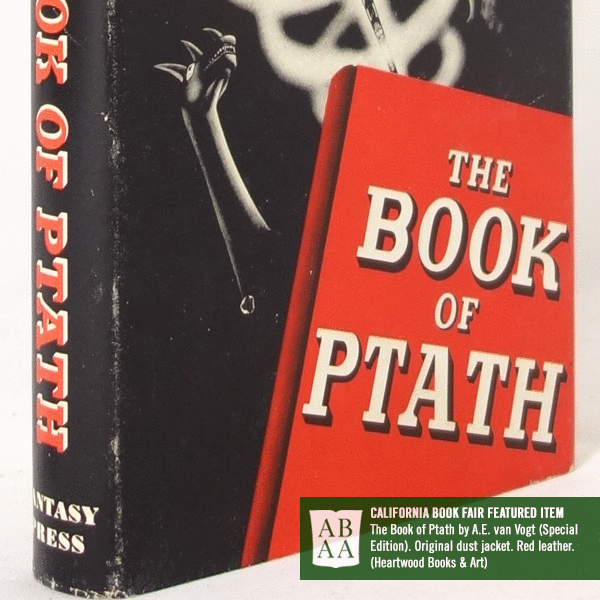 Full Leather 1 of 2 Signed Special Edition. Limited to two copies, numbered, autographed and bound in leather. Original dust jacket. Red leather, spine stamped gold. This copy presented to A.E. VAN VOGT. Signed and inscribed, "For A. E. van Vogt ~ as an expression of our appreciation for his fine work as a writer, and our thanks for his cooperation with Fantasy Press. [signed] L. A. Eshbach, A. J. Donnell, G. H. MacGregor, L. H. Houck". (Offered by Heartwood Books & Art)
Wilde, Oscar. The Sphinx, with decorations by Charles Ricketts.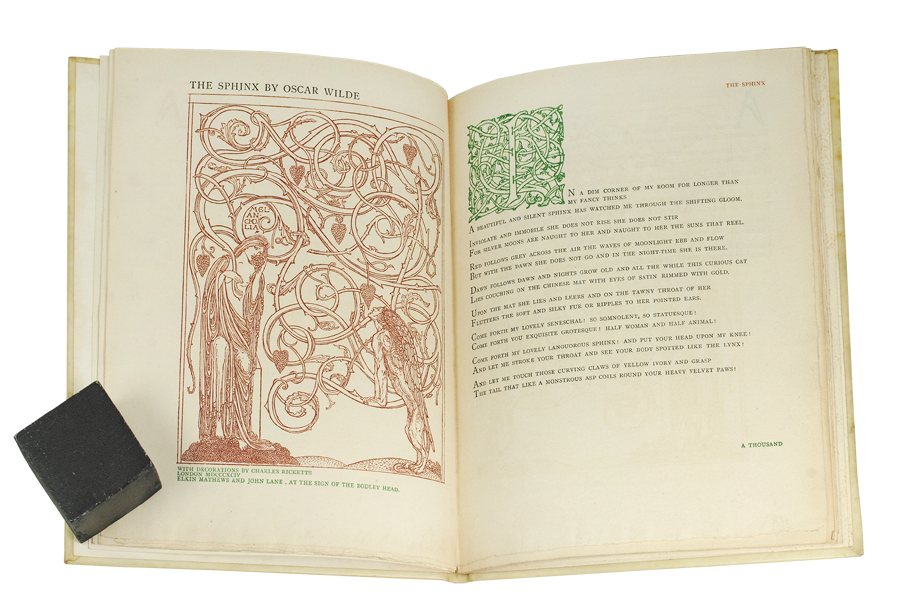 London: Elkin Matthews and John Lane, 1894. Small 4to, [22] ff., unpaginated, illustrated throughout by Ricketts. Original full vellum gilt-designed by Ricketts, printed on Arnold unbleached hand-made paper, all edges untrimmed. An impossibly fine copy, with the gilt on the covers still in bright state, the original prospectus loosely inserted, and in the original slipcase and then housed in another slipcase. Blue quarter morocco slipcase.
First edition, one of 200 copies on small paper. One of the very few indisputably great illustrated books of the 1890s. "In 1894 Ricketts produced a masterpiece for Matthews and Lane with The Sphinx. Ricketts was evidently given a free hand not merely to illustrate the book but to design it from cover to cover. The book is brilliantly successful. The use of brick red for the illustrations and the bright green for the decorative initials and catchwords and the black printed text in large and small capitals throughout, provides an ideal setting for the artificiality of Wilde's text." (Muir, Victorian Illustrated Books, pp. 192-193). And Russell Taylor, in his Art Nouveau Book in Britain is also fulsome in his praise: "Whichever way one looks at it, Ricketts seems somehow to come out as the hero of any study of the art nouveau book -- each [of his books] is conceived freshly in terms of its literary materials, the design sometimes chiming with, sometimes counterpointing the qualities of the subject... in The Sphinx, the extreme elaboration of the book's form mirrors exactly the luxuriant and self-consciously perverse exoticism of Wilde's text; perversity, indeed, is even indulged graphically to the extent of having a left-hand title page." Mason 361. Ray 262. J.R. Abbey's fine copy sold at auction in 2017 for £8125. (Offered by John Windle Antiquarian Bookseller)
You'll find a few more preview items listed here and here...
Come back next week for part two, or keep an eye on our Instagram account for more...