Get your new year off to a good start by examining a few highlights from around the abaa.org website or found within the pages of our members' latest rare book catalogs.
Cassic orange Penguins are always eye-catching. This one is was also an influential part of early science fiction.
The Quatermass Experiment: A Play for Television in Six Parts
by Nigel Kneale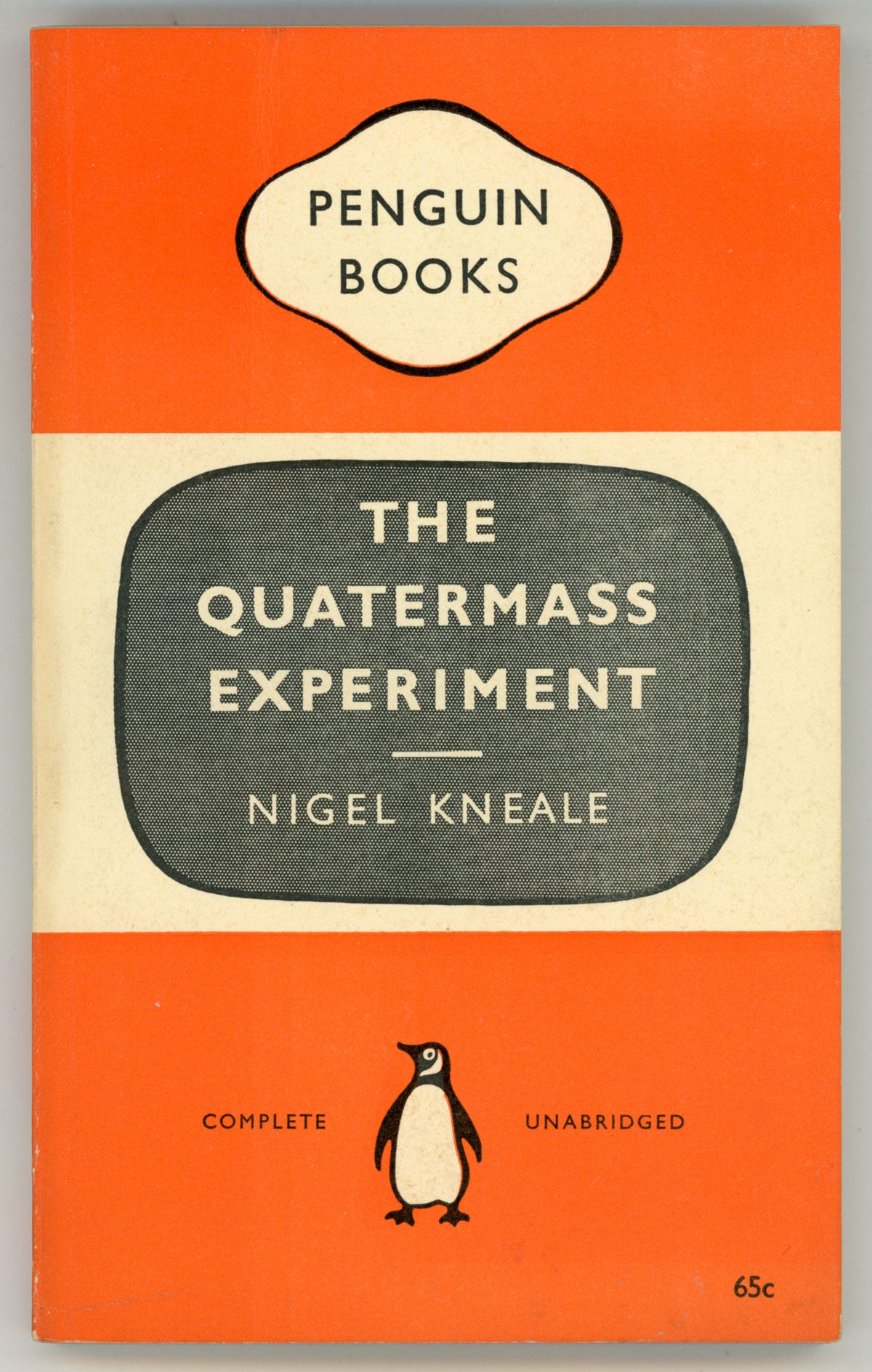 Description:
[Harmondsworth, Middlesex]: Penguin Books, [1959].. Small octavo, printed wrappers. First edition. Prints Kneale's revised script for the first of the three BBC Quatermass serials aired in 1953, 1955 and 1958/1959 respectively. Includes film stills. "Effective melodrama and social satire for its time." - Anatomy of Wonder (1987) 3-231. "Excellent scripts." - Pringle, The Ultimate Guide to Science Fiction, second edition (1995), p. 294. "With hindsight, there is a clear pattern in Kneale's work in which ordinary people are seen as stupid and ignorant, and ready prey for the supernatural or science-fictional forces that will almost inevitably attempt to control them. There is a seigneurial, Edwardian element in this, a recoiling from the vulgar. This is a point worth belaboring, because Kneale was certainly a much better than average scriptwriter -- the Quatermass series especially is exemplary -- and his scripts were, paradoxically, very influential on SF, at least at the Gothic and irrational margin of the genre where SF meets fantasy, particularly among film and television producers, who never expect SF to make sense anyway." - SFE (online). This copy is part of the export issue: it has a 65¢ price printed on the front cover. A fine copy. (Offered by L.W. Currey)
And speaking of influential early science-fiction...
R.U.R. (Rossum's Universal Robots): A Fantastic Melodrama.
CAPEK, Karel (play); SELVER, Paul (translation)
Description:
Garden City: Doubleday, Page & Co., 1923. First American Edition. First Printing. Octavo; orange cloth, with titling and rule stamped in black on spine and front panel; 187pp; illus. A barely perceptible degree of sunning to spine, with some trivial rubbing to lower corners; a fresh, very Near Fine copy, lacking the rare dustjacket.
The Theatre Guild version was the first English language translation of Capek's major work, including 4 black & white photographic plates from the stage production. A landmark work, credited with introducing the word "robot" into the English language. BLEILER (1972 ed.), p.72; BOOKER, pp.309-313.
This item appears in the latest email newsletter from Lorne Bair Rare Books, Manuscripts & Ephemera. It is not listed on abaa.org.
And beloved fantasy...
The Adventures of Tom Bombadil; and Other Verses from the Red Book
by J.R.R. Tolkien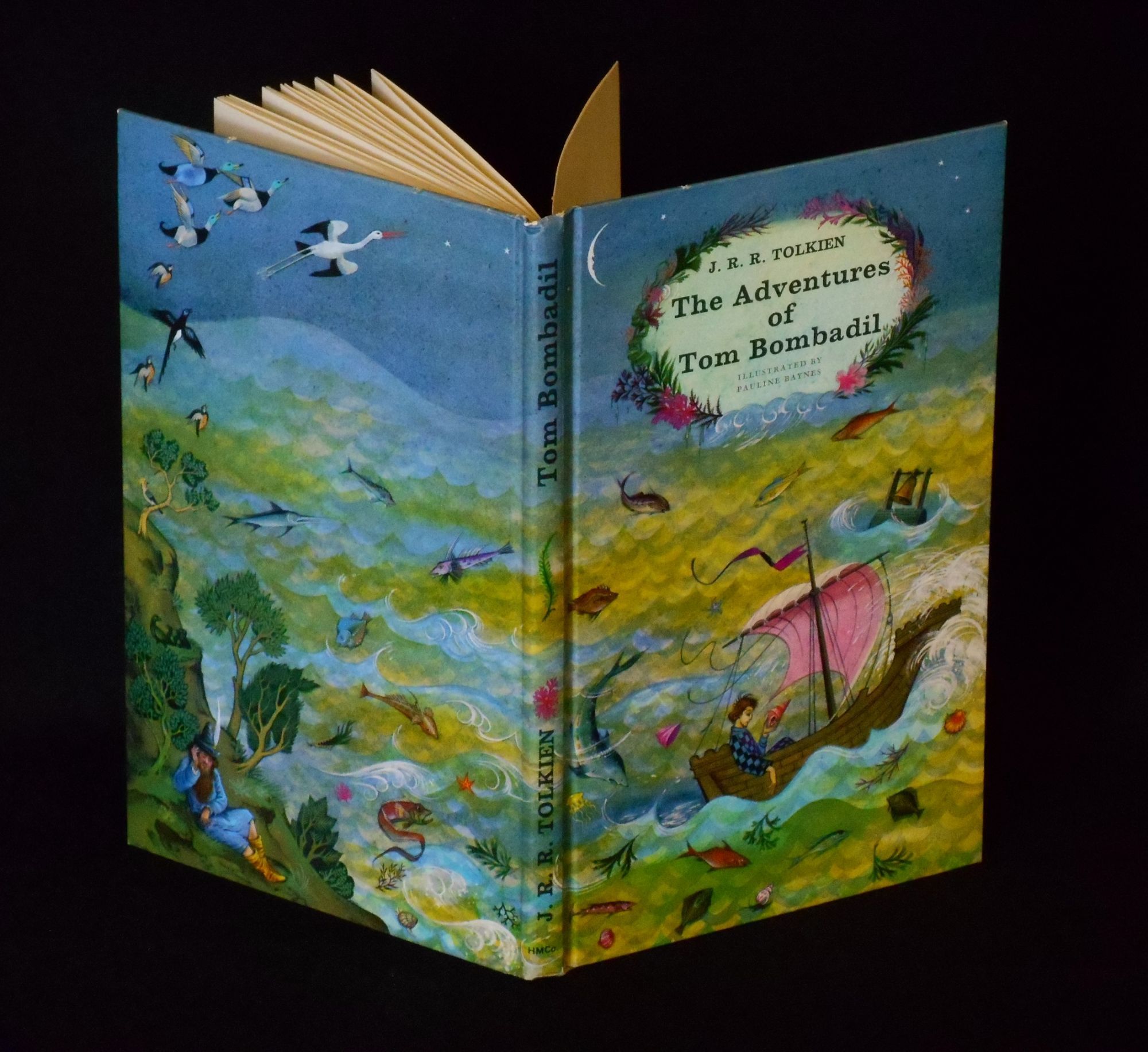 Description:
Boston: Houghton Mifflin Company, The Riverside Press, Cambridge, 1963. First Edition. Hardcover. Near Fine/very good +. Baynes, Pauline. First U.S. edition, octavo size, 64 pp.
The character of Tom Bombadil made his first published appearance as a poem in the "Oxford Magazine" in 1934. After "The Hobbit" had been published, Tolkien and his publisher, Stanley Unwin, debated the merits of turning the poem into a longer story; while this never happened, Tolkien did introduce him as a character in "The Lord of the Rings". This volume opens with the poem from which the book takes its title, and is followed by fifteen others. In the preface to the book, Professor Tolkien gives a "history" of each poem, and stating that "the verses, of hobbit origin, here presented have generally two features in common. They are fond of strange words, and of rhyming and metrical tricks - in their simplicity Hobbits evidently regarded such things as virtues or graces, though they were, no doubt, mere imitations of Elvish practices. They are also, at least on the surface, lighthearted or frivilous, though sometimes one may uneasily suspect that more is meant than meets the ear." With illustrations by Pauline Diana Baynes (1922-2008), who illustrated over one hundred books during her career, including several by C.S. Lewis (the Narnian Chronicles) and Tolkien (who spotted her work on his publisher's desk and demanded she illustrate his earlier book, "Farmer Giles of Ham").
DESCRIPTION: Bound in full-colour flat paper boards with an image that wraps around the boards and spine, black lettering on the front and spine, title page in black lettering with black illustrations with orange highlights, various extraordinarily charming vignettes throughout, seven large black-and-white illustrations with orange highlighting; octavo size (9" by 5.75"), pagination: [1-6], 7-64. The dust jacket has the same full-colour illustration wrapping around the book with black lettering on the front and spine, original price of $3.50 present.
CONDITION: Volume near fine, the binding clean and unmarked, the colours vibrant, corners straight with only a bare minimum of rubbing, strong text block with solid hinges, the pages are clean and bright, and the volume is free of prior owner markings; there are gentle bumps with light wear to the head and tail of the spine, and three small indents to the top edges of the boards. The unclipped dust jacket is very good plus, almost near fine, with bright colours, a minute amount of sunning to the spine, a few spots of light edgewear.
CITATION: Hammond A6b, with the error present in the last line of "The Sea-Bell" (p. 60), which Hammond notes as present in the first impression of the (British) first edition, corrected with the (British) second impression of 1962.
(Offered by Swan's Fine Books)
An very limited edition by an acclaimed Southern author...
The Recruiters
A Story by Silas House
Illustrated by Arwen Donahue and including 'Brennen's Ballad' by Sue Massek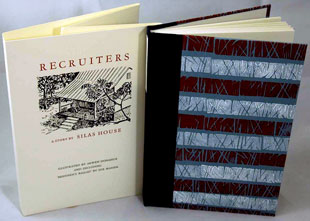 Description:
Monterey, Kentucky: Larkspur Press, 2011. Special Edition of 45.
5.75 x 8.25"; 68 pages. Handset in Garamond type. Printed on a hand-fed C & P. Printed on dampened Biblio paper. Drawings by Arwen Donahue. Handbound by Carolyn Whitesel in her own decorated papers over board. Design, composition, and printing by Deborah Kessler, Leslie Shane, and Gray Zeitz. In cream color dust jacket. Signed by Donahue, Massek, and House. Numbered.
Author's Note: "This story was inspired by an incredible song by Sue Massek, a Kentucky singer-songwriter-musician who is best known as the banjo player for the Reel World String Bank. In her song 'Brennen's Ballad,' Massek manages to capture in about 300 words what took me thirty-one pages to articulate. ...
"Living in a small rural town, I have witnessed too many recruiters talking poor teenagers into signing up for service. ... My father ... felt he didn't have very many options, so he signed up with the Army. That resulted in a trip to Vietnam that changed his life, and my entire family's life, forever. ...
"We cannot stand by and condone these wars and the way our veterans are treated upon returning from those wars. And we can't just blame our government, or anyone else. The reason I titled this story 'Recruiters' is because it is about all of us.
"We are the recruiters."
Prospectus: "Silas House is the nationally bestselling author of six books including Clay's Quilt, Elie the Good, and Something's Rising (with Jason Howard). House serves as the NEH Chair in Appalachian Studies at Berea College. A native of Eastern Kentucky, he is the father of two daughters and lives in Berea.
"Arwen Donahue earned her BFA at the California College of the Arts in Oakland, California. She co-authored the book This is Home Now: Kentucky's Holocaust Survivors (with Rebecca Gayle Howell). This is the third book she has illustrated for Larkspur Press. She lives and works her family farm in Nicholas County, Kentucky.
Autgraphed"Sue Massek is a musician committed to using the music she writes and sings as a tool for social justice. As a member of the Reel World String Band since 1977, she has toured throughout the USA, Canada, and Italy. Her solo work has taken her the Guatemala and Nicaragua. She currently works for the Kentucky Foundation for Women and lives with her partner on a small farm in Willisburg, Kentucky."
This item is listed in the latest online catalog from Vamp & Tramp, Booksellers. It is not listed on this website.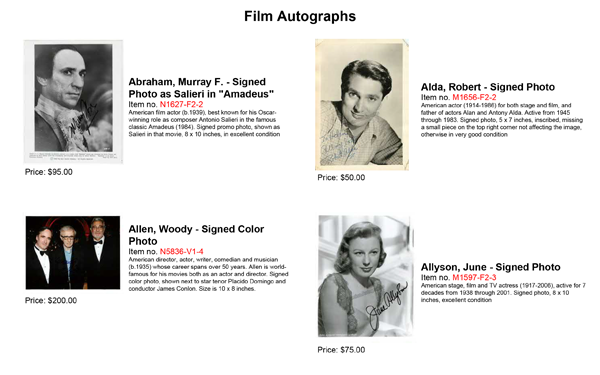 Tamino Autographs' new catalog is a treasure trove of autographed photos of musicians, composers, and film stars. There are too many famous names to single out just one. Dive in and you'll doubtless find several of your favorite stars of yesteryear. (These items are not listed on abaa.org.)
This is just a sampling of recent acquisitions by our members. You can browse recently listed titles on abaa.org here...