Randolph Caldecott was born in March of 1846 in a city called Chester, England. He left school at the tender age of fifteen and went to work in a bank branch. In 1861 he saw published his first drawing – and despite the fact that he was to be most remembered for his humorous depictions and lively countryside scenes, Caldecott's first published work would be of a catastrophic fire at the Queens Railway Hotel in Chester which, along with his write-up of the event, appeared in the Illustrated London News. In his early twenties Caldecott was able to transfer to the Manchester & Salford Bank in the thriving Northern city and began to take night classes at the Manchester School of Art, all while continuing to have his sketches published locally. Upon making the acquaintance of Henry Blackburn and getting published in the London Society, Caldecott realized his talent could be enough to support him and at the young age of 26, he quit his banking job to move to London. In 1869, Caldecott exhibited an illustration in the Royal Manchester Institute, and seven years later was displayed once more, this time at the Royal Academy. In 1872, he was elected to the Royal Institute of Watercolour Painting.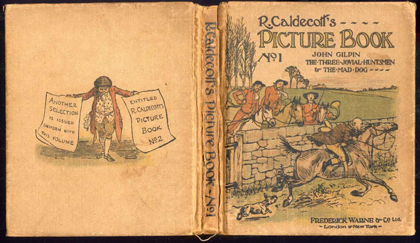 R. Caldecott's Picture Book Containing The Diverting History of John Gilpin; The Three Jovial Huntsmen; An Elegy on the Death of a Mad Dog. London: Frederick Warne. Early Edition. Hardcover. Good Condition. Undated ca. 1900 - early edition, variant cover. (Offered by Pazzo Books)
In 1877 Caldecott's life would change forever, as he filled in for Walter Crane's absence in the production of two small children's Christmas Books – The House that Jack Built and The Diverting History of John Gilpin with color printer Edmund Evans. He would go on to create/illustrate two children's stories for Evans at Christmas until his death in 1886. These children's stories became standards as Christmas annuals and were immensely popular, bringing Caldecott fame from around the world. As an enterprising young man, he also became quite wealthy from his work. As the website randolphcaldecott.org.uk states, "Randolph Caldecott is believed to be the first author/illustrator to have negotiated with his publisher to receive, instead of a fixed fee, a 'Royalty' per book sold: he received one old penny per book (there were 12 pence to the shilling). The first print run was a cautious 10,000 copies. They were so popular that by July 1886, five months after his death, over 800,000 copies had been sold.
Caldecott often visited warmer climates in the winter months, due to consistently bad health (after an illness at a young age, the illustrator continuously suffered from a heart condition and gastritis). The last winter of his life, he and his wife Marian Brind traveled to New York and down to Florida. Unfortunately it was an abnormally cold winter, even in Florida, and Caldecott took ill and never returned to the United Kingdom. His last days were lived in St. Augustine, where he died on February 12th, 1886.

Search for books by Randolph Caldecott...
The Caldecott Medal
Let us now turn to the story behind the annual award to a children's book illustrator named in Caldecott's honor, The Caldecott Medal. Rene Paul Chambellan, an American architectural sculptor who specialized in the Art Deco style, designed the medal in 1937. The medal itself depicts two of Caldecott's most famous illustrations – a scene from his work The Diverting History of John Gilpin and one of his for nursery rhyme "Song of Sixpence." After the Newbery medal was created (also in 1937 – as an award for distinguished children's literature), "many persons became concerned that the artists creating picture books for children were as deserving of honor and encouragement as were the authors of children's books," (according to the American Library Association/ALA) and Frederic G. Melcher suggested the establishment of a second annual medal, "to be given to the artist who had created the most distinguished picture book of the year." The rules of the Caldecott award are quite simple, really. It must be a book with original work (whether also written by the illustrator or not) by an American citizen or resident (or in a U.S. Commonwealth) that distinguishes itself in the field of children's illustration. The medal itself weighs just over three pounds, and is not worn but rather presented in a box for display.
Though the reason for a British illustrator being chosen as the figurehead/namesake of an American award continues to confuse some of the American public, the ALA website claims (rightly so) that Caldecott was one of three of the most influential children's illustrators working in the 19th century. Along with Walter Crane and Kate Greenaway, Caldecott helped shape an entirely new generation of children's illustration with his humorous visuals. As the ALA states, "his illustrations for children were unique to their time in both their humor, and their ability to create a sense of movement, vitality, and action that complemented the stories they accompanied." We cannot deny the fame that Caldecott experienced, even in his short period as an artist, but we also cannot deny the influence he exerted on illustrating for children and the importance of humor, color and excitement in his pieces.
Framed Original Humorous Watercolor by Randolph Caldecott entitled "Telling the Tale". The watercolor depicts a humorous scene in which an old duffer in a plaid suit has three young ladies in his thrall while man in the background, a self-portrait of Caldecott himself, is nodding off. The palette is of muted light colors, and the painting is pleasingly both impressionistic and detailed. Circa 1880. (Offered by White Fox Rare Books and Antiques).

Search for books by Randolph Caldecott...