ABAA members are adapting to the new reality of shelter-in-place orders and self-isolation in myriad different ways. Most are finding creative solutions to serve their customers while complying with state-mandated restrictions on movement and opening hours. While larger stores in states currently under shelter-in-place or similar orders are closed and staff are subsequently unable to get to the stores, many ABAA bookstores are family businesses or run from home, and as such are still able to meet their community's needs.
Here are some of the different initiatives ABAA members have launched over the past two weeks:


"Front Porch Deliveries" -- The Book Bin, Salem Oregon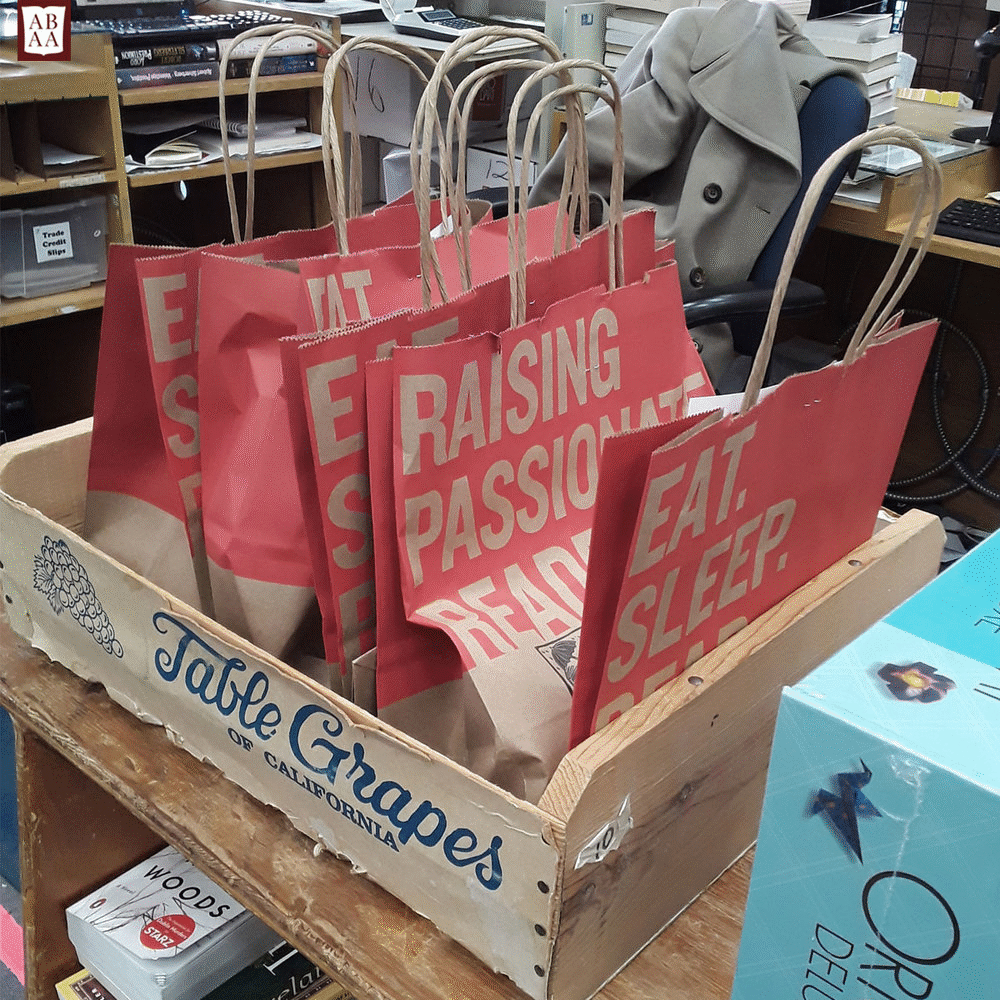 Obadiah Baird, owner of The Book Bin, a new, used, & rare bookstore in Salem, Oregon, has been putting in long days getting books, puzzles, and magazines to his self-isolating customers. As well as offering free home delivery and curbside pickup, Baird has partnered with a local coffee shop to stock their coffee beans while the cafe has to remain closed. Baird says he regularly ends his days "dropping books off on people's porches" — and now coffee, too! Musing that "under normal circumstances we booksellers can be a reclusive, skittish, introverted lot," Baird declared "but now is not normal. We want to drive books to your home! We want to walk out to your cars! We are here for you. Please make use of us!"
You can follow Baird's progress on The Book Bin Facebook page...

Daily Special Offers on Facebook -- Dark Parks Book & Collectibles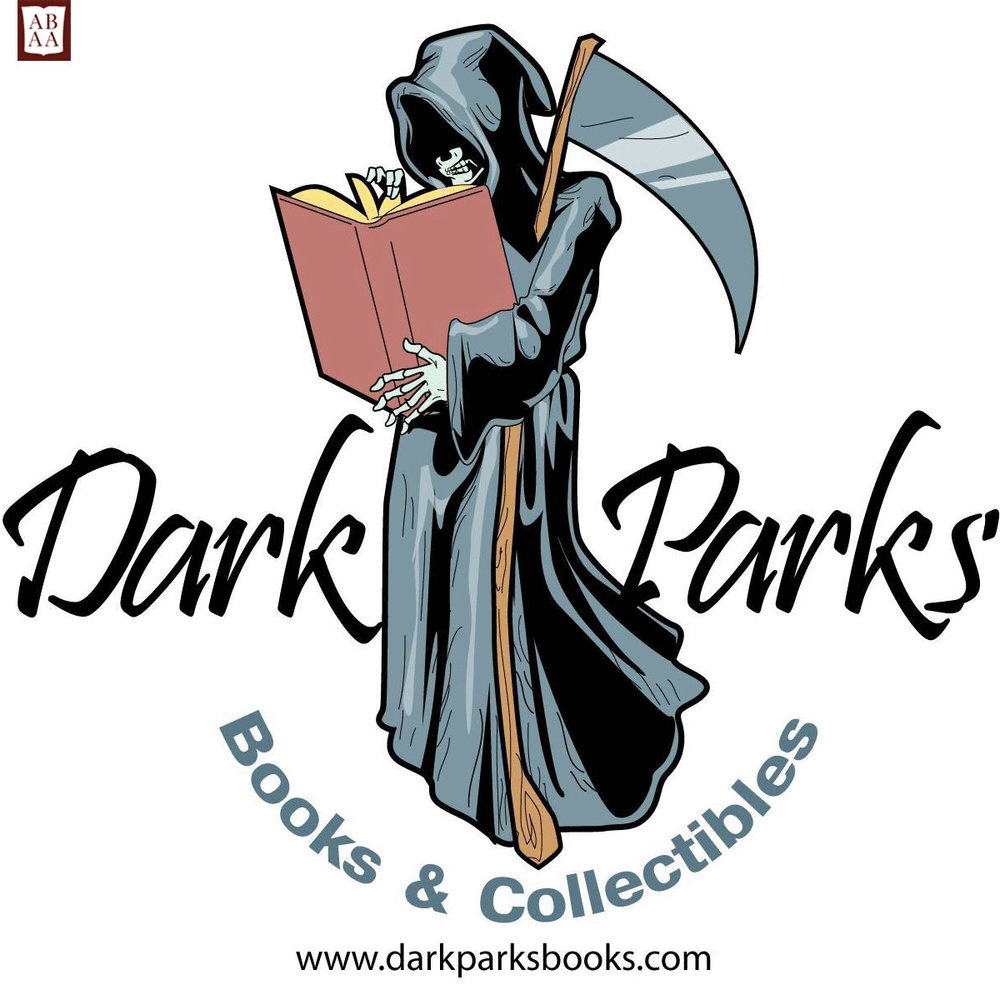 ABAA members have a wide variety of interests and expertise! Ryan Parks, owner of Dark Parks Books and Collectibles, specializes in the occult, and the genres of science-fiction, horror, and fantasy. As well as exhibiting at antiquarian book fairs (such as the recent California Book Fair) Parks exhibits at numerous genre cons every year, where he is well-known as the "book guy" — although he also carries genre-focused movie memorabilia, artwork, autographs, and other items. As these shows have been postponed or canceled for the foreseeable future, Ryan is using Facebook to offer select items for sale daily. You can browse his invertory at www.darkparksbooks.com or follow his Facebook feed for more information.
As with any ABAA member, if you are hunting for any particular books or collectible in the realm of science-ficiton and fantasy, reach out to Parks by phone or email, as he may be able to locate it for you! Remember, most ABAA members only list a tiny fraction of their
inventory online. If you are hunting for a particular book, they may already have it on the shelves — but you won't know unless you ask!



Embracing Phone & Email Orders -- Laurie Booksellers, Minneapolis, MN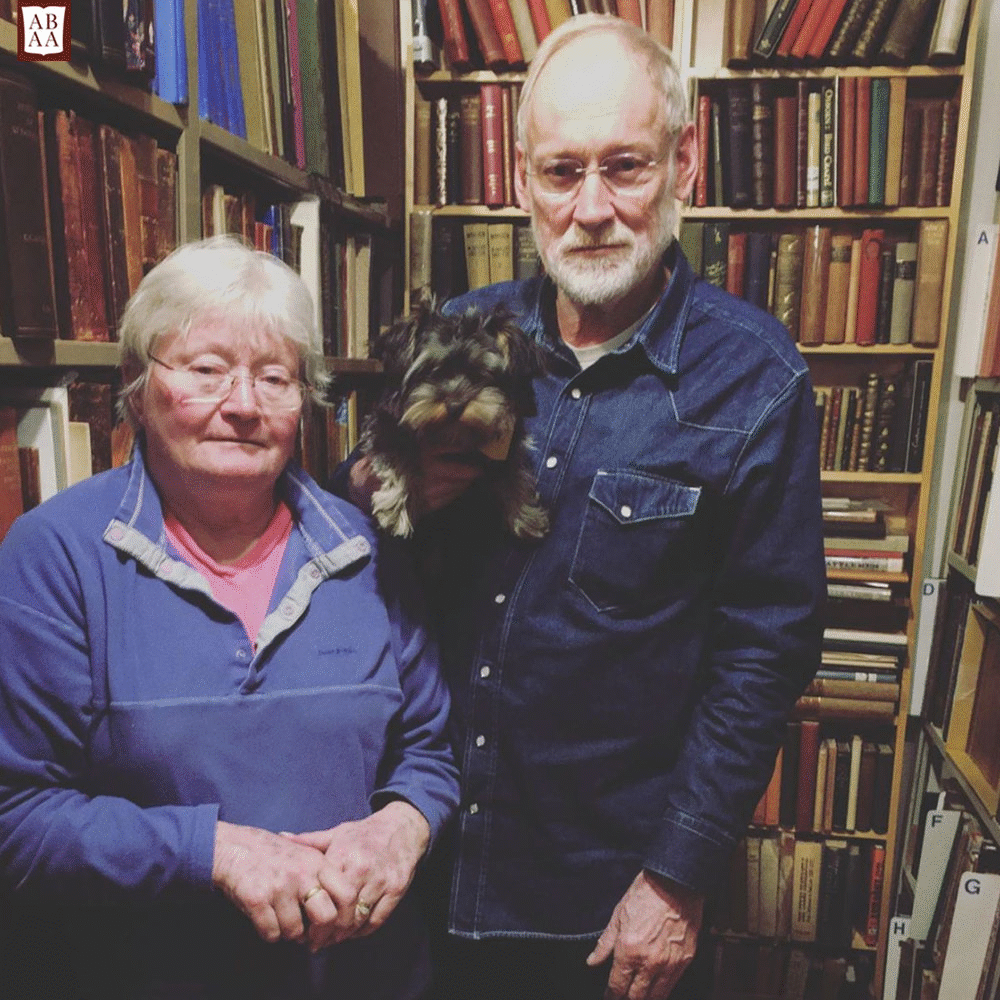 James and Mary Laurie of Laurie Booksellers say that they miss the company and simulation provided by walk-in customers -- and their "shop dog" Buddy is particularly pining for attention. "We opened our shop 45 years ago because we love the personal contact it allows with customers," Mary Laurie told the StarTribune before they closed the store to drop-in visitors. "We learn from them every day. We have bemoaned the internet for taking this away from us. In the face of this virus we have found that the internet is actually an ally."
The Lauries have discounted the items listed on their website 50% (with free shipping!) and will extend that discount to email and phone orders. Although they caution that they only list about 20% of their inventory online, so "if you don't see (or know) what you want," call them and they will "check the shelves and/or catacombs." Additionally, they are always "happy to hear about your taste in books and make recommendation."
Laurie noted that she is "grateful for the emails and purchases that have been made on the internet with notes of support for what we are doing." The Lauries continue to serve their customers by email, phone, and through www.lauriebooks.com.
Free Shipping and Store Dog! -- johnson rare books & archives, Covina, CA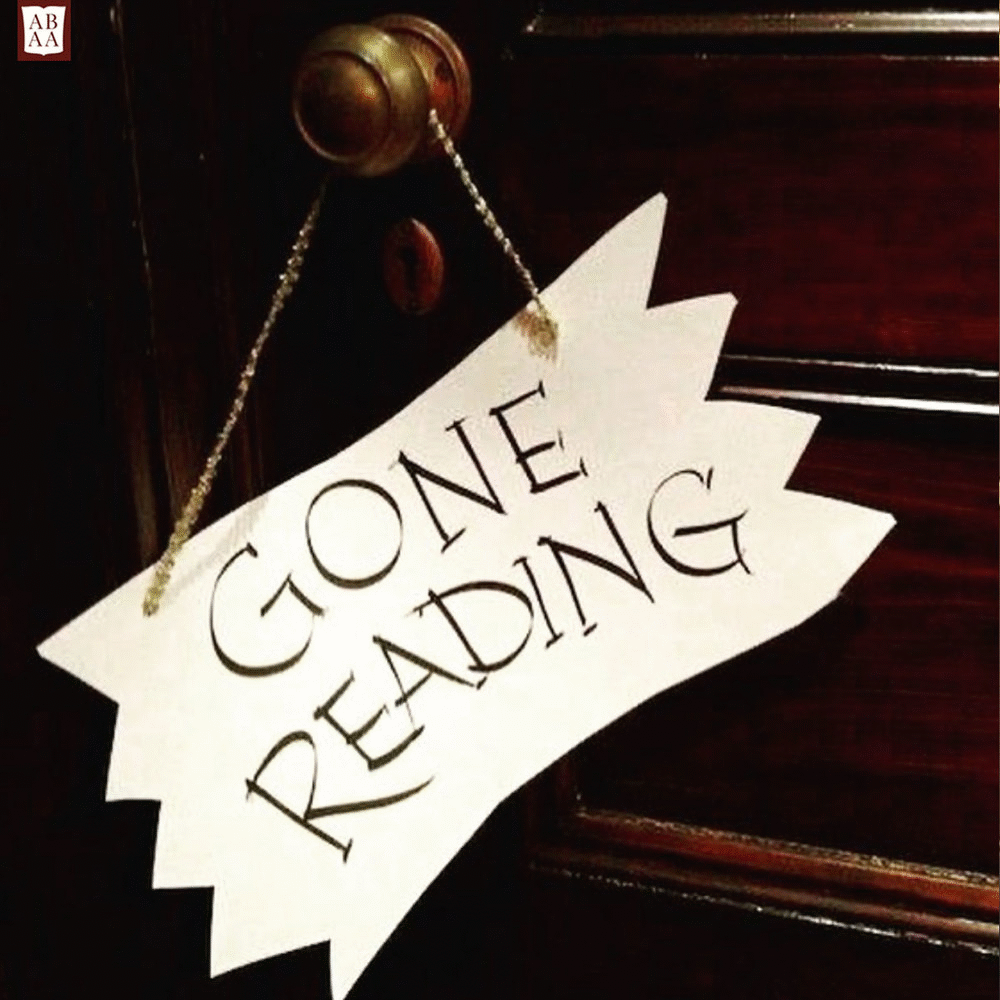 In Southern California, johnson rare books & archives closed their storefront, The Book Shop, in Covina to walk-in customers on March 16 and have been offering free domestic shipping for anyone who calls. "The reality is just 25 percent of our stock is listed online, so we are offering to do the browsing for you and ship for free during this period of quarantine. We feel it's important that everyone take care of themselves physically and emotionally, so allow yourself to get lost in a book for a few hours," said co-owner, Jen Johnson. They've also been sharing pictures of their dog, Elke, on social media.

Podcasts -- Brattle Book Shop & Les Enlulmineures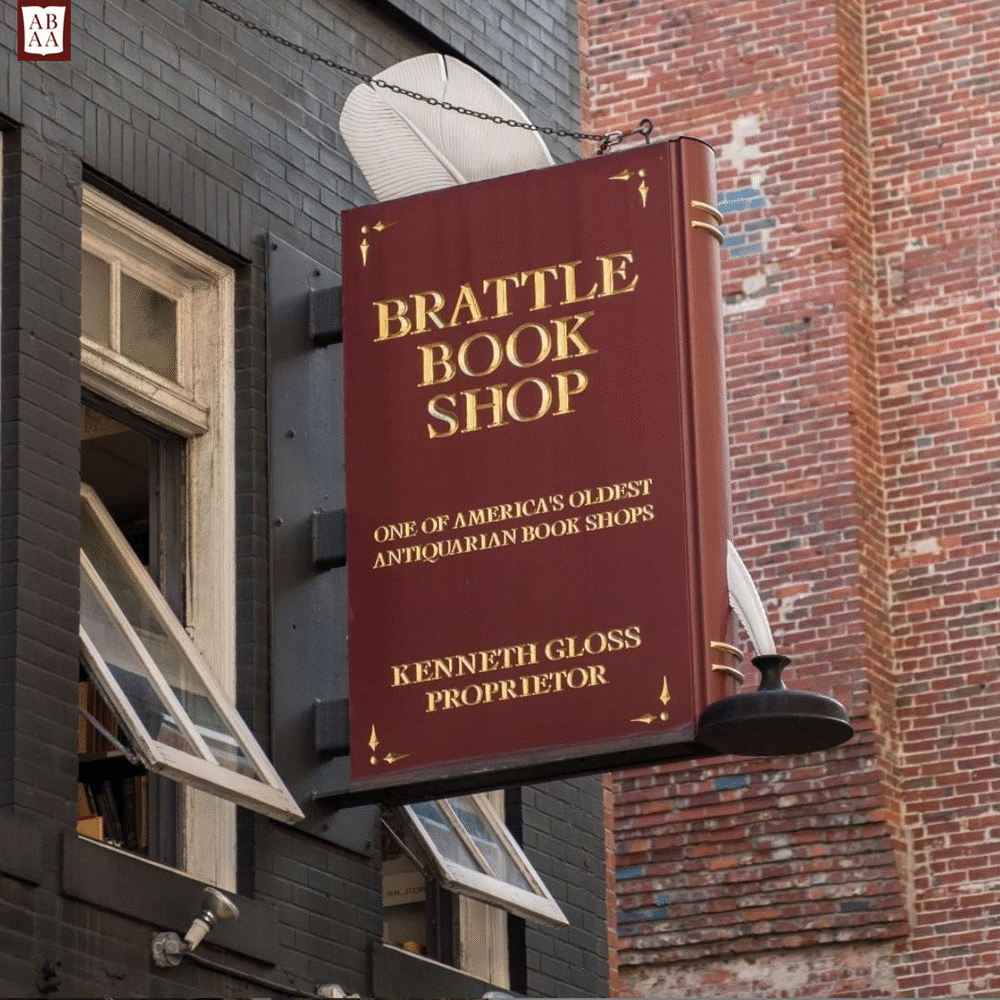 ABAA-member Ken Gloss, the owner of Brattle Book Shop, may have closed his store to the public but he still arrives at work at 5:30am every day to answer phones & emails. His employees are working from home and are still being paid. "We know we are going to lose a significant amount of business," Gloss said. "We are hoping much of it is just delayed business." The Brattle Book Shop team will continue to produce their beloved podcast "Brattlecast" while the storefront is closed (it can be found on iTunes and GooglePlay), and maintain their website at www.brattlebookshop.com.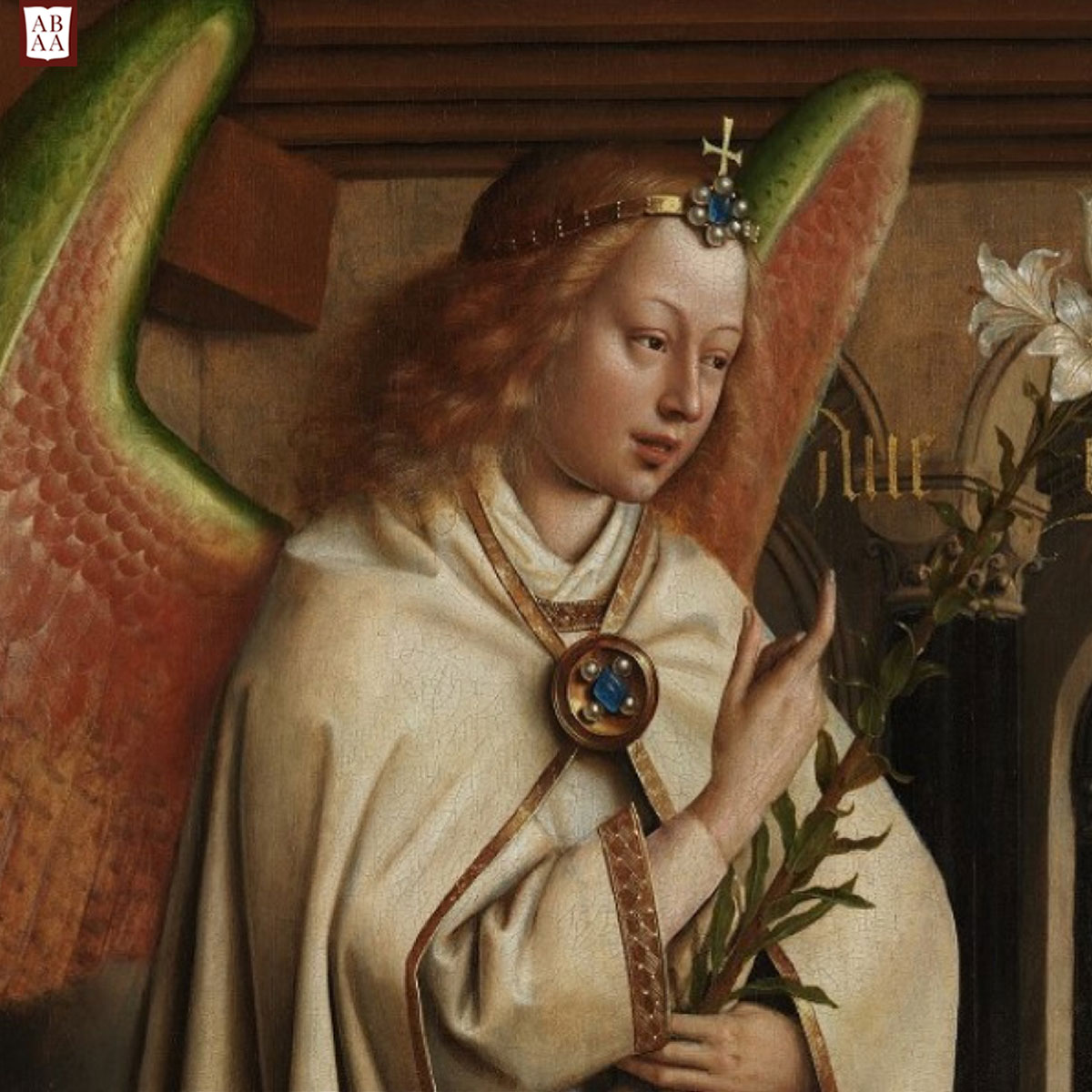 Speaking of podcasts, ABAA-member Les Enlumineures (Paris, Chicago, & New York) is another member with their own podcast. The latest episode, "Van Eyck: An Optical Revolution with Lieve de Kesel and Dominique Vanwijnsberghe," is available now.
A Cure for Loneliness at Ken Sanders Rare Books, Salt Lake City, Utah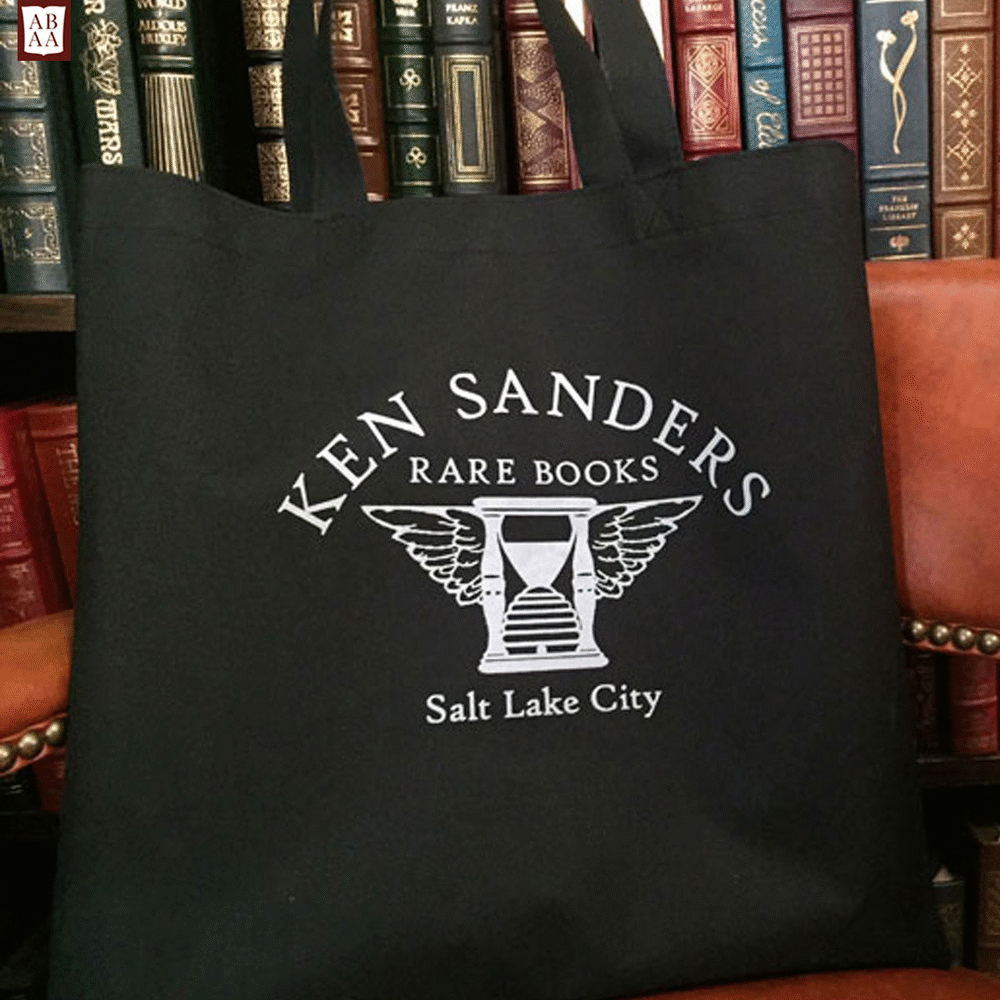 ABAA-member Ken Sanders Rare Books reports they are feeling "pretty lonely" at the store, having "pretty much read all the books in the shop" (a jest -- or is it?). They have also introduced free shipping from their website and like The Book Bin offer "front-porch" delivery to customers in Salt Lake City (at least until a shelter-in-place order comes through). To sweeten the deal, Sanders offers an "investment" gift certificate: buy a gift certificate from their website in any amount now, and 90 days from now you can redeem it for 25% more!


Free Books (and Burritos) for Students -- Back of Beyond Books, Moab, UT
ABAA-member Andy Nettell of Back of Beyond Books is working to single-handedly keep his locality — especially students — supplied with reading material. Until further notice, residents of Grand County, UT, can pick up two free books each time they visit the store (curbside pickup preferred!) and school students can receive a free age-appropriate book — while supplies last.

Additionally, Back of Beyond have partnered with local restaurant Moab Garage Co. to support service industry workers who are impacted by job losses or reduced hours. Workers can get a free burrito on the house at Moab Garage Co and also enjoy a free book courtesy of Back of Beyond!

Renewed Interest in Blogging -- Manhattan Rare Books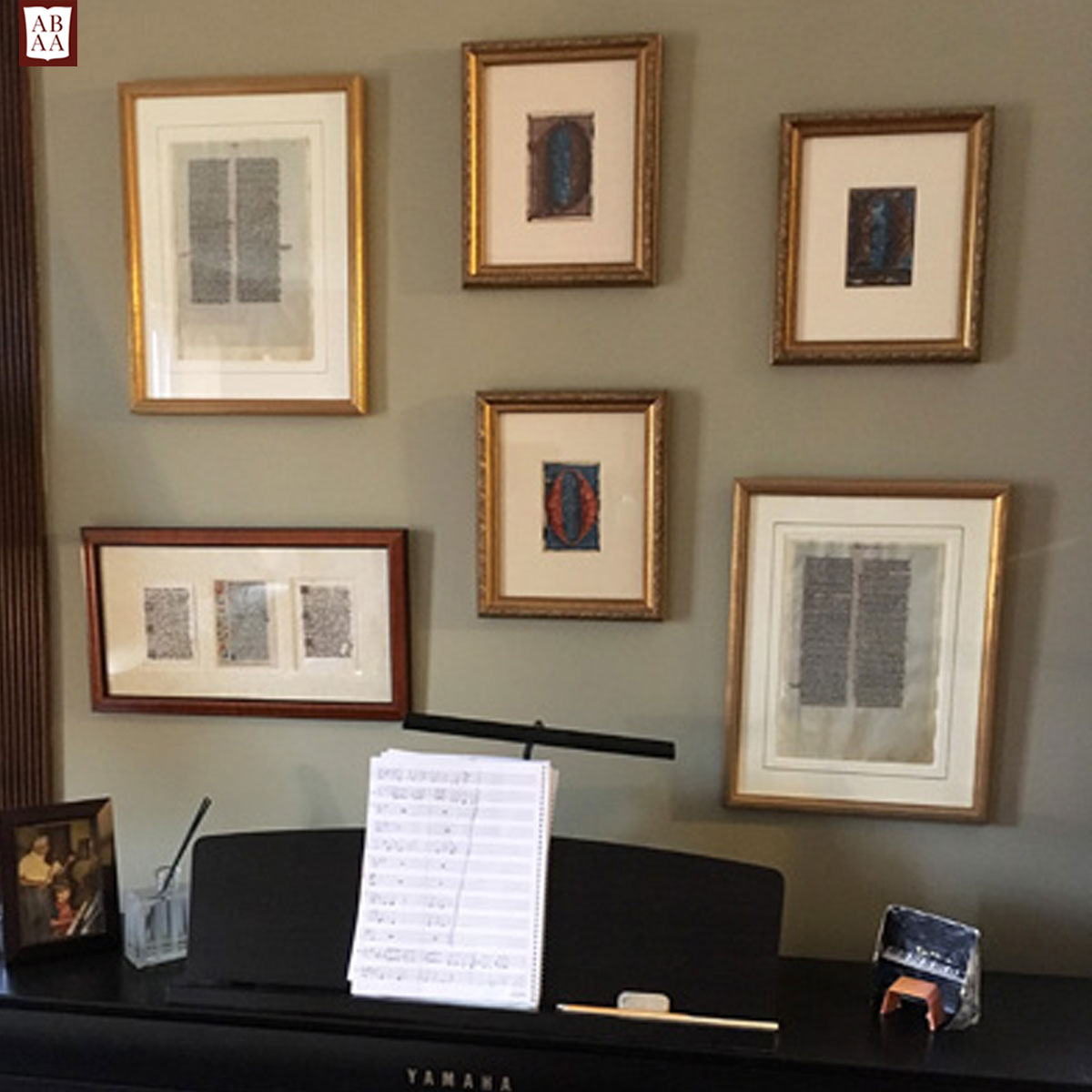 Manhattan Rare Books have restarted their blog to share uplifting or interesting stories of their experiences in the rare book world. The first new post is a testament to the challenge of finding the perfect gift!

Mystery Grab Bag Boxes -- B&L Rootenberg Rare Books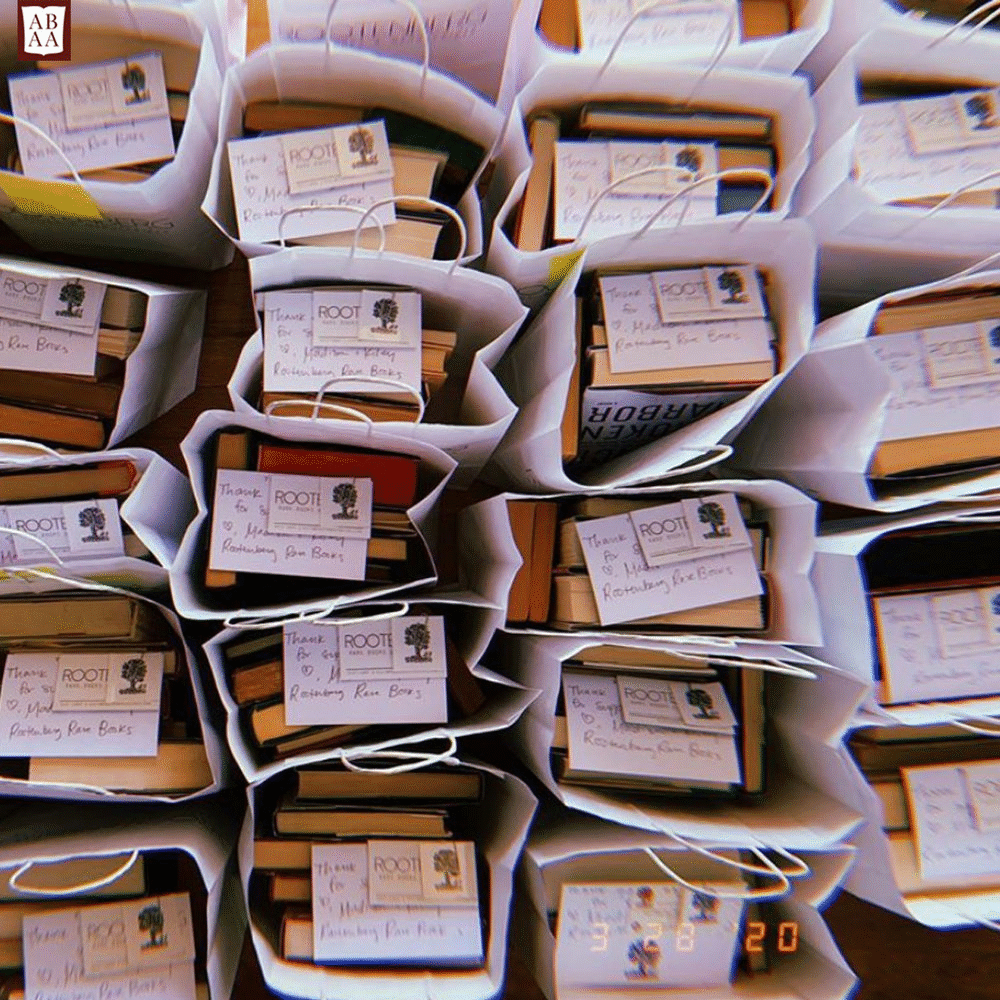 Last week, B&L Rootenberg Rare Books offered a "Mystery Grab Bag Box" promotion through their social media channels. This week, they shared some photos of the first mystery grab bags winging their way to new homes! Their offer is this: for $25 they will hand select five mystery books and mail them to you! Most will be first editions, but five boxes selected at random will contain a book worth more than $100! Shipping is included in the US, while for international customers there will be an additional shipping charge. Find out more at B&L Rootenberg Rare Books...
Book Packs! -- Second Story Books, Washington, DC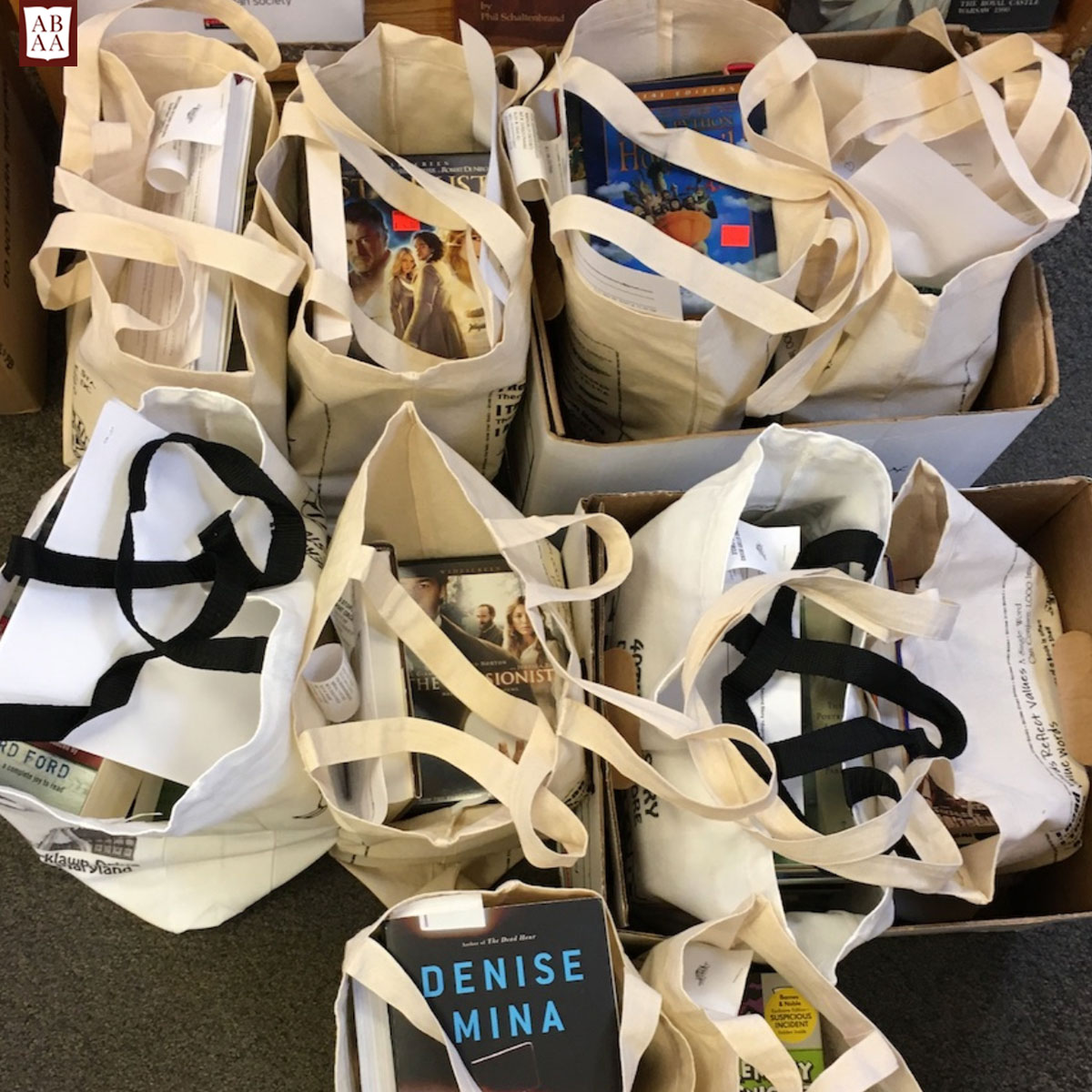 In a similar vein, DC's Second Story Books introduced several book packs. Let them know what you like to read: favorite genres, authors, etc., and the staff will make a pack of five softcover books for you. They'll also throw in three extra books and a free Second Story Tote. The also unveiled the "Quarantine Pack": a cookbook, DVD, book of fiction, one book of nonfiction, and three random books in a cool Second Story Books tote bag. Contact the good folk at Second Story Books for full details. Next day delivery is available within the beltway!
Livestreaming History -- Abraham Lincoln Book Shop, Chicago, IL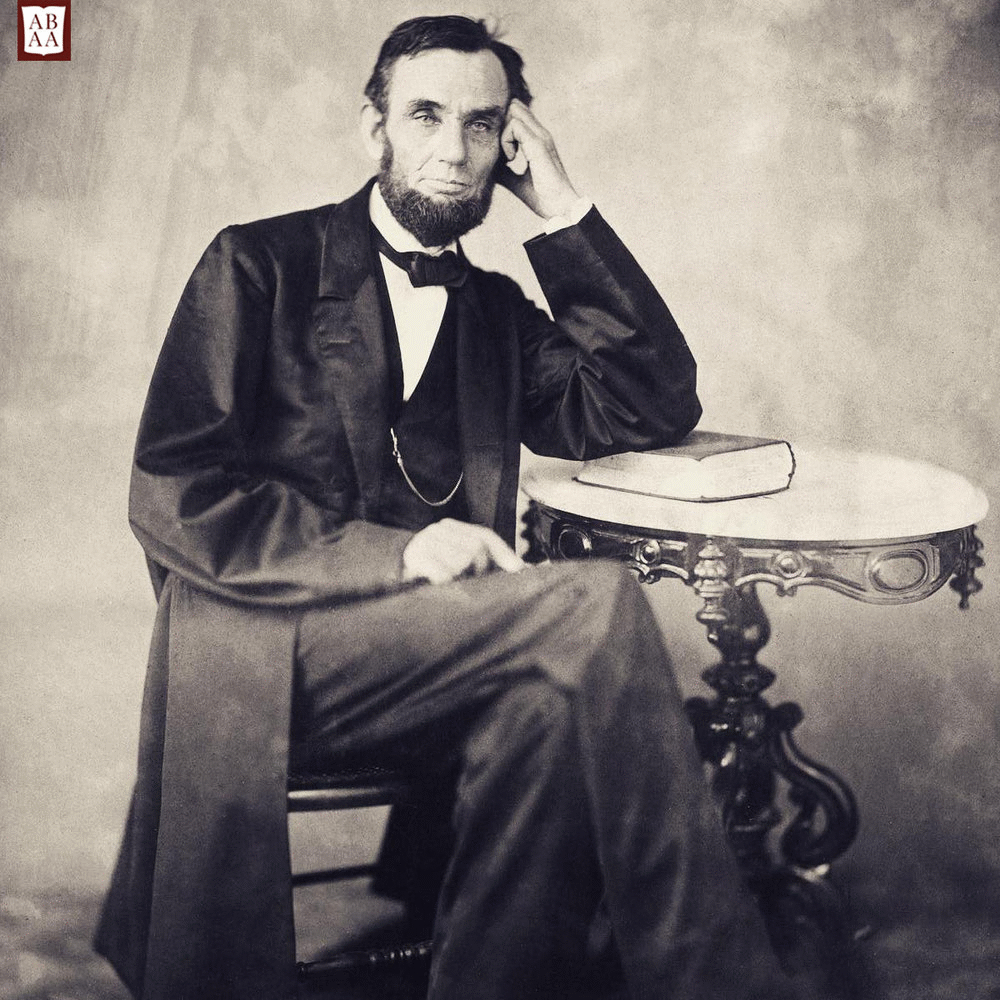 ABAA-member Daniel Weinberg, owner of Chicago's Abraham Lincoln Book Shop, has started "Take A Break with History," a series of live talks on Facebook sharing the stories behind historical artifacts, rare books, and other interesting items from their
shelves. Tune in at 1pm CST Mondays, Wednesdays, and Fridays for a dose of history and a quick, virtual visit to the Abraham Lincoln Book Shop! If you can't join them live, the videos will be archived on the Abraham Lincoln Book Shop Facebook
page after the broadcast.
We will continue to highlight the efforts of ABAA members to respond to the current quarantines with good humor and abundant reading material daily on the ABAA instagram page...