Meet the latest members of the Antiquarian Booksellers' Association of America.
Full Membership
Daniel R. Danbom, Danbom & Son Books (Denver, CO)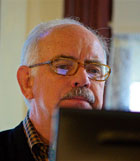 Dan Danbom is owner of Danbom &; Son Books, which deals primarily in modern first editions in Denver, Colorado. Before entering the book business, he was in journalism and corporate communication.. For many years, he was a humor columnist for several industry-related magazines and was a book reviewer for The Rocky Mountain News and The Denver Post, where he still writes occasional features. He has also contributed to several books including "Slam Dunks and No-Brainers: Language in Your Life, the Media, Business, Politics and, Like Whatever" and "Speakeasy."
He started Danbom & Son in 2009. He is a former CABS attendee and is a member of the Rocky Mountain Antiquarian Booksellers Association. He places a high importance on community service and has a particular interest in placing books in the hands of children who are food bank recipients and in persons coming off homelessness through the St. Francis Center in Denver.
Mark Funke, Mark Funke, Bookseller (Mill Valley, CA)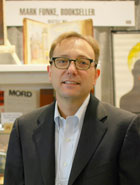 Mark Funke started selling rare books in 2014 while living in Berlin, Germany. He attended the inaugural York Antiquarian Book Seminar in September 2014 and was hooked ever since. Funke was searching for a career that allowed for significant travel, and he has found it. Although he now lives in Northern California, Funke travels to Europe twice a year to attend auctions and visit a wide circuit of bookshops, dealers, and collectors to purchase inventory. Mark specializes in German books, manuscripts, archives, anarchy, science fiction, and economics (emphasis on Austrian and German economics). You can find Funke at book fairs and online at www.funkebooks.com, www.twitter.com/funkebooks, and www.instagram.com/funkebooks.

Jeffrey Long, Long Brothers Fine and Rare Books (Seattle, WA)
Jeffrey Long is Seattle's oldest "young promising bookseller." As a teen he began loitering in Seattle's antiquarian bookshops, acquainting himself with the city's "people of the book," booksellers, printers, writers, and litterateurs among them. He also edited the Book Club of Washington's quarterly journal, and served on the club's board. University "commencement" was embraced as the start of the lifelong pursuit of knowledge and literary pleasure. He founded Long Brothers Fine and Rare Books in 1996, but until lately the business has been an avocational pursuit; in the interim he raised his family and fulfilled a dreary career in corporate administration. Among books in most fields, Long Brothers' specialties reflect his interests: fine literature, Chinese history and culture, bizarre books, Pacific Northwest history, and underground art movements, including the late-'70s punk milieu from which he sprang. Intellectual curiosity is a valued attribute at Long Brothers Fine and Rare Books; working with readers and fellow ABAA members who share that quality is the best reward of all.
Ellen Saito, Excelsa Scripta Rare Books (Hastings-on-Hudson, NY)
Ellen Saito was born in Los Angeles. She attended Barnard in New York where she still resides. In college she fell in love with her husband, philosophy, literature, and art history. She was an impassioned architect, but exited Columbia grad school with an expired diploma. The age of computers was upon us; resistance was futile. Every architect adapted by turning to computer-aided design. As a book collector, Ellen enjoyed herself immensely and realized her true passion was bookselling (Eureka!). She practiced on eBay and was encouraged by the income achieved by low prices and immense turnover which she may never see again. She opened Excelsa Scripta Rare Books. She never dreamed of the honor of joining the ABAA until it was suggested to her by a brilliant mentor, and her gratitude is never-ending. She looks forward to exploring her membership in the ABAA and hopes they will offer more references.
Also:
Lewis Cohen, B Street Books (San Mateo, CA)
Associate Membership
Yoshi Hill, Jonathan A. Hill, Bookseller Inc. (New York, NY)
Born in New York City, Yoshi joined his parents in the trade in May 2016, the day after graduating from a small liberal arts college, where he majored in French. His current interests/specializations include 18th and early 19th-century art auction catalogues, the polemical pamphlets of the art dealer Jean Baptiste Pierre Lebrun, artists' books and the early catalogues of artists' books, and, finally, Japanese manuscripts and scrolls documenting Commodore Perry's expeditions to Japan.
In the fall of 2019 he was fortunate to have the opportunity to apprentice with a thirteenth-generation bookseller in Tokyo for three months. Yoshi now lives in Brooklyn and is a third-generation Grolier Club member; he is also a long-suffering fan of the soccer club Newcastle United. He personally collects the catalogues issued by the San Francisco bookseller Steven Leiber along with the books and works of the artist Jonathan Monk.

Susan E. Monarca, David M. Lesser, Fine Antiquarian Books LLC (Woodbridge, CT)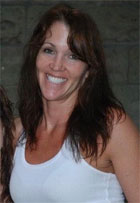 Susan Monarca has worked for David Lesser for 17 years. Prior to working with David, she was a paralegal in a Connecticut law firm for many years. Although researching old books and manuscripts wasn't her original plan for a career, she enjoys her work immensely. Researching the history behind early manuscripts is her passion, but she also enjoys putting together catalogs, managing the website, and cataloging items. In her spare time, Susan likes working out, hiking, bike riding and fishing. She is very pleased to finally be an associate member of the well-respected ABAA community.