Lately, the online world is alive with discussion of Blade Runner 2049, which releases this weekend. Following the success of Amazon's Man in the High Castle television series, Philip K. Dick is once again the go-to science fiction novelist for Hollywood. ABAA members have many interesting items related to Philip K. Dick and this infamous film (which is something of a love-it-or-hate-it phenomenon) available, some of which reveal the tortured path this story took from novel to finished film.
One of the most-exciting items is an original script for Blade Runner from 1980, before revisions and re-writes. I'd love to read that to see how the vision changed during the adapting process and before direct Ridley Scott came on board!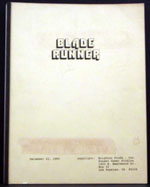 Blade Runner: The Original Screenplay
Hampton Francher & David Peoples
Los Angeles: Brighton Productions, Inc./Sunset Gower Studios, 1980. 1st. Original Wraps. Collectible; Very Good. The 1st printing of the 1980 original screenplay, based on the 1968 Philip K. Dick novel, "Do Androids Dream of Electric Sheep?". A VG copy in its original yellow wrappers, with minor offsetting to the front panel (where there had been a label) and several very small, unobtrusive stains. Quarto, 140 pgs. Submitted to Sunset Gower Studios on Dec. 22nd, 1980, this screenplay-- in its original incarnation-- pre-dates the legendary 1982 Ridley Scott film by almost 2 years. Very scarce in its original state. (Offered by Appledore Books)
Members offer several first editions of Philip D. Dick's 1968 novel Do Androids Dream of Electric Sheep?, the inspiration for the 1982 film. Raptis Rare Books have the copy that belonged to filmmaker Bertram Berman, who bought the original option to turn the book into a film -- one of the many fascinating things you can learn from ABAA-members' descriptions.
Do Androids Dream of Electric Sheep? (First Edition)
Philip K. Dick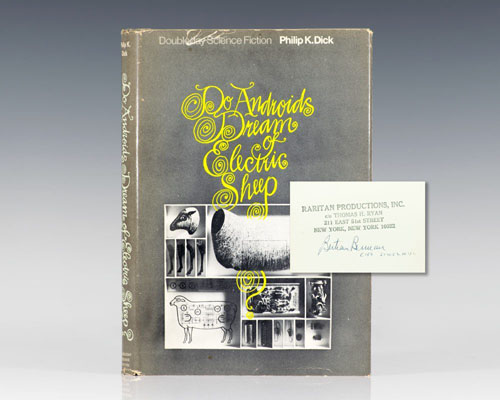 New York: Doubleday and Company, 1968. First edition of this science fiction cornerstone. Octavo, original cloth. Filmmaker Bertram Berman's copy, with his signature along with his address at CBS on front endpaper, directly beneath the rubber-stamped address of Raritan Productions, Inc. Berman was a program executive and producer with CBS, who in 1968 purchased the option of Do Androids Dream of Electric Sheep? Dick, clearly thrilled about the prospect of a film adaptation of one of his works, sent a lengthy letter to Berman full of ideas about how the book could be translated to film. Dick provided Berman with suggestions on everything from casting (Gregory Peck for Deckard; Dean Stockwell for Jack Isidore), tone, plotting...even down to the particular sound the weapons would make. And, of course, "There could be room for more sex."
Berman's project failed to get off the ground, and his option expired, opening the way for other parties and, eventually, Ridley Scott. The full text of Dick's May 21, 1968 letter was published in The Philip K. Dick Society Newsletter #18 (August, 1988). Fine in a near fine dust jacket with a few small closed tears. An exceptional example with noted provenance. (Offered by Raptis Rare Books)
Another piece of trivia I picked up is that the pulp sci-fi author Alan E. Nourse had written a novel titled The Bladerunner in 1974, and William S. Burroughs had been commissioned to write a movie treatment of this book. Burroughs' screenplay/novella Blade Runner (A Movie) was published in 1979. Ridley Scott felt compelled to purchase rights to the title "Blade Runner" in order to use it as his film's title. No plot elements from either Nourse's novel or Burrough's treatment were used in Scott's film.
William S. Burroughs
Berkeley, CA: Blue Wind Press. Fine in Fine dust jacket. 1979. First Edition; First Printing. Cloth. 0912652454 . A handsome first edition/first printing in about Fine condition with light foxing in alike lightly soiled dust-jacket. One of one hundred signed and numbered copies (this one being # 86). SIGNED by author William S. Burroughs directly on the title page; Set in a strife-and-disease-plagued America in 1999, Blade Runner centers on a group of underground physicians and surgeons, who are aided by 'blade runners,' teenagers who smuggle banned surgical instruments past the watchful eyes of fascistic police; [80] pages; Signed by Author. (Offered by Books Tell You Why, Inc.)
A novelization of the film was comissioned, as was common practice at the time for both commercial and marketing purposes. But, first the film's producers lobbied Dick to revise his own novel to reflect the film's plot (which removed among other things Dick's religious musings), with some sources claiming the proffered fee was as high as $400,000. Dick refused, and remain skeptical of the film project until he was shown a preview of some of the special-effects shots, after which he seemed to be won over by Scott's execution of Dick's vision of a futuristic Los Angeles. The novelization of the screenplay, Blade Runner: A Story of the Future, was eventually written by Les Martin.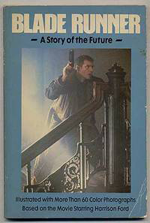 Blade Runner: A Story of the Future
Les Martin
New York: Random House, 1982. Very Good. First edition of this novelized adaptation. Trade paperback. Illustrated with stills from the film. Small crease on front wrap, thus very good in wrappers. Movie tie-in. (Offered by Between the Covers Rare Books)
Philp K. Dick's friend and fellow science-fiction writer K.W. Jeter later wrote several authorized sequels to Blade Runner, which tried to meld the worlds of the novel and the film into a plausible future for Rick Deckard. Although not the basis of the movie sequel being released this week, the books were popular enough with Dick's fans to spawn several sequels.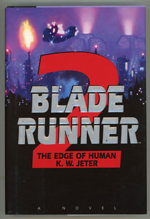 Blade Runner 2: The Edge of Human
K.W. Jeter
New York, Toronto, London, Sydney, Auckland: Bantam Books, [1995].. Octavo, cloth-backed boards. First U.S. trade edition. In the urban jungle of future Los Angeles blade runner Rick Deckard hunts a mysterious sixth replicant everyone wants dead. A direct sequel to Ridley Scott's 1982 film, with some interpolations from the original Philip K. Dick novel. Sargent, British and American Utopian Literature, 1986-2009. A fine copy in fine dust jacket. (Offered by L.W. Currey)
ABAA members also have a wide range of books by Philip K. Dick, including several first editions of Do Androids Dream of Electric Sleep? Below, you'll find a brief selection of other items related to Blade Runner...
Blade Runner (Vintage photograph of Ridley Scott and Harrison Ford on the set of the 1982 film)
Stephen Vaughan (Photographer)
N.p., 1981. Vintage borderless black-and-white reference photograph from the 1982 film. Shot by still photographer Stephen Vaughan. Shown are Ridley Scott and Harrison Ford conferring as Ford sits in his "spinner" vehicle.10 x 8 inches (25.5 x 20.5 cm). Fine. (Offered by Royal Books)
Do Androids Dream of Electric Sheep?
Philip K. Dick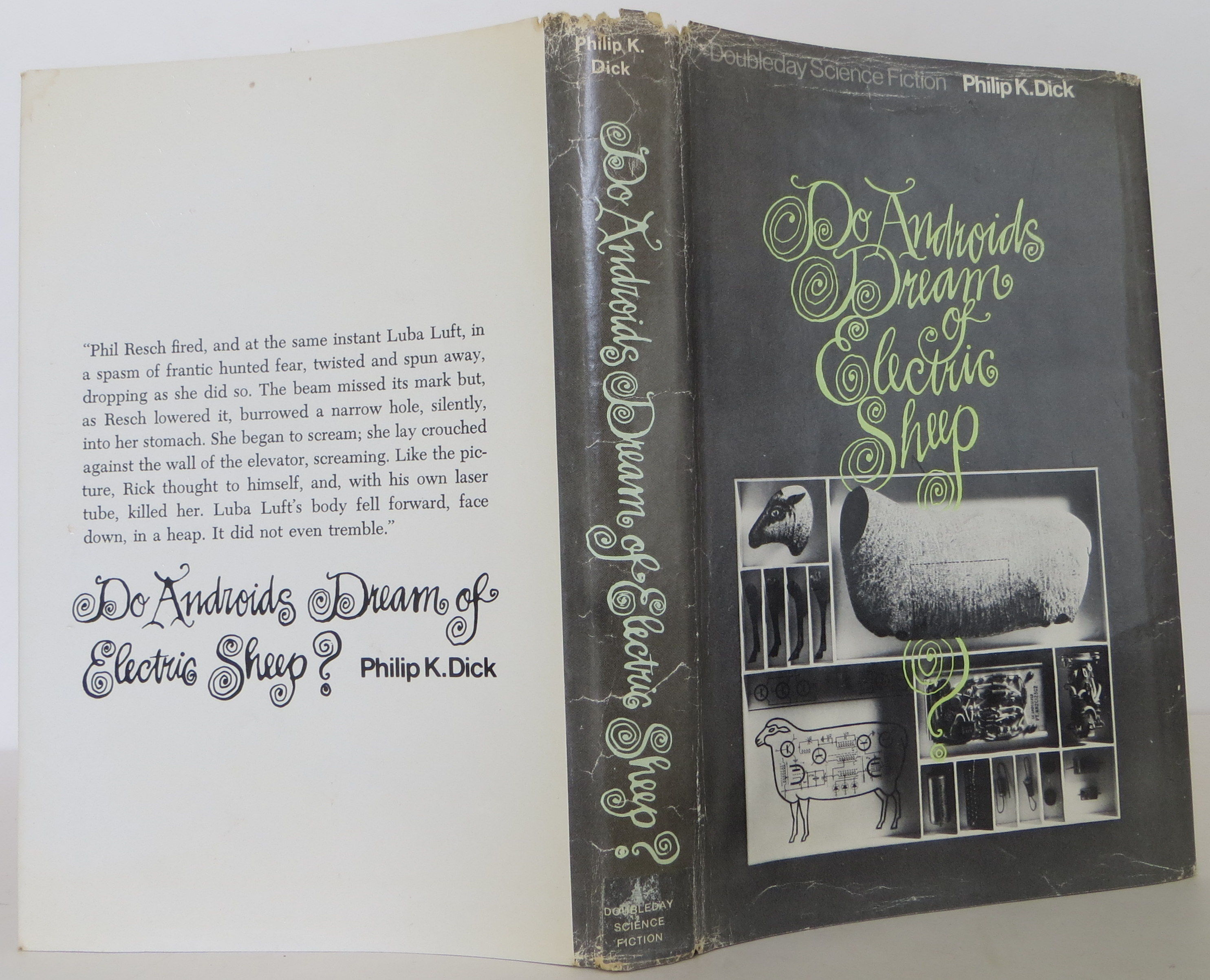 A good first edition, with First Edition stated on the copyright page. First issue dust jacket, very good, with original price $3.95 still on front flap. "SF Copy 1" stamped on top of copyright page but no other library stamps. Tape and glue residue on endpapers and small piece cut out of top corner of front free endpaper, replaced with a new piece of paper. Housed in a custom-made collector's slipcase. (Offered by Bookbid Rare Books)
Galley Sheets for VALIS, with Typed Letters Signed
Philip K. Dick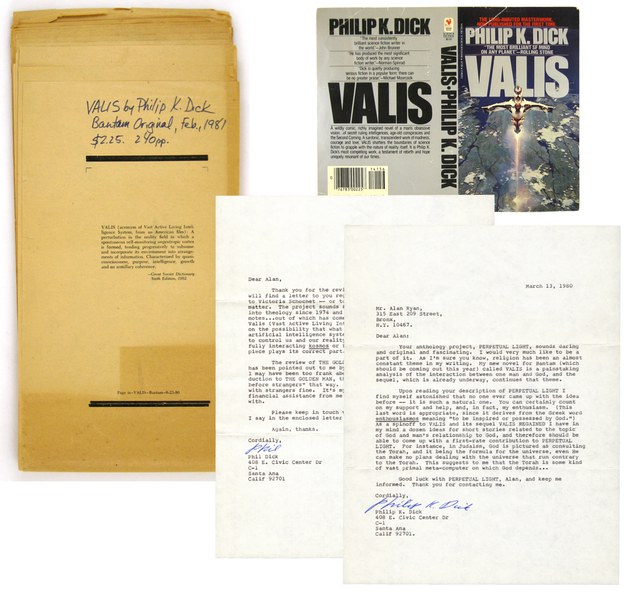 1980. Long galley sheets for Dick's novel VALIS (Vast Active Living Intelligence System), with two typed letters signed to Alan Ryan, fellow science fiction writer and editor of the religiously-themed speculative fiction anthology Perpetual Light. Both letters are dated March 13, 1980, with one being for private reading, thanking Ryan for his review of Dick's The Golden Man and discussing VALIS; the second being for Ryan to show to others, espousing enthusiasm for his planned anthology. The VALIS galley sheets for this 1981 Bantam paperback original are dated 6-23-80: approximately 68 sheets of 25" in length, age-toned with minimal edge wear, in a customfolding chemise and slipcase. Casual inspection revealed one textual difference from the published version. Near fine; the letters are folded in thirds, else fine. Also laid in is a very good copy of the proof of the Bantam covers, which differs from the final version by virtue of the absence of the Bantam logo on the front cover. A very scarce issue of the book that would become the capstone to Dick's literary career. Long galleys such as these are seldom produced in more than a couple of copies, and very seldom turn up for books that were issued as paperback originals. It's ironic that Dick's culminating novel, which transcends science fiction's usual boundaries, would be issued as a paperback original: Dick had so many books issued as paperback originals in the 1950s and 60s, before his books came to be regularly published in hardcover, that the Science Fiction Writers of America named an award after him, the Philip K. Dick Award, for the best SF novel issued as a paperback original. Dick spent the last several years of his life striving for recognition as more than a science fiction writer, and VALIS could have been that break-out novel, had it not reverted him to his former identity as a writer of paperback originals. A rare issue of a major Dick novel, along with two very revealing letters to a fellow writer and colleague. As far as we can tell, unique. First Edition. No Binding. Near Fine. (Offered by Ken Lopez - Bookseller)
The Simulacra (Signed, First Edition)
Philip K. Dick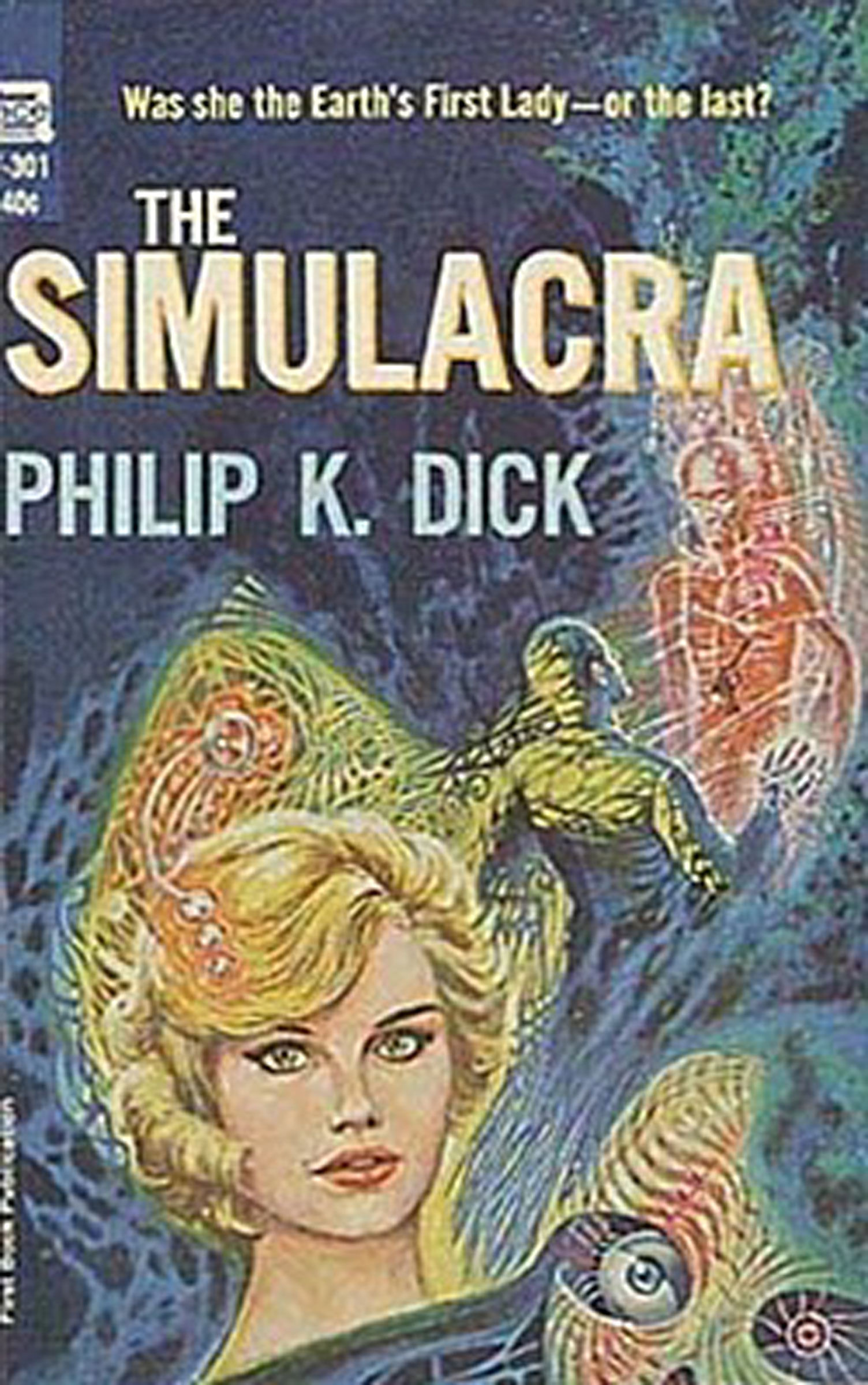 New York. Ace Books. 1964. Pictorial wrappers. 16mo. First Issue. Paperback Original (1st published as Paperback). Signed boldly in blue ink by Dick to Title Page. Dick's novel depicting a future Totalitarian, Matriarchal society, exploring themes of reality and illusion. Some general wear. A Very Good, crisp copy. (Offered by Heldfond Book Gallery)
Philip K. Dick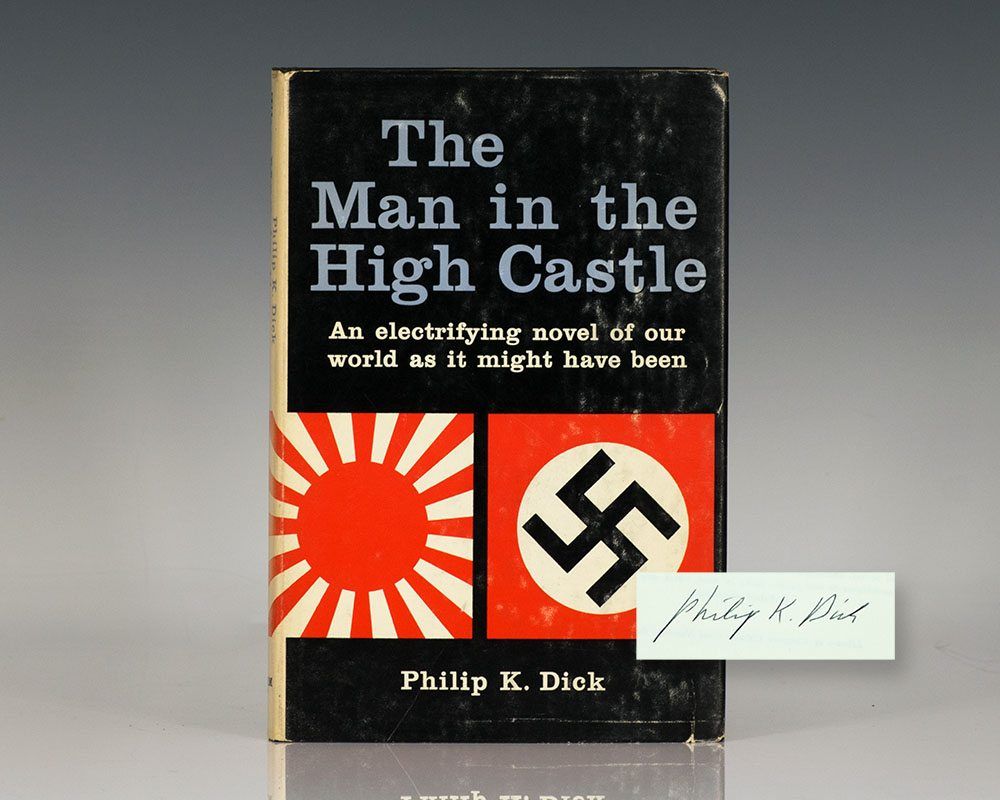 New York: G.P. Putnam's Sons, 1962. First edition of Philip K. Dick's Hugo Award-winning novel. Octavo, original cloth. Signed by Philip K. Dick on the title page. Fine in a near fine dust jacket with a few small closed tears. Jacket design by Robert Galster. Rare and desirable signed. Philip K. Dick succeeded in creating a plausible imaginary world in which Americans are obliged to squirm with embarrassment, resentment and remorse; they bear the full weight of cultural oppression which has been borne in our time-stream by so many of the world's other peoples... The novel questions our whole notion of 'reality,' showing how frail the consensus can be... It is probably Dick's best work, and the most memorable alternative world tale, or fantasia of historical possibility, ever written" (Science Fiction 100 Best, 93-94). "The single most resonant and carefully imagined book of Dick's career... One of America's enduring expressionist novels of alienation and disillusionment, whose environs are no more far-fetched than the West Egg mansion of an ersatz millionaire" (New York Times). Winner of the 1963 Hugo Award for Best Novel. It is the basis for the successful series produced by Amazon Studios starring Alexa Davalos and Rupert Evans. (Offered by Raptis Rare Books)

Search all books by Philip K. Dick...
---