What new additions to the abaa.org website caught the eye this week? An interesting endorsed letter to President Andrew Jackson, a very early collection of medical recipes, and first editions of books from Virginia Woolf and Richard Fariña, among other items...
by Virginia Woolf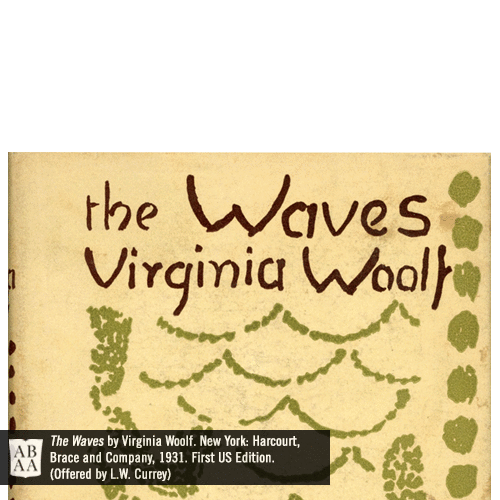 New York: Harcourt, Brace and Company, [1931].. Octavo, original blue cloth, spine panel stamped in gold, top edge stained brown. First U.S. edition, first printing with "first edition" on copyright page. Connolly 70. Kirkpatrick A16b. A fine copy in decorated dust jacket (designed by Vanessa Bell) priced $2.50 on front flap with light tanning to spine panel, a couple of mild fox marks, and some general dust soiling. Actually, a pretty decent copy overall. (Offered by L.W. Currey)
Been Down So Long It Looks Like Up to Me (First Edition)
by Richard Fariña

New York: Random House, 1966. First Edition. Hardcover. Very Good. First edition. xii, 329, (1, note about author) pp. Fine in Very Good with small tear in top of front panel, light wear and rubbing, slightly sunned spine. The folksinger's only novel, published not long before his death. (Offered by Burnside Rare Books)
The Old Woman Who Lost Her Dumpling; Japanese Fairy Tale Series No. 24 (First Edition)
by Lafcadio Hearn
Tokyo: T. Hasegawa, 1902. First Edition. Self wrappers. Very good. Duodecimo size, [24] pp. Printing B (for identification only, no sequence is suggested) of those noted in BAL 7937, with the colophon at the foot of p. 23, with the uncorrected "Dumplings" at the head of the text, and the last line of text reading "rich." Series twenty-four, published by Hasegawa Takejiro (1853-1938), beginning in the mid-1880s. Hasegawa employed leading foreign residents as translators and noted Japanese artists as illustrators. This copy is translated by Patrick Lafcadio Hearn (1850-1904). Hearn had in his family background Greek and Arab, Irish and Gypsy - and so very honestly came by his fascination with, and love of, folk, fairy and goblin stories. Born in Greece, raised in Ireland, at the age of 19 he emigrated to the United States spending time in Cincinnati and New Orleans. He eventually traveled for work (newspaper reporting) to the West Indies and thence to Japan, where he found his true home. He married into a Samurai family and had four children, fully immersing himself into the Japanese culture. He and his wife scoured their families and friends for tales. In this classic tale, an old woman chases her lost dumpling underground and encounters a series of adventures before she makes her way home.
Pictorial crepe paper wrappers, stab-stitched with silk thread, printed on double leaves of crepe paper, illustrated in colour woodblocks throughout, series advertisement to pp. 22-23; duodecimo size (7.5" by 5.25"), [24] unnumbered pp., first edition, state B.
Condition: A very good copy, internally bright and free of prior owner markings, tears or chips, wrappers remain bright but with some soiling, the edges a bit rubbed but overall very good. Citations: BAL 7937 B; Perkins pp. 44-45. (Offered by Swan's FIne Books)
Collection of Medical Recipes and Health Regimens, including Recipes of Several Great Physicians Concerning Various Maladies, compiled by FRANÇOIS II DE ROHAN, and a recipe excerpted from GIOVANNI DA VIGO, Practical Treatise on the Art of Surgery; Pharmacopoeia detailing thirty-one plant-based recipes; Illuminated manuscript on parchment, in French and Latin (with additions in Italian)
UNIQUE AND UNPUBLISHED COLLECTION OF MEDICAL RECIPES. Illuminated manuscript on parchment, in French and Latin (with additions in Italian), France (Lyon?), c. 1515-1525. Dimensions 205 x 144-147 mm. 63 folios, written in one or two elegant French bâtarde hands, on ff. 1-42 one-line paraphs painted in gold on red or blue grounds with gold pen decoration, red or blue rectangular line-fillers with gold pen decoration, brown or green branch-shaped line-fillers with gold pen decoration, one- to two-line painted initials in blue or grey, highlighted with white pen decoration, with green, blue, red, white, and yellow foliate or floral infills on painted gold fields, THREE-LINE BLUE OR GRAY MODELLED INITIALS INFILLED WITH FLOWERS ON GOLD GROUNDS, FULL BORDER DECORATED WITH FLOWERS, FOLIAGE, AND ARABESQUES painted in red, green, blue, pink, and purple on a gold background, with MINIATURE ARMS painted in blue, red, and gold at the bottom presented by TWO CHERUBS PAINTED IN GOLD (f. 1).
BINDING: CONTEMPORARY BINDING of red velvet over wooden boards, spine with five raised bands, traces of two fore-edge fastenings (now lost), significant wear to velvet over the spine and at the edges of the boards, upper board has visible crack from top to bottom.
TEXT: Unique, unpublished collection of medical recipes, illuminated, and written in an elegant calligraphic script, this is a deluxe presentation copy from French aristocrat, François II de Rohan, Archbishop of Lyon to his brother, Charles de Rohan-Gié. The volume includes recipes mostly of the period and used by physicians to Pope Julius II, the kings of France, and others in the royal circle, thus offering rare insight into the actual medical practices in early Renaissance France. To our knowledge, there are no other copies of this collection.
PROVENANCE: Evidence of script, decoration, and textual contents tell us that this volume was produced c. 1515-1520 in France, likely in Lyon, for François II de Rohan (1480-1536), bishop of Angers (1449-1532), and Archbishop of Lyon from 1501-1536. François had this manuscript made for his brother, Charles de Rohan-Gié (c. 1478-1528), Lord of Gié, Verger, and Sablé, Count of Guise and Orbec and Viscount of Fronsac, whose arms are painted in the lower margin of f. 1. There are some signs of early use in this manuscript, most notably annotations indicating the efficacy of various recipes. It was later in a private collection in France.
CONDITION: Some rubbing and flaking of the lower and right parts of the border on f.1, stains in the border of f.24, restoration on the inside margins of ff. 24, 26, and 29, otherwise in very fine condition. Full description and pictures available. (Offered by Les Enlluminures)
Andrew Jackson Covers for His West Point Dropout Grandnephew (1836)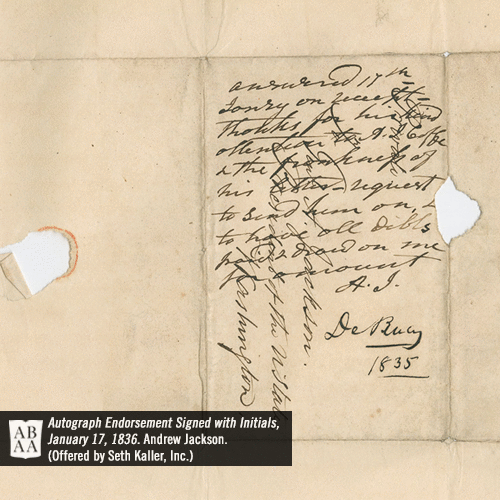 Autograph Endorsement Signed with Initials, January 17, 1836. On RENÉ E. DE RUSSY, Autograph Letter Signed, to Andrew Jackson, West Point, January 12, 1836. 3 pp., 8 x 10 in.
Complete Transcript

[Jackson's Endorsement:]

answered 17th Janry on receipt. Thanks for his kind attention to A. J. Coffee & the frankness of his letter, request to send him on, & to have all debts paid & draw on me for amount

A. J.

[Letter:]

West Point Jany 12th 1836.

To Genl A. Jackson

Prest of the U States.

General,

I have the honor to inform you, that I have lately used my best endeavours to prevent your nephew A. J. Coffee from having the number of Demerit marks which necessarily would by the Regulations, remove him from this Institution, but the careless habits he had previously acquired, rendered it impossible.

Finding by his standing in the class that he could not pass a favourable examination at this time, I advised him to resign and on the 4th instant forwarded his Resignation to the Secretary of War with a request that it might be accepted. By the course I have pursued in the case of young Coffee, he will, if Re-appointed next spring, avoid the Demerit Marks at present against him, and with the advantage he has of having acquired a part of the first year's course, he will probably pass through the Institution on more favorable circumstances than he could have done, had he passed the present Examination.

Should it be the intention of young Coffee's friends to have him re-appointed, I would Respectfully recommend to them, to let him spend the next six months at a School where he can perfect himself in the English Grammar and in History; his early Education has evidently been neglected and he has not yet acquired a proper habit of Study.

Aware of the interest you are pleased to take, in the future welfare of this young man, I have presumed to Express, in a frank and candid manner the result of my observations in relation to him; he has been careless and inattentive, but I have the gratification to inform you, that he has evinced no disposition to vicious habits, and I have reason to believe that knowing as he does the cause of his present difficulty, he will in future Exert himself to regain the time which he has unfortunately mis-spent.

I have directed his accounts to be closed, and agreeable to your wishes, will allow him to join you as soon as he can make necessary preparations.

With sentiments of profound Respect, I have the honor to be, General,

Your Obt Servt

R. E. De Russy

Historical Background

René E. De Russy, the Superintendent of the United States Military Academy at West Point, wrote to President Jackson about the dismissal from the Academy of Jackson's grandnephew Andrew Jackson Coffee. Despite the advice, Coffee never returned to West Point but did serve as an army officer in the Mexican War.

Andrew Jackson Coffee (1819-1891) was the son of General John Coffee, General Andrew Jackson's trusted lieutenant in the War of 1812, and Mary Donelson Coffee, Rachel Donelson Jackson's niece. As a grandnephew of Andrew Jackson, Coffee grew up near the Hermitage, Jackson's plantation. After leaving West Point, he became a civil engineer, served as a paymaster in the U.S. Army, and was an aide-de-camp for Zachary Taylor in the Mexican War. His actions at the Battle of Buena Vista in February 1847 earned him promotion from major to lieutenant-colonel. General Taylor selected Coffee to report personally to President James K. Polk about the battle. From 1853-1859, Coffee was an army surveyor in California. In his later years, he lived in Oakland and in San Francisco, where he made his living as a notary public.

René Edward De Russy (1789-1865) was born in the French colony of Saint-Domingue (now Haiti), and his family moved to Virginia, in 1791. He graduated from the United States Military Academy in 1812, at the bottom of his class. He worked as an engineer in the U.S. Army and served as Superintendent of the U.S. Military Academy at West Point from 1833-1838. During the Civil War, he rose to the rank of brigadier general, serving in California until his death on active duty at the age of seventy-six.
(Offered by Seth Kaller, Inc.)