Every famous poet and writer started small, usually with cautious publishers who printed small batches of the first edition of their early books. For most, the cautious print runs continues, even after winning awards, because poetry has ever been an relatively low-volume business, even for the big names. When they later became reknowned, even famous, at home and abroad, these relatively scarce first editions became highly prized by their fans and collectors. Here are a dozen first editions from poets who became big names in their time, drawn from the current inventory of ABAA members.
by T.S. Eliot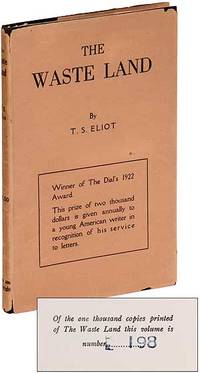 New York: Boni & Liveright, 1922. Near Fine/Near Fine. First edition. Publisher's flexible cloth, the stamped number (198) 5mm in height, and the "a" in "mountain" on page 41 (a possible state in the first printing); one of the first 500 copies. Very nearly fine with a bookplates in a dustwrapper with some tiny chips and internal tissue strengthening at the folds; in a custom clamshell box. (Offered by Between the Covers Rare Books)
POEMS: NORTH & SOUTH - A COLD SPRING
by Elizabeth Bishop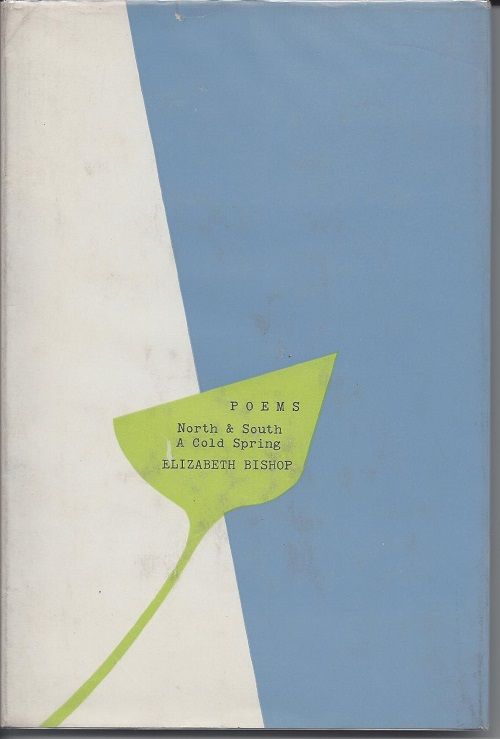 Boston: Houghton Mifflin, 1955. 1st edition, full blue cloth, with dust jacket. The author's second volume of poetry, which won the Pulitzer Prize in 1956. There were only 2000 copies published in the first printing (MacMahon A2). Printed by The Riverside Press in Cambridge, the present copy has The Grolier Book Shop, Cambridge, label on the bottom FEP. Only gentle shelf rubs to the complete (not price clipped) jacket, else fine. (Offered by Jett W. Whitehead Rare Books)
SIX ETCHINGS for MUSIC, DEEP RIVERS IN MY SOUL (SIGNED FIRST EDITION ORIGINAL ART)
by MITCHELL, DEAN [ANGELOU, MAYA]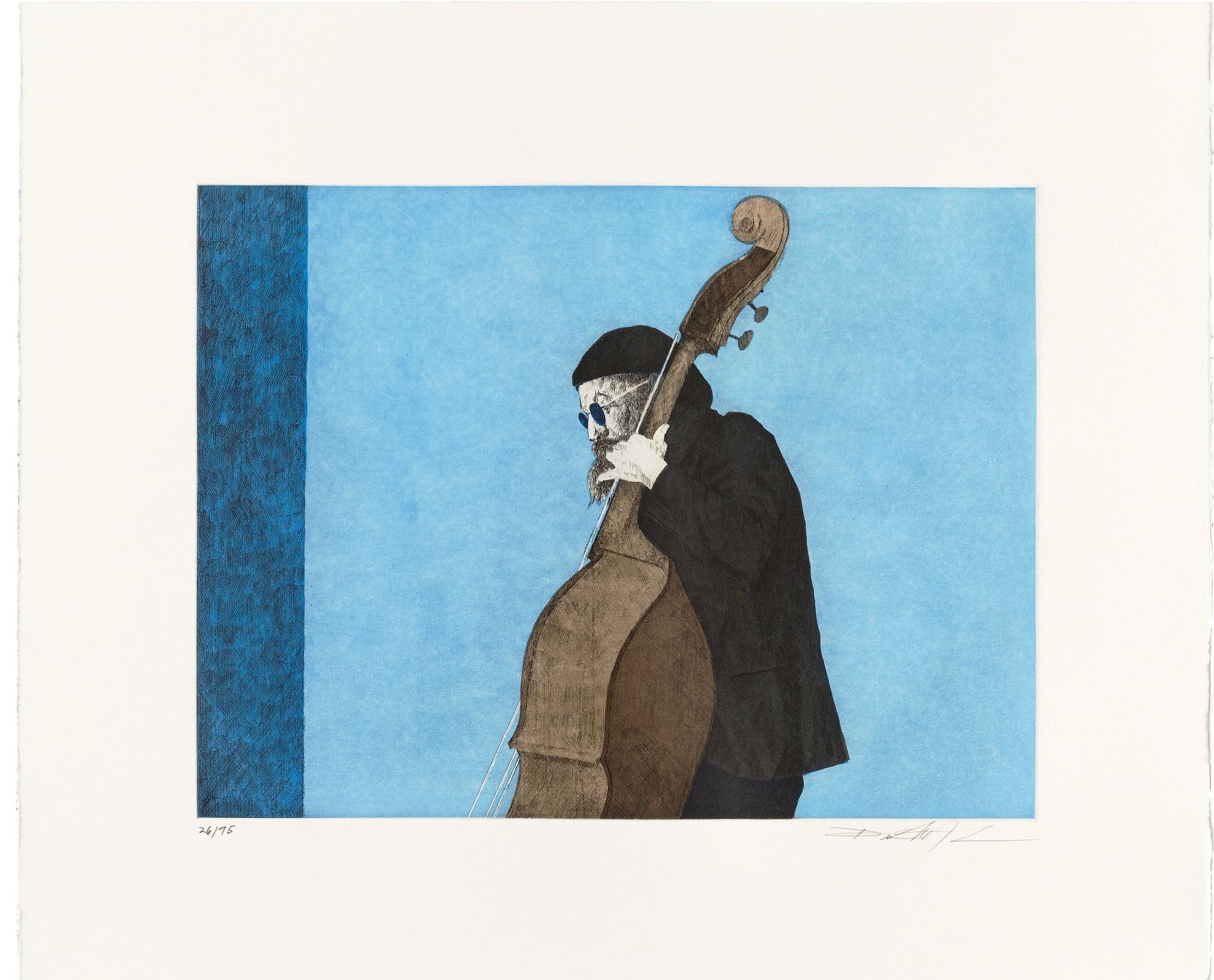 (New York): (Limited Editions Club), (2003). First Edition. Original Art. Fine in a close to Fine, faintly stained velvet-lined brown cloth clamshell box with a gilt-lettered leather label on the front. Dean Mitchell. Folio (22-1/2" x 20") consisting of 6 color etchings and 3 letterpress text pages: a title page, table of contents, and a colophon page. There were 400 copies of Angelou's book illustrated by Mitchell and published by the Limited Editions Club but only 90 copies of the portfolio of numbered and SIGNED color etchings of jazz musicians playing various instruments. This is copy #26 of 75 (there were also 15 Proofs), with each etching numbered and SIGNED by the artist. (Offered by Charles Agvent)
by Sylvia Plath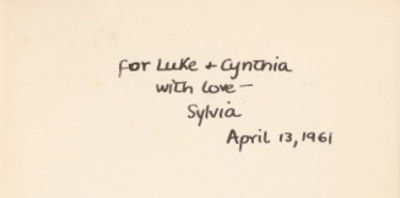 First edition of Plath's first regularly published book. Presentation copy, inscribed by Plath on the front free endpaper: "For Luke & Cynthia / with love - / Sylvia / April 13, 1961." A highly important association copy, rich in personal interest and history: E. Lucas (Luke) Myers, an aspiring writer from Tennessee, was intimately connected to Ted Hughes and Plath. Plath met Luke Myers at Cambridge, where she and Myers were studying, and admired his poetry and fiction. (Offered by James S. Jaffe Rare Books)
by Sylvia Plath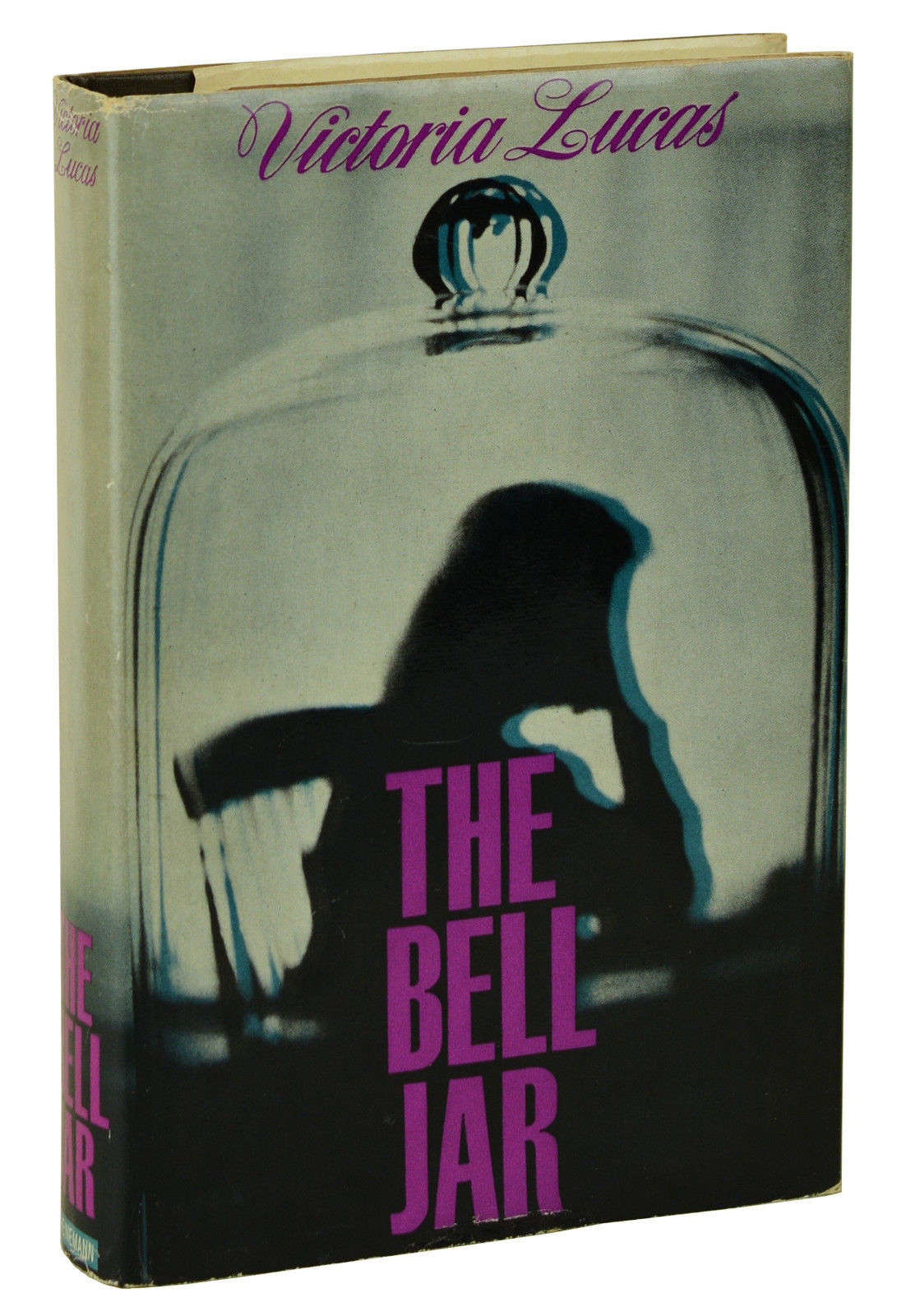 London: William Heinemann, 1963. First Edition. Hardcover. Very Good. First edition, first printing. Near Fine with foxing to edges of page block on early pages and intruding into margins throughout, otherwise clean internally with straight binding and sharp spine gilt. In a Near Fine unclipped dust jacket with light wear to the extremities, foxing and toning to unprinted verso. Housed in a cranberry custom clamshell case, sunned at spine and edges. An excellent copy of the semi-autobiographical novel, published in the UK under the pseudonym Victoria Lucas eight years before its first American appearance. Plath committed suicide less a month after its initial publication, cementing the book's reputation as a tragically unheeded cry for help. It is now perhaps the single most iconic female coming-of-age story. (Offered by Burnside Rare Books)
by Walt Whitman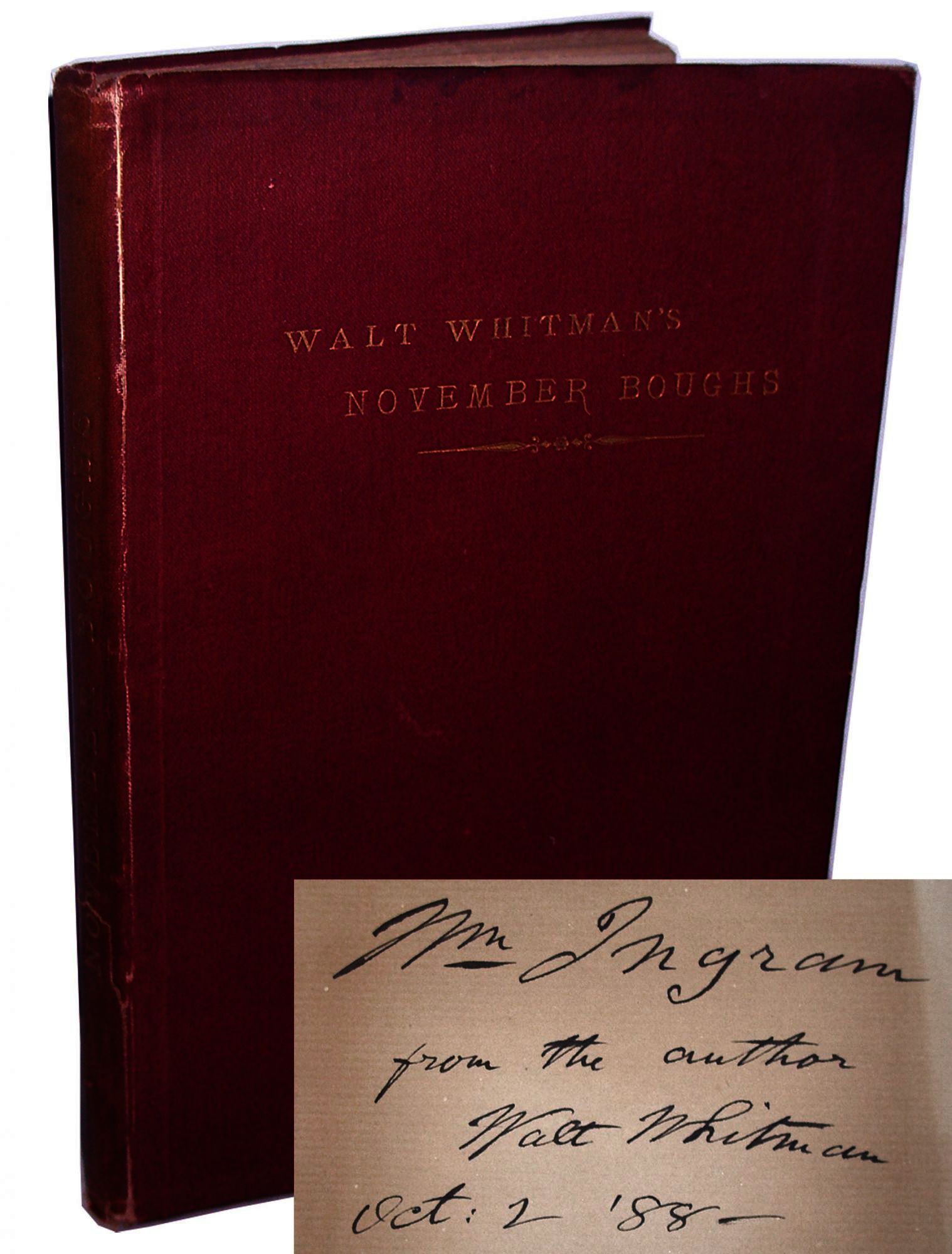 Philadelphia: David McKay, 1888 First edition, first issue. Presentation copy, inscribed by Whitman on the front free endpaper to his close friend, William Ingram: "Wm Ingram / from the author / Walt Whitman / Oct: 2 '88--". Publisher's flexible dark red cloth boards, lettered in gilt. One of approximately 100 special copies printed for Whitman for presentation (binding A). Spine ends lightly worn, tear to lower with a minor repair, a few small spots, light offsetting to pastedowns and endpaper, else very good or better. BAL 21430. Having published Specimen Days 6 years prior, Walt Whitman published November Boughs in 1888. A collection of new poems plus articles he had previously published, it contains insightful self-critique of his own work and what he believed would be his literary legacy. Notably, Whitman cites his magnum opus Leaves of Grass, acknowledging the public's lack of understanding of it, their outrage at its subject matter, and its failure to become a best-seller. The articles also reflect his views on society, namely his support of the working class and Native Americans, and lessons learned from his harrowing yet rewarding encounters working as a nurse during the American Civil War. Published when he himself was turning 70 years old, the poems in November Boughs are grouped under the heading "Sands at Seventy."They reflect his acknowledgment of his old age, but also his hope to continue writing until the very end, whenever that would be.. First Edition.. Hard Cover. Very Good. (Offered by B&B Rare Books)
The Dream Keeper and Other Poems
by Langston Hughes

New York: Alfred A. Knopf, 1932. Cloth. Very Good -. Helen Sewell. The 1932 stated 1st edition of Langston Hughes' 4th published book. Tight and VG- to VG in its light-blue cloth, with rubbing --and very light soiling-- at the panels, darkening along the spine and mild wear to the spine ends. A bit of staining as well at several page edges and light soiling (thumb prints) to a few pages. Former owner (a renowned New York psychiatrist) light pencil inscription on the front free endpaper. Still though, very presentable. Octavo, wonderfully illustrated thruout by Helen Sewell, the original illustrator of "Little House on the Prairie" (Offered by Appledore Books)
Poems by Emily Dickinson. Second Series


Boston: Roberts Brothers, 1891. Near Fine/Near Fine. First edition in the rare publisher's gift binding. Half white calf and floral patterned paper over boards with morocco gilt spine labels. Myerson's binding "C," variant noted by him with gathering "a" omitted. Good or better with minor staining on the boards, some rubbing and scratching on the calf, and a small chip on the spine title label. By far the scarcest variant binding for this title: the two other bindings were issued new at $1.25 and $1.50 respectively; this binding was originally issued at $3.50. Rare. (Offered by Between the Covers Rare Books)
An Essay on Mind, with other Poems [The Doheny Copy]
by Elizabeth Barrett Browning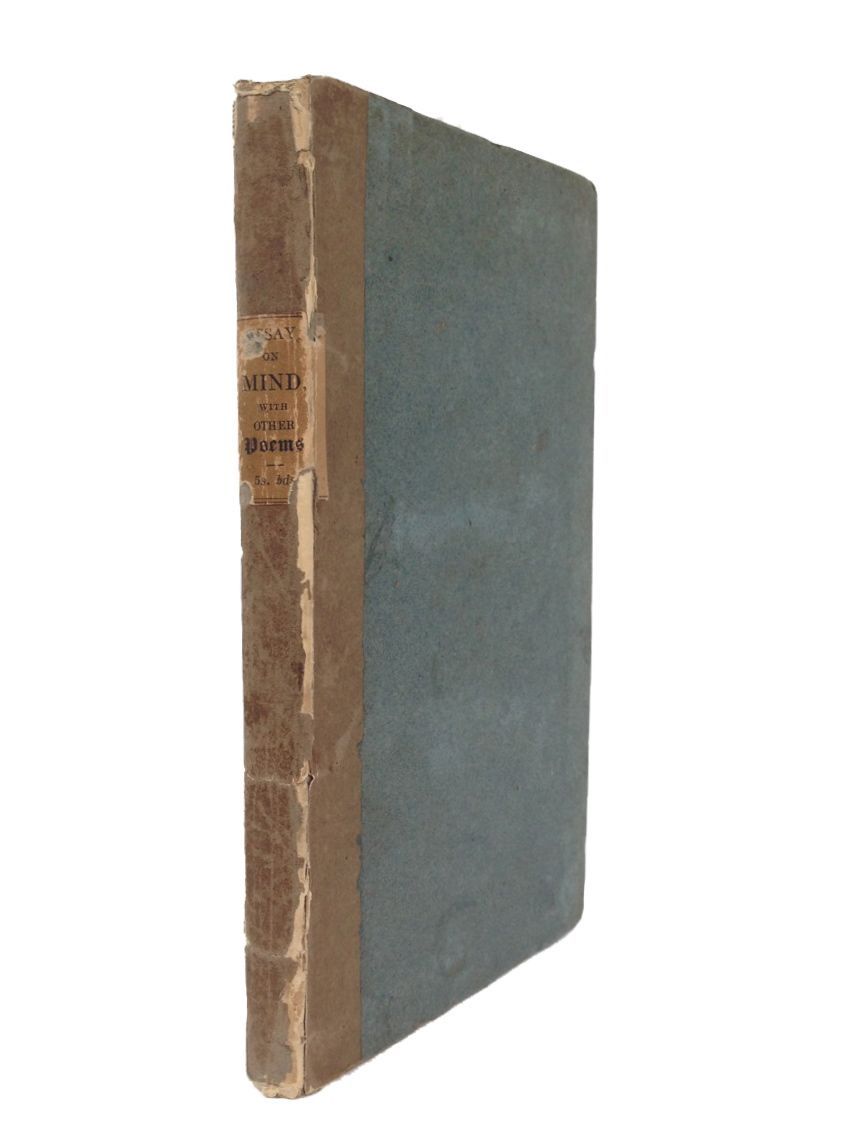 London: James Duncan, 1826. First edition, mixed first and second impressions. Original drab gray boards, original printed label on spine with title and price. FIRST EDITION with mixed first impression/second impression points. There are two impressions known to exist. The first impression has page numbers 12, 24 and 148 perfectly aligned; as well, in the first impression, p. 75, line 15 reads "found." Second impressions have page numbers 12, 24 and 148 misaligned and p.75, ine 15 reads "fo und." Our copy has found" on line 15 of page 75 (i.e. first impression); page numbers 24 and 148 are mis-aligned (as found in the second impression), but page number 12 is correctly aligned (as found in first impression). Rare copies have been found with mixed sheets of the first and second impression and our copy represents one of the earliest impressions to be found in recent years. Estelle Doheny's Copy, with her bookplate. As well, the book was originally owned by Ernest George Salt, with his armorial bookplate affixed to front pastedown. Salt was a prominent doctor from Edinburgh whose lineage traces back to the famous Salt family. A superb copy of Elizabeth Barrett's [Browning] first book in its original state and bearing the original paper label on spine (spine paper chipped, but label mostly in tact). Occasional browning, hinges in tact. Contains a rare prospectus and specimen of the "Modern Traveller" inserted at the very end, a 12 page chapbook-style booklet printed on yellow paper with superb woodcut cover, Printed for James Duncan, London, 1826. Housed in contemporary full morocco slip-off case. (Offered by Nudelman Rare Books)
The Book of Repulsive Women: 8 Rhythms and 5 Drawings [Bruno Chap Books, Vol. II, no. 6, November, 1915]
by BARNES, DJUNA; GUIDO BRUNO, ED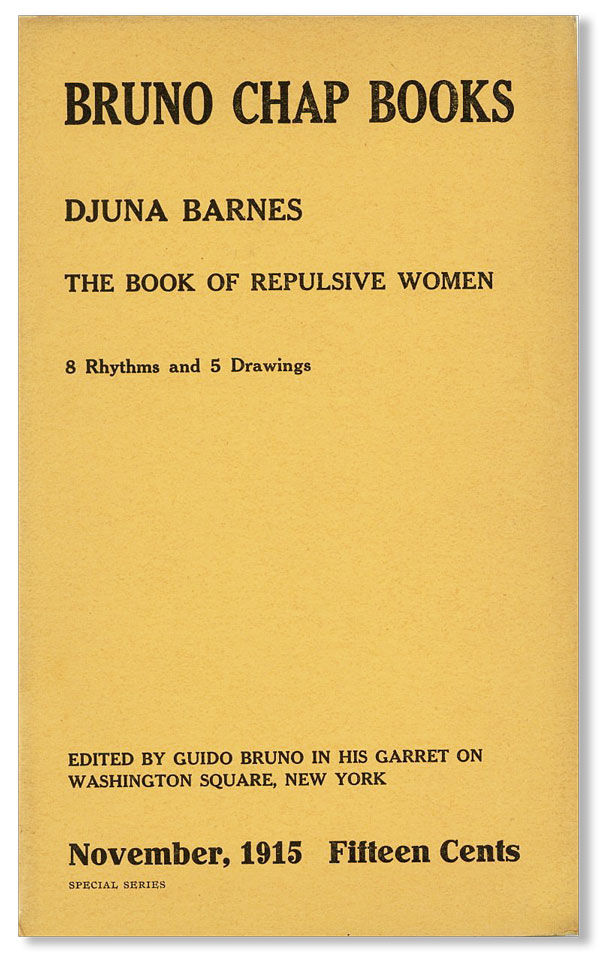 New York: Bruno Chap Books, 1915. First Edition. Paperback. Octavo (20.75cm.); original pale orange printed staplebound wrappers; [91]-111pp.; illus. Wrappers a bit toned along extremities, light rubbing at spine foot, else a Very Good or better, unopened copy. The author's first book. MESSERLI A1.
(Offered by Lorne Bair Rare Books)
The Bean Eaters (First Edition)
by BROOKS, GWENDOLYN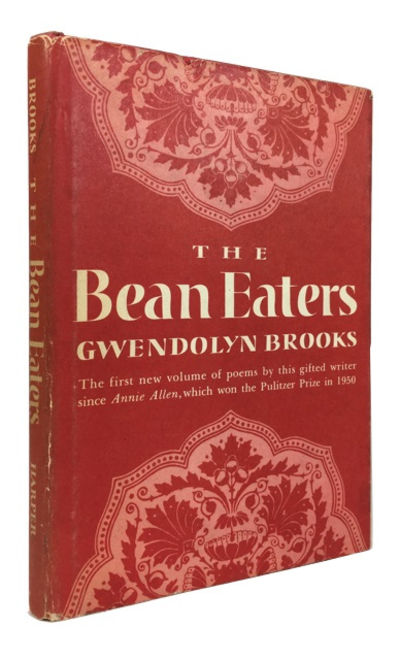 New York: Harper & Brothers, 1960. 1st ed. Hardcover. Very Good/Very Good. 71p. Original red cloth. dj. 19cm. Price-clipped jacket has minor edge-wear and browning. Gift inscription on endpaper. Brooks has INSCRIBED this copy on the title-page to Clarence Holte. The gift inscription does not relate to Brooks or Holte. Poetry. (Offered by McBlain Books)
[The Flowers of Evil] Les Fleurs du Mal
by Charles Baudelaire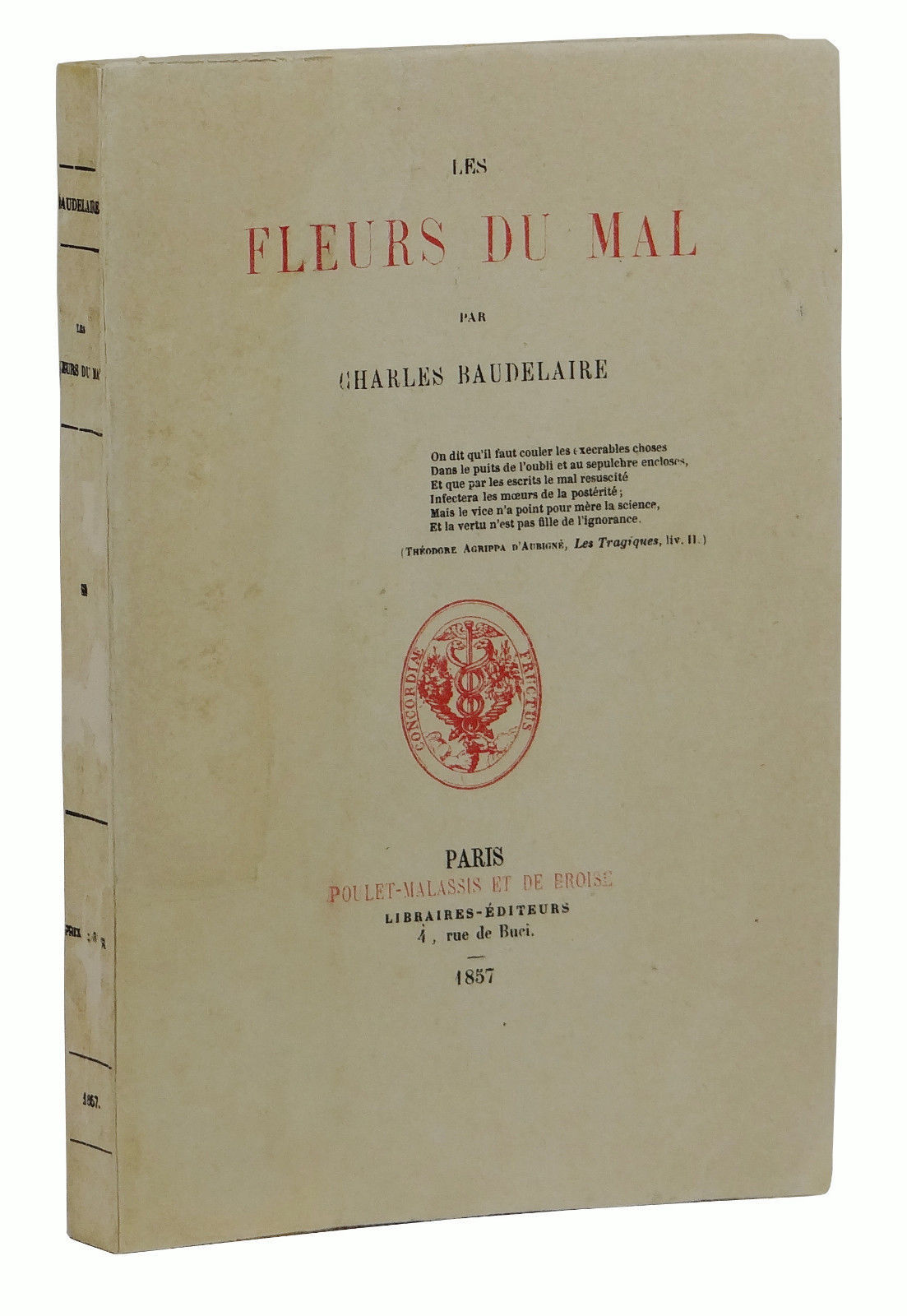 Paris: Poulet-Malassis et de Broise, 1857. First Edition. Wraps. Very Good. First edition, first printing. One of an estimated 1100 copies with first issue text with the six suppressed poems present. In third state wrappers with price of 3 Francs and errors found in the first two states corrected (Dates of Jean de Schelandre correctly listed as 1585-1636, not 1385-1636; the "f" in Odes funambulesques printed in uniform small capital lettering, etc.). A copy that has benefited from professional restoration: wraps restored and backed with Japanese tissue, front and rear free endpapers faintly show remnants of removed appendages. Contents are quite well preserved, though showing an occasional short edge tear or small chip; bottom corner of page 125 missing but filled-in. An enormously influential collection of poems famously dubbed a "frisson nouveau" (a "shock" or "shudder" or "thrill" of the new) by Victor Hugo, condemned by French authorities, and held up by the Symbolists and their descendants as one of the first stirrings of literary modernism. (Offered by Burnside Rare Books)
by Countee Cullen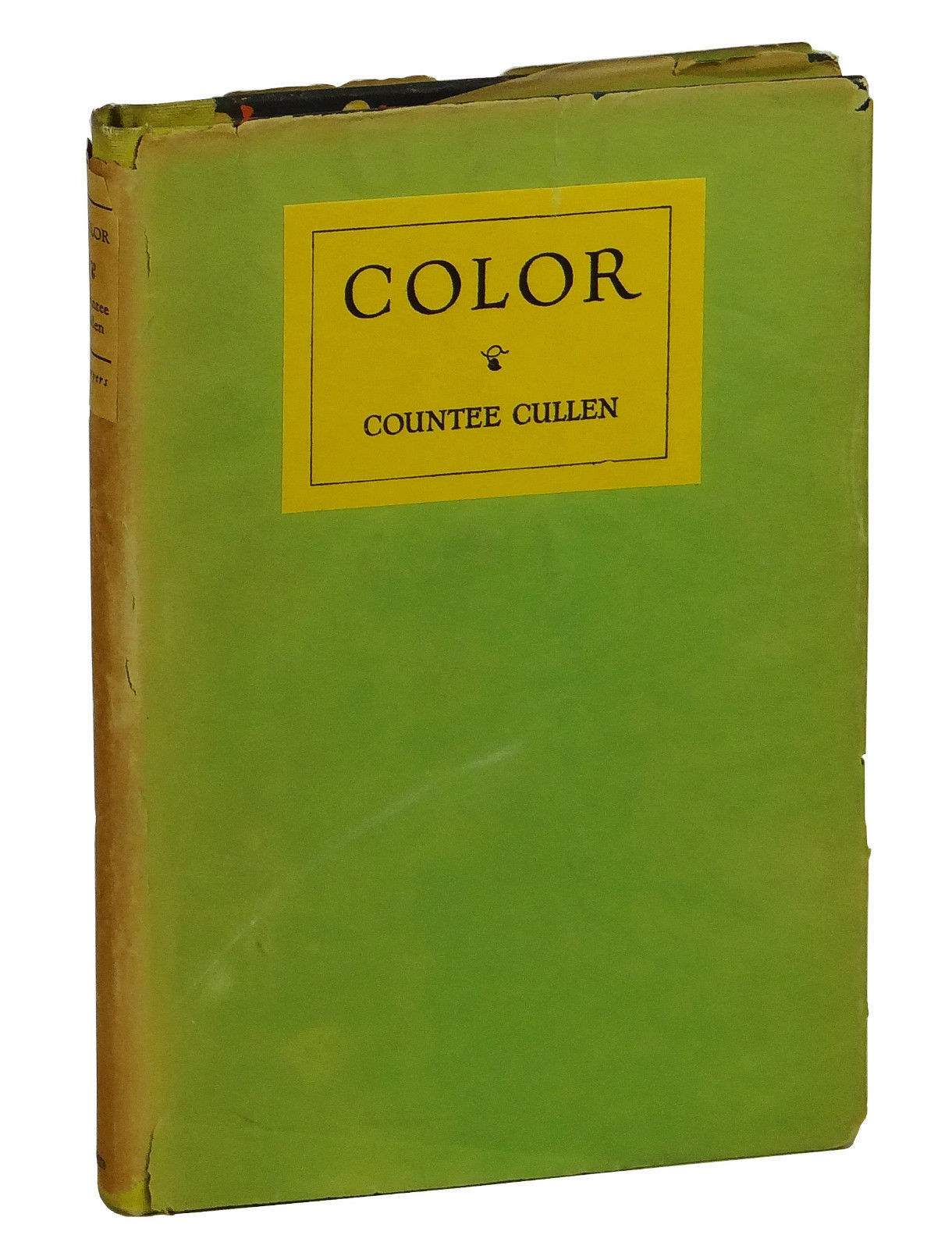 New York: Harper & Brothers, 1925. First Edition. Hardcover. Very Good. First edition. (Stated "First Edition" with correct date code "H-Z" on copyright page.) xvii, 108 pp. Near Fine in extremely fragile original dust jacket with pasted labels on front and spine panels. Bottom tips worn, very slight offsetting to front label. Jacket sunned at spine panel, head and tail chipped, wear along top edge, faint scuff to front panel and thin tear along its fore edge, price intact ($2.00). The Harlem Renaissance poet and scholar's first book, rarely found in a complete jacket. (Offered by Burnside Rare Books)