What newly listed or catalogued items caught the eye this week? A rare astronomical textbook from 1482; a useful set of Firsts, a magazine about collecting first editions; and a first edition by today's birthday boy, George Orwell.
A bound collection of 32 full-color costume plates of French noblewomen [French Costume] [French Court] [Women / France] [Valois Dynasty] [Bourbon Dynasty]
by LANTÉ, LOUIS MARIE; GEORGES-JACQUES GATINE (ENGRAVER) (1827)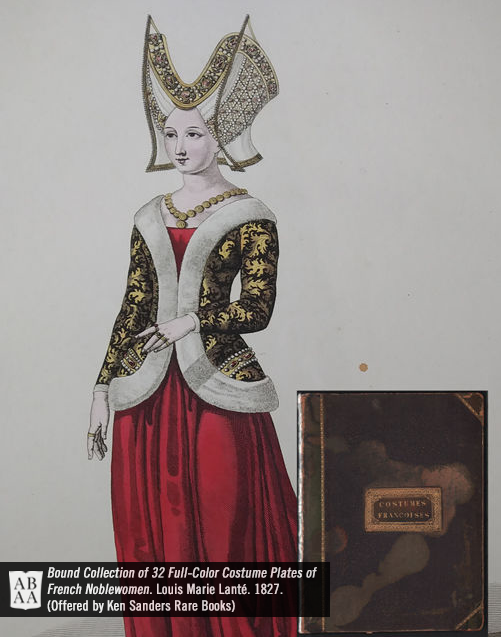 Slim folio [35 cm] 32 colored plates bound in contemporary 3/4 leather with speckled paper over boards, decorative gilt stamped borders on both boards, and a leather label mounted to the front board, with the gilt title "Costumes Francoises," within ornamental gilt floral borders (label just starting to peel at the edges). These plates most likely originally came from a larger work consisting of 70 plates, titled "Les femmes célèbres de la France historique et littéraire à travers 70 costumes finement coloriés à la main à l'époque et rehaussés d'or." The front board is heavily mottled, the boards are exposed along the edges, and the plates are sporadically lightly foxed. Contains the following thirty-two hand-colored plates: Marguerite De Flandre, Épouse de Jean de Montfort, Duc de Bretagne; Isabeau de Bavière, Femme de Charles VI; Suivant d'Isabeau de Bavière; Suivant d'Isabeau de Bavière; Jacqueline de la Grange, Femme de Jean de Montagu, Grand Ministre de France sous Charles VI; Dame de Famille des Ursins, sous Charles VI; Agnès Sorel; Euriant, Femme du Comte de Nevers sous Charles VII; Anne de Bretagne; Louise de Savoie, Règente du Royaume; La Reine Claude, 1ère Femme de François 1er; Eléonore d'Autriche, 2ème Femme de François 1er; Marguerite de Valois, Sœur de François 1er; Dame de la Cour de François 1er; Diane de Poitiers; Anne de Pisseleu, Duchesse d'Estampes; François de Foix, Comtesse de Châteaubriand; Gabrielle d'Estrées; La Marquise de Verneuil; Marie Stuart, Femme de François 2; Louise de Lorraine, Femme de Henri III; Marguerite de Lorraine, Sœur de la Reine, Louise de Lorraine, et Femme du Duc de Joyeuse; Mme. de Sévigné; Mme. de Grignan; Mlle. de la Vallière; Mlle. de Fontanges; Mme. de Montespan; Mme. de Maintenon; Marion de Lorme; Mlle. de la Fayette, Fille d'Honneur de la Reine Anne d'Autriche; Ninon de L'Enclos; Mlle.d'Orléans. Most illustrations have the birth and/or death date of the subject listed below her name and title, as well as the original source from which the engraving was reproduced. Louis Marie Lanté (1789-1871) was a prolific illustrator for the well-known Journal des Dames et des Modes. Louis Marie Lanté and Georges-Jacques Gatine were frequent collaborators.
Offered by Ken Sanders Rare Books.
Sacrobosco, Johannes de (ca. 1195 – ca. 1256 A.D.); Regiomontanus, Johannes (1436-1476); Peurbach, Georg von (1423-1461)
Sphaera mundi [with] Johannes Regiomontanus: Disputationes contra Cremonensia deliramenta [and] Georg von Peurbach: Theoricae novae planetarum.
Venice: Erhard Ratdolt, 6 July 1482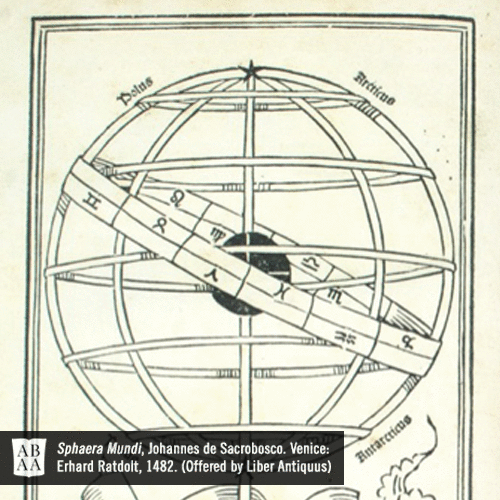 Quarto: 19.5 x 14.3 cm. 60 lvs. Collation: a-g8, h4. 30-31 lines, Gothic type. FIRST COLLECTED EDITION.
Bound in fine 20th c. dark green crushed morocco with the gilt monogram and armorial device of the noted collector George Abrams. Leaf a2 is printed in red and black and has two very fine decorative initials on black ground. There is a full-page woodcut of an armillary sphere on leaf a1 verso and about 40 diagrams (many half-page) in the text, 8 of which are hand-colored in a green, yellow or red wash). This is handsome copy with a little bit of marginal foxing and a few marginal notes in an early hand.
A fine copy of Erhard Ratdolt's beautiful printing of Sacrobosco's "Sphere", the core astronomical textbook from the Middle Ages to the early 16th century. This edition is the first to include key texts by two of the most influential 15th c. astronomers: Johannes Regiomontanus and Georg Peurbach.
Working in the vein of the Renaissance humanists, Peurbach and his student Regiomontanus sought out the extant scientific writings of antiquity, the classical foundations of medieval European and Arabic science. Both men gleaned what they could from ancient authorities but more importantly, moved the science forward, adjusting, correcting, and often discrediting their ancient and medieval predecessors, while performing new scientific investigations of astronomical phenomena. These investigations led to important innovations, placing Renaissance astronomy on a new path.
The first of the two supplemental texts in this volume, Peurbach's "Theoricae Novae Planetarum" (New Theories of the Planets), eventually came to replace Sacrobosco's "Sphere" and another 13th c. text, the "Theorica planetarum communis" (Universal Theory of the Planets), attributed to Gerard of Cremona. Composed about 1454, Peurbach based his "Theoricae" on the familiar teachings of Ptolemy, Al-Battani, Al-Farghani and caliph Al-Mammun's astronomer, whose name is unknown. The word "novae" in the title is not meant to refer to a completely new theory but only to emphasize that this work is a compilation of the latest contemporary scientific knowledge. "Following Arab astronomers, Peurbach added trepidation to Ptolemy's six motions of the celestial spheres and substituted solid crystal spheres for the hypothetical circles employed in Ptolemy's 'Almagest'." (Stillwell, Awakenings).
In the final text in this volume, "Disputationes contra Cremonensia deliramenta" (Arguments against the Errors of [Gerard of] Cremona), Peurbach's student Regiomontanus offers a critique of Gerard's aforementioned "Theorica", and demonstrates the superiority of Peurbach's "Theoricae novae." Adopting the form of a dialogue between 'Viennensis' (the "man from Vienna", representing Regiomontanus) and 'Cracoviensis' ("The one from Krakow", representing Martin Bylica of Ilkusch), Regiomontanus used geometrical proofs, often supplemented by diagrams, to refute specific claims in the earlier "Theorica." In the course of his critique, Regiomontanus -renowned for the accuracy of his own predictive tables and calendars- also makes corrections to Gerard's planetary tables.
Sacrobosco's "Sphere":
"Sacrobosco's fame rests firmly on his 'De Sphaera', a work based on Ptolemy and his Arabic commentators, published about 1220 and antedating the 'Sphaera' of Grosseteste. It was quite generally adopted as the fundamental astronomy text, for often it was so clear that it needed little or no explanation. It was first used at the University of Paris. There are four chapters to the work. Chapter one defines a sphere, explains its divisions, including the four elements, and also comments on the heavens and their movements. The revolutions of the heavens are from east to west and their shape is spherical. The earth is a sphere, acting as the middle (or center) of the firmament; it is a mere point in relation to the total firmament and is immobile. Its measurements are also included. Chapter two treats the various circles and their names- the celestial circle, the equinoctial, the movement of the 'primum mobile' with its two parts, the north and south poles, the zodiac, the ecliptic, the colures, the meridian and the horizon, and the Arctic and Antarctic circles. It closes with an explanation of the five zones. Chapter three explains the cosmic, chronic, and heliacal risings and settings of the signs and also their right and oblique ascensions. Explanations are furnished for the variations in the length of days in different global zones namely the equator, and in zones extending from the equator to the two poles. A discussion of the seven climes ends the chapter. The movement of the sun and other planets and the causes of lunar and solar eclipses form the brief fourth chapter." (Dictionary of Scientific Biography)
Offered by Liber Antiquus, and featured in their new list of Incunabula. This item is not listed on abaa.org.
A Langton's Pioneer Express mail cover sent to Negro Hill, an African-American mining settlement during the California Gold Rush
Nevada [City, California] to Negro Hill, California (1856)


Nevada [City, California] to Negro Hill, California, 1856. Unbound. Very good. This 3-cent red on buff Nesbitt envelope (Scott #U10) bears an additional printed Langton's Pioneer Express mail "Paid" frank printed in black. It was cancelled by a blue "Wells, Fargo & Co. Express, Nevada" oval postmark in blue and sent to "Negro Hill (Near Mormon Island)." A pencil annotation, "Nov. 26, 1856" is at the left edge. No letter. Edge wear. African-American participation in the California Gold Rush has been often overlooked, although black miners sought their fortunes almost from its very beginning. The first black prospector, a cook named Hector who deserted from the USS Southampton which was serving as a supply ship for U.S. forces occupying California following the Mexican-American War, found $4,000 in nuggets not far from Monterey in 1848, and his discovery was followed shortly thereafter by one of the richest strikes of anyone by an African-American miner known only as Dick, who mined $100,000 worth of gold in Tuolumne County only to lose it all in San Francisco's gambling dens. Two African-Americans from Massachusetts, one a man named Kelsey, first began mining at Negro Hill in 1849, not far from where gold was originally discovered at Sutter's Mill on the south fork of the American River. Their diggings were successful and in early 1850, San Francisco's Daily Alta California reported, "About four miles below Mormon Island on the American River, there have been new diggings discovered which prove to yield exceedingly well. They are called 'Nigger Diggings' from the fact that some colored gentlemen first discovered them." Their success drew other black prospectors to the area, and two years later, after another significant strike was found nearby, two enterprising African-Americans opened a general store and boarding house around which a concentration of black residents formed a community known as Little Negro Hill. By 1855, Negro Hill's population had grown to over 400 predominately black residents interspersed with a few Chinese, Portuguese, and white American miners. For the most part, the community lived in harmony, however racial tensions developed during the presidential elections of 1856 as most of the white miners supported the pro-slavery Democratic candidate James Buchanan over the free-state Republican, John C. Fremont. At one point a group of white and black miners clashed, and an African-American man was killed. The white miners, who were alleged to have instigated the fight after a night of drinking, were arrested and brought to trial at Coloma but found to be not guilty in part, at least one historian has claimed, because at that time in California, blacks were prohibited from testifying against whites. As with most placer mining camps in the Sierra foothills, the gold around Negro Hill was exhausted by the 1860s, and the last resident abandoned the community in 1874. Samuel W. Langton founded Langton Express in February 1850 with a route from Marysville up the Yuba River to Downieville (where its headquarters were based) via Grass Valley and Nevada City. In February 1855, he sold out to Adams and Company, but that company soon failed and by March, he reformed Langton's Pioneer Express, which continued in operation for almost another ten years. The company served many mining camps by both mule and pony and included connections with Wells Fargo as well as steamboat service to San Francisco. A very scarce testament to African-American participation in the Gold Rush made all the more valuable by philatelic evidence documenting the unusual conjunctive use of Langton's Express and Wells Fargo mail services to send a letter to the most important African-American mining camp in California.
Offered by Read'Em Again Books.
FIRSTS. COLLECTING MODERN FIRST EDITIONS
by SMILEY, ROBIN H (EDITOR)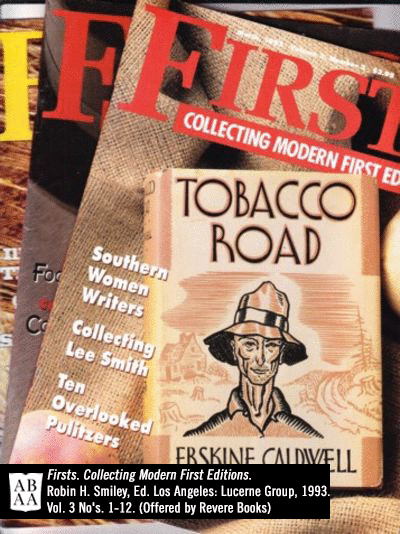 Los Angeles: Lucerne Group, 1993. Vol. 3 No's. 1-12 (complete run; Nos 7 & 8 combined). Checklists for Updike, Garcia-Marquez, Schaefer, Hammett, Chandler, Francis, Matthiessen, Koontz, et al. Articles on collector's essential glossary, collection preservation, Southern women writers, collectible first novels, Western references, British adventure fiction, L. Frank Baum, fantasy masterpieces, et al. Stapled glossy pictoral covers. All inserts included. Few copies with minimal cover rubbing. Near Fine condition.. Soft Cover.
Offered by Revere Books.
Homage to Catalonia (First Edition)
by George Orwell

First edition of Orwell's account of his experiences fighting for the POUM (an anti-Stalinist party) on the side of the Republic in the Spanish Civil War in 1936/1937. One of only 1500 copies printed. Fenwick A.6a 8vo, original green cloth, pictorial dust jacket. The usual offsetting to endpapers, otherwise a fine copy in the rare dust jacket, which is very slightly rubbed at head and tail of the spine. An exceptional copy, and especially rare in this condition.
Offered by James S. Jaffe Rare Books.