Contact the Seller
Kurt Sanftleben
4928 Breeze Way
Montclair, VA 22025

.(JavaScript must be enabled to view this email address)

(703) 580-6946

(703) 580-6946
http://read-em-again.com
Browse this Seller's Inventory
Recently Listed Items
Recent Catalogs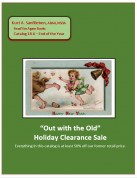 Catalog 18-6 (End-of-Year Clearance)
Catalog 18-6 contains 75 items: books, miniature books, leaves, documents, speeches, ephemera, maps, newspapers, and sheet music . . . All at least 50% off our current listed price. From $15 to $2,850. (Sorry, no additional dealer discounts.) PLEASE ORDER BY EMAIL OR PHONE.
Recent Catalogs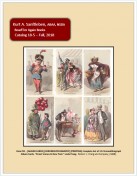 Catalog 18-5 (Fall, 2018)
Catalog 18-5 (Fall 2018) contains 38 items: broadsides, correspondence, diaries, documents, memoirs, photo albums, playbills, postal history, and scrapbooks, as well as other ephemera in a variety of subject including Abolition, African-Americana, Civil War and Draft Riots, Mardi Gras, Medicine and Nursing, WWII Aircraft Nose Art, Oil and Petroleum, the Oregon Trail, Refugees, Ship Building, Women, Wine and Viticulture, and more.