Five books caught the eye among this week's crop of new listings -- along with one unusual piece of jewelry! -- which proves you never know what you'll find in a rare book shop!
London: Methuen, 1926. Shepard, Ernest H.. First edition. Limited to 350 copies printed on handmade paper and signed by Milne and Shepard. With all of the well-known and well-loved illustrations and a fold-out map of Pooh's and Christopher Robin's territory, which appeared in the ordinary edition as endpapers. Bound in quarter dark-blue cloth with light-blue paper over boards. Corners slightly bumped and minute soiling to upper cover, else near fine in original dust wrapper, which shows expected toning. Housed in a red-cloth chemise inside a matching slipcase. Bookplate of former owner.
Offered by Bromer Booksellers.
by Ulysses S. Grant
City Point, VA: np, 1865. First edition. Framed. Fine. THE END OF THE CIVIL WAR: IN THE LAST WEEKS OF THE WAR, GRANT DIRECTS HIS GENERALS FOR THE FINAL PUSH ON RICHMOND AND PETERSBURG. By March, 1865, the Richard-Petersburg campaign was in its ninth month of operation and the Union forces were putting a stranglehold around General Lee's vaunted Army of Northern Virginia. The Union army was getting reports from Confederate deserters detailing the desperate state of Lee's army due to lack of food and supplies. It seemed only a matter of time before Lee would have to make a move: either try to flee with his army, or surrender to the Union forces. The Union forces were in control of the waterways surrounding the Confederate capital of Richmond and began to press their advantage. Norfolk and Ft. Monroe, VA were at the mouth of the James River to the southeast of Richmond, and White House, VA lay to the northwest along the South Fork Shenandoah River and by mid-March Grant was keenly concerned with gathering and organizing his troops along these strategic strongholds. On March 14, Grant sent orders for Colonel Sumner to "report by telegraph his arrival at Norfolk to Gen. Ord" and had ordered Major General Philip Sheridan to move his forces to White House. In the present letter - sent on March 16 - Grant's tone changes, reflecting newfound urgency. From his headquarters in City Point, Virginia (at the meeting of the James and Appomattox Rivers, near Richmond), Grant writes to Major General Edward Ord of the mighty Army of the James: "Maj. Gen. Ord, You can send a dispatch to F. Monroe and Norfolk directing that when Sumner reaches there he will come up the river without debarking his troops. I think he will not leave White House earlier than tomorrow noon. Last night Sheridan had not reached there." [signed] 
U.S. Grant 
Lt. Gen. Lee's vulnerability was now at a critical stage and the final push was on. There was no time to waste, no time for the troops to rest at Ft. Monroe and Norfolk, but rather press up the river towards Petersburg and Richmond. Sheridan would reach White House on 18 March and Ord began to coordinate his (and Sumner's) troop movements with Sheridan's. On 20 March, Grant felt comfortable enough with the situation to write to his father "I think we will be able to wind up matters about Richmond soon... The rebellion has lost its vitality and if I am not much mistaken there will be no rebel Army of any great dimentions a few weeks hence." Grant's prophecy became true: On April 2, Grant entered Petersburg and Lee's army was on the run and by April 9, a trapped Lee surrendered his forces to General Grant, effectively ending the war. The recipient of the letter, General Edward Ord, "was one of Grant's favorites, a twice-wounded West Point veteran whom he appreciated as 'skillful in the management of troops... brave and prompt'" (Chernow, Grant). Edwin Vose Sumner, Jr., at the time of this letter, was the colonel of the 1st New York Mounted Rifles. Included in The Papers of Ulysses S. Grant, Vol. 14. Magnificently framed in a shadow-box style with a portrait of Grant and illustrative engraved plaques. Autograph letter signed: "U.S. Grant / Lt. Gen." On official letterhead with "Head Quarters Armies of the United States" printed along top. Dated: "City Point, Va. March 16th 1865" in Grant's hand. "Sent" written in a different hand in top left corner. Pinhole in top left margin, two mild folds; nearly fine condition with ink strong. One sheet, 7.5 x 10 inches; framed to an overall size of 33 x 30 inches. A RARE AND IMPORTANT GRANT LETTER CONCERNING TROOP MOVEMENTS DURING THE CLIMACTIC FINAL WEEKS OF THE WAR.
Offered by Manhattan Rare Book Company.
London: Jonathan Cape, 1963. Fleming, Ian. ON HER MAJESTY'S SECRET SERVICE. London: Jonathan Cape, (1963). First TRADE Edition. Fine in a Near Fine priced dust jacket (just lightly used with a full red-colored spine lettering). PRESENTATION COPY inscribed on the front free endpaper in blue ink: "To Sarah/ who doesn't deserve/ it! /x/ Ian." The recipient Sarah Dugdale we believe to have been a girlfriend of Fleming's around the time of the writing of this novel. Housed in a custom slipcase. . Inscribed By Author. First Edition. Hard Cover. Fine/Fine. Illus. by Richard Chopping.
Offered by Lakin & Marley Rare Books.
Los Angeles, 1959. Fine. 14 karat white gold World Series ring presented to Don Zimmer (shortstop). The face is set with a 1/2 carat diamond. "Los Angeles World Champions" in raised lettering around the perimeter (their first L. A. championship), the left shank with bats, ball and Zimmer's name, the right shank with the team logo, "1959" and an image of the L. A. City Hall. "Balfour 14K" stamped inside the band. Authentic. Fine. Actual player rings are many times scarcer than rings for surrounding personnel, and championship ring production numbers (in all sports) increased geometrically in the 1970s. The L. A. home games were stunning, played before92,000 fans at The Coliseum while Dodger Stadium was being built.
Offered by Biblioctopus.
by F. Scott Fitzgerald
New York: Charles Scribner's Sons, 1934. First edition of the work which Fitzgerald considered to be his finest. Octavo, original green cloth. Inscribed by the author on the front free endpaper "For Lillian Abercrombie with best wishes of a fellow Celt F. Scott Fitzgerald." In near fine condition. Housed in a custom half morocco clamshell and chemise box. F. Scott Fitzgerald wrote in a friend's copy of Tender Is the Night, "If you liked The Great Gatsby, for God's sake read this. Gatsby was a tour de force but this is a confession of faith." Set in the South of France in the decade after World War I, Tender Is the Night is the story of a brilliant andmagnetic psychiatrist named Dick Diver; the bewitching, wealthy, and dangerously unstable mental patient, Nicole, who becomes his wife; and the beautiful, harrowing ten-year pas de deux they act out along the border between sanity and madness. Tender Is the Night is also the most intensely, even painfully, autobiographical of Fitzgerald's novels; it smolders with a dark, bitter vitality because it is so utterly true. This account of a caring man who disintegrates under the twin strains of his wife's derangement and a lifestyle that gnaws away at his sense of moral values offers an authorial cri de coeur, while Dick Diver's downward spiral into alcoholic dissolution is an eerie portent of Fitzgerald's own fate. F. Scott Fitzgerald literally put his soul into Tender Is the Night, and the novel's lack of commercial success upon its initial publication in 1934 shattered him. He would die six years later without having published another novel, and without knowing that Tender Is the Night would come to be seen as perhaps his masterpiece. In Mabel Dodge Luhan's words, it raised him to the heights of "a modern Orpheus." Named by Modern Library as one of the 100 greatest novels of the twentieth century. It was basis for the 1962 film directed by Henry King starring Jennifer Jones and Jason Robards. The soundtrack featured a song, also called Tender Is the Night, by Sammy Fain (music) and Paul Francis Webster (lyrics), which was nominated for the 1962 Academy Award for Best Song. Robards won the 1962 NBR Award for his performances in Tender Is the Night and Long Day's Journey Into Night.
Offered by Raptis Rare Books.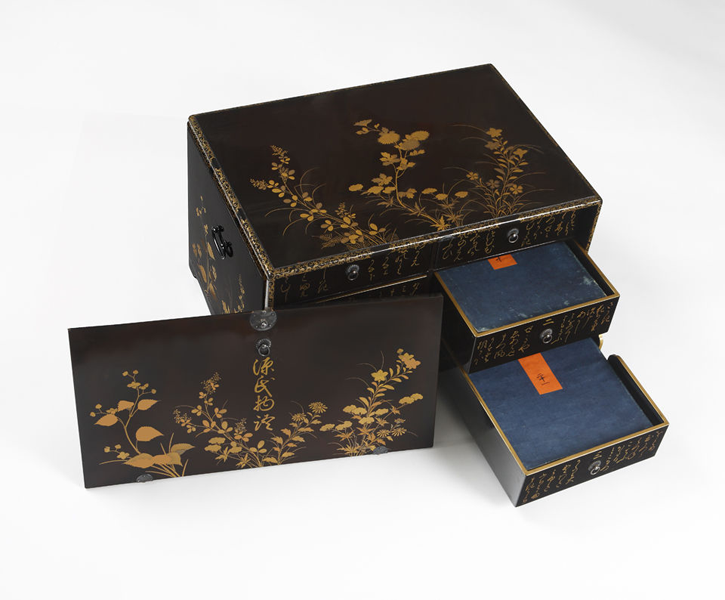 Complete in 54 vols. (235 x 170), orig. dark blue semi-stiff wrappers (retsujoso), metallic sprinkled endpapers, written on fine quality torinoko paper in a beautiful & highly skilled calligraphic cursive hand, 10 columns of text per page, orig. orange manuscript title slips in center of each upper cover. Preserved in the original drop-front lacquered wooden book cabinet (Shodansu), six drawers with orig. gilt bronze handles & pulls, exterior of cabinet decorated with autumn grass & flower designs in gilt & silver makie. [Japan]: copied early to mid-Edo period. A fine, relatively early, manuscript of Lady Murasaki's Tale of Genji, the first novel ever written, and presented in the classic style of the Edo period. It has been said, with only some exaggeration, that in the dowry of every high-class or noble bride during Edo times a manuscript of Tale of Genji in a finely lacquered and decorated box would be present. It is hard to overestimate the cultural significance of Tale of Genji, a work that has resonated throughout art and literature, in all periods, both in Japan and the rest of the world. Murasaki Shikibu finished her work in 1021. She was named after the beloved wife of Genji, Murasaki. The work recounts the life of Genji, the second son of the Japanese Emperor and comprises some four hundred dramatis personae. This large novel is in 54 chapters with a separate volume for each chapter, and belongs to the Aobyshibon (blue-covered book) recension. There are some 300 surviving manuscripts, the oldest fragmentary copies from 13th century, while an illustrated scroll from the 12th century survives as well. All the manuscripts have differences from each other. They are classified into three main text recensions: Kawachibon, based on the Chikayuki manuscript edited 1236-1255; Aobyoshibon recension, based on the Teika manuscript, the most conservative version believed to best represent the lost autograph; and Beppon recension, representing all other mixed manuscripts as well as commentaries. Our manuscript is written on torinoko paper, which has the characteristics of a smooth surface with sheen. In fine condition. The first three volumes have some light dampstaining in the bottom and the upper wrapper is a little wormed. There is also a little worming in the gutter, not touching text. Vol. 7 has several leaves with inoffensive worming touching text. Vol. 16 has some minor worming in gutter. Vol. 25 has some dampstaining in blank lower margin. Vol. 42 has some very minor dampstaining to outer upper corners of leaves. Vol. 53 has the slightest mouse-gnawing on the fore-edge. The final volume has a little worming to upper cover and endpaper, some marginal dampstaining at foot, and final eight leaves with some worming touching text. A few trivial binding defects.
Offered by Jonathan A. Hill, Bookseller.
Check out these and other newly listed items on our New Arrivals Page...