Which books and pieces of ephemera caught the eye among this week's crop of new listings? A very early biography of Stalin, a protest poster from 1969, and a first edition of an influential poetry volume from the Harlem Renaissance, among others...
by Essad-Bey (Pseudonym for Lew Nussimbaum)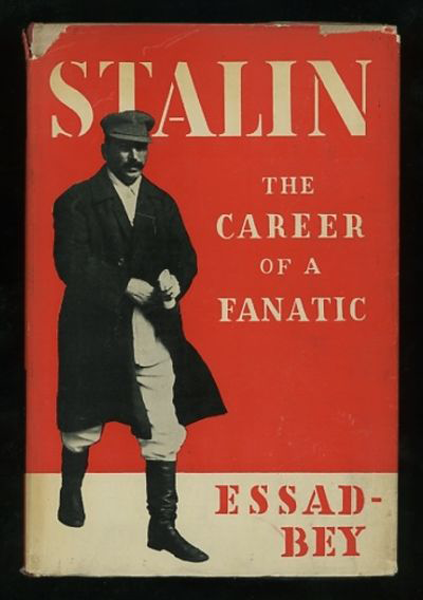 New York: The Viking Press. Near Fine in Very Good dj. 1932 (c.1931). First American Edition. Hardcover. [very nice book, minimal wear at extremities, modest discoloration to endpapers; jacket has some shallow chipping along top and bottom edges (no loss of text anywhere), a few minor tears, light surface wear and minor soiling]. (B&W photographs) First published in Germany, this was one of the earliest books about Joseph Stalin. Although probably unreliable as history (the New York Times reviewer characterized the first part of the book, dealing with Stalin's early life, as "rather fictional"), it still painted a persuasive portrait of the dictator's personality and gave a compelling account of his rise to power. The author himself, the subject of Tom Reiss's 2005 biography "The Orientalist," was quite a character: born Lev Nussimbaum, he was a Jew from Azerbaijan who transformed himself into a Muslim prince in Nazi Germany, having earlier escaped the Russian Revolution in a camel caravan. (The claim made in the jacket blurb that he was a "compatriot of Stalin's" was almost certainly bogus.) Writing as "Essad Bey" and "Kurban Said," he became a celebrated adventurer and author of the classic novel "Ali and Nino." And that ain't the half of it. (A 1934 newspaper feature story about "Essad Bey" laid in.) Very scarce, especially in the original jacket.
Offered by Read Ink.
by Montesquieu, Charles Louis de Secondat, Baron de

20 etched plates in two states (for a total of 40), the first series in black & white and the second finely hand-colored. Large 4to, blue morocco, two stylized "mosaïqué" figures, the first, on the upper cover, in Western attire, the other, on the lower cover, in Persian attire of the 18th century, two bands of brown morocco perpendicular to the spine, fine light blue silk doublures, spine gilt, leaves uncut (signed by Robert Bonfils). Paris: J. Terquem, 1926. One of 223 numbered copies, of an edition of 265, of Montesquieu's seminal narrative on cultural relativism, printed on Rives vellum paper. The splendid binding was designed by the influential illustrator and engraver Robert Bonfils (1886-1972), who for more than 30 years taught generations of book artists at the École Estienne in Paris and created renowned bindings for deluxe editions. The present work was once part of his private library (shown by the gilt monogram on the lower doublure). The etched illustrations were executed by Charles Martin (1884-1934), the master engraver of the early 20th century, and this copy contains two states of each illustration, one in black and white, the second in delicate watercolor. It begins with a preface written by Paul Valéry. Several art historians and experts on bindings have written about Bonfils' works (translated from French): - Yves Peyré: "The geometry of the body, the restraint of the figuration, the freedom of movement, the purity of composition, the splendor of colors, the voluptuousness of the gold, the pleasant setting of materials, enough ingredients to guarantee subtlety without weakness in Bonfils' bindings, which the perfection of his execution enhances even more." - Julien Fléty: "It is the image adapted to the binding, a matter of decoration which directly evokes the text. His bindings are truly illustrations of the books which they shelter so lavishly." Our binding has also been featured in two well-known exhibitions: - Relieurs d'Art aujourd'hui (Metz, 2001, no. 6). - Hommage aux relieurs fondateurs de la Société de la reliure originale (Paris, 2007, p. 83). A superb copy in a lavish binding, in excellent condition. Gilt monogram of Bonfils on lower doublure and bookplate of "P.A." on half-title. Housed in a brown morocco-backed box with title on spine. ❧ Benezit, Vol. 2, p. 800-1 (Bonfils); Vol. 9, p. 357 (Martin). Devauchelle, Vol. III, p. 245 & plate LXXX (in trans.)-"Bonfils did not only illustrate books; he knew how to dress them with a bold originality, made even more rare and precious that the execution of his bindings is perfected in its most delicate details. The concept of the 'curious' is adapted with precision and imagination on behalf of the spirit of the book for the delight of many bibliophiles.".
Offered by Jonathan A. Hill, Bookseller.
by Countee Cullen
New York & London: Harper & Brothers, 1929. 1st trade ed. Hardcover. Very Good. Charles Cullen. frontis, illustrations (by Charles Cullen), 110p. Original blue boards backed in black cloth.. 20cm. Modest cover fading and wear. As is often true, the title labels on front cover and backstrip are discolored. No jacket. Charles and Countee were not related.
Offered by McBlain Books.
by Stephen King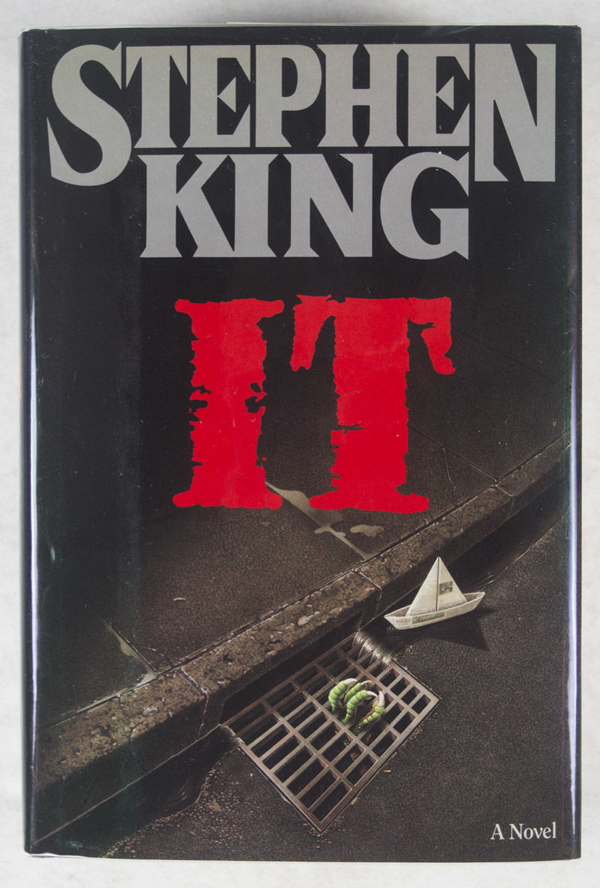 New York: Viking, 1986. First edition. Hardcover. g+ to vg. Quarto (9 1/2 x 6 1/2"). x, 1138, [4]pp. Original illustrated and photo-illustrated dust-jacket over half black cloth and paper covered boards. Red lettering to spine, and initials to front cover. Half-title inscribed and signed by Stephen King. Inscribed and signed first edition of "It," a 1986 horror novel by American author Stephen King. It was his 22nd book, and his 18th novel written under his own name. The story follows the experiences of seven children as they are terrorized by an entity that exploits the fears and phobias of its victims to disguise itself while hunting its prey. "It" primarily appears in the form of a clown to attract its preferred prey of young children.Minor shelf wear to binding. Dust-jacket in overall very good, binding in good=, interior in very good condition.
Offered by Eric Chaim Kline, Bookseller.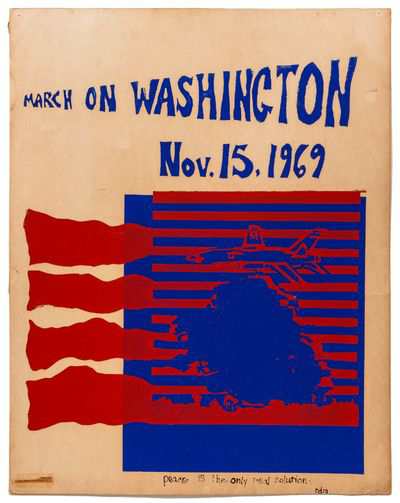 1969. Very Good. Broadside. Measuring 22" x 28". Blue and red screenprinted image of a jet fighter above a cloud from an exploded bomb with clipped newspaper quotation ("There was a silent majority in Germany too") taped to the bottom left corner and a hand written message under the image in black marker: "peace is the only real solution. ndm." The rear has masking tape all along the topedge with other small piece along the edges; also written large in marker: "Bring the Troops Home NOW." Very goods with light general wear, a few pin holes at the edges and some creasing to the corners. A protest sign created for the Moratorium March on Washington held on November 15, 1969 to protest the Vietname War. The march drew more than 500,000 demonstrators, activist and performers, including Pete Seeger. A graphically engaging image of protest.
Offered by Between the Covers Rare Books.
To view more titles newly listed on abaa.org, click here...
To peruse the latest catalogs of rare books and print ephemera from ABAA members, click here...