Among the eye-catching items newly listed on abaa.org or featured in members' catalogs this week are some signed first editions, an inscribed photo of everyone's favorite princess from a galaxy far, far away, and a clever artist's book that captures the Beaufort Scale memorably.
0 1 2 3 4 5 6 7 8 9 10 11 12 [The Beaufort Wind [Force] Scale]
by Stephanie Wolff & Sir Francis Beaufort

Norwich, VT, 2015. Artist's book, one of 13 copies, all on Somerset Velvet Radiant White paper, each copy hand-numbered and signed by the artist on the colophon.
Page size: 5 x 9-3/4 inches; 26pp; + colophon. Bound by the artist: compound structure, primarily non-adhesive, tabbed single pages sewn onto a concertina of French paper and then inserted into strip of Tyvek folded into Hedi Kyle's crown binding structure, reinforced covers of white Somerset paper sewn onto the concertina and sealed with adhesive at edges, housed in custom-made grey cloth over boards clamshell box lined with white paper, the front tray with THE BEAUFORT WIND SCALE printed letterpress in 14pt. Perpetua, each number with its corresponding word / words descriptor, i.e. 0 Calm, 1 Light Air through 12 Hurricane.
The front cover of the book is printed letterpress, Perpetua 30pt., printed in light gray ink throughout. The text, in Perpetua 18pt., each line printed on a separate page, and that page with the word descriptor for the Beaufort Wind Scale number appearing in all caps perpendicular to the text in Perpetua 30pt, the BWS number which is printed blind in 10 line wood type to the left of the text. Each page of text is hand-cut into "fringe" strips enfolding the text and moving as each page is turned. The higher the number on the Beaufort Wind Scale, the more cuts in the page. The resulting final page: 12 cuts for #12, Hurricane, and a fringed sheet that sways as the page is turned reflecting the force of a hurricane-gale wind. A most unusual page design and structure that works perfectly for this book.
Rear Admiral Sir Francis Beaufort (1774-1857) was an Irish hydrographer and advocate / creator of the scale named for him indicating wind force. While the idea of a scale was not new, the words and numbers used to describe the increasing intensity of each gale category are forever associated with Admiral Beaufort. The words have real impact: one can feel the increasing tension with each category. The artist's design, simple and elegant, creates its own intensification. The anticipation of each page grows until the last page: #12 HURRICANE: Devastation occurs - and we know we are experiencing the strong arm of nature.
Offered by Priscilla Juvelis.
Fahrenheit 451 (First Edition)
by Ray Bradbury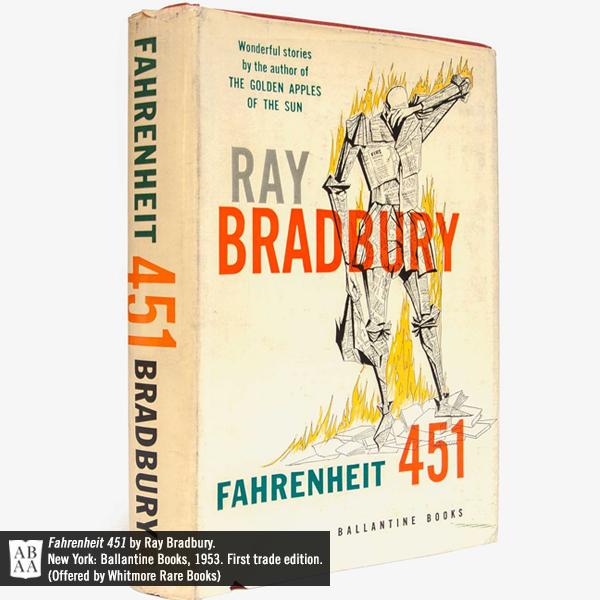 New York: Ballantine Books, 1953. First trade edition. Fine/Near Fine. A Fine copy of the book, with a tiny bit of dust soiling to the top-edge of the closed page block, but otherwise perfect. In a bright, Near Fine dust jacket with one very small nick at the bottom of the front panel and with the red spine lettering one shade lightened, but with the original colors remarkably fresh and vivid. Most copies show little to no red color on the spine, this copy among the nicer examples we've seen.Bradbury's most famous work, about a dystopian future where books are banned - and burned. "Fahrenheit 451" appears on the New York Public Library's list of books of the century and won the 1954 American Academy of Letters Award in Arts and Literature. Though the book is thought to be a comment on the political culture and McCarthyism at the time of its publication, the work also grew out of a number of ideas and themes Bradbury had explored in a few of his earlier published short stories. The book would later be adapted into a 1966 film directed by Francois Truffaut, which was nominated for the Golden Lion at the Venice Film Festival. In a contemporary review in The Chicago Sunday Tribune, writer August Derleth called the book "a savage and shockingly prophetic view of one possible future way of life…compelling.". Fine in Near Fine dust jacket.
Offered by Whitmore Rare Books.
Inscribed Photo Signed (Carrie Fisher)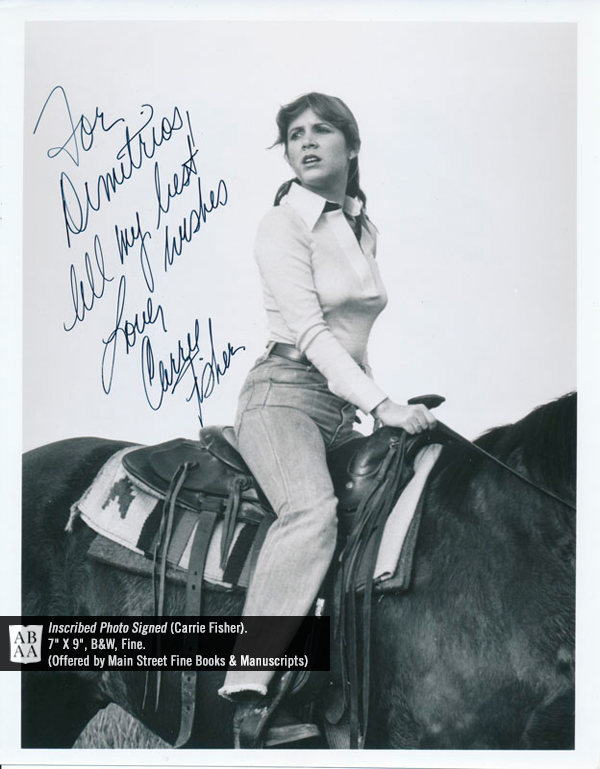 IPS, 7" X 9", n.p., n.y. Fine. Glossy black and white candid photograph of a young jean-clad Fisher astride a horse, inscribed and signed large and bold by her in black fineline in a light area at upper left: "For / Demetrios / All my best / wishes / Love, / Carrie / Fisher." A superb and early example.
The daughter of Debbie Reynolds and Eddie Fisher appeared in a wide variety of films between 1975 (Shampoo) and her death, but will always be remembered as Princess Leia in 1977's Star Wars and its sequels.
Offered by Main Street Fine Books & Manuscripts; featured in their new e-list A Selection of New Arrivals. This item is not listed on abaa.org, but can be viewed here...

The Aleph & Other Stories 1933-1969 (First Edition)
by Jorge Luis Borges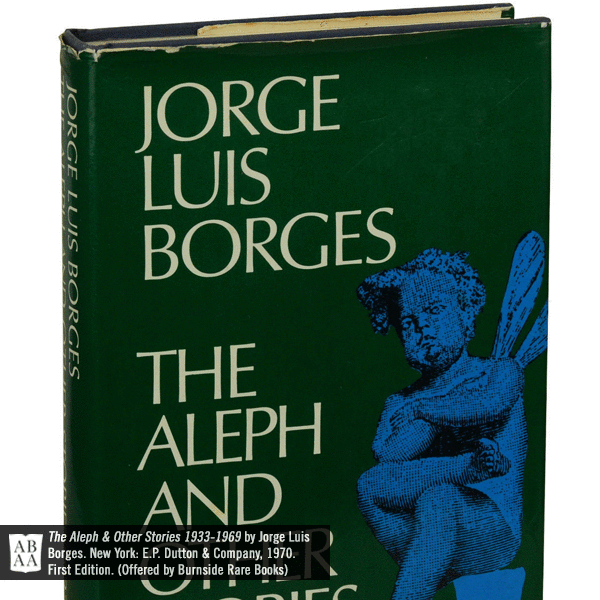 New York: E.P. Dutton & Company, 1970. First Edition. Hardcover. Very Good. First American edition. 286pp. Blue cloth with gilt lettering. Near Fine in Very Good+ price-clipped dust jacket with some wear along top edge, slight rubbing. Cloth a little sunned along edges. Some of Borges' best-known short stories debuted in English in this volume, which the translator prepared in consultation with Borges. Their goal was to have them read as if they had been originally written in English, dispensing with dictionary equivalents between the original Spanish and English, rethinking each sentence.
Offered by Burnside Rare Books.
The Black Panther: Intercommunal News Service - Vol.XII, No.17 (November 16, 1974)
by Huey Newton & Samora Machel (Contributors)

Oakland: Black Panther Party, 1974. Paperback. Contents include "Speech Delivered at Boston College, November 18, 1970" by Huey Newton, the continuation of a piece on Mozambique by Samora Machel, and articles on the acquittal of the Kent State killers, the death of Spurgeon (Jake) Winters, the People's Free Health Clinic, the Hurricane Carter trial, White Panther Party, and centerfold spread on the Oakland school system. Rear wrapper features a full-page advertisement for "All Purpose Greeting Cards" designed by Emory Douglas. Tabloid (38cm); illustrated newsprint wrappers; 24pp; illus. Three old horizontal folds, original recipient's printed address to lower front wrapper, with a few tiny edge tears; Very Good+.
Offered by Lorne Bair Rare Books.
The Original Chatterbox Picture Gallery, Pictures and Verse for Little Folks
Boston: Estes & Lauriat, (1879) 1880. First Edition. [176]pp. Children's Picture Book. Large Square 8vo. 10 x 8 inches. Publisher's gilt, black, and blind decorated brown cloth with chromolithographic paper onlay mounted on upper cover; patterned endpapers. Pages unnumbered. Contemporary Christmas gift inscription dated 1879. Minor rubbing at tips, one leaf with a two inch or so stress fracture, and a very few leaves with closed tears; an exceptional bright binding with bright gilt.
Very scarce heavily illustrated Victorian children's picture book issued for the Christmas holiday trade. A three-quarter-page engraving illustrates each page, beneath which is a poetical quatrain in words of one syllable.
The dramatic gilt, black, and blind-stamped decorations of its covers and spine are particularly fresh for a children's book. A chromolithographic illustration of a girl and her doll mounted on the upper cover is beautifully framed by the binder's art. A period advert described the binding as having "illuminated boards."
Charming, large-format illustrations depict scenes from daily life; events and situations that Victorian children could relate to: "The Pout-ing Boy," "Grand-pa's Dar-ling," "Go-ing to Mar-ket," "Tom-my the Boot-black," "Nam-ing the Cow," "The School-mates," "Rob-bing the Bird's Nest," and "A Won-der-ful Ba-by."
That the fancily-bound 1880 book (the date is right on the title page) was aimed for the Christmas trade is in evidence via its 1879 copyright date and Christmas 1879 gift inscription. Its first illustration is of Santa Claus wreathed in pipe smoke; this is followed by a 20-line poem which opens: "When San-ta Claus comes, with his pack full of toys, / And can-dy and cake for the good girls and boys…" Other Christmas themes seen within are the engravings and quatrains for "The Car-ol Sing-ers" and "Christ-mas Hol-i-days."
Well-preserved, large-format American Victorian children's picture book in a fresh publisher's trade cloth binding. Only four locations within OCLC, two of these being at BPL.
Offered by Ian Brabner Rare Americana, and featured in their latest catalog Short List #83. This item is not listed on abaa.org, but can be viewed here...
Bound for Glory (First Edition)
by Woody Guthrie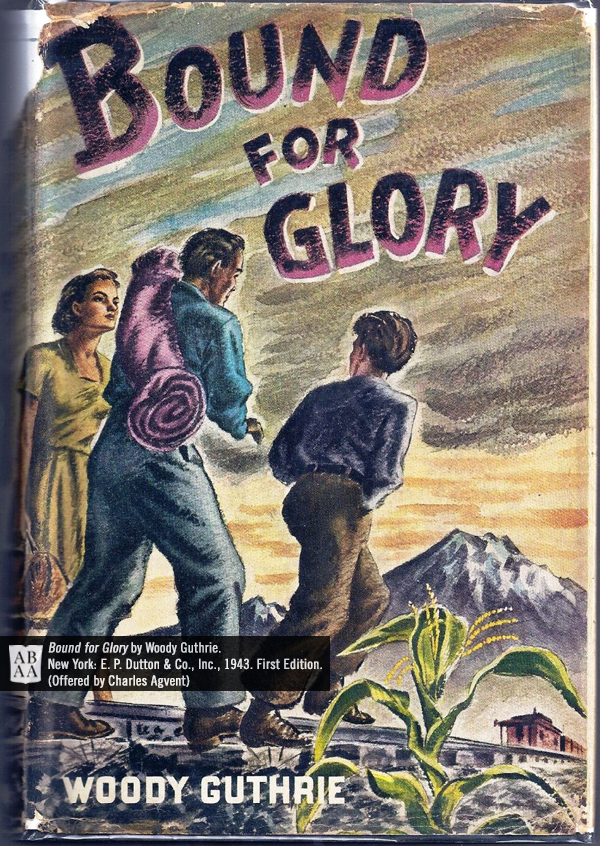 New York: E. P. Dutton & Co., Inc., 1943. First Edition. Hardcover. Small owner's address label on the front endpaper, gilt on the front cover and spine strong. The dustwrapper is bright and attractive free from any major defect but for a large chip at the head of the spine, extending to 1-3/4" at its deepest and obliterating nearly all of the title. Near Fine in a Very Good dustwrapper. Autobiography and first book by one of our greatest songwriters, author of this country's unofficial national anthem, "This Land Is Your Land." This title, quite scarce in the first edition, especially in dustwrapper, served as the basis for the Hal Ashby film starring David Carradine. Bob Dylan, in his autobiography CHRONICLES, recounts reading BOUND FOR GLORY for the first time: "I went through it from cover to cover like a hurricane, totally focused on every word, and the book sang out to me like the radio.... BOUND FOR GLORY is a hell of a book. It's huge. Almost too big.
Offered by Charles Agvent.