The ABAA Glossary of Book Terms defines a first editon, in part, as "all of the copies printed from the first setting of type," which can "include multiple printings if all are from the same setting of type." So, the term is rooted in the physical act of printing the pages of a book. But, the term also has a second meaning, specifically the first form given to a book, i.e. before any later changes (which could include corrections, additional copy, introductions, etc.) These changes, if minor, are referred to as the second (or later) "state" of the book, if major, they constitute new editions of the book.

The phrase "modern" is more difficult to define, as it has been often used as a synonym for "contemporary," thus what was considered a modern first editon in the 1940s might not be regarded in the same way in the second decade of the 21st Century. Noted bibliophile John Carter observed that the term modern first edition "is, and probably always will be, quite unstandardised" in his classic guide to the terminology of the rare book trade, ABC for Book Collectors.
For our purposes, we've culled a selection of first edition novels from the 20th century to showcase some of the first appearances of some of the canonical works from the past century. You can browse our members' full catalog of first editions here...
by F. Scott Fitzgerald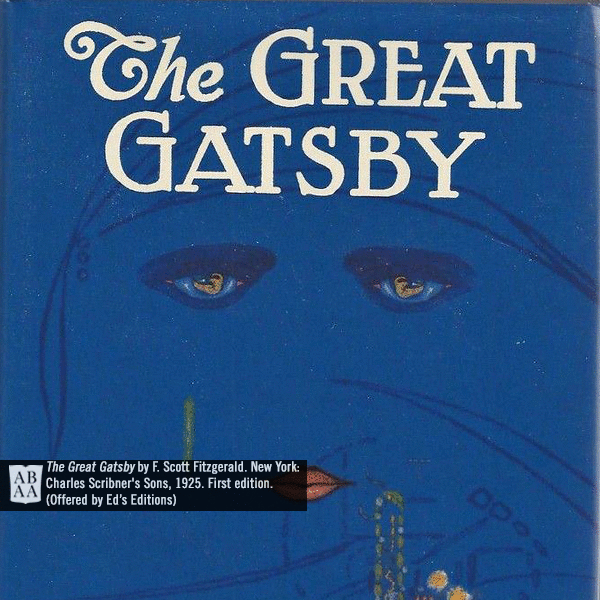 New York: Charles Scribner's Sons. Hardcover. First Edition, Matches all points on pages 60,119,165,205 and 211. Has a new wrapped facsimile jacket, green cloth boards have only minor wear with two lightened spots on the front board top edge, clean, has a good binding, name written on front free end paper- no other marks or notations. Please inquire for further info and/or pictures. Good. First Edition.
Offered by Ed's Editions, LLC.
by Carson McCullers
(New York): Houghton Mifflin Company, 1946. Fine/Fine. First edition. Fine in fine dustwrapper with a nominally faded spine, but much less so than usually found. McCullers adapted her own novel into a play that opened on Broadway with Julie Harris and Ethel Waters and won numerous awards. Waters and Harris then recreated their Broadway roles in the 1952 Fred Zinnemann film, with Harris nominated for a Best Actress Oscar. A beautiful copy and scarce thus.
Offered by Between the Covers Rare Books.
To Kill a Mockingbird (First Edition)
by Harper Lee

Philadelphia: Lippincott, 1960. First edition. Near Fine/Near Fine. A bright, attractive first edition of Lee's powerful novel.
The book is in Near Fine condition on account of gentle bumps to the corners and lower edge of the front board. Internally in excellent condition with no owner's markings and appearing unread. The dust jacket also Near Fine with a few short tears at the top of the front panel and corresponding creases, and minor wear at the spine ends and corners. Price-clipped, but price is not an issue point. A book that usually turns up much the worse for wear, this is a particularly clean copy that is new to the trade. Housed in a lovely custom slipcase with chemise.Harper Lee's Pulitzer Prize winning coming of age novel, set in Maycomb, Alabama. An American classic, the novel took over two years for Lee to write- it was inspired by her own upbringing. (In fact, Lee's father was a lawyer who had defended black clients at the cost of his practice). Its production was not without difficulty and Lee once became so angry over the course of writing the novel that she tossed the manuscript out a window. The book has never been out of print, sold tens of millions of copies, and is required reading for the American adolescent. To Kill a Mockingbird was also adapted by Horton Foote into a 1963 film, directed by Robert Mulligan and starring Gregory Peck. The film would win three Oscars. "...skilled, unpretentious, and totally ingenious." (Contemporary New Yorker review). Near Fine in Near Fine dust jacket.
Offered by Whitmore Rare Books.
by Margaret Mitchell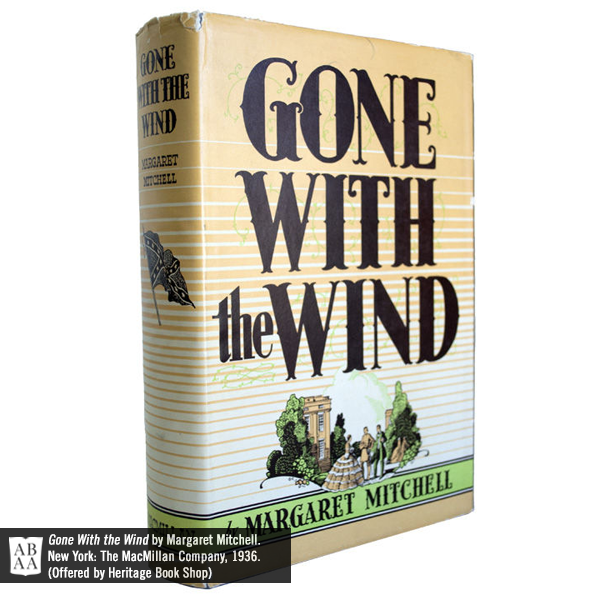 A First Edition, First Issue of "Gone with the Wind" In Dust Jacket MITCHELL, Margaret. Gone with the Wind. New York: The MacMillan Company, 1936.
First edition, first issue of book and jacket (with ìPublished, May 1936î instead of ìPublished, June 1936î on copyright page, and Gone with the Wind listed in the second column of the list of publisherís books on the rear of the jacket, instead of the first column as found in the second issue). Octavo (8 1/2 x 5 3/4 inches; 216 x 148 mm). [vi], [1]-1037, [5, blank] pp. Original grey cloth, blue-stamped front board and spine. Top edge dyed orange. In bright publisher's dust jacket. Jacket flap clipped at upper corner on front, but with $3.00 price intact. Some light rubbing to the edge of the front flap of jacket. A very minor chip to top front corner of the jacket and a few tiny closed tears and creases along top and bottom of jacket spine. Back panel of jacket with 2-inch closed tear to bottom edge, but with no loss. Overall a bright very good jacket and a fine book. This novel won the Pulitzer Prize for Literature in 1937, and was the basis of the legendary film starring Clark Gable and Vivian Leigh.
Offered by Heritage Book Shop.
Slaughterhouse Five or the Children's Crusade: A Duty Dance with Death
By Kurt Vonnegut Jr.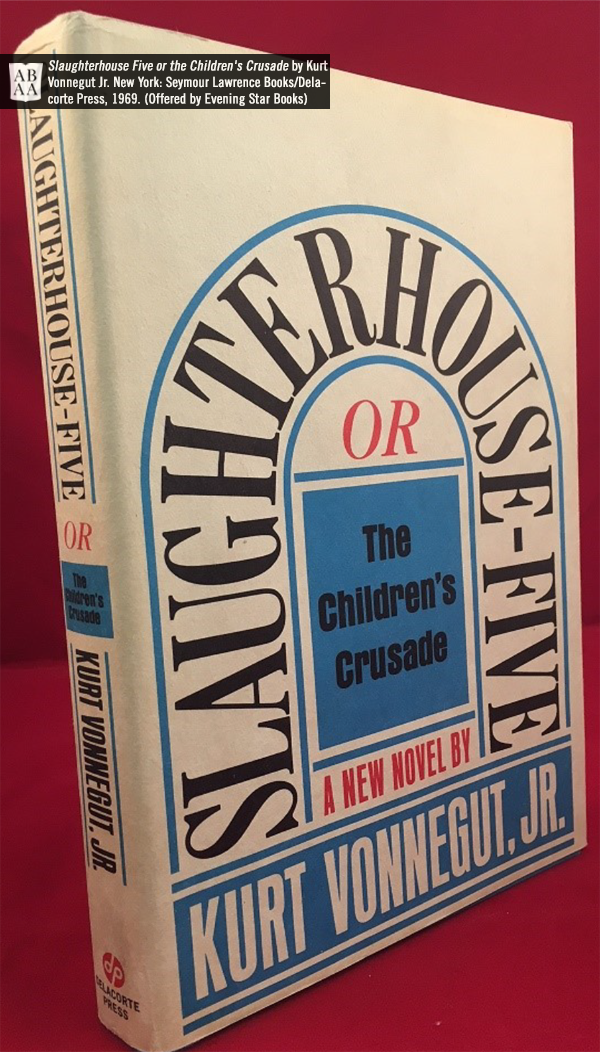 New York: Seymour Lawrence Book/Delacorte Press (1969). First edition. 186 pp. Price of $5.95 on front flap of jacket. Bright blue boards with the author's signature embossed in gold on the front board, and red, black and gold lettering on the spine. Includes the date code on the rear flap. Ahearn APG 009b. One of the Modern Library's 100 Greatest Novels of the 20th Century, included in Time Magazine's All Time Best 100 English language Novels from 1923 to 2005, and nominated for both the Hugo Award and the Nebula Award. A very near Fine book with a tiny spot of wear on the colophon page in a Near Fine dust jacket with a tiny spot of wrinkling to the crown of the spine panel and very mild toning to the spine panel. A very attractive copy of Vonnegut's influential masterpiece.
Offered by Evening Star Books, and featured in their latest e-list, "August 2018" (item #1). This item is not listed on abaa.org.
The Bluest Eye (Signed, First Edition)
by Toni Morrison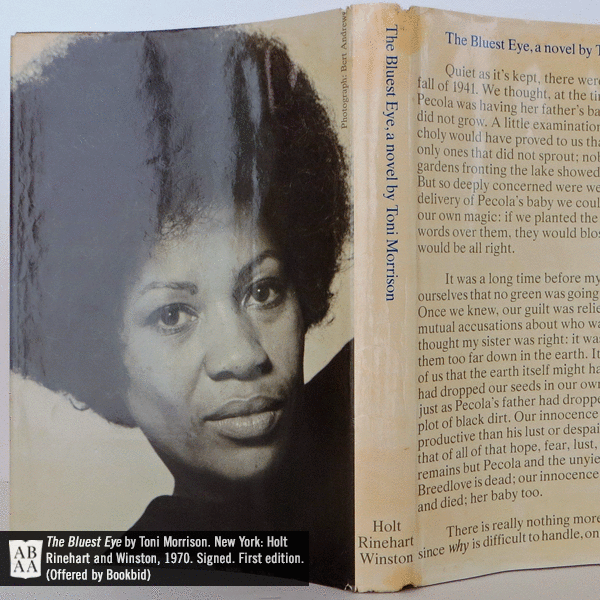 Holt Rinehart and Winston, 1970. A near fine first edition in a near fine dust jacket (with the original price and date code still present on the front flap). First Edition stated on the copyright page. Publisher's bookplate signed by Toni Morrison laid in. Previous owner's blindstamp on title page. Housed in a custom-made collector's slipcase.. Signed by Author(s). 1st Edition. Hardcover. Near Fine/Near Fine.
Offered by Bookbid.
THE HANDMAID'S TALE (Signed and Inscribed by Margaret Atwood)
by Margaret Atwood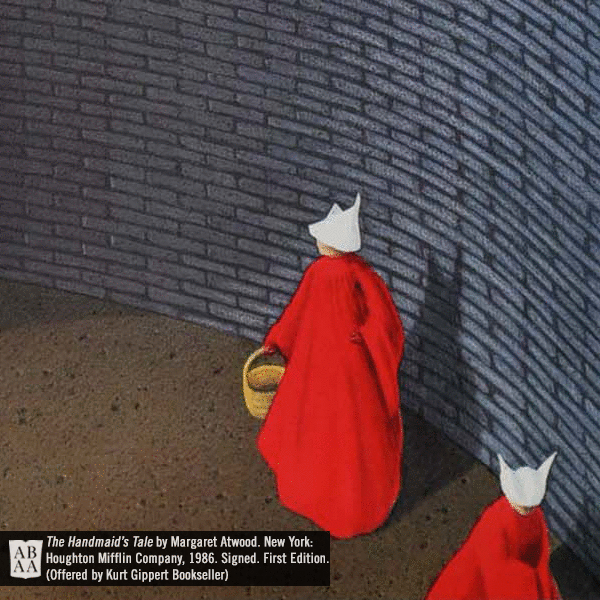 New York: Houghton Mifflin Company, 1986. Book. Very good+ condition. Hardcover. Signed by Author(s). First edition, 2nd printing. Octavo (8vo). [viii], 311 pages of text. Hardcover binding is slightly sunned/faded on the spine. The unclipped dustjacket is lightly browned on the spine with the clear finish cracking, and minor browning to the top edge, with minor shelfwear. Signed and inscribed by the author in the year of publication on the front endpaper "For [name withheld] with best wishes and regards - [signed] Margaret Atwood 1986." Front endpaper with a minor crease near the hinge. One page edge with a tiny bump. First edition, first printing withnumber line including "1" on copyright page. The text is clean and unmarked..
Offered by Kurt Gippert Bookseller.
2001: A Space Odyssey (First Edition)
by Arthur C. Clarke
New York: New American Library (NAL), 1968. First Edition. First Edition. First issue, with NAL printed in red at the foot of the jacket spine. Basis for (and released simultaneously with) Stanley Kubrick's 1968 science fiction classic, written for the screen by Kubrick and Clarke based on Clarke's short story, "The Sentinel." The standard by which all science fiction films since have been judged. Near Fine in a Near Fine, price-clipped dust jacket. Jacket has a couple of tiny, nearly undetectible closed tears, else a lovely copy.
Offered by Royal Books.
The Dispossessed: An Ambiguous Utopia (Signed, First Edition)
by Ursula K. Le Guin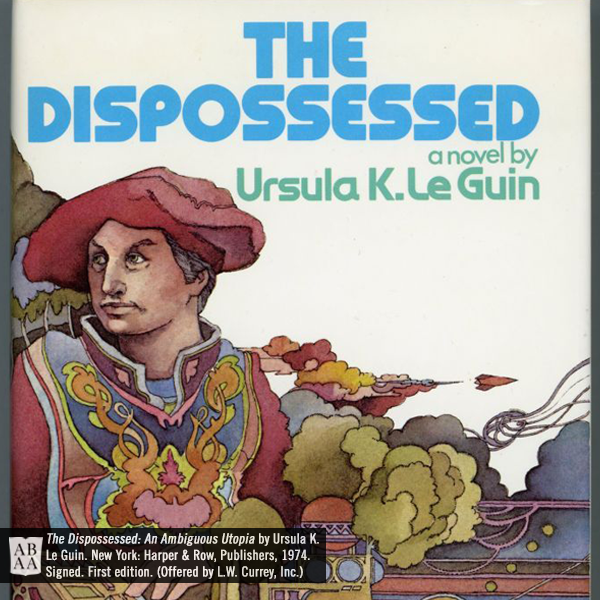 New York, Evanston, San Francisco, London: Harper & Row, Publishers, [1974].. Octavo, cloth-backed boards. First edition. Signed on the title page by Le Guin. "The novel reveals the author's understanding of anarchist theories with the idea that the personal and political growth of the individual are complementary ... [With her] complex literary, philosophical, and political construction, Le Guin challenges the idea of utopia itself and sets the basis for what has been called the 'critical utopia' -- an imperfect utopia in progress that, by questioning the very notion and convention of the genre, revitalizes it." - R. Baccolini, Fortunati and Trousson (eds), Dictionary of Literary Utopias, pp. 174-6. Winner of the 1974 Nebula and 1975 Hugo awards for best novel. Anatomy of Wonder (2004) II-640. Pringle, Science Fiction: The 100 Best Novels 74. Survey of Science Fiction Literature II, pp. 548-53. A fine copy in fine dust jacket.
Offered by L.W. Currey.