Feast your eyes on some of the rare books and related items that will be available exclusively at the ABAA Virtual Book Fair: Boston Edition, November 18-20, 2021. The dealers offering these items will be identified after the fair opens!
As Nature Shows Them. Moths and Butterflies of the United States East of the Rocky Mountains
Denton, Sherman F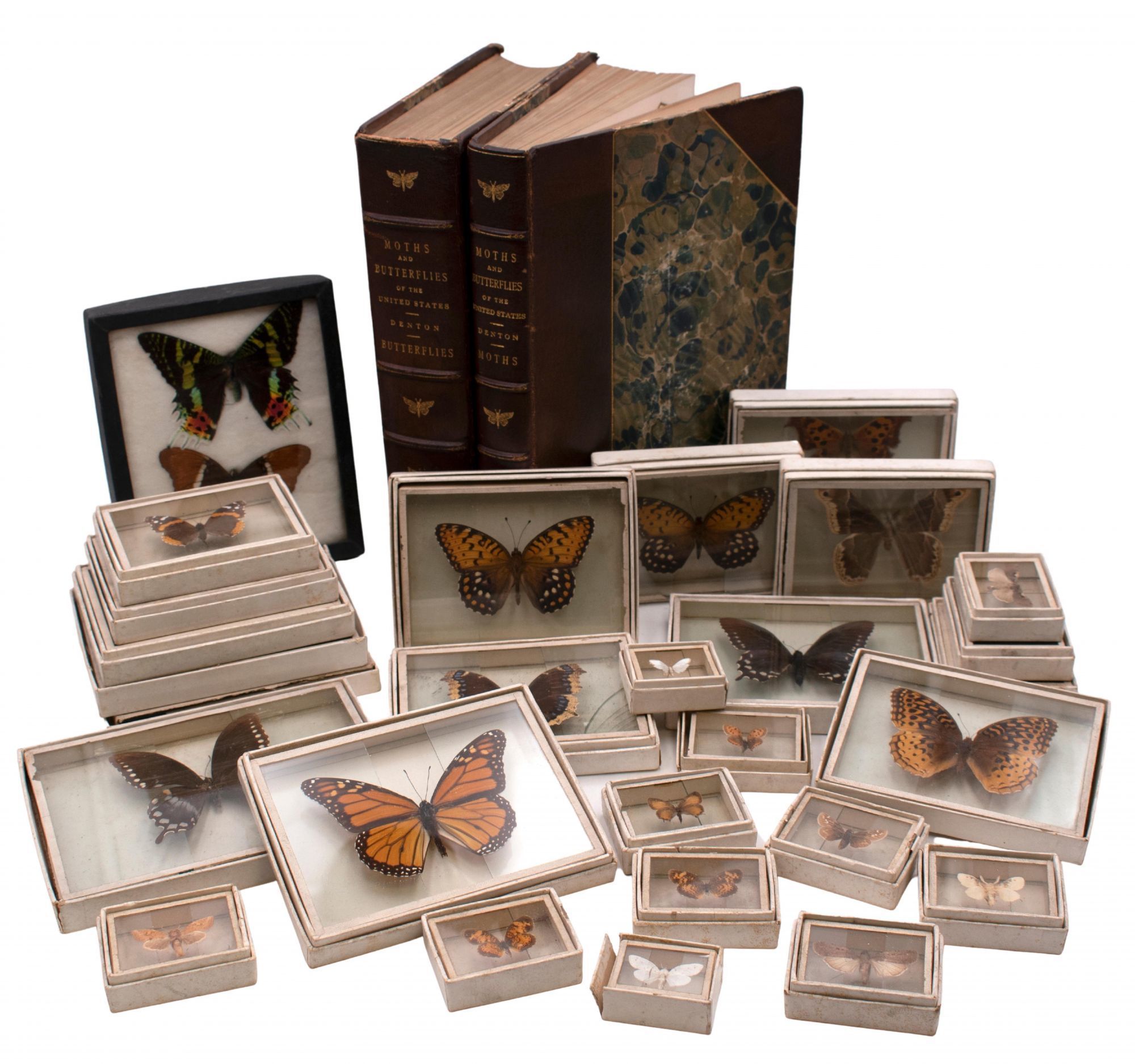 Condition: Publisher's crushed brown morocco gilt, spines tooled in gilt with butterfly decorations, a.e.g. Moderate scuffing to edges, som
Edition: From an edition limited to 500 numbered sets, this is number 183
Binding: Xvi,161; xvi,[163]-361pp. including approximately 400 in-text illustrations, plus fifty-six nature-printed and handcolored plate
Publisher: Bradlee Whidden
Location: Boston
Date: 1900
Boston: Bradlee Whidden, 1900. From an edition limited to 500 numbered sets, this is number 183. xvi,161; xvi,[163]-361pp. including approximately 400 in-text illustrations, plus fifty-six nature-printed and handcolored plates. Half titles. [With:] Thirty-one original moth and butterfly specimens. All but two moth and butterfly specimens mounted in original Denton Brothers boxes, many stamped with the Denton Brothers address (the remaining two examples in a single Riker mount). 2 vols. Large 8vo. Publisher's crushed brown morocco gilt, spines tooled in gilt with butterfly decorations, a.e.g. Moderate scuffing to edges, some rubbing and light soiling to boards, corners worn. Tiny ownership label of Canadian entomologist W.H. Harrington on each titlepage. One butterfly specimen broken. Very good condition overall. From an edition limited to 500 numbered sets, this is number 183. xvi,161; xvi,[163]-361pp. including approximately 400 in-text illustrations, plus fifty-six nature-printed and handcolored plates. Half titles. [With:] Thirty-one original moth and butterfly specimens. All but two moth and butterfly specimens mounted in original Denton Brothers boxes, many stamped with the Denton Brothers address (the remaining two examples in a single Riker mount). 2 vols. Large 8vo. Remarkable Nature-Printed Work, Accompanied by Thirty-One Original Moth and Butterfly Specimens From the Denton Brothers. From an edition limited to 500 numbered sets (this is number 183) of this sumptuous color plate book on the butterflies of the United States east of the Rockies, accompanied by thirty-one original moth and butterfly specimens offered by the Denton Brothers. This is the first time we have ever seen such actual moth and butterfly specimens from the Dentons.

The color plates in this work are quite remarkable: while the bodies are handcolored engravings, the wings are nature-printed impressions from the actual insects' wings pressed onto the paper. In the preface Denton describes his labors as he travelled widely in search of specimens: "The colored plates, or Nature Prints, used in the work, are direct transfers from the insects themselves; that is to say, the scales of the wings of the insects are transferred to paper while the bodies are printed from engravings and afterward colored by hand....I have had to make over fifty thousand of these transfers for the entire edition, not being able to get anyone to help me who would do the work as I desired it done....I will say, however, that there was never a laborer more in love with his work."

Additionally, this set comes with thirty-one examples of moth and butterfly specimens collected by the Denton Brothers, many of which are mounted in the original Denton Brothers boxes. The boxes were themselves a groundbreaking invention by Sherman Denton, in which the wings of the specimens were mounted between a glass shelf on each side of the body and a flat piece of glass on the front, effectively suspending the body of the specimen in the middle. The sides of the glass support system are sealed with a passe-partout binding. Denton's innovation was a great improvement over previous methods of displaying moth and butterfly specimens, which involved impaling them on pins and preserving them with chemicals which, ultimately, did not halt the tendency of the specimens to crumble and their colors to fade. Sherman Denton and his family produced thousands of such mounted specimens, and their work was celebrated and collected in the United States, England, and Europe. Some of the specimens in the present group have printed Denton Brothers labels on the passe-partout with manuscript captions identifying the specimen. Examples include "Argynnis idalia Massachusetts," "Argynnis cybela New Hampshire," "Philampelus achemon Connecticut," "Papilio philenor Texas," and many others.

The original owner of this set, W. Hague Harrington was a noted Canadian entomologist. Harrington worked mainly in Ottawa, and published regularly in THE CANADIAN ENTOMOLOGIST. He served as the president of the Entomological Society of Ontario from 1893-96, as well as on the ESO's council and as their Delegate to the Royal Society of London.

A wonderful limited edition set of Denton's MOTHS AND BUTTERFLIES with original moths and butterflies. Whitman, p. 33
Offered by James Cummins Bookseller.
-- --
Myologie complete en couleur et grandeur naturelle, compose de l'Essai et de la suite de l'Essai d'anatomie, en tableaux imprimes
GAUTIER d'AGOTY, Jacques-Fabien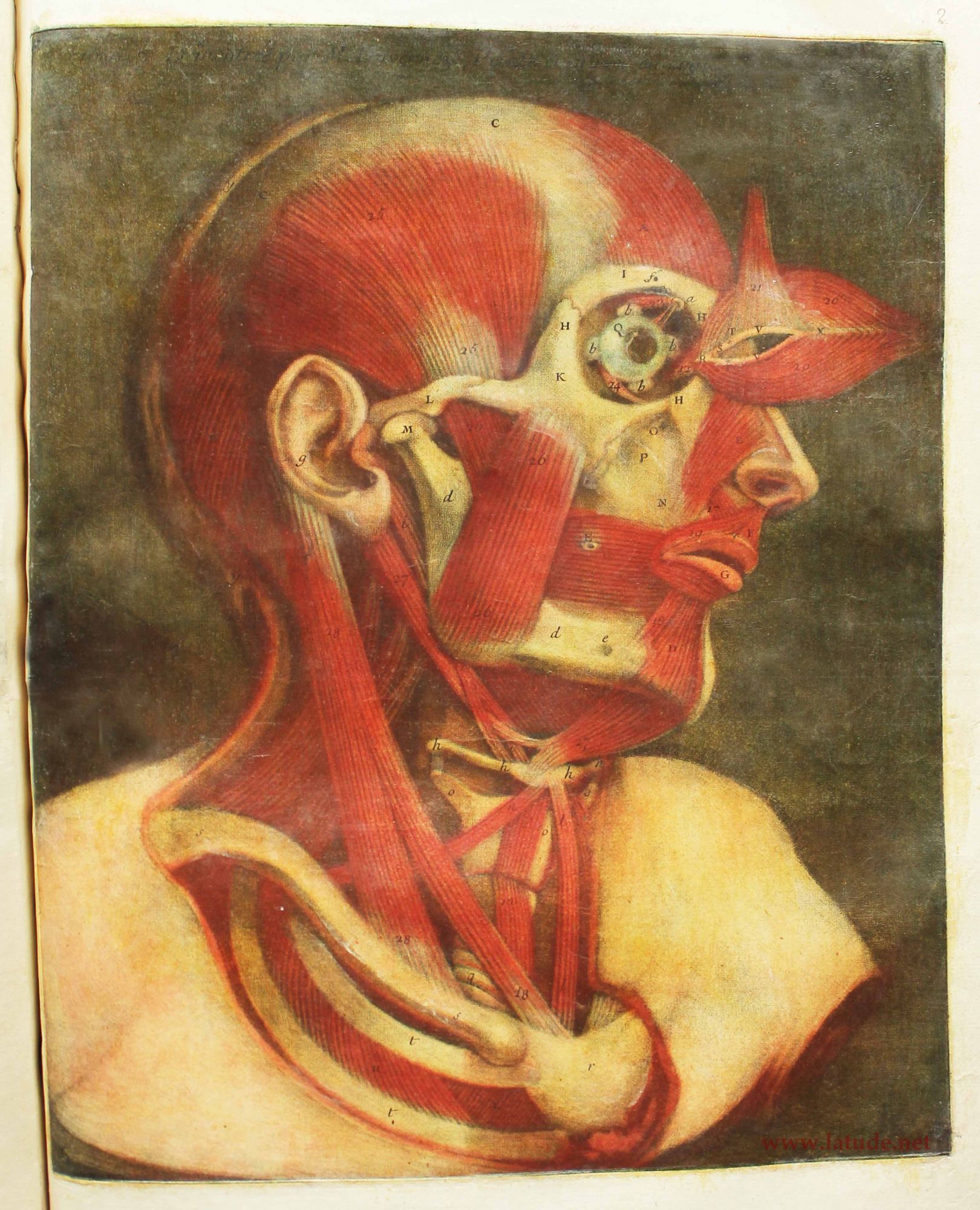 Publisher: Gautier, Quillau, Lamesle
Location: Paris
Date: 1746 (i. e. 1745-1748)
Pages: (27) ff. of text, 20 plates
Size: folio
First edition. The "Myologie" is the most beautiful work of Jacques Gautier d'Agoty, remarkable for its striking 20 mezzotints printed in color and varnished in some copies, like this one, to resemble oil paintings. It contains Gautier's most famous engraving, 'l'ange anatomique': a woman seen from behind, dissected from the nape to the sacrum, the muscles of her back stripped out like an angel's wing. In fact, this "Myology" is composed, as stated on title, of two series which have been published separately : 'l'Essai d'anatomie' which shows the muscles of the face, neck, head, tongue and larynx, with 8 plates. And 'Suite de l'Essai d'anatomie' showing all the muscles of the pharynx, torso, arms and legs, with 12 plates - of which 11 on double page. The whole work was printed during four years. This copy was bound with title and avertissement of 'Essai d'anatomie', following title and introductory pages of 'Myologie". Plates are in excellent state of preservation.
Offered by Hugues de Latude.
——
Fabulous Three Volume of the Third Voyage in Preferred Second Printing
Captain James Cook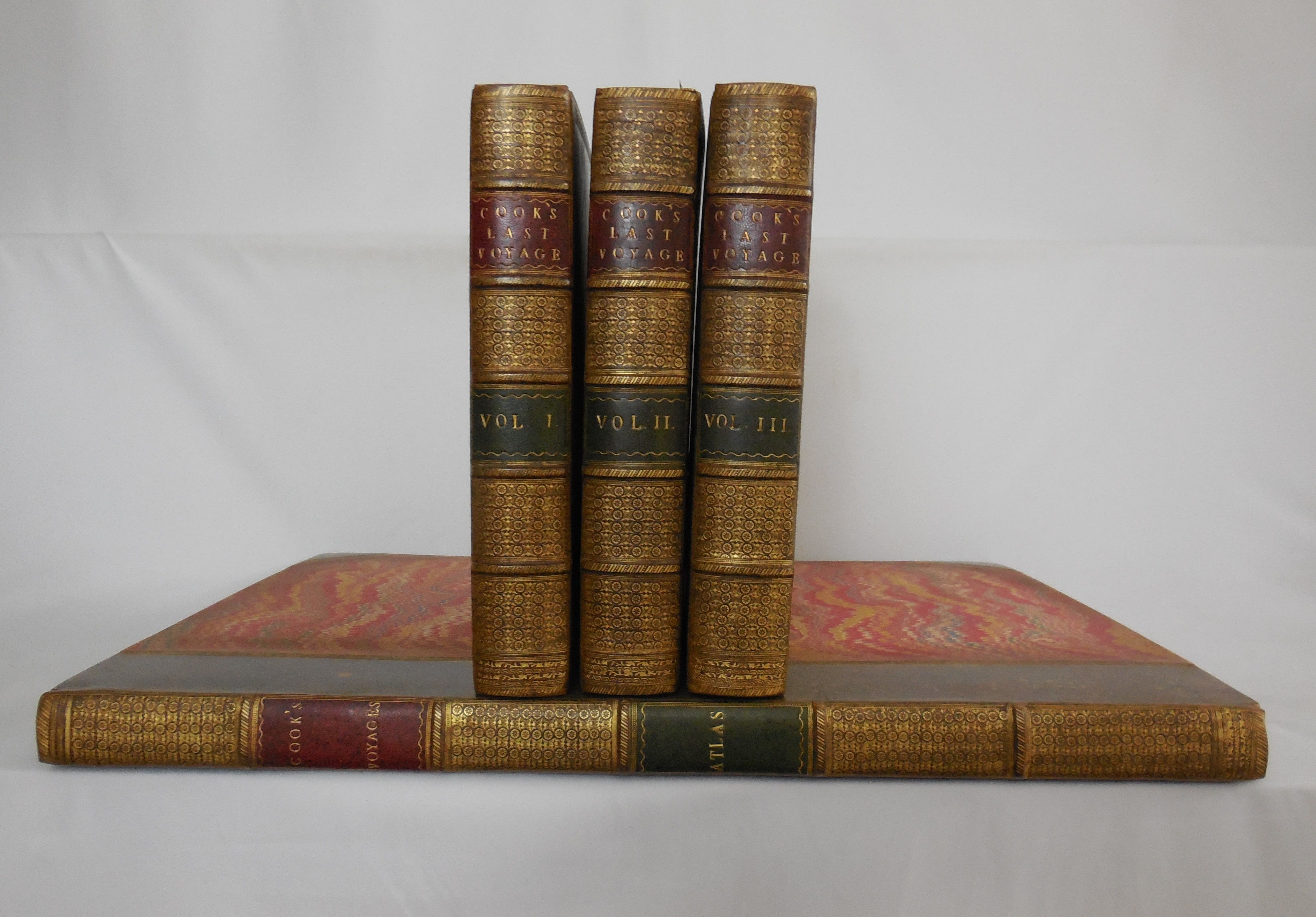 Binding: Hardcover
Publisher: H, Hughs
Location: London
Date: 1785
A Voyage to the Pacific Ocean. Undertaken by Command of His Majesty, for making Discoveries in the Northern Hemisphere. To determine the Position and Extent of the West Side of North America; its Distance from Asia; and the Practicability of a Northern Passage to Europe. Performed under the Direction of Captains Cook, Clerk, and Gore, in his Majesty's Ships the Resolution and Discovery. In the Years 1776, 1777, 1778, 1779, and 1780.
Captain James Cook (1728-1779) Greatest Explorer in History
Fabulous Three Volume of the Third Voyage in Preferred Second Printing
Text Volumes By James Cook and James King. London: Printed by H. Hughs for G. Nicol Bookseller to His Majesty in the Strand and T. Cadell in the Strand, 1785. Second Edition. Three- Quarto Volumes including 24 plates, maps, charts and views. Well struck, dark impressions. Also the Royal Society Medallion by James Hogg on the title page of each volume, Volume One: Captain Cook, Volume Two: Britannica, and Volume Three: Captain King.
Atlas to Third VoyageFolio Atlas, (22.25 inched in height by 16.75 inches in width) complete with all of 61 plates plus two charts for complete count of 63. The Chart of the World and Chart of The NW Coast of America and NE Coast of Asia are in near fine condition with crisp and accurate folds. Famous and historically significant views of South Pacific, Northwest North America exploration including the Sandwich Islands and Alaska..
Binding and Condition Expertly rebound by Richard Smart of Old English Bindery in Vancouver, Canada. Text volumes are full speckled calf with fancy floral pattern borders to boards. Also extra gilt treatment to edges. New pastedowns and endpapers match the atlas. The spines have five raised bands with elaborate gilt tooling in each compartment. Red and green morocco title and volume spine labels. Text and images in text volumes are remarkably clean and show almost no typical faint foxing and offsetting of plates.
The atlas is half bound calf over marbled boards. Marbled boards match the endpapers of the text volumes. Speckled calf treatment with extra tooling and gilt ornamentation to spine. Five raised bands with period tooling as well as special treatment to the head and heel of the spine. Gilt edge treatment to corners. Typical light scattered foxing with some spots in margins of plates in atlas, not affecting the images.
Spectacular Binding, Ultra Clean, Complete with All Plates, Maps and Charts.
Offered by Pacific Coast Books.
——
Dissertatio epistolica de formatione pulli in ovo
MALPIGHI, Marcello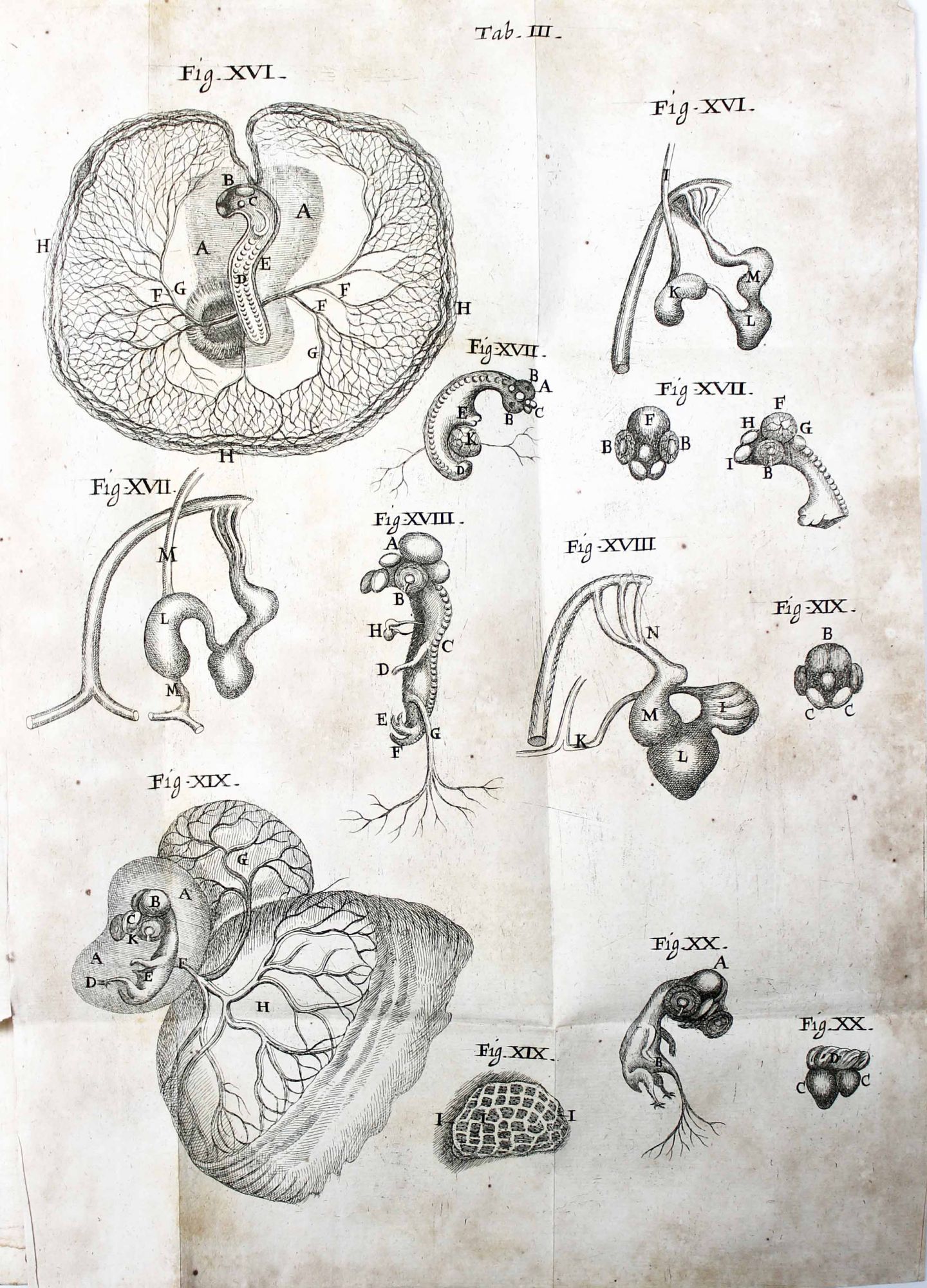 Publisher: John Martyn
Location: London
Date: 1673
Pages: (4), 42 pp., 4 plates
Size: quarto
First edition. A major work in the history of embryology. Malpighi studies in detail the development of the chick in the egg. The 4 folding plates, with 35 subjects, show all the stages of the embryo.
This book "placed the study of embryology on a sound basis, surpassing in accuracy all other contemporary work on the subject and foreshadowing some of the more important general lines of research in embryology. Garrison & Morton 469.
Paper browned. A very nice copy, wide margined in its original board. Small stamped heraldic bookplate partially faded on the title page. Norman 1429.
Offered by Hugues de Latude.
— —
Observations Made During a Voyage Round the World on Physical Geography
Important Scientific Observations Made During Cook's Second Voyage 1772-1775
John Reinold Forster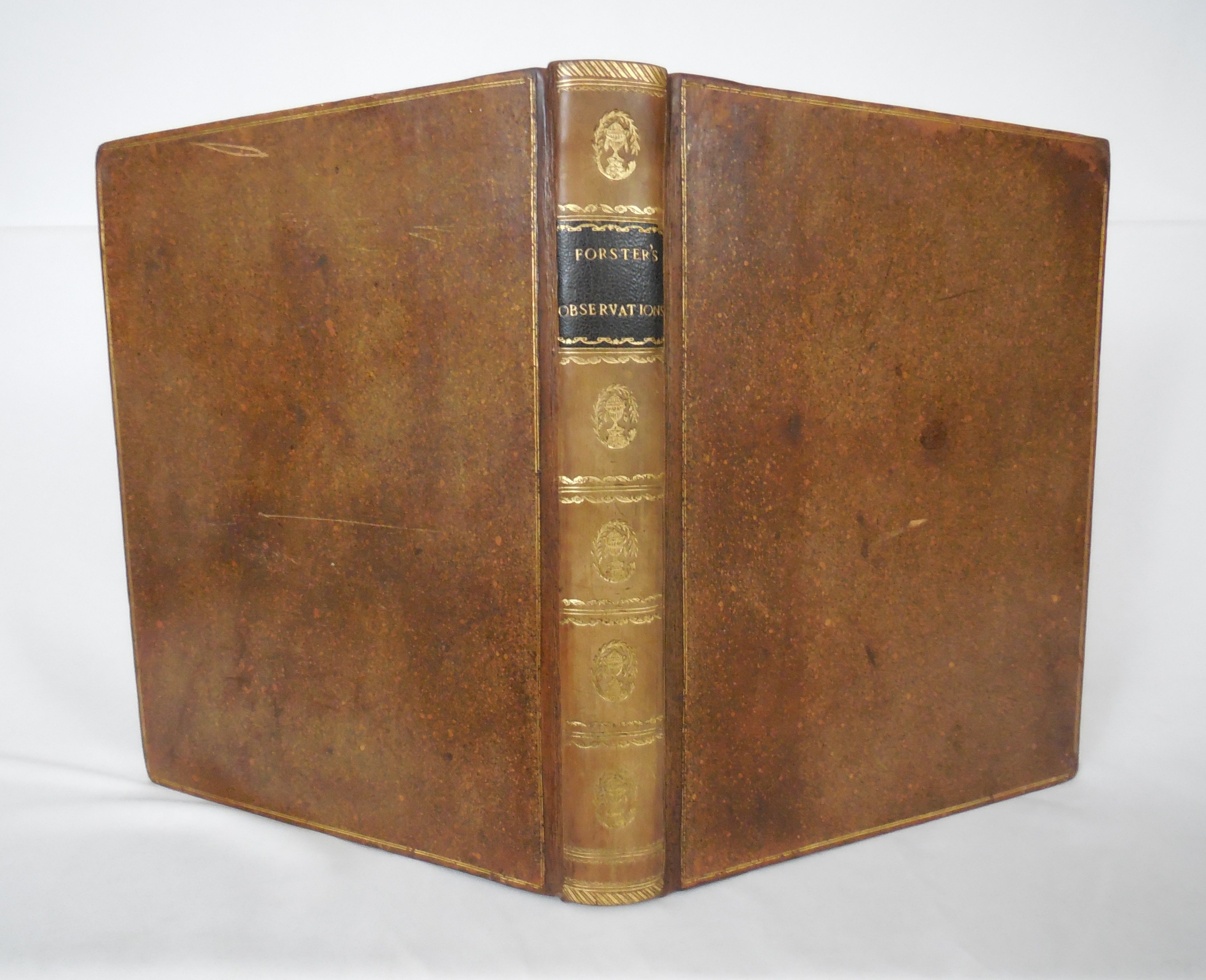 Edition: First
Binding: Hardcover
Publisher: G. Robinson
Location: London
Date: 1778
Observations Made During a Voyage Round the World on Physical Geography, Natural History, and Ethic Philosophy, Especially on: 1.The Earth and Its Strata. 2. Water and the Ocean.3. The Atmosphere. 4. The Changes of the Globe.5. Organic Bodies.6. The Human Species.
Forster, John Reinold (1729-1798) (Forster, Johann Reinhold)
Important Scientific Observations Made During Cook's Second Voyage, 1772-1775
Forster was descended from a landed Yorkshire family that had immigrated to Germany about 1642. He was educated at Marienwerder and Berlin in 1743-1748 and then against his wishes, as a Reformed Clergyman at the University of Halle in 1748-1751. He became a pastor at Nassenhuben (or Hassenhof), near Danzig, in 1753.
Forster began to maintain a wide scientific correspondence with such men as the elder Linnaeus, Thomas Pennant, and later Joseph Banks. In 1766 he was commissioned by the Russian government to undertake a survey of the Saratov-Tsaritsyn region of the lower Volga. In 1766, deprived of advancement in Russia and of his pastorate in Prussia, Forster went to England and soon became a tutor at the Dissenters' Academy in Warrington, Lancashire, teaching natural history and classical and modern languages.
Forster became known in Britain through his scientific writing. He was asked by the Royal Society of London to describe a collection presented by the Hudson's Bay Company. His papers on zoology, ornithology, and ichthyology were published in the Philosophical Transactions of the Royal Society in 1772-1773. He published An Introduction to Mineralogy in 1768, two years later he issued A Catalogue of British Insects, and in 1771 he published works on American flora and entomology.
In 1772 Forster published an edited translation of Bougainville's Voyage Autour de Monde. On February 27, 1772 Forster was elected fellow of the Royal Society.
In June 1772, Forster and his son Georg, both skilled in natural history and botany, were appointed with 10 days notice to H.M.S. Resolution bound under Captain James Cook to search for the hypothetical southern continent. Linnaeus the elder commended Forster as an outstanding man for such an appointment. Forster took on as an assistant Andrews Sparrman, one of Linnaeus' pupils. The Forsters returned with Cook in the summer of 1775.
The Voyage included a great part of the Pacific basin. In 1776 the Forsters published Characteres generum plantarum, a small, hurried, and preliminary account of the botany of the voyage. The remainder of the botanical specimens were dealt with later by Georg in Germany and by David Solander privately.
Forster's most significant publication was this book, Observations Made During a Voyage Round the World….., in 1778, the sum of his work on the physical geography, natural history and ethic philosophy. Forster read deeply in the science of the day including the work of Buffon and Torbern Bergman; he was able to test armchair hypothesis empirically against the facts of the field. Observations is a remarkable systematic study of oceanographic, geographic, and ethnographic problems in the infancy of those sciences, a study characterized by perceptive observation, analogy and experimentation. Forster predicted the scope and methods of Alexander von Humboldt's work in the same region. He also influenced Darwin's work sixty years later on the Beagle voyage. Forster also influenced the work of Blumenbach and the growing science of comparative anthropology. (reference: encyclopedia.com)
London: G. Robinson. 1778, First Edition, Quarto 11.75 inches in height by 9.25 inches in width, 649 pages, complete with folding comparative language table, and folding chart "Representing the Isles of the South Seas" also his journal, errata, and list of subscribers. FINE copy with wide margins and original yellow edge, contemporary full calf binding with spine expertly re-backed six compartments with black title block in gilt, gilt ornamentation and rule. Original marbled endpapers with bookplate of Milton Peterorough. Purchased from the library of adventurer, explorer and businessman Steve Fossett with his bookplate on front pastedown. An Exceptional First Edition.
Offered by Pacific Coast Books.
— —
(ARTIST'S BOOK). A FRAGILE WALK
In the Tackiest Binding We Have Ever Offered for Sale
BICKNELL, LES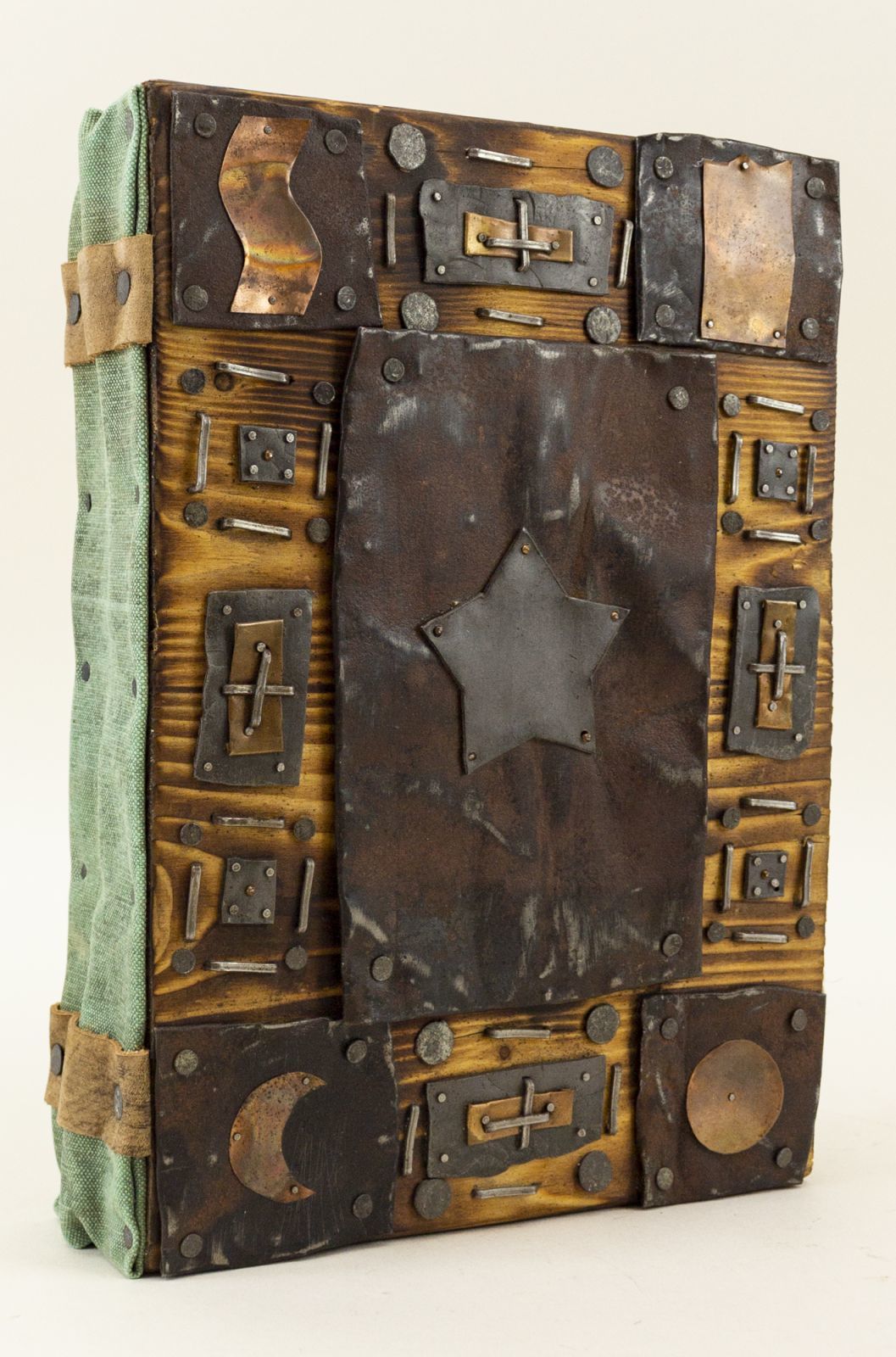 Edition: No. TWO OF FIVE COPIES HANDMADE AND BOUND BY THE ARTIST.
Location: [Sproughton, Ipswich, England
Date: 1990]
Pages: [24] leaves.
Size: 298 x 210 mm. (11 1/2 x 8 1/8").
Rustic thick wooden boards, upper cover with abstract geometrical design formed from pieces of copper or lead cut into various shapes and attached to the boards with metal brads, staples, or nails, green cloth spine with two leather yokes, four jute twine ties.
Illustrated throughout with hand-printed color images, sometimes accented with attached objects of wood or metal.
On handmade paper in shades of gray and green.
In mint condition.
In a memorable binding with both visual and tactile appeal, this eccentric work by a leading contemporary book artist incorporates a variety of natural materials to explore and celebrate all things handmade. The components here include wood, metal cuttings and staples, jute twine, and thick, textured paper, while the overall design is consciously rugged, favoring raw edges and irregular shapes over anything polished or manicured. The contents are equally bold, featuring rustic prints that are often brightly colored and coupled with brief strings of words--never more than five to a page--in a heavy typeface. Throughout the book we encounter some unexpected items in the form of wood, twine, metal cut-outs, and the like, that emphasize the materiality of the object, always reminding us of how and of what it was made. Les Bicknell (b. 1963), a Senior Lecturer in Textile Design at the Norwich University of the Arts and a prominent book artist in the UK, says of his work in general and of this item in particular: "The book [is] a symbol of power and knowledge, a tool which communicates directly; it is a form that is understood in these terms. Repositioning its context and redirecting its purpose challenges these very notions." Bicknell's work has been collected by the Victoria & Albert Museum, the Bodleian, MOMA, the Yale Center for British Art, the Rijksmuseum, and other important libraries and museums.
Offered by Phillip J. Pirages Fine Books and Medieval Manuscripts
— —
(VELLUM PRINTING). LEAVES, OFFERED INDIVIDUALLY, FROM A BOOK OF HOURS PRINTED ON VELLUM, ALL WITH LIVELY BORDERS, AND SOME WITH FINELY HAND-COLORED MINIATURES
A Wide Range of Vellum Leaves from a Printed Book of Hours, Including Exquisitely Painted Full-Page Miniatures
Publisher: Simon Vostre
Location: Paris
Date: ca. 1502 [calendar 1502-20]
Size: 177 x 112 mm. (7 x 4 3/8").
Each leaf with at least a few (and some with many) one-line initials painted in gold on a red or blue ground, occasional two-line initial similarly painted, rectos and versos with FULL METALCUT BORDERS incorporating various floral motifs, acanthus, animals, putti, grotesques, biblical scenes, and imagery from the Dance of Death, THESE LEAVES EACH WITH TWO SEVEN TO EIGHT-LINE MINIATURES BEAUTIFULLY PAINTED BY HAND, with some liberties taken, over printed metalcuts.
Bohatta 745; Van Praet I, 161.
A touch of yellowing to edges of vellum, an occasional marginal blemish, but the vast majority of leaves IN BEAUTIFUL CONDITION, THE MINIATURES EXQUISITELY PAINTED and on the whole very fresh and deeply hued.
These leaves offer an array of lively and highly detailed metalcut scenes, from their border vignettes with a myriad of interesting images to the several splendid hand-painted miniatures, and taken as a whole, they comprise some of the finest examples from a printed Book of Hours that we have offered for sale. The uncolored borders, appearing on each recto and verso (except those pages with full-page miniatures), contain scenes that range from the delightful to the disturbing: jolly hunting parties and mischievous putti give way to apocalyptic scenes showing stacks of dead bodies and the gates of Hell, while in images from the Dance of Death, a skeleton sidles up to and claims members from all strata of society. Simon Vostre, a publisher and bookseller with premises on the rue Neuve near Notre Dame de Paris, was described by Fairfax Murray as "pre-eminent" among those who produced Books of Hours in this period, and it is easy to see why: the present leaves reflect both a refined sense of design in typographic terms and an obvious commitment to careful presswork. Vostre also collaborated with illuminators, and the quality of the hand-painted miniatures here reveals that the original work would have been an expensive endeavor. The artists at work here prove their skill with an harmonious palette (mostly red, blue, and gold, often offset by green) and notable achievement in detail--garments and hair highlighted with gold, faces carefully molded and delicately rouged--to create balance, depth, and allure. Taken from a very defective Book of Hours, the small miniatures here feature images of various saints, while the leaves with full-page miniatures feature scenes from the life of the Virgin, the life of King David, and the Passion Cycle--but also include two that are more unusual: the Feast of Dives, and Augustus and the Tiburtine Sybil. Besides their obvious aesthetic appeal, these leaves also help to tell the story of the gradual shift from manuscript to print and encourage further study of the iconography, typography, and artistic processes that they possess.
Offered by Phillip J. Pirages Fine Books and Medieval Manuscripts.
— —
Voyages en Guinée et dans les îles Caraïbes en Amérique
Isert, Paul Erdmann (1756-1789)
Condition: About very good
Edition: First
Binding: Paperback
Publisher: Chez Maradan
Location: Paris
Date: 1793
Pages: viii+343+[1-48] with frontispiece, folding plate, tables and index.
Size: Octavo
viii+343+[1-48] with frontispiece, folding plate, tables and index. Octavo (8 1/4" x 5 1/4") bound in original paste-paper wrappers. First French edition, first published in German 1788.
Paul Erdmann Isert was a German botanist. He was the first scientist to identify the bird Red Bishop (Euplectes orix franciscana (Isert)'. He is also known for his attempts to end the Danish-Norwegian slave trade. He was appointed Chief Surgeon to Christiansborg (Osu, Accra) in Danish Guinea, arriving there in 1783. He sought this position because of his burning desire to collect plant specimens from West Africa. Once there, realizing that the inhabitants had no written language, he felt it his duty to record â€" for future generations â€" details of all aspects of life on the Gold Coast, as he observed them, thus creating an ethnographic, as well as botanical, work. After nearly three years on the Gold Coast Isert abruptly determined to leave the country on the first possible ship back to Europe. This was due to his extreme frustration at being hindered from exploring in Ashanti. It was on this ship, a slave ship en route from Danish Guinea, on the second day at sea, that he witnessed a slave rebellion on the open sea, which almost cost him his life. The cargo of 452 blacks rose against the whites, with a resulting loss of 34 of their number and 2 of the crew wounded after a heated battle. In the West Indies, he visited Saint Croix, Saint. Thomas, Saint John, Guadeloupe and Martinique. Sickened by the horror and human misery he saw, both in the slave-processing dungeons of Christiansborg, aboard the ship, and on the sugar plantations, Isert came up with an alternative to the abhorrent practice of the transatlantic slave trade. He found it not only inhumane, cruel and immoral, but also absurdly stupid. In 1788, Isert published his famous book Reise nach Guinea und den Caribäischen Inseln in Columbia (Journey to Guinea and the Caribbean Islands in Columbia), wherein he described his experiences with, and his views on, the slave trade. Later in the summer, he sailed for Africa and established a crown plantation, Frederiksnopel, near Akropong in the fertile and cool Akwapim Hills reminiscent of the Mediterranean, purchasing the land from the Akwapim chief, Nana Obuobi Atiemo, on behalf of the King Christian VII of Denmark. Isert and Nana Obuobi Atiemo had been comrades-in-arms during a war in 1783, waged at the Volta River, and had evidently formed a lasting friendship. With the help of Nana Obuobi Atiemo, who shared Isert's enthusiasm about the plan, paid African workers and the European group that had accompanied Isert, cleared the land and planted only easily cultivated plants, for their own sustenance. Trade products, such as sugar and cotton, would be put off until later. Isert wanted to demonstrate that the establishment of working plantations on the continent of Africa could be practical and profitable. To this end, he enlisted the aid of Ernst Heinrich von Schimmelmann, who was then the Danish-Norwegian Minister of Finance. Schimmelmann, a well-known and well-off liberal, who was instrumental in the passage of the law ending the Danish-Norwegian transatlantic slave trade, agreed to finance Isert's endeavor. Convinced of the feasibility of the plantations, an edict was issued in the name of King Christian VII by his son Prince Frederick (who was then Regent because of his father's mental illness) on 16 March 1792, which came into effect on 1 January 1803. Denmark-Norway thus bears the honour of being the first established sovereign state to prohibit the transatlantic slave trade.
Condition: Slight rubbing and sunning to spine and wrappers, title written by hand to ttitle, corners bumped and rubbed through, some page corners curled, Scant spotting. Provenance: Bibliotheque de Pomme-Gorge (bookplate) else about very good.
Offered by The Book Collector.
— —
POZZATTI, RUDY, Illustrator. PHYSIOLOGUS THEOBALDI EPISCOPI DE NATURIS DUODECIM ANIMALIUM
Edition: No. 66 OF 325 COPIES (and 25 unnumbered copies for presentation)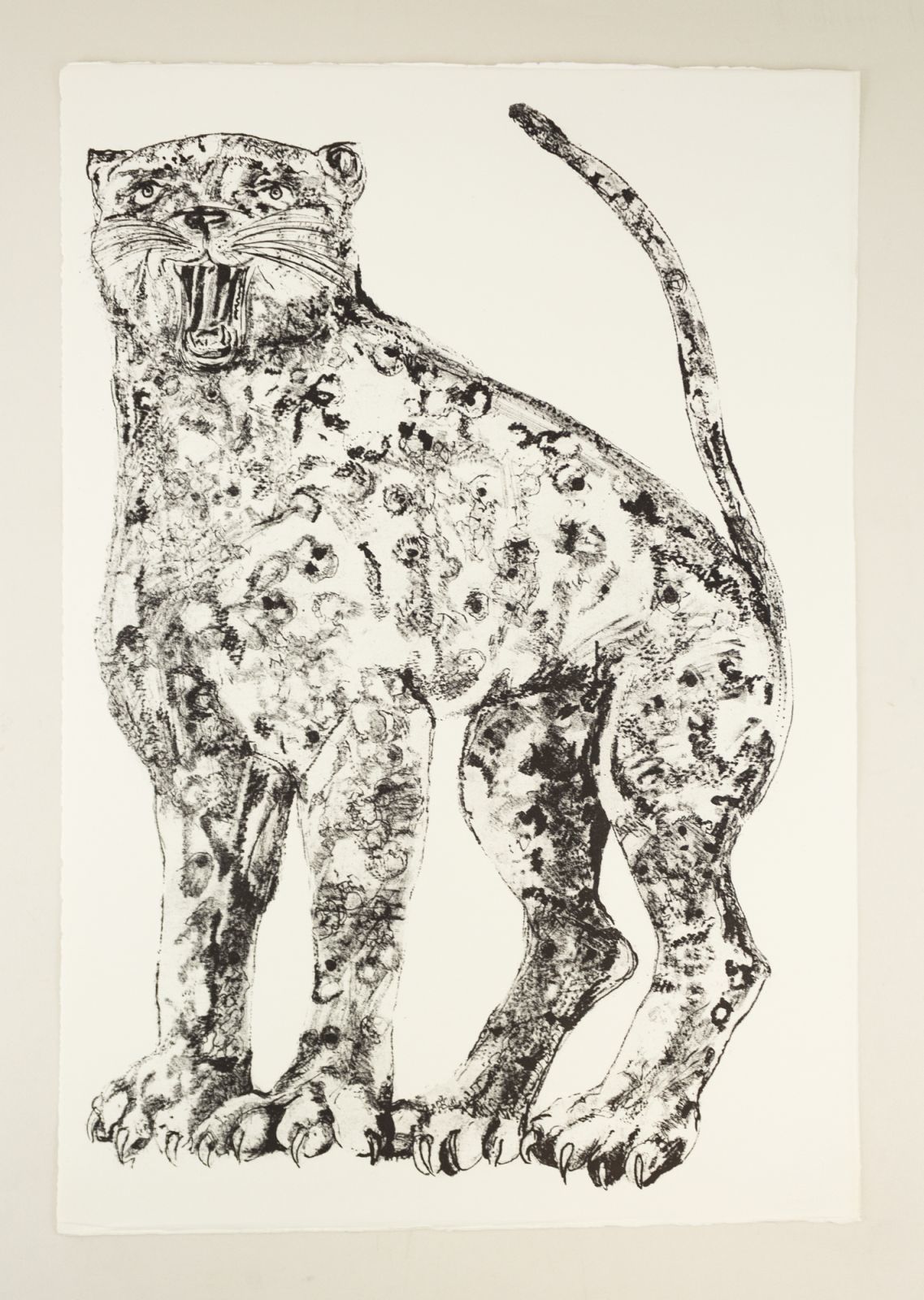 Publisher: Indiana University Press
Location: Bloomington
Date: 1964
Pages: 1 p.l., 44 pp.
Size: 510 x 350 mm. (20 x 13 3/4").
Designed by George Sadek and translated by Willis Barnstone.
Loose as issued in gray-blue buckram clamshell box, paper label with woodcut on upper cover, gilt titling on spine.
With 10 in-text woodcuts printed in gray-blue ink and 12 lithographs, 10 of which are double-page, all but one with tissue guards.
With four-page prospectus and a scaled-down lithograph laid in.
See: Norman Geske, "Rudy Pozzatti: A Printmaker's Odyssey."
In mint condition.
This special collaborative project offers a fresh interpretation of the Medieval Bestiary, combining excellent book design with a new translation, and featuring dynamic illustrations by an internationally recognized painter and printmaker. As a genre, Bestiaries have been in existence since at least the second or third century A.D., often including illustrations as well descriptions of both real and imagined creatures and their allegorical significance in the Christian context. The present work is based on a popular Bestiary text attributed to Bishop Theobald of Monte Cassino (fl. 1022-35), reproduced many times in manuscript form and first printed in 1492. According to the prospectus for the present work, this edition is "a superb example of the book as an integrated work of art," combining the talents of three prominent Indiana University professors: graphic artist George Sadek (1928-2007), poet and religious scholar Willis Barnstone (b. 1927), and artist Rudy Pozzatti (b. 1925). Geske calls this work "One of Pozzatti's major accomplishments," describing the illustrations as being "depicted with veracity . . . that is made certain in the virtuoso handling of the lithographic medium." Originally from Telluride, Colorado, Pozzatti has spent the majority of his long career at Indiana University, where he established their printmaking department and co-founded the Echo Press. His work has been exhibited in numerous solo and group exhibitions worldwide, and can be seen in the permanent collections of dozens of prominent museums in the U.S. and abroad.
Offered by Phillip J. Pirages Fine Books and Medieval Manuscripts.
-- --
[Children] American Tract Society Harry; the Boy That Did Not Own Himself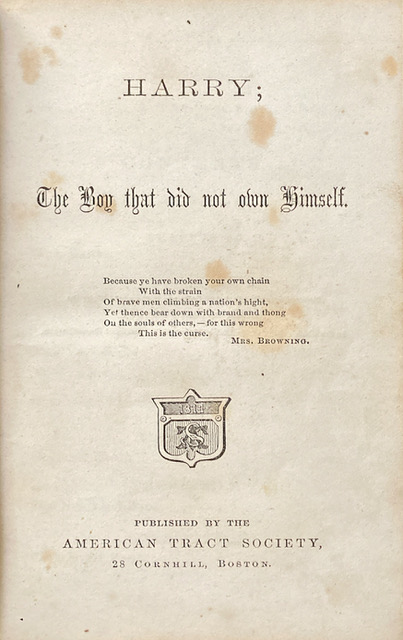 Boston: American Tract Society, 1863. First edition; 6" x 4"; pp. [8], 5-63, [3]; embossed brown cloth over boards; gilt title and decoration to spine; illustrated with two wood-engraved plates, including frontis, by "Hyde del." (i.e., John N. Hyde) and "Rudd sc." (i.e., Nathaniel Rudd); small rubbed spots to lower corners of boards and tail of spine; ffep with a penciled-in, gift inscription and upper right corner clipped; occasional, scattered spots of foxing; in very good condition.
Included in the 2012 Grolier Club's exhibition "In Pursuit of a Vision: Two Centuries of Collecting at the American Antiquarian Society" and according to the society, the book is a superb example of an anti-slavery children's book, which chronicles an African-American boy's odyssey - from his being abducted by slave traders to his escape to Canada. A turning point in Harry's journey to literacy and freedom is the moment, when he asks a white boy to teach him to read a store sign (memorialized with the woodcut plate entitled "Learning to Read.")
Offered by Z.H. Books.
— —
[WASHINGTON TERRITORY - Politics] Two Manuscript Documents Certifying Washington Territory Congressional Elections Won by Isaac I. Stevens in 1857 and 1859.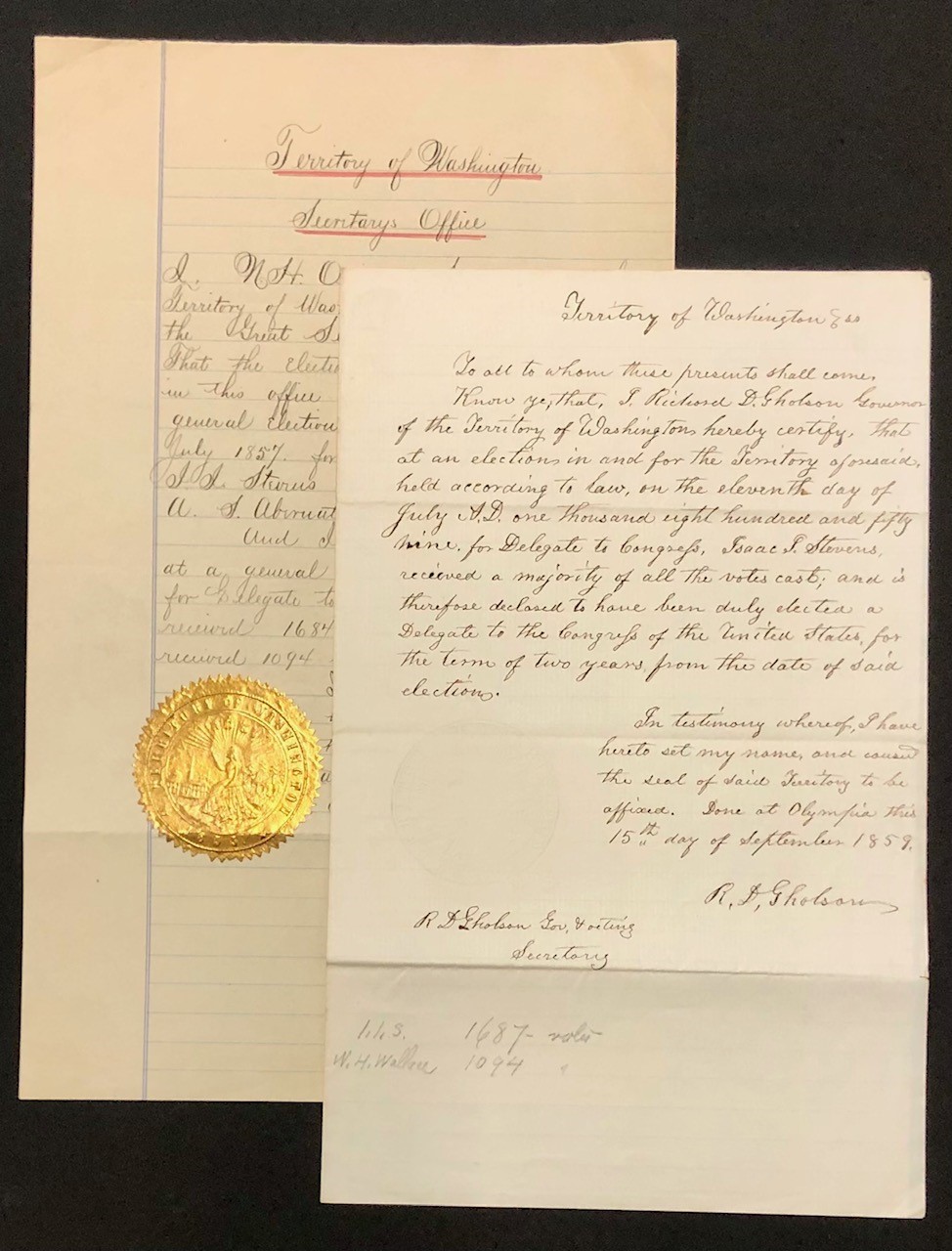 [Olympia]: [Washington Territory], 1859 and 1887. The document signed by Washington Territory Governor Richard Dickerson Gholson (signed as "R. D. Gholson" in his capacity as "Gov. Voting Secretary"), dated September 15, 1859, measures 8.5 x 14 inches. That document certifies Isaac I. Stevens as duly elected over W. H. Wallace on July 11, 1859, and is affixed with the territorial seal in blindstamp. (Gholson served as Washington Territory's third governor, appointed by President James Buchanan.) The document signed by N. H. Owings, Secretary of Washington Territory, dated October 21, 1887, measures 7.75 x 12.25 inches. (Nathaniel Owings served as Territorial Secretary from 1879-1889.) That document certifies "election returns now on file in this office show that at a general election held on the 13th of July 1857 for Delegate to Congress I. I. Stevens received 986 votes and A. S. Abernathy received 549 votes." In the following paragraph, Owings continues, "And I do further certify that at a general election held July 11, 1859 for Delegate to Congress I. I. Stevens received 1684 votes and W. H. Wallace received 1094 votes." The territorial seal is stamped in gilt.
A curious pair of documents: One, executed by Gholson in 1859, which is contemporary and certifies the election of Isaac Stevens as Delegate to Congress from Washington Territory, begs a question: Why wasn't the election certified by Territorial Secretary H. M. McGill? The other document provides deeper mystery: Executed in 1887, Owings retroactively certifies Stevens as a Delegate to Congress in the 1857 and 1859 elections. As he writes that 1857 election returns are "now on file in this office," we assume voting protocol during the early years of the territory required ongoing storage of ballots and their tallies at voting precincts until that practice was abolished in favor of centralized collection. Stevens' 1859 re-election (already certified, above, by Gholson) shows a discrepancy of votes for Stevens: 1,687 votes recorded in the Gholson certification versus 1,684 votes in the Owings certification.
In his zealous prosecution of Native Americans during the 1855-56 Pacific Northwest Indian Wars, Stevens, then Governor of Washington Territory, incurred the disfavor of territorial citizens and, indeed, President Pierce and the US Senate, by declaring martial law and arresting Edward Lander, Chief Justice of Washington Territory. Censured by the territorial legislature and facing censure from the US Senate, Stevens finagled political resuscitation through his first election to Congress. The large majority of votes he received was looked upon as vindication of the governor. Stevens subsequently served in the Civil War as US Army Brigadier General; he was killed at the Battle of Chantilly, 1862.
Offered by Long Brothers Fine & Rare Books.
— —
LE GALLIENNE, Richard. YOUNG LIVES.
Bristol and London: J. W. Arrowsmith and Simpkin, Marshall, Hamilton, Kent and Company, 1898. 12mo (7.4 in, 18.8 cm). [i-vii] viii, 9-412 [4 ad] pp.
First edition presentation copy: Richard Le Gallienne (1866-1947) was a distinguished scholar, book collector, poet, and essayist. An intimate friend of Oscar Wilde, he and Wilde dedicated poetry to each other and corresponded. A contributor to the Yellow Book, Le Gallienne achieved literary success with The Quest of the Golden Girl in 1896, and wrote almost ninety books. Oliver Henry Perkins (1843-1912) appears to have been a prominent businessman, world traveler, book collector, and patron of the arts immortalized in the National Portrait Gallery of the Smithsonian.
DNB. McKenna, The Secret Life of Oscar Wilde. Publisher's green ribbed-cloth binding with gilt lettering to spine and upper board. Provenance: pictorial cipher bookplate to front pastedown; presentation inscription to half-title page, "Oliver Henry Perkins / with sincere regards / from / Richard Le Gallienne / June '99." Slipcase in the form of a book with an elaborately gilt-decorated spine of navy blue morocco with calf labels and sides of green buckram; chemise insert in green buckram. Lower spine lightly rolled, upper rear hinge starting. Well-preserved, tight, and clean first edition presentation copy. Very good+.
Offered by Excelsa Scripta Rare Books, ABAA-ILAB.
— —-
[CRAVEN, Elizabeth]. MEMOIRS OF THE MARGRAVINE OF ANSPACH. Written by Herself.
London: Henry Colburn, 1826. 2 vols. Sm 4to. (9.3 in, 23.5 cm). [i-iii] iv-viii, [1] 2-430; [i-iii] iv-vii [blank], [1] 2-406 pp.; frontis. port. Printed in London by S. and B. Bentley.
First edition: Elizabeth Craven, Baroness Craven, later Elizabeth Margravine of Brandenburg-Anspach and Bayreuth (1750-1828) was an author of many genres including poetry, plays, and travel-writing. Horace Walpole admired her early poetry and was a friend. Lady Craven had various plays performed to benefit the poor. In defiance of social class, she staged a comedy that challenged female stereotypes at Drury Lane and attended it herself. Anspach, often alone, traveled to almost every country in Europe as a guest at the most fashionable courts.
OCLC. Blain et al., Feminist Companion 25. Robinson, Wayward Women 87. DNB. Tan three-quarter calf with burgundy marbled-paper sides, spine elaborately gilt-decorated with red and green morocco compartments lettered in gilt; bound by Tout & Sons. Top edge gilt. Portrait frontispiece of author with tissue guard to each volume. Readership: Pictorial bookplate of Ella Virginia Hobart to each pastedown; lightly penciled notations primarily to preliminary leaves. Spines lightly sunned, vol II lower joints cracked but holding, margins with occasional smudges. Well-preserved, tight, and bright first edition. Very good+.
Offered by Excelsa Scripta Rare Books, ABAA-ILAB.
— —
Escaping the war archive
European trip cut short
The Kenway family of Boston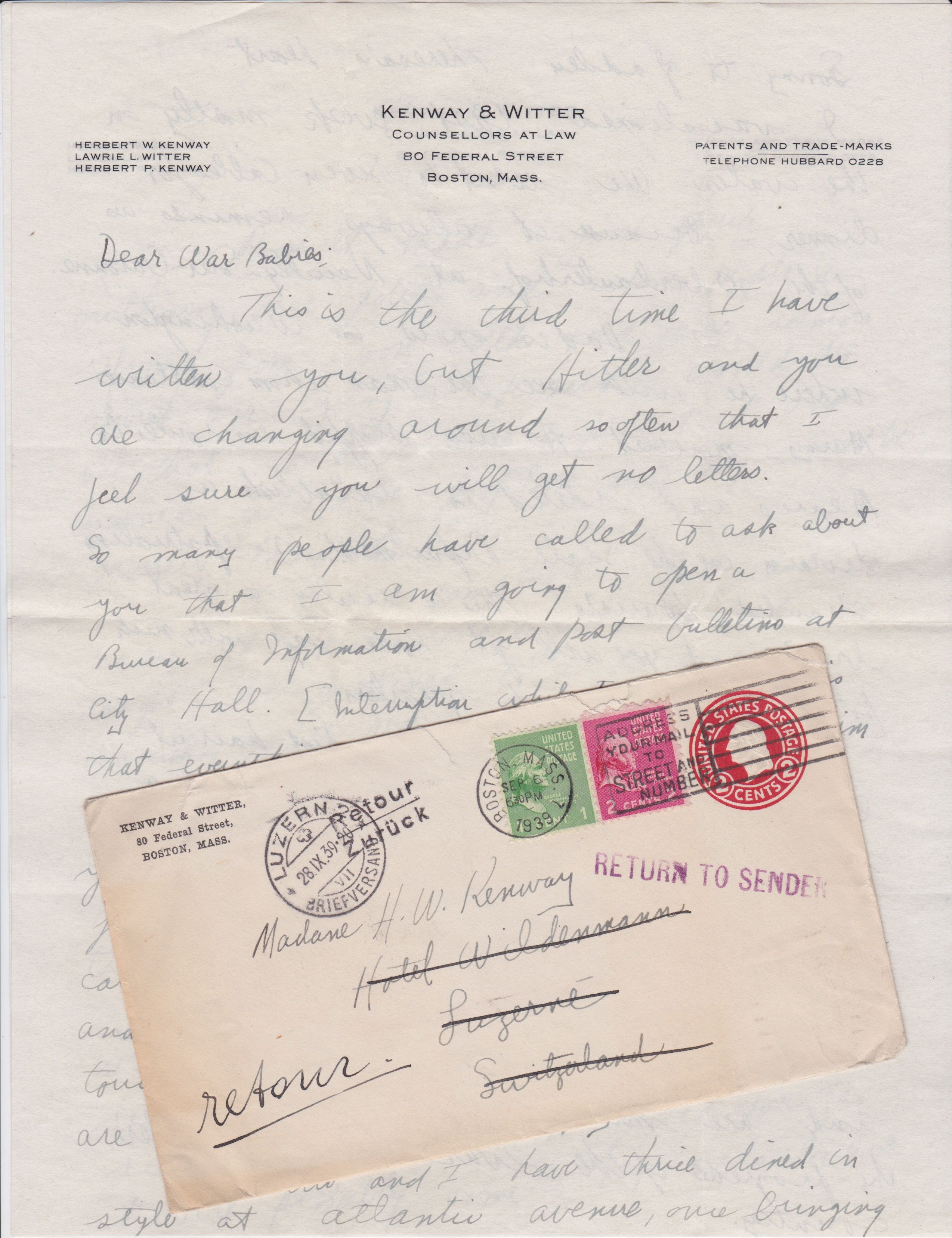 An archive of 3 letters and 7 telegrams to and from Mrs. Elsie V. Kenway and her daughter Margaret who arrived in Europe August 1939, stayed in Paris and went to Switzerland. By the end of the month they are nervous about war breaking out and notify the American Consulate in Bern. Consul John H. Madonne writes that he will notify them if it is advisable that they leave the country. Elsie cables her husband about what to do. He suggests staying in Switzerland or going to Holland to be able to take a Dutch boat in case of war. By the first week of September Herbert wires money so they can return - and they book passage on an Italian liner from Genoa to New York. 2 letters from Herbert are returned to him in October not having caught up with Elsie. "Dear War Babies, This is the third time I have written you, but Hitler and you are charging around so often that I feel sure you will get no letters."
Offered by aGatherin'.
-- --
Stop back here after the Fair opens at noon ET on Thursday, November 18 and we'll reveal the dealers offering these delights! You can learn more about the Virtual Book Fair: Boston Edition at abaa.org/vbf...