The Antiquarian Booksellers' Association of America's Virtual Book Fair: Boston Edition will take place November 18-20, in lieu of the in-person Boston International Antiquarian Book Fair. With the Fair online, everyone around the globe can attend the Boston Book Fair, one of the oldest and most respected antiquarian book shows in the U.S.
The ABAA Virtual Book Fair: Boston Edition opens at 12 p.m./EST on November 18 and will remain open continuously, 24 hours a day, until the event's closing on November 20 at 8 p.m./EST. Admission is free. Visitors will be able to interact with book, map, autograph, and ephemera sellers in real-time directly from the virtual book fair platform.
"As the leaves change in New England and the students return to Boston," Nicole Reiss, Chair, ABAA Boston Book Fair Committee, invites exhibitors to, "join colleagues in another outstanding virtual fair event." Both American and international exhibitors will offer a rich selection of manuscripts, unique ephemera, artist books, zines, as well as early American and European literature, modern first editions, children's books, maps, autographs, photographs, and more.
In recent years, at the book fairs, novice and younger collectors have been increasingly captivated by unique offerings at accessible price points. Continuing in this spirit, for attendees wanting to start a collection, there is something for everyone and dealers will offer "Discovery" items priced at $100 or less.
"The virtual book fairs have been an important way for booksellers and collectors to stay connected during this past year and a half of closures and canceled in-person events, and they have produced a number of unexpected benefits," said Sheryl Jaeger, ABAA Vice President and Chair, Virtual Book Fair Committee. "Once again, we're taking the opportunity to be together without leaving home, flying, or packing your wares. Customers can search the entire fair, quickly by product type, category, price, or keyword for those with special interests, or, if preferred, take a leisurely scroll through the aisles to visit exhibitors both new and familiar."
Special Events
Several special online events will take place during the fair. Registration for each event is required via Eventbrite...
The Harvest Festival: The History of Thanksgiving and Cookery
Friday, November 19 at 12:30pm EST
From what happened on the first Thanksgiving, to what they ate, and how it became the basis for the modern holiday, join the ABAA Virtual Book Fair: Boston Edition for an exploration into the first Harvest Festival.
Heidi Herr, Librarian for English, Philosophy, and Special Collections Student Engagement at Johns Hopkins Sheridan Libraries.
Ticknor Society Collectors' Roundtable: The World of Edward Gorey
Friday, November 19 at 2pm EST
The ABAA Virtual Book Fair: Boston Edition and The Ticknor Society present a panel discussion focused on Cape Cod-based artist, illustrator, author, and publisher Edward Gorey.
Participants are Edward Gorey House Curator Gregory Hischak, Gorey collector and book artist Patrice Miller, and Christine von der Linn, Director of Illustration Art at Swann Auction Galleries, New York.
Gregory Hischak is a writer, performer, and book artist, who also serves as the Director and Curator of the Edward Gorey House in Yarmouth Port, MA. He has been gathering Gorey-related materials and creating new exhibits for the House since 2014. The current exhibition is titled "Hapless Children: Drawings from Mr. Gorey's Neighborhood" and is on view through December 31st. Learn more at edwardgoreyhouse.org.
Patrice Miller is Proprietrix of Aredian Press, a bookbinder and Gorey collector. Introduced to his work in high school, Patrice Miller was immediately taken with Edward Gorey's humor and his skill. Gorey's work struck her as both honest and irreverent – a perfect match for a teenager's sensibilities. Nearly fifty years later, her family's Gorey collection reflects her continued fascination. After retirement from federal service, Patrice took up bookbinding and created her own imprint, Aredian Press, in 2016. With authorization from the Edward Gorey Charitable Trust, she has published two Gorey first editions: The Mourning Fan and the Worsted Monster. She plans to bind or rebind every one of Gorey's primary works. Patrice serves on the board of the Edward Gorey House, promoting his legacy and his animal welfare causes.
Christine von der Linn is the Director of Illustration Art and a 25-year veteran of the Book Department at Swann Auction Galleries, New York, the largest specialist auctioneer of Works on Paper in the world. She is also proud to be a head specialist for Swann's groundbreaking sales celebrating the cultural contributions of the LGBTQ+ community. Christine has written about, lectured, and moderated panel discussions on rare books, illustration, and cartoons, but especially loves discussing her favorite area of expertise, Edward Gorey. In addition to handling several private collections of Gorey books and ephemera, her department has offered more original artwork of his than any other auction house.
Pandemics: Personal Accounts & Printed Materials
Friday, November 19 at 4pm EST
Join the ABAA Virtual Book Fair: Boston Edition for an exploration into pandemics through personal narratives and printed materials.
Russell Johnson, Curator of History & Special Collections for the Sciences at UCLA, will present accounts from sources based in Massachusetts during the Influenza Pandemic.
Kiley Samz, Rare Book Specialist at Rootenberg Rare Books & Manuscripts, among the leaders in the fields of science, medicine, technology and natural history.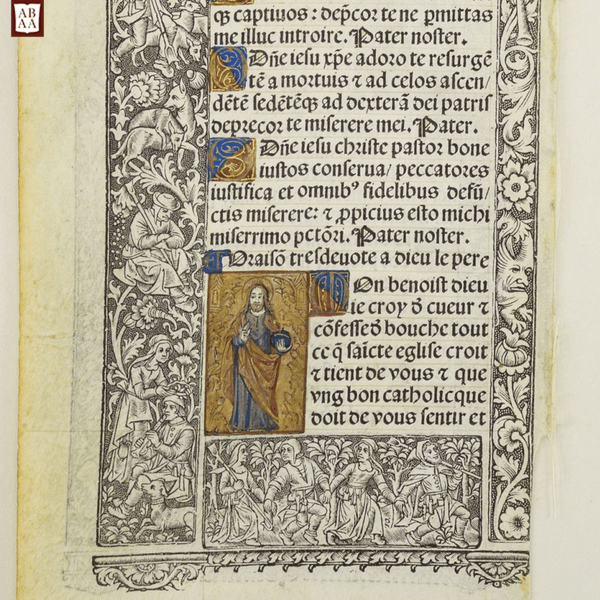 You can preview the exhibitors who will be at the ABAA Virtual Book Fair: Boston Edition here...
Be sure to bookmark abaa.org/vbf to visit the fair at the opening and sign up for email alerts to receive updates about special programming and more!