Meet the latest antiquarian booksellers accepted as members of the ABAA.
Full Members:
Keith de Lellis, Keith de Lellis Gallery LLC, New York City, NY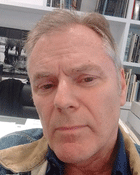 Beginning in 1970 at the age of 15, Keith de Lellis began dealing in Fine Art Photography and has done so continuously over the past 50 years. De Lellis has watched the interest in photographs grow from an exceedingly small specialized market into a major field of collecting. He started dealing when he was in junior high school and was soon selling to the Smithsonian, the Metropolitan Museum of Art along with collectors some of whom are long forgotten others who are now legends to those familiar with some of the early figures in the world of collecting art photography. The first thirty years operating as a private dealer in Manhattan and beginning in 1998 as gallery owner of the Keith de Lellis Gallery in three locations on the upper east side. First in a beaux arts mansion at 47 East 68th Street for 10 years and next at 1045 Madison Avenue for 7 years and for the past three years in the Fuller Building at 41 East 57th Street. De Lellis is known as a canny dealer who spots trends in collecting and undervalued artists before they become mainstream and popular among collectors and museums. The gallery presents five exhibitions a year.

Richard Erdmann, Mare Booksellers, Dover, NH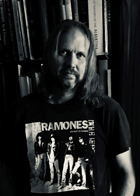 Richard Erdmann began selling books, informally, in 2001, as a way to build his personal collection; but by 2007 he transitioned to selling books as a full-time pursuit, collection be damned. Over the years, Mare Booksellers has evolved to reflect personal interests, focusing on punk fanzines from the 1970s, with digressions in underground press and other anti-establishment work. The Clash's lyric "turning rebellion into money," would best describe his business model, if it didn't reinforce his children's assertion that he's prone to sarcasm.
Happily married for over twenty years, Richard can't help feeling writing a biography is akin to filling out a profile on a dating website: when he's not pursuing, cataloguing and selling zines and books at odd hours, he spends as much time as possible outside, mostly rock climbing, or wandering the woods in search of new places to climb.
Hélène Golay, L.N. Golay Books, Washington, DC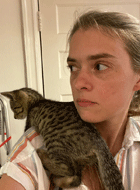 ​Hélène Golay grew up in Brooklyn and graduated with a degree in French and English Literature from Bowdoin College. Shortly thereafter she moved to College Station, Texas, where she worked as a copy cataloger at Cushing Memorial Library, the special collections and archives at Texas A&M University. After two years she made the switch to the rare book trade, apprenticing with Rob Rulon-Miller in Saint Paul, Minnesota before assuming the position of head cataloger at Lorne Bair Rare Books, Winchester, Virginia. In 2012 she founded L.N. Golay Books, which specializes chiefly in manuscripts and archives with an emphasis on women, education, and social history. She is now settled in Washington, D.C., where she lives with her husband and several cats.
Gerard Koskovich, Gerard Koskovich Queer Antiquarian Books, San Francisco, CA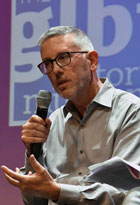 Gerard Koskovich is a bookseller and public historian who divides his time between San Francisco and Paris. He has been active as a dealer for some 30 years, largely working with university libraries including Cornell, Harvard, Princeton and Stanford to build their research collections. Koskovich specializes in LGBTQ, sexuality and gender studies; erotica; women's history; social movements; immigrant and minority cultures; French history and popular culture; and zines and ephemera. His new catalog is devoted to materials documenting four decades of the HIV/AIDS pandemic.
As a historian, Koskovich has curated numerous exhibitions and has published widely in English and French. He has presented on topics including LGBTQ history and queer book collecting at institutions ranging from the University of Oxford to the École du Louvre to Kyoto University to the Univerzita Karlova (Prague). Active in the movement to create LGBTQ archives and museums since the early 1980s, Koskovich is a founding member of the GLBT Historical Society in San Francisco. He received the 2020 Clio Award from the society for his contributions to advancing the understanding of LGBTQ history.
Kate Mitas, Kate Mitas, Bookseller, Oakland, CA

Kate Mitas entered the book trade in 2007 as a lowly clerk at Cellar Stories Bookstore in Providence, Rhode Island. After nearly seven years there, mysteriously undeterred by her almost-daily exposure to the wildly impractical nature of the book business, she began entertaining ideas of opening her own bookstore someday. She moved back to her hometown of Dayton, Ohio in 2013 and worked at a used and rare shop in Xenia, Ohio, for another year and a half, before landing a job at Tavistock Books, in Alameda, California, in 2015. There, she fell in love with the antiquarian aspect of the business, especially the ephemera, manuscripts and archival material that would later become her stock in trade. In 2017, she struck out on her own at last, and Kate Mitas, Bookseller, was born.
Located in an office in Oakland's historic district, KMB maintains an eclectic inventory with specialties in women's history, social history and movements, Californiana, and cookery. Kate exhibits at book fairs along the West Coast and online, and delights in matching the right book (or ephemera, archive, manuscript, or photograph) to the right hands. Improbably, she is still cheerfully undeterred in her love for the book trade.

Alex Obercian, Bull's Head Rare Books, Lebanon, NJ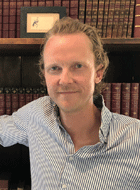 Alex Obercian founded Bull's Head Rare Books in early 2020 following some thirteen years with James Cummins Bookseller and a brief apprenticeship in the rare book room of the Strand Book Store. Continuing in the mold set by his former employer and mentor in the trade, Alex is a generalist, with stock in books, manuscripts and art ranging from post-colonial African literature and American architecture to slavery and abolition and the British Romantics. He also focuses on books related to country life pursuits — gardening and landscape design in particular — influenced by his move to an 18th-century stone house in rural New Jersey after many years living in New York City.

Bulls' Head Rare Books released Catalogue One in late 2020; Catalogue Two is in the works for late 2021, as well as a soon-to-be announced fine press publication. In addition to bookselling, Alex writes USPAP-compliant appraisals. He is a member of the Grolier Club, Bibliographical Society of America and currently a candidate for Certified Membership with the Appraisers Association of America. Alex eagerly awaits the return of in-person book fairs and travel. In the meantime, he fills his spare time with gardening, piano playing, and a busy home life with two young children.
Philipp Penka, Bernett Penka Rare Books, Boston, MA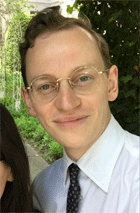 Philipp Penka was born in Germany and became a bookseller by accident while working on his Ph.D. in Slavic Languages and Literatures at Harvard. After attending CABS in 2012, he founded Penka Rare Books in Berlin, specializing in Russian and East European materials, and became a member of the Verband Deutscher Antiquare (VDA) in 2016. In 2019, he joined forces with long-time ABAA member F. A. Bernett, Inc. to establish Bernett Penka Rare Books, where he has expanded his areas of specialization more broadly into the firm's focus on arts, architecture, and visual culture. He divides his time between Berlin and Boston, where the business operates from a large office in the Leather District, near South Station, and is open to visitors. Bernett Penka Rare Books issues several catalogs per year and is a regular exhibitor at ILAB book fairs around the world.

Ted Twyman, The First Edition Rare Books, Cincinnati, OH
Ted Twyman incorporated The First Edition Rare Books in Cincinnati, Ohio, in 2016, specializing in Americana, political history, military history, and the high points of literature. Twyman's career started in corporate logistics and operations, working for large food distribution companies like Dole Foods and Sysco Corporation. While his corporate career was fulfilling, he spent his free time building the foundation for First Edition Rare Books, buying unique items of Americana, building out a reference library, developing a website, and establishing a customer base. Twyman did his undergraduate work at Cornell University and received an MBA from the University of Tennessee in 2010.
The First Edition is headquartered in Cincinnati, Ohio, with offices in Indianapolis and Vero Beach, Florida. Twyman frequently attends fairs in New York, Chicago, Florida, and California.
Erin Waters, Erin Waters Fine Photography, Lancaster, PA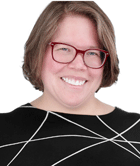 Waters started collecting photographs at age eight, following in her father's footsteps. Her focuses include pre-revolutionary Russian images, interiors, and unusual photo postcards. She has a degree in Russian Studies from Hamilton College. She spent her junior year in Yaroslavl, Russia. For her thesis, she researched the history of photography, typologies, and ideas of empire in Russia. She was awarded a Fulbright Fellowship to Russia, where she conducted an oral history and photography project with older Russian women. Waters has a Master of Arts in Museum Studies from New York University. While in New York, she interned in Sotheby's Photographs department. Her masters thesis explored vernacular photography's place in art museums, utilizing interviews with collectors, curators, and dealers.
Waters enjoys speaking about photography and has given papers at a number of international conferences on both copy photography and how people used photography in their personal spaces. A full-time dealer since 2007, she is based in Lancaster, PA, and sells at shows around the country and Europe, as well as on eBay and her family's website, https://www.finedags.com. Waters attended CABS in 2018, and looks forward to sharing her love of photographs with the ABAA, learning more about the trade, and meeting more booksellers.
Other new members:
Douglas Nelson, Nelson Rare Books, Haddonfieldm, NJ
Associate Member:
Jennifer Phillips, Evening Star Books, Madison, WI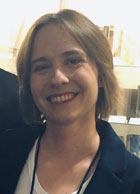 Jennifer Phillips has worked in the trade for ten years: she grew up in the world of rare books. She started her career shelving books for her dad, in their store, Evening Star Books. She grew up in Madison, Wisconsin, which is where Evening Star is based, but she went to school at the University of Minnesota, Twin Cities. Jennifer learned a lot about the book trade while in college: she worked at the Bookhouse in Dinkytown, and for Rob Rulon-Miller once she graduated college. Even though she is now based in the Madison area, she maintains her connection to Minnesota as the Manager for the Twin Cities Antiquarian Book Fair. Jennifer graduated from CABS in 2017, and now serves as a volunteer for the seminar. The rare book trade is a huge part of her life, and she can't imagine working in any other profession.