The public programs at the upcoming California Virtual Book Fair have been announced. The events are free, but pre-registration is required.
Thursday, March 4
2:00 PM EST: A Matter of Time
Join knowledgeable panelists as they explore topics ranging from horology, timepieces, the artistry and history of watchmaking, rare books and archival materials. In partnership with Vacheron Constantin.
Jonathan A. Hill is a rare book and manuscript seller specializing in science, medicine, natural history, bibliography, and early printed books.
Eric Ku is an internationally renowned collector, expert, and seller of vintage and contemporary watches.
Sigrid Offenstein is Collections and Archives Manager for Vacheron Constantin.
3:00 PM EST: Virtual Tour: What's Cooking?
WHAT'S COOKING? A virtual tour with our experts in culinary history examining the important cookery books and food- and drink-related ephemera offered at the book fair.
Ben Kinmont is an artist, publisher, and antiquarian bookseller specializing in gastronomy. He sells 15th to early 19th century books about food and wine, domestic and rural economy, health, perfume, and the history of taste as Ben Kinmont Bookseller, ABAA.
Lynda Claassen is Director of Special Collections & Archives at UC San Diego, which is home to the American Institute of Wine & Food Culinary Collection with more than 7,000 volumes about culinary history.
Randall Tarpey Schwed is a collector of books and ephemera primarily related to 20th century California gastronomy and co-author of M.F.K. Fisher: An Annotated Bibliography.

6:00 PM EST: Ranger of the Lost Art
RANGER OF THE LOST ART: WPA Posters of the National Parks
During the Great Depression, the Works Progress Administration Federal Art Project commissioned artists to create more than two million posters, but only a few thousand of these historic posters survive today.
Doug Leen aka Ranger Doug, is a retired dentist and seasonal park ranger whose made it his life's work to discover, restore and reproduce W.P.A. renderings of America's threatened public lands.

8:00 PM EST: Well Versed
WELL VERSED: Poets Ernest Hilbert and Dana Gioia in conversation about reading, writing, and collecting rare books.
Dana Gioia is former Poet Laureate of California and author of five collections of poetry, including Interrogations at Noon (2001), which won the American Book Award. Gioia also served as Chairman of the National Endowment for the Arts from 2003-2009.
Ernest Hilbert is an American poet, critic, and opera librettist. He is the author of Sixty Sonnets, All of You on the Good Earth, Caligulan—selected as winner of the 2017 Poets' Prize—and Last One Out. He lives in Philadelphia where he works as a rare book dealer at ABAA-member Bauman Rare Books. He writes about book culture and history for the Washington Post and the Wall Street Journal.
Friday, March 5
2:00 PM EST: Virtual Tour: Embracing Diversity
EMBRACING DIVERSITY: virtual tour with our specialists and scholars examining material at the book fair that reflects the LGBTQ+ experience.
Greg Williams is the Director of the Gerth Archives and Special Collections Department in the CSU Dominguez Hills Library and board member for the ONE Archives Foundation, an independent community partner that supports the ONE National Gay & Lesbian Archives at the University of Southern California (USC) Libraries, the largest repository of Lesbian, Gay, Bisexual, Transgender, Queer (LGBTQ) materials in the world.
John Durham is the original co-founder and senior owner of Bolerium Books. An activist in the struggle against the Vietnam War and for gay rights, John left school to establish Bolerium in 1981 as part of a group of five that rapidly shrank to saner proportions. Bolerium's unusual blend of specialties – including both radical politics and gay studies – derives ultimately from his experience as a political organizer dispatched to work with the gay liberation movement in San Francisco.
Sue Englander, Ph.D. is a former editor with the Martin Luther King Jr. Papers Project at Stanford, Sue specializes in materials related to the Civil Rights movement and the Women's movement. She works at Bolerium when not teaching U.S. History at San Francisco City College and SF State.
Gerard Koskovich is an antiquarian book dealer and queer public historian based in San Francisco.
6:00 PM EST: The World of Octavia Butler
Author Lynell George in conversation about her new book which offers a blueprint for a creative life from the perspective of award-winning science-fiction writer Octavia E. Butler.
This recorded conversation will be followed by a brief presentation from the Huntington Library, where Butler's papers are held. Presented in conjunction with the Book Club of California.
Lynell George is a Los Angeles-based journalist and essayist. She was interviewed by Louise Steinman, writer and independent literary curator.
8:00 PM EST: Intersection of Artists' and Antiquarian Books
Peter Koch is perhaps best known as a printer, but he is also a student of classical philosophy, a teacher, a historian of the book, and an unrepentant bibliophile. In this conversation, Koch will discuss the objects that have for nearly 50 years informed his printing and his love of the book as a material object.
Topics will include typography, "fine press" vs. "artist's book," vertical reading, and concepts such as the third stream book and materialia lumina - a new vision of the book as a "total work of art." The presentation will be grounded by images of Koch's own printing and that of his peers, but also examples of early printed books that have been his lifelong inspiration.
Peter Koch is a fine press printer and co-founder of the Codex Foundation. Beginning his career in Missoula, where he started with one platen press, he has since settled in the San Francisco Bay area and--following the San Francisco literary tradition of fine printing--has acquired an international reputation and several more presses.
Gerald W. Cloud earned his PhD in literature from the University of Delaware. Dr. Cloud has served as a curator and special collections librarian at several academic institutions, and has taught "Descriptive Bibliography" at California Rare Book School since 2013.
Saturday, March 6
2:00 PM EST: Virtual Tour: California Calls You
A guided tour of the important books and unique ephemera highlighting the Golden State.
Gary Kurutz is the retired Director of the California State Library's special collections. Previously, Kurutz was Head Librarian at the Sutro Library, Library Director of the California Historical Society, and Bibliographer of Western Americana at the Huntington Library.
Theresa Salazar is the curator of the Bancroft Collection of Western Americana at the University of California, Berkeley.
Brad and Jen Johnson are the owners of johnson rare books & archives. Brad is the president of the Antiquarian Booksellers' Association of America. Jen in the chair of the ABAA's Southern California Chapter.
6:00 PM EST: California's Young Book Collectors
CALIFORNIA'S YOUNG BOOK COLLECTORS - A review of the collections built by the winners of the California Young Book Collector's Prize over the past three years, moderated by best-selling author Amy Stewart.
Jessica Camille Jordan is the 2021 prize winner. Her collection is focused on women in subscription bookselling.
Matthew Wills is the first winner of the prize. His winning collection was on the theme of Anti-Confucian Propaganda in Mao's China.
Nolin Deloison-Baum is the 2020 winner of the prize. His collection of culinary high spots is centered around Georges Auguste Escoffier.
Amy Stewart is the New York Times best-selling author of the Kopp Sisters series of novels based on the true story of one of America's first female deputy sheriffs and her two rambunctious sisters.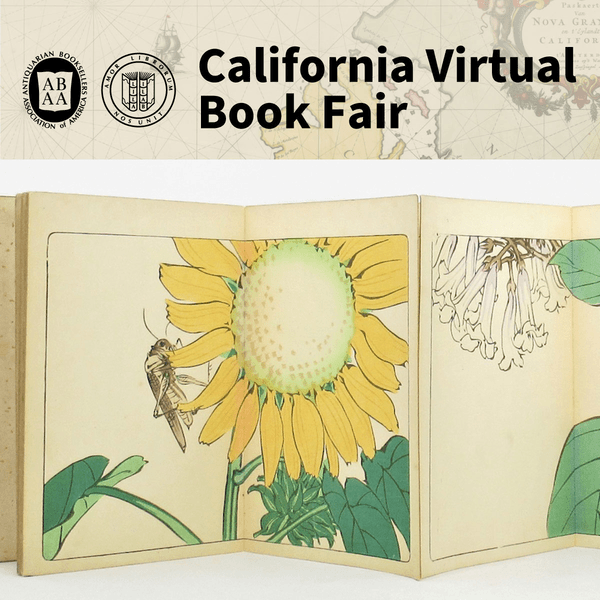 The California Virtual Book Fair takes place March 4-6 at abaa.org/vbf...