Things have changed in the Boston since the first ABAA Boston Book Fair was launched. And in a profession that deals in the old, change can be a good thing.
There were shops that were within walking distance from each other. Others were a short subway ride or car ride away. And while we're going down memory lane, let's include Cambridge and a suburb or two. (Greg, Gloucester is not a suburb of Boston, but I'll mention you anyway).
Back in the day (let's use the first ABAA Boston Book Fair as a reference point), there was Brattle, Goodspeed's, Starr, Sam Morrill, F.A. Bernett, Temple Bar, The Bromers, Mike Ginsberg, Robin Bledsoe, Ernie Morrell, the O'Neals (David and Mary,) the O'Neills (Jimmy and Gene), and Harold Burstein.
Change came about in a variety of ways. Goodspeed's lost momentum during the 1990s. As a result, George closed the 'used book' shop on Milk Street and moved his 'rare book' shop from its Beacon Street retail shop to an office. Eventually the shop closed and George died in 1997 without leaving an heir. Ernie Starr and Sam Morrill passed, too. Norm Starr ran the shop for a while, but with soaring rent, he moved to Cambridge, then further out, and eventually closed shop. Ernie Morrell had a lovely shop of dance and theater arts books on the flat of Beacon Hill. Harold Burstein, one of the founders of the Boston Book Fair, dealt from Waltham, not too far out from the City. His legacy continues, but further west, in Bernardston, MA.
The Cantabrigians also fell victim to soaring rents. Gone is Temple Bar, which became James O'Neill Books, who then dealt by catalogue only. His brother, Gene (In Our Time) is also gone. McIntyre and Moore books went under because of high rents. Fortunately, Robin Bledsoe, once Blue Rider Books, is still in Cambridge, sharing space with Harvey Mendelsohn.
The Bromers actually moved from their in-home shop in the 'burbs to their current retail location directly and aptly located across the street from the Boston Public Library. Peter Stern stopped roaming and set down roots in a retail setting. At one point he shared space with Tom Boss, Chuck Vilnis and John Wronoski. Wronoski left the ABAA, opened and then closed a shop in Cambridge. Tom is in his own space. Helen Kelly of the Boston Book Annex in that Boston abuts Brookline space, joined in with two shops with Chuck Vilnis (who is her husband). While they recently gave up their general book shop in the Fenway, their antiquarian book shop in Jamaica Plain, The Boston Book Company, is still thriving.
Boston itself has changed. Rents have been a prime mover of change. While some shops have actually closed, others have reinvented themselves by moving further out and/or operating out of their homes by appointment. Also, with the advent of the internet and online book sites, some chose to give up their brick and mortar shops to sell online.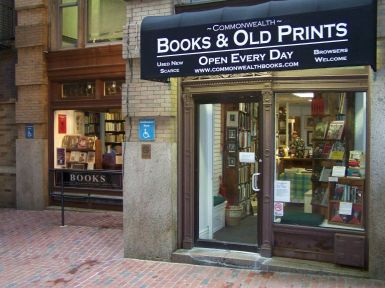 Then there are the newcomers, or at least new since our starting point in the late 1970s. Commonwealth Books, once on Boylston Street, now occupies the Milk Street space that was once Goodspeed's. They also have another location around the corner on Spring Lane. Ars Libri, operates in the chic SOWA district in the South End. On equally chic Newbury Street there's Raven and Trident.
While some of the open shops are gone, there is still an abundance of ways to find antiquarian and used books in Boston. (See the map below.)
And then there's Brattle. The Brattle's story of change is one for the books. In 1980 a fire caused by vandalism destroyed our three story wooden building. We moved up the street and rented space for four years. We were then fortunate enough to be able to buy the building adjacent to our old site. The lot where you see our outside bookshelves and moveable carts of bargain books is where the old store used to stand. The more things change, the more they stay the same? Kind of!
Book fairs, such as the ABAA fair and the satellite fair in Boston this week are where many of those dealers who do not have open shops can be seen. Another change is that there are more used bookstores than solely rare and antiquarian bookshops. This might be evidence that Bostonians are now more inclined to read books and not just collect them. And that might be the biggest change of all.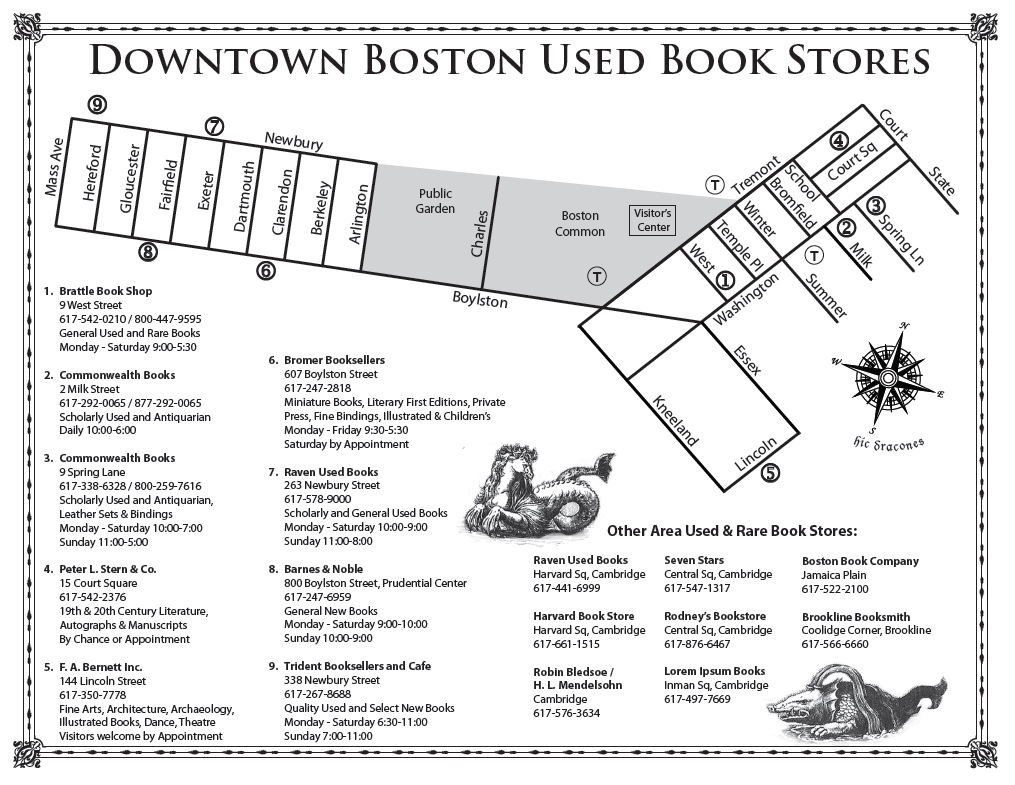 Click above to view larger map.