Note: We're reposting this article on collecting film scripts in light of the growing difficulty in acquiring copies of classic mid-century films and movie studio's reluctance to make classics available for exhibition. It was originally published in August 2019.
According to a great many people, the film (or movie, if you prefer) was the great art form of the 20th century, so it shouldn't be any great surprise that there is a large number of collectors — individual and institutional — focused on the movie business; but it might surprise many to learn that there's great interest in collecting the seemingly least-glamorous part of the entire filmmaking process — the scripts themselves.
Collecting scripts is different from collecting many other forms of printed matter, as scripts were not mass-produced (excepting the relatively recent trade-paperback editions of hit films) or made available for sale to the general public. Scripts were typed out and mimeographed; changes were printed on different colored pages and the earlier pages thrown away; scripts went through innumerable drafts, and sometimes several sets of writers; and all that before the production technicians and artists got hold of the "finished" script and began annotating it for their own purposes. There are therefore multiple different types of script and an entire language of shorthand to decipher when evaluating a script manuscript. Different eras and areas of production had their own conventions and practices, so the field is one that requires a great deal of specialized knowledge to navigate successfully.
ABAA-member Kevin R. Johnson has been specializing in film scripts since about 2004, and has recently collected some of his knowledge in a book. The Celluloid Paper Trail: Identification and Description of Twentieth Century Film Scripts has been published by Oak Knoll Press (the publishing arm of ABAA-member Oak Knoll Books) and is a guide to the conventions of script-writing, the different stages a script might go through, and the different forms of scripts — produced and unproduced — that one might encounter in the market. It's an essential reference book for collectors of film scripts, and an entertaining read for those who enjoy learning more about the golden age of Hollywood.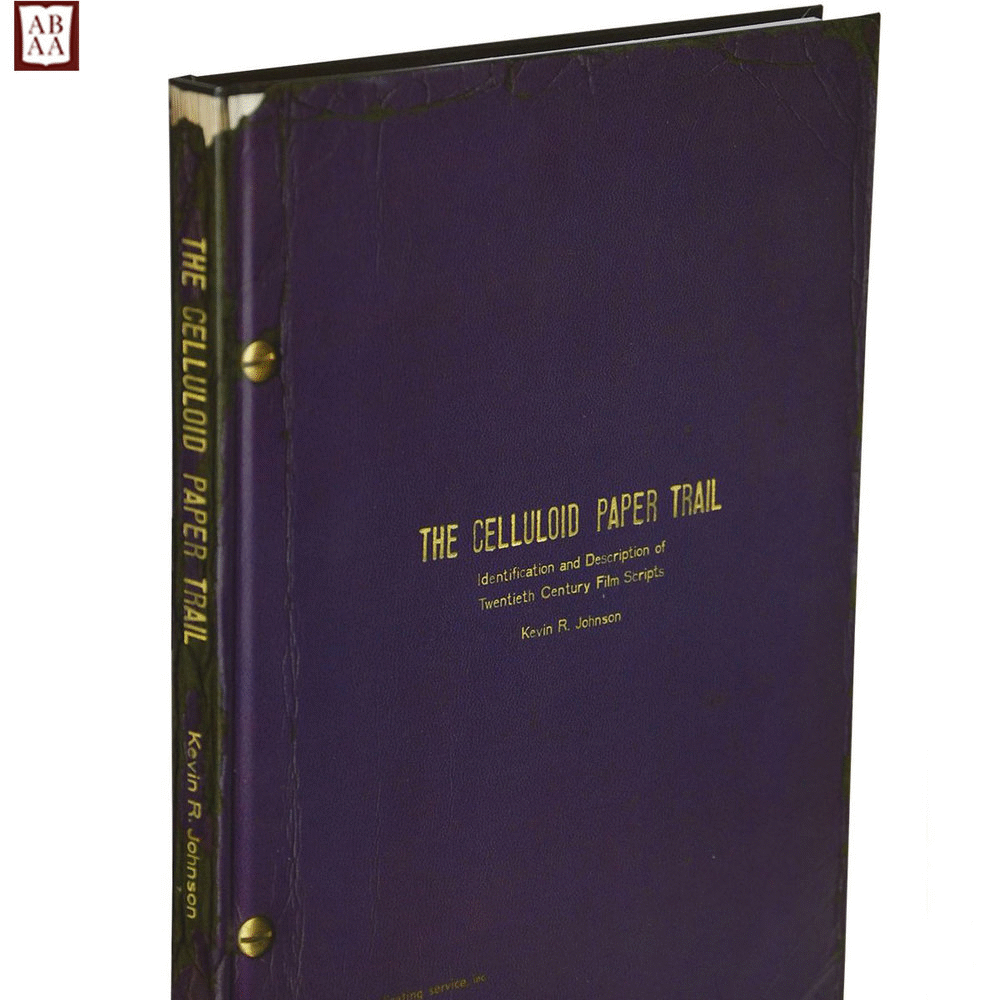 For a taste of Johnson's book, you can read the introduction by Tony Bill and Johnson's preface here…
Johnson recently gave an interview where he introduced the book and discussed some of the key issues in determining the desirability of a script: artifactual value and content value. Read this interview…
You can buy the book directly from the author, or from his publisher's website.
Featured items:
Screenplay for The Thin Man Sequel (Original screenplay, Hammett's copy, with holograph correction)
by Dashiell Hammett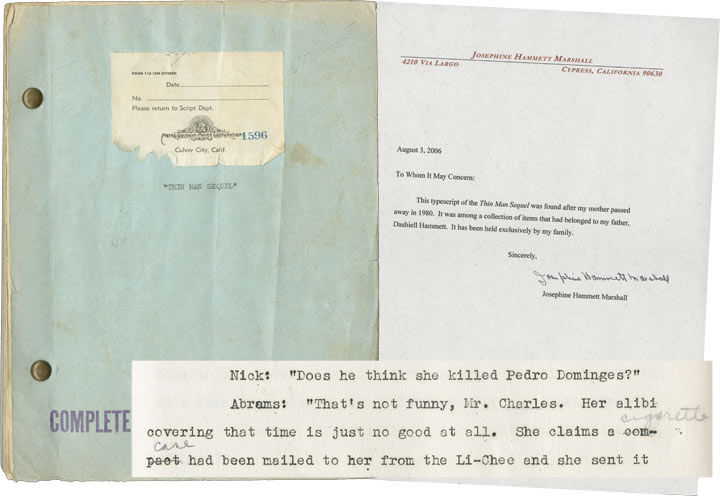 Beverly Hills, CA: Metro-Goldwyn-Mayer [MGM], 1935. Dashiell Hammett's original submitted Treatment script for the first sequel to "The Thin Man," here referred to only as "Thin Man Sequel," and ultimately titled "After the Thin Man." With a single holograph correction by Hammett, and letter of provenance from Hammett's daughter Josephine Hammett Marshall regarding the discovery of the treatment in the family's estate. The first "Thin Man" film, released in 1934 and based on Hammett's novel, was a smash hit and is today a key film in the American screwball comedy cycle. Five sequels were made between 1936 and 1947 (all starring the original acting team of William Powell and Myrna Loy), and this previously unknown attempt at a sequel by Hammett was clearly commissioned by MGM but never produced, making this script an entire unpublished Hammett work. The story is a completely original one, never reworked for the other films, very much written in Hammett's trademark style and reading a bit more like a story treatment (i.e., a novel) than a final screenplay, which is likely as far as the story got on the road to production. The piece is dated Sept. 17, 1935 at the lower right corner of the front panel, along with Hammett's name, and Hammett's name is noted in pencil next to the title label (though not in Hammett's hand). There is only one single-word correction to the entire text, at page 83 in Hammett's hand, where the word "compact" is replaced with "cigarette case." Accompanying the screenplay is a typed letter signed from Hammett's daughter (who edited a recently published collection of Hammett's letters), on her personal stationery, stating that the screenplay was discovered by Hammett's wife in 1980, and that it had been a part of the family's estate until that time. Probably one of only 2-3 copies that could have been produced, and very possibly the only copy extant. To our knowledge, no other copy of this story, in any form, has ever been recorded at auction or sold on the market. Light blue titled wrappers, with the white MGM studio label present, holograph pencil notation of Hammett's name (secretarial), rubber-stamped COMPLETE, dated September 17, 1935, with a single credit for Hammett. 115 leaves, mimeograph. Pages and wrapper Very Good plus, bound with two gold brads. In a custom clamshell box. Full pagination available upon request.
Offered by Royal Books.
[An Archive of Script Material Relating to:] SINCE YOU WENT AWAY
by [WILDER, MARGARET BUELL (SOURCE WORK)]: DANIEL, JEFFREY (PSEUDONYM OF DAVID O. SELZNICK) [SCREENWRITER]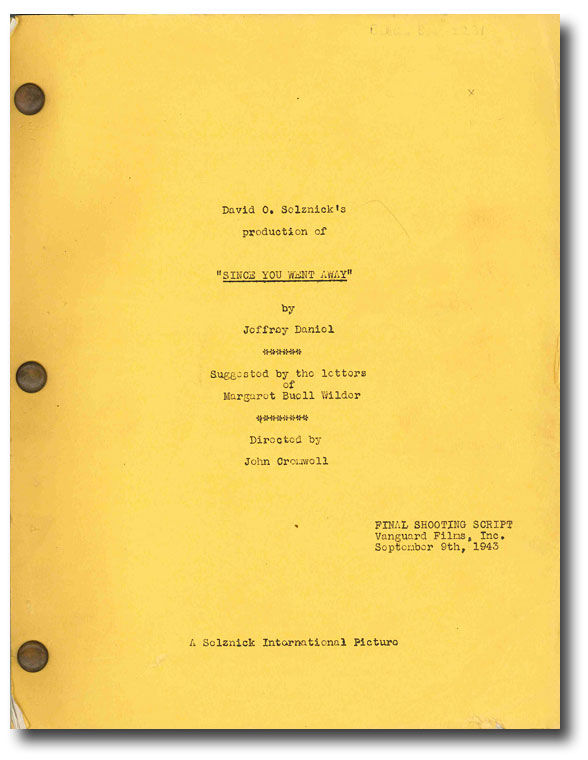 [Culver City]: Selznick International Picture / Vanguard Films, 1949. Nine volumes. Quarto. Eight items mimeographed typescript, printed on rectos only, one item pictorial wrappers. Modest use to a few wrappers, a bit of rust to a few brads, but generally very good to near fine. An interesting lot of material relating to Selznick's 1944 multi-award nominated film adaptation of, and elaboration on, Wilder's epistolary novel about the Home Front, SINCE YOU WENT AWAY: LETTERS TO A SOLDIER FROM HIS WIFE. The film was directed by John Cromwell and Selznick, and starred Claudette Colbert, Jennifer Jones, Joseph Cotten, Shirley Temple, Monty Woolley, Lionel Barrymore and an enormous supporting cast. As originally released in 1944, the film had a running time of 172 minutes; it was recut and re-released in 1949 with a running time of 130 minutes. This archive traces both the original version and the abbreviated version, and includes the following items: a) SINCE YOU WENT AWAY PART II. 9 April 1943, 82 leaves, a portion of an abstract or synopsis of the book evidently for use by the writer; b) a "Narrative Synopsis of Screenplay," 7 September 1943, [1],58 leaves; c) a doorstop of a "Final Shooting Script," 9 September 1943 - January 1944, credited to Jeffrey Daniel - a nome de plume for Selznick which he finally rejected in favor of "By the Producer" - an astonishing [2],290 leaves, plus lettered inserts, and exhibiting a rainbow of mimeo, carbon and original typescript dated revises on colored stocks at a virtual 1:1 ratio to unrevised leaves; d) 28 leaves of "Retakes / Added Scenes / Wild Lines," 12 April 1944; e & f) "Cutting Continuity" and "Dialogue Continuity" for "Foreign Version, both 20 September 1946, foliated in reel format; g) a "Dialogue & Cutting Continuity," March 1949, clearly the recut version; h) a "Spotting List for Recut Version," 22 August 1949, [2],62 leaves; and finally, i) a copy of the illustrated souvenir program for the original release. At the time, the film was the longest and most expensive Selznick production since GWTW, a project that he took on as a personal contribution to the war effort.
Offered by William Reese Company.
Yojimbo (Original screenplay for the 1961 film)
by KUROSAWA, AKIRA (DIRECTOR); RYUZO KIKUSHIMA (SCREENWRITER); TOSHIRO MIFUNE, TAKASHI SHIMURA (STARRING)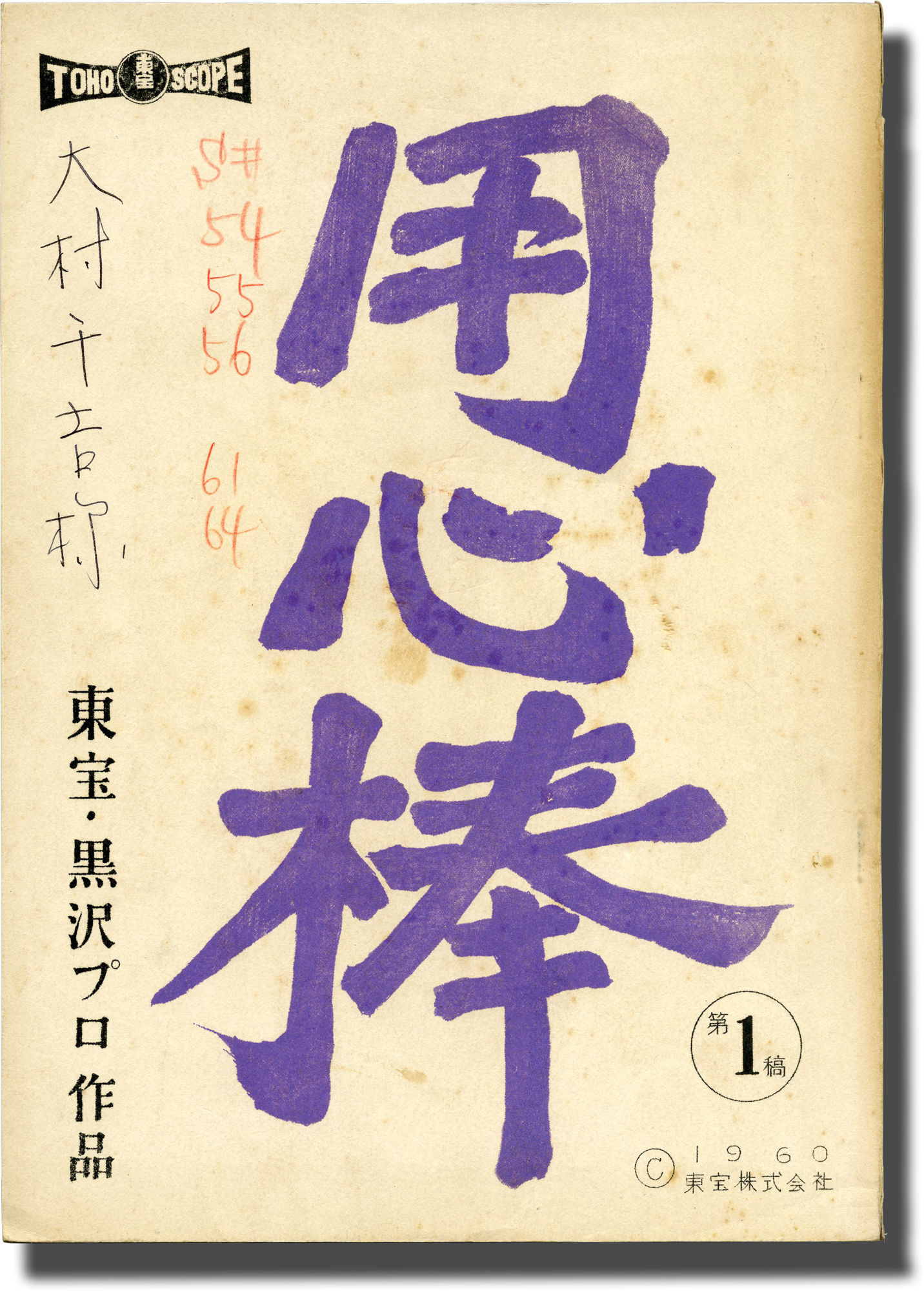 Tokyo: Kurosawa Production Company, 1960. Shooting script for the legendary 1961 Japanese film. Working copy belonging to Omura Senkichi, who played a small role as a traveling servant in the film, with his name on the front wrapper and his annotations throughout. Though not credited as such, based thematically on Dashiell Hammett's 1929 novel, "Red Harvest," and subsequently the basis for many other films, including "A Fistful of Dollars" (Sergio Leone, 1964), "Django" (Sergio Corbucci, 1966), and "Last Man Standing" (Walter Hill, 1996). Director Kurosawa has been quoted as saying that many plot elements from another Hammett novel, "The Glass Key," make up the film. All titles and text in Japanese. White perfect bound wrappers with purple and black titles. 164 pages, printed on recto and verso, right to left in the Japanese style, with last page numbered "d-33." Mechanically reproduced. Light foxing and age toning to both pages and wrapper, else Very Good condition. BFI 505. Criterion Collection 52. Ebert III. Grant Japan.
Offered by Royal Books.
Annie (Original script for the 1977 musical)
by MEEHAN, THOMAS (BOOK); CHARLES STROUSE (MUSIC); MARTIN CHARNIN (LYRICS, DIRECTOR); HAROLD GRAY (COMIC); SANDY FAISON, ROBERT FITCH, DOROTHY LOUDON

N.p.: William Morris Agency, 1973. First Draft script from 1973, for the 1977 musical, which premiered at the Alvin Theatre on April 21, 1977 and ran for a remarkable 2,377 performances, closing on January 2, 1983, setting the record for the longest running show at the Alvin Theatre (surpassed in 1979 by "Hairspray"). William Morris Agency label affixed to bottom of title page with name of agent "Jane Chodorov" written in holograph marker. Based on the Harold Gray comic strip "Little Orphan Annie," which debuted in 1924. Martin Charnin first approached Thomas Meehan to write a musical based on "Little Orphan Annie" in 1972. Meehan decided to write his own story using the characters from the strip rather than adapt any storylines from the comic strip, and frame the character in the style of Charles Dicken's orphans in "Oliver Twist" and "David Copperfield". Nominated for eleven Tony Awards, winning seven, including Best Musical, Best Score, and Best Book. John Huston would direct the 1982 film based on the play, the only musical in his 40-year directing career, featuring a blockbuster cast including Albert Finney, Carol Burnett, Tim Curry, Bernadette Peters, Edward Hermann, and Ann Reinking Set in New York City in 1933. Red vinyl untitled wrapper with titled label. Title page present, dated 3/23/73, noted as FIRST DRAFT, with credits for Thomas Meehan (book), Charles Strouse (music), and Martin Charnin (lyrics and direction). 125 leaves, with last page of text numbered II-6-48. Mimeograph duplication, rectos only. Pages Near Fine, wrapper Near Fine, bound with two silver screw brads.
Offered by Royal Books.
Barfly (Original Screenplay, 4th Revision of the 1986 Shooting Script)
by BUKOWSKI, CHARLES FOR A FILM BY BARBET SCHROEDER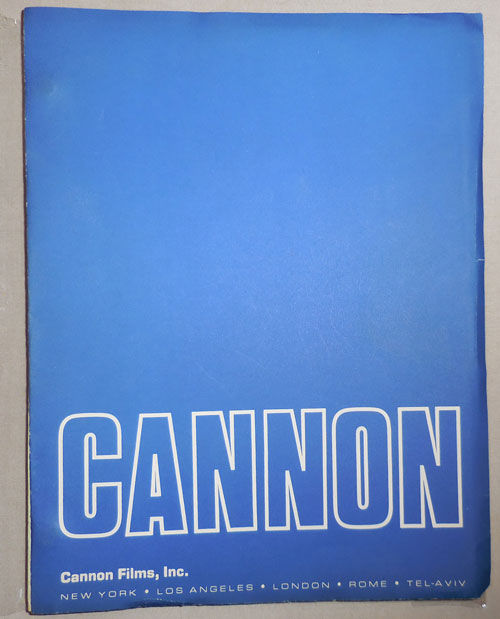 Los Angeles: Cannon Films, 1987. First edition thus. Paperback. Very Good. 4to. Mechanically reproduced sheets printed on rectos only. This is the fourth revised shooting script from Cannon Films of Bukowski's Barfly. Printed on mint green paper. Dated 01/26/87. 111 pp. Bradbound into navt blue printed covers from Cannon Films. Some age spotting to the title page, else a clean copy. The word "Barfly" hand-printed on the bottom edge of the pages in an unknown hand.
Offered by Derringer Books.
Dirty Harry: The Original Screenplay (The Revised Final Script)
by H.J. FINK AND DEAN RIESNER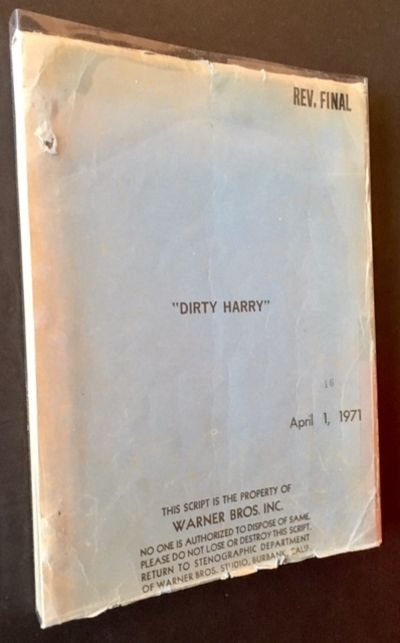 Burbank, CA: Warner Brothers, 1971. Original wraps. Very Good. The uncommon April 1st, 1971 original screenplay for "Dirty Harry", written by H.J. Fink and Dean Riesner, and produced by Warner Brothers (and, within Warner Brothers, specifically from the office of Don Siegel, who both directed and produced the film). Solid and VG in its light-blue wrappers. Crudely bound with an inconspicuous metal wire, multi-colored pages thruout (denoting scene changes, technical shifts, etc.). Very light wear along the panel edges and mild darkening at the rear panel's lower-edge. Quarto, 124 pgs., 546 separate shots. Wonderful pre-production iteration of what's universally come to be viewed as one of the great crime films of the early 70s.
Offered by Appledore Books.
SUNRISE AT CAMPOBELLO. A Presentation Script Bound in Red Leather
by Dore Schary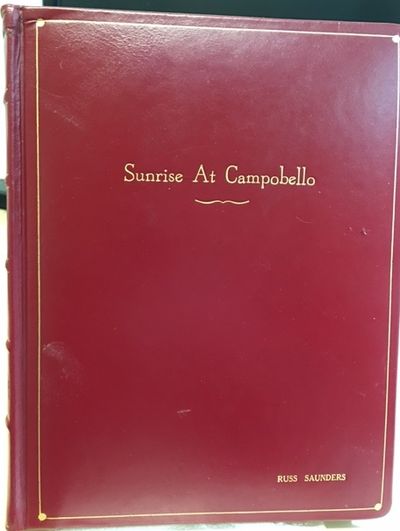 n.p.: Warner Bros, 1960. PRESENTATION SCRIPT. Hardcover. A near fine copy with minor blemishes and a few scratches. Marked "Final Screenplay" (April 11, 1960), 148pp. Directed by Vincent J. Donehue, with a screenplay by Dore Schary, who produced the film (and the play). The film starred Ralph Bellamy, Greer Garson, Hume Cronyn, and Ann Shoemaker. An ALS is bound in from Dore Schary to first assistant director, Russ Saunders, dated August 5, 1960, "Dear Russ / Thanks, my good friend / you were a tower of strength / and good sense / Best, Dore." Three black and white film stills are bound in, including the great one of Bellamy, clenching a cigarette ina holder, as F.D.R. This is the story of Franklin Roosevelt's bout with polio at age 39 in 1921 and how his family (especially his wife Eleanor) coped with his illness. From being stricken while vacationing at Campobello to his triumphant nominating speech for Al Smith's presidency in 1924. The story follows the various influences on his life and his determination to recover. The film was nominated for four Oscars; Best Actress, Art Direction, Sound, and Costume Design. Despite it being perhaps Bellamy's most famous role, it was Greer Garson who received the critical acclaim. She won the Golden Globe and National Board of Review Award for Best Actress.
Offered by Ed Smith Books.
The French Connection (Original screenplay for the 1971 film)
by FRIEDKIN, WILLIAM (DIRECTOR); ERNEST TIDYMAN (SCREENWRITER); ROBIN MOORE (NOVEL); PHILIP D'ANTONI (PRODUCER); GENE HACKMAN, ROY SCHEIDER (STARRING)

Los Angeles: Twentieth Century-Fox, 1970. Revised Draft script for the 1971 film. SIGNED by director William Friedkin on the title page. Friedkin made his name with this gritty adaptation of Robin Moore's non-fiction account of east coast drug trafficking. Perhaps the greatest of the many 1970s crime films that were shot on location in New York City, with glorious period detail in nearly every frame. The screenplay was written by author Ernest Tidyman, one year after the publication of his seminal Harlem-based crime novel, "Shaft." Winner of five Academy Awards, including Best Picture, Best Director, Best Screenplay, and Best Actor for Gene Hackman, along with three additional nominations. Orange titled wrappers. Title page present, dated October 6, 1970, with credits for screenwriter Tidyman, director Friedkin, and producer Phil D'Antoni. 95 leaves, mechanically reproduced, last leaf numbered 93. Pages Near Fine, wrapper about Near Fine, bound internally with two gold brads. Grant US. Hardy, BFI Companion to Crime. Spicer US.
Offered by Royal Books.
You'll find mor

e screenplays, as well as original movie posters, lobby cards, and related meterial in our "Cinema & Mass Media" category...