The Vietnam War was America's most influential event from 1950 to 2000. The conflict, more than any other contemporary occurrence, changed American society, foreign policy, politics and the military. Although I grew up after the war ended, I have always had an interest in the conflict and how it affected the United States. I wrote my college thesis on the use of Old Glory before, during, and after the Vietnam War era.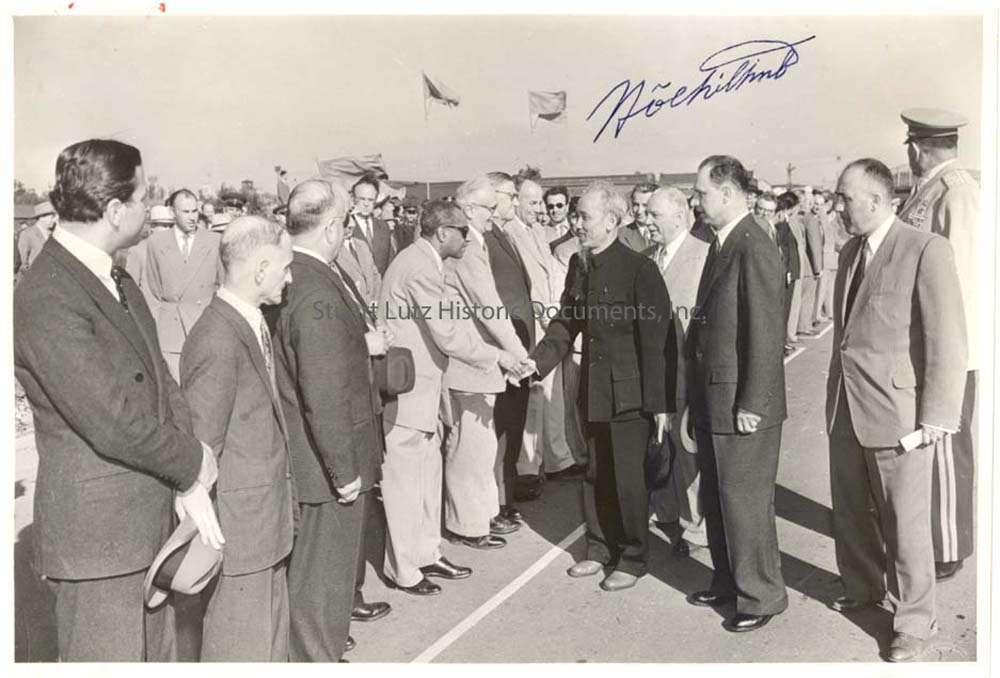 A rare Ho Chi Minh signed photograph, taken at a Soviet airport.
Based on my curiosity, I have, for the past fifteen years, been collecting all aspects of the Vietnam War – posters, letters home written by soldiers and prominent people, photographs, books, flags, buttons, medals, pamphlets, and much more. There are now thousands of items in my archive and growing daily. A few highlights of my collection include:
A rare Ho Chi Minh signed photograph

A John Kerry letter inviting a Congressman to the ceremony where he threw his war medals

A first edition of the Port Huron Statement put out by the Students For A Democratic Society

A letter by Senator Pat McNamara on the very day President Johnson signed by Gulf of Tonkin Resolution, defending the bill

A signed photograph of the legendary Marine sniper Carlos Hathcock who scored 93 kills in Vietnam

A 1970 Bill Clinton letter discussing his draft number
A book signed by many of last Marines rescued from the Saigon Embassy rooftop
A President Nixon letter to Henry Cabot Lodge, the former ambassador to South Vietnam, about his patriotic pride on seeing the POWs return in 1973
A 30 page typewritten manuscript by an American in Saigon during the Tet Offensive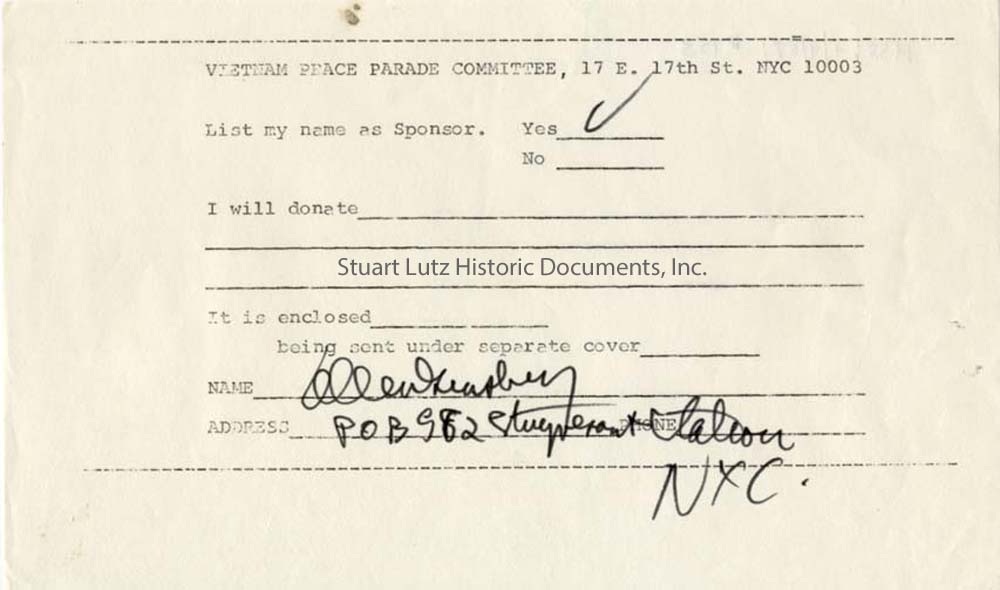 Poet Allen Ginsburg signed a document, agreeing to add his name as a sponsor of the Vietnam Peace Parade Committee.
I am always looking for Vietnam War material, but certain items in particular. I particularly seek early anti-war material (1965 and earlier, or Southern items), pro-war items (surprisingly scarce), eyewitness letters about the great battles, early American government propaganda about why the United States was involved in South East Asia, letters by the great leaders of the war (LBJ, Westmoreland, Nixon), early photographs by soldiers and military advisors, and, of course, unusual items I have never seen before. I would love to have something signed by Ngo Dinh Diem, the assassinated President of South Vietnam, as well as a letter written from Khe Sanh during the brutal siege. I have less interest in later anti-war items, post-1975 materials about the Vietnam War, uniforms and weapons. And since I was raised after the war, I have no collecting agenda; I have purchased items by Jane Fonda and Lieutenant William Calley, since both illuminate the era.
I acquire from everywhere – auctions, eBay, fellow ABAA dealers, antiques shops, fellow collectors, and even the son of a very prominent general who sold me some terrific materials addressed to his father.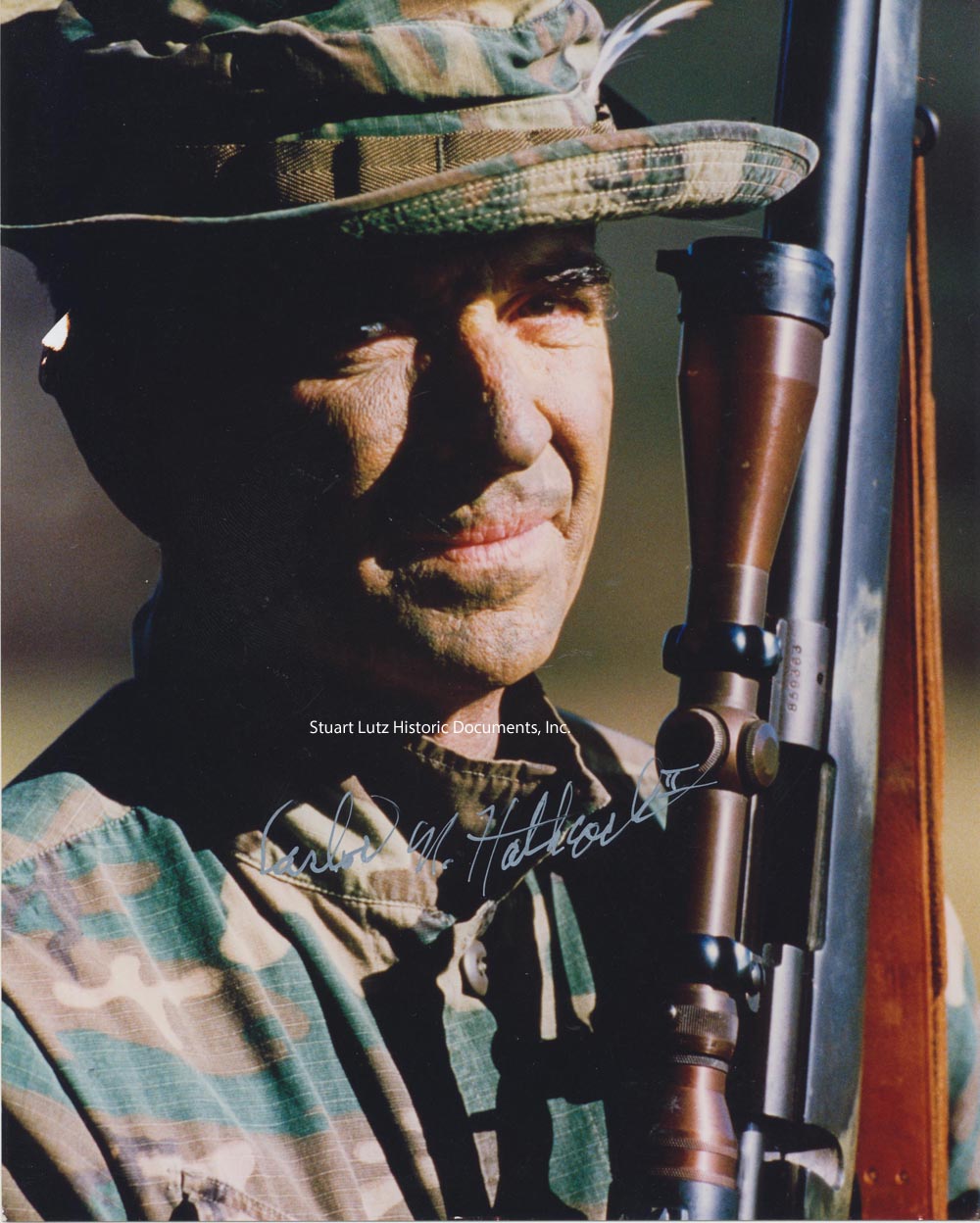 A scarce signed photograph of Carlos Hathcock, the greatest Marine sniper of the Vietnam War, credited with 93 enemy kills. He died young of MS.
I recently spoke at my town's Veterans Day ceremony about the Vietnam War, and I displayed some of my items. I divided my collection into three cases, The Great Leaders, The Fighting Men, and The Pro-War and Anti-War Movements. The Great Leaders display had a Robert Kennedy condolence letter to the parents of a soldier killed in Vietnam, a 1973 teletype announcing the end of the war signed by Admiral Elmo Zumwalt, a General Westmoreland signed Vietnam Veterans Memorial Dedication program, a Ronald Reagan letter about putting country ahead of party during wartime, and a 1970 Bill Clinton letter discussing his draft lottery number. In The Fighting Men case, I featured an induction notice, a Bronze Star, a Code of Conduct card given to servicemen, a letter from a soldier back home, and a Lieutenant Calley letter written while he was in the middle of his trial for the My Lai Massacre. The Pro-War and Anti-War Movements case contained the earliest piece of anti-war material I have (distributed at the 1964 Democratic National Convention, noting that over 200 Americans died fighting in South Vietnam), a Bob Hope letter discussing visiting the troops in Vietnam and denouncing the draft card burners, a "Keep Harvard Open" ribbon, a "Back Our Boys In Vietnam" license plate, the Handbook For Conscientious Objectors, and a "Frag Jane Fonda" pin.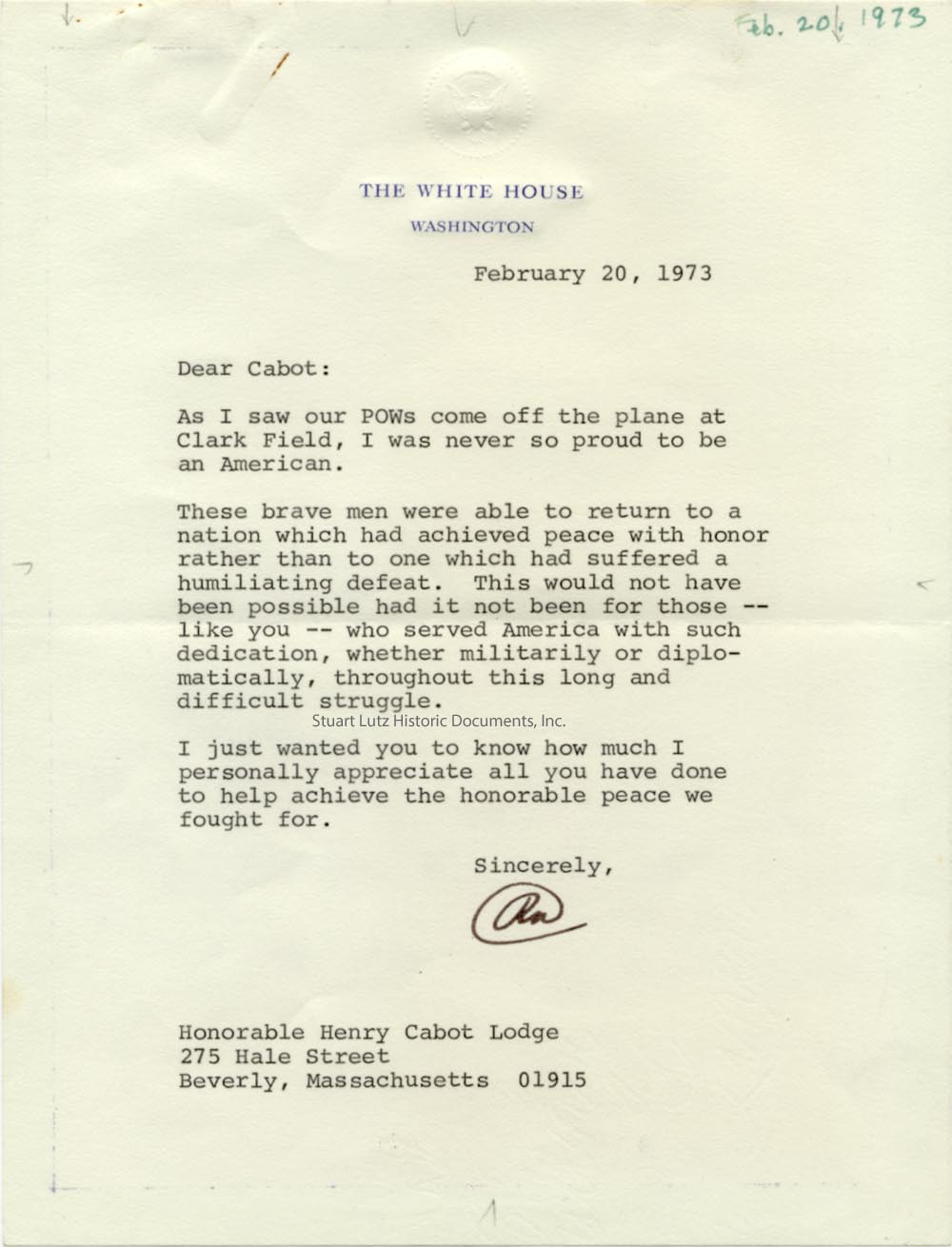 Shortly after the end of the American involvement in South Vietnam, President Richard Nixon writes a letter to Henry Cabot Lodge, Jr., who had been the Ambassador to South Vietnam. The President states that when he saw the POWs return to the United States, he was never so proud to be an American.
I strongly feel that collections shouldn't stay in one's house, and I have loaned materials to a number of museums. The list includes the Lyndon B. Johnson Library and Museum, the New Jersey Vietnam Veterans Memorial, and the Lehigh Valley Heritage Museum. In 2015, the Newseum in Washington, DC is borrowing materials for their exhibit on the Vietnam War, as will the New-York Historical Society in 2016. The famous filmmaker Ken Burns is producing a documentary on the Vietnam War, and I loaned him some artifacts, including photographs from about 1960 or 1961 showing American advisors in the field and the same men standing before dead Viet Cong soldiers.
As with any collection, there are the few items that got away. In late 2008, someone featured on Ebay three fully handwritten Ho Chi Minh letters from 1945 addressed to an American military officer. Minh asked for American assistance after the war. Unfortunately, between the economic meltdown of late 2008 and my wife pregnant with our child ("You bought Ho Chi Minh letters instead of diapers?"), I declined to buy the grouping.
My search for great Vietnam War material goes on… and perhaps one day, I'll find those Ho Chi Minh letters again.

Search items for sale by ABAA Members related to the Vietnam War…