For 27 years, the Colorado Antiquarian Books Seminar (CABS) has provided a training ground for rare book collectors, dealers, and librarians to meet and share their knowledge. Even experienced book dealers attend to keep abreast of the latest scholarship and learn from their peers. ABAA associate-member Zoe Abrams attended this year, and reports on her experience.
On the first day of the Colorado Antiquarian Book Seminar, Terry Belanger stood solemnly in front of our class and commanded us to "follow the rulebook with supine acquiescence." We were feverishly scribbling collational formulae in our notebooks as he added, "The fact that it is ridiculous is totally irrelevant." The group let out a communal chuckle and went on copying the ever-expanding equations projected on the wall.

Terry was referring specifically to the Ur-text of bibliography by Fredson Bowers, a rulebook every cataloguer knows and loves to bemoan; but the general idea of "following the rules" served us well throughout the week. The CABS faculty, all authorities on books and bookselling, gave us many rules to work and live by, including: hone in on and own your specialty, find your voice, and identify your ideal customer. Inherent in these directions is the notion that bookselling is an individualistic endeavor; every bookseller has her own way of doing things that may not work for the next guy. Some rules, however, apply across the board, regardless of personal modus operandi: be patient, don't be a jerk, always look at books closely, and sell, sell, sell.
An economist might envision the CABS microcosm teeming with competitive species chasing the same prey. Au contraire! Booksellers are the first to tell you that each one of us has a niche and our diversity keeps the community alive. Common interest in books unites rather than divides us, or "Amor librorum nos unit," as the ABAA motto reads. This at least partially explains the astonishing generosity of the CABS faculty, who put their lives on pause for a week to teach potential "competitors" tricks of the trade; and accounts for the twelve separate scholarship funds for CABS students. I received an ABAA scholarship to attend, and will do my very best to pay it forward.
In my childhood home we had a coffee mug with a Far Side cartoon of a frazzled scientist pointing at a formula on a blackboard above the caption, "Einstein discovers that time is actually money." This revelation won't be news to any bookseller, but it has new meaning for me as I find myself with more time than money, i.e., being self-employed. No amount of work experience – assisting some of the best dealers in the trade – adequately prepares you for being your own boss. Osmosis only gets you so far. CABS is the missing piece, a boot camp for like-minded people communicating in the same specialized language and helping each other achieve success.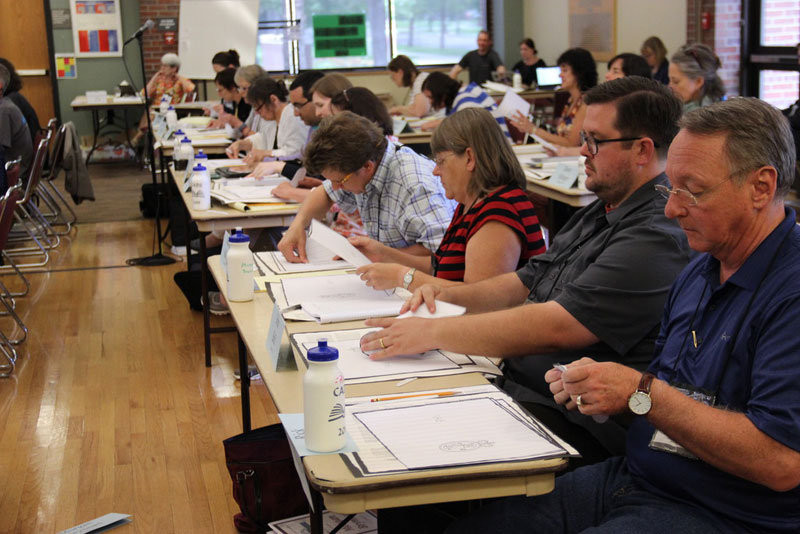 It's no wonder that dealers at the head of thriving businesses still flock to Colorado Springs for a week of intensive study and conversation with colleagues from across the globe (there was a particularly large contingent of Australians, some of the nicest people I've ever met). At CABS, you can ask any question on the subject of books and receive thoughtful answers from some of the greatest minds in the "bibliomundo," as my classmate Cynthy Buffington calls the community of booksellers, -collectors, and -preservers. There is always more to learn, and adaptability behooves us all.
This year's guest speakers were Katherine Reagan, Curator of Rare Books and Manuscripts at Cornell, home of the nation's premier Hip Hop Collection; and Garrett Scott, dealer in obscurities with a focus on "books and pamphlets on dead-end byways of American thought," including the topics Utopia, doom, sex, and "old weird America."
Boring, right?
Katherine's keynote address on "Why Curators Love Booksellers" set a collegial, humorous tone for the week while imparting valuable advice on building relationships with librarians. She also reminded us that scholarship drives institutional collecting, so booksellers should stay attuned to changing tastes. Although Hip Hop culture may not appeal to everyone, no one can honestly deny its cultural significance.
Garrett's mid-week talk, peppered with slides and anecdotes, made us all grateful to be in the same profession, which he likened to the D.I.T.C. ("Digging in the Crates Crew," a New York Hip Hop group that made its name sampling old records). Booksellers like Garrett constantly "remix" old material in new ways. As Katherine suggested a couple of days earlier, this might be the best approach ever to long term success in the book business. Our mission as booksellers, should we choose to accept it, is to "rescue forgotten voices," and retell their stories in such a way as to "make the buyer feel the same emotion you did when you bought the thing" (Garrett). More than one of us cried tears of joy during Garrett's inspirational, aspirational description of his personal philosophy. I even overheard an esteemed librarian wondering, briefly, why he ever switched sides.
We've all heard the old adage, "You must have the cheapest copy, best copy, or only copy" (Bill Reese, et al.). Here's an additional sampling of pithy advice from the week in Colorado: "Don't trust, do verify" (Nina Musinsky), "Independence is everything" (Sally Burdon), "Make lists" (Dan DeSimone), and "Don't mess with the archive" (Steve Smith). Sadly, Nina, Sally, Dan, and Steve all surrendered their CABS lanyards this year. Who can imagine the week without their bonhomie, not to mention Nina's expertise on early books; Sally's marketing strategies; Dan's firsthand tips on selling to libraries; and Steve's inside scoop on acquisition policy? It's clear from their rapport in and outside the classroom that the CABS teachers enjoy the seminar just as much as the students, and the four departing faculty will be missed terribly by everyone. Listening to them and Lorne Bair, Brian Cassidy, Terry Belanger, and Rob Rulon-Miller talking shop, you got a sense not only of the group's command of the book business, but also of their camaraderie, built over time and transactions.
On the last day of CABS many students expressed that they would have difficulty describing the week to people back home. At the closing dinner, John Bell was inspired by his conversation with Lorne to ascend the podium and read "Poetic Terrorism," by Hakim Bey. "Pick someone at random & convince them they're the heir to an enormous, useless & amazing fortune...," he implored. "[They] will perhaps be driven as a result to seek out some more intense mode of existence." There couldn't have been a more fitting end to the week. Graduates of CABS share in a vast sum of knowledge and friendship that will enhance both our careers and our lives.
---