HBO's latest hit show, "Lovecraft Country" is based on Matt Ruff's 2016 novel of the same name which mines the horror and mythology of H.P. Lovecraft, but instead of hiding his racist views, highlights them by having a group of African Americans from Chicago encounter both racists and supernatural forces in Lovecraft's New England during the Jim Crow period. H.P. Lovecraft has long been praised as a visionary and trailblazer for American fantasy; and is regarded as "second only to Edgar Allan Poe in the annals of American supernatural literature" by critic Michael Dirda.
A prolific writer, Lovecraft was nevertheless unable to make a significant income from his fiction during his life. His reputation and influence only increased after his death, and there are now many collectors of his work, both serious and casual. Most of his stories were published in pulp magazines during his life, which can present challenges for collectors who wish to own copies of the magazines in which various stories made their first appearance. His work has been widely collected and anthologized in recent decades. After his death, his friends and fellow horrow writers August Derleth and Donald Wandrei attempted to interest major publishers in a collection of his best work, but found traditional publishers had little interest in occult horror. They formed a publishing company, Arkham House, specifically to reprint Lovecraft's stories, and over the decades published much of Lovecraft's fiction, as well as volumes of his correspondence, and later horror novels by Lovecraft's contemporaries and younger generations of writers who grew up steeping in Lovecraft's Cthulhu mythos.
ABAA members have a great deal of Lovecraftiana available for collectors both new and old. Here is a selection from among the items currently listed on abaa.org...
The Outsider and Others (First Edition)
by H.P. Lovecraft
Sauk City: Arkham House, 1939. First Edition; 1200 copies printed; a fine copy in a dust jacket with minor wear and tear and a quarter-inch of chipping along the foot of the spine. The back flap has been inscribed by the dust jacket designer, Virgil Finlay: "This jacket is a photographic composite of early Weird Tales drawings, probably only one or two were for H.P.L. stories - I wish I might have found time for more of his work which I did admire. Virgil Finlay." [With] Another copy. First Edition. Near fine. Inscribed at Christmas, 1939 by co-publisher Donald Wandrei. In the apparently unique green proof jacket (very minor wear and soiling); printed without text. Included with these copies are several remarkable and important letters and ephemeral pieces.
Offered by Peter L. Stern & Co.
by H.P Lovecraft, Robert Howard, et al.
Indianapolis, Indiana: Popular Fiction Publishing Company, 1935. Softcover. Fine. Magazine. Octavo. Illustrated paper wrappers. Fine with absolutely no sunning along the spine. A stunning, as new copy. This issue features the first part of what is considered to be one of the best of the original Robert E. Howard Conan stories, "Beyond the Black River." Also included is one of Robert Bloch's first professionally published short stories, "The Secret in the Tomb," as well as a reprint of the H.P. Lovecraft story, "Facts Concerning the Late Arthur Jermyn and his Family." From the collection of John K. Martin, with his simple, tiny book label on the rear pastedown. John K. Martin founded the Black Sparrow Press and is perhaps best known for providing Charles Bukowski a guaranteed stipend that allowed Bukowski to leave his post office job in order to write. His private collections are renowned for the superior condition of the material.
Offered by Between the Covers Rare Books.
by H.P. Lovecraft
Athol, Mass.: W. Paul Cook / The Recluse Press, 1928. First edition sheets, one of only 100 copies bound by Arkam House in 1961 of Lovecraft's first book of fiction.
W. Paul Cook planned to publish "Shunned House" in the first issue of his magazine, The Recluse, but in 1928 he printed approximately 300 sets of sheets with an introduction by Frank Belknap for a separate book edition instead. He neither published nor bound the sheets. In 1934, Robert Barlow (later to be Lovecraft's literary executor) reportedly received 225 copies of the sheets, distributing around 50 over the next few years, some unbound and others in various bindings.
Arkham House subsequently obtained approximately 150 useable sets of sheets and issued 50 unbound copies circa 1959 and 100 in black cloth boards in 1961, this being one of the copies in black cloth boards. State "A" of the copyright cancel label per Currey. Slim, small octavo black cloth boards lettered in gilt on spine. Near fine with tiny scratch to bottom front board and spine lettering rubbed as usual but still wholly readable. Issued without dust jacket.
Offered by Quill & Brush.
At the Mountains of Madness in Astounding Stories February-April 1936
by H.P. Lovecraft
New York: Street and Smith, 1936. First Edition. Very Good.
Three wrappered issues of the sci-fi and adventure magazine Astounding Stories: February, March, and April of 1936. First editions. Basically Very Good with a little chipping at head and tails, edge wear, letter "A" stamped on cover of March and April issues; a little gnawing to bottom of April issue, back wrap corner chip to that issue too; back wrap of March has a few small spots of biopredation; clear tape on verso of February issue's front wrap. Nonetheless fragile wraps are intact and bright.
A nice set of the horror master's complete novella, published not long before his death.
Offered by Burnside Rare Books.
MARGINALIA ... Collected by August Derleth and Donald Wandrei
by H.P. Lovecraft
Sauk City, Wisconsin: Arkham House, 1944. Octavo, cloth. First edition. 2035 copies printed. Revisions, articles, fragments and essays. Bleiler, The Guide to Supernatural Fiction 1042. Joshi I-A-19. Top edge of text block just a bit dusty, a fine copy in fine dust jacket.
Offered by L.W. Currey.
by H.P. Lovecraft
Norwalk, Connecticut: The Easton Press, 1993. Hardcover. Fine. Collector's Edition, a volume in The Masterpieces of Science Fiction series. Signed by Darrell Schweitzer, who wrote the introduction, and illustrator Jill Bauman on the title page.
Sixteen macabre tales from the master of cosmic horror. Collector's Notes laid in. Octavo. Full red leather binding, with elaborate gilt stamping, four raised bands, decorative endpapers, and a ribbon marker. A fine copy.
Offered by Johnson Rare Books & Archives.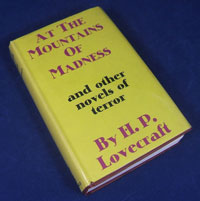 AT THE MOUNTAINS OF MADNESS and Other Novels of Terror (First U. K. Edition, INSCRIBED)
by H.P. Lovecraft
London: Gollancz, 1966. Lovecraft, H. P. AT THE MOUNTAINS OF MADNESS and other novels of terror. Selected with an introduction by August Derleth. London: Gollancz, 1966. First English Edition. NEAR FINE copy in NEAR FINE priced dustjacket, the tiniest of blemishes to both book and jacket but it has exceptionally good eye appeal without any of the usual problems that plague the bright yellow Gollancz dustwrappers of the era.
INSCRIBED BY AUGUST DERLETH on the front-free endpaper to a well-known collector; we're not aware of Derleth having signed many other First English Lovecraft editions.
This is the first time we've handled one in twenty years of selling a lot of Lovecraft so we suspect there's some genuine scarcity here. This is an impressively fat anthology for English readers including THE CASE OF CHARLES DEXTER WARD, THE SHUNNED HOUSE & THE DREAM-QUEST OF UNKNOWN KADATH as well as the title novel and four other novellas.. . Signed. First English Edition. Hard Cover. Near Fine/Near Fine
Offered by Lakin & Marley Rare Books.
by H.P. Lovecraft, et al.
New York: American News Company, 1938. Small quarto. Lurid pictorial wrapper by Brundage. Illustrated. Text stock uniformly tanned (but not brittle), mild damp ripple toward lower edge of wrapper (but without significant staining), otherwise generally very good. Contributors to this number include HPL ("The Tree"), Quinn, Wellman under his given name and also as "Gans T. Field", Robert E. Howard (posthumously published verse: "Lines Written in the Realization I must Die"), Derleth, et al. JOSHI I-B-i-61.
Offered by William Reese Company.
by H.P. Lovecraft
NY: Ballantine Books, 1971. Mass market paperback. Very good. Second Printing. Tanned overall with some light rubbing to the wraps, else very good. Ink bookstore stamp on front free endpaper, else internally fine.
Offered by Kenneth Mallory.
by LOVECRAFT, H.P., ROBERT E. HOWARD, EDMOND HAMILTON, ET AL.

Indianapolis / New York / London: Popular Fiction Publishing Company / Weird Tales / William C. Merrett, 1973. Near Fine. A remarkable collection of 83 beautiful issues of *Weird Tales*, containing many of H.P. Lovecraft's best known stories including "The Horror at Red Hook," "The Dunwich Horror," "The Rats in the Walls," "The Case of Charles Dexter Ward," "The Shadow over Innsmouth," "Herbert West: Reanimator," "The Outsider," "The Strange High House in the Mist," "The Whisperer in Darkness," "The Dreams in Witch poems, including those from his House," "The Haunter of the Darkness," "The Thing on the Doorstep," and many others. These issues also contain numerous Lovecraft *Fungi of Yuggoth* sequence, as well as his important essay, "Supernatural Horror in Literature." In addition, there are several contributions which were co-written or heavily edited by Lovecraft, but which do not appear under his name. And finally, these issues contain works by many other important genre writers, notably Robert E. Howard, whose contributions include the novel *Almuric* and numerous stories such as "The Lost Race" and "Pigeons from Hell." Other writers represented include Clark Ashton Smith, Edmond Hamilton, David H. Keller, Seabury Quinn, and a young Robert Bloch. Further details available upon request.
Offered by Between the Covers Rare Books.