A few fantastic rare books and unusual signed items to whet your appetite for collecting this week...
With the fourth anniversary of the end of the space shuttle program falling on July 21, this signed photo commemorating the first mission of the shuttle Discovery may be of interest to space and science buffs:
Framed Photograph Signed by Entire Discovery Crew (Discovery's First Mission)
1984. Unbound. Outstanding official NASA photograph signed by all six members of Flight STS-41-D, Discovery's first mission. This vibrant color 8 x 10-inch photo features all six crew members in flight gear: Charles Walker (the first non-government person to fly in space), Judy Resnik (who died two years later at the age of 36 in the Challenger explosion), Richard "Mike" Mullane (a former Air Force Colonel), Steve Hawley, Hank Hartsfield, and Michael L. Coats (the pilot of this mission). No place, no date, circa 1984. Set in a cream-colored matte and brown wooden frame measuring 12 x 14 inches. Near fine condition. (Offered by Argosy Book Store)
---
"A monumental history of the early centuries of Eastern papermaking, unprecedented and impossible to reproduce. "
Old Paper Making in China & Japan
Tall folio. Chillicothe: Mountain House Press, 1932. Tall folio, 71pp. with 15 specimens of paper made from bamboo, mulberry, china grass and mitsuma, 3 specimens of bark, and numerous color and black and white illustrations. Three quarter buckram and decorated paper boards, printed paper label to upper board, occasional light foxing and offsetting from specimens, light wear and toning to boards, else fine in original slipcase. One of 200 numbered copies signed by Dard Hunter. A monumental history of the early centuries of Eastern papermaking, unprecedented and impossible to reproduce. Hunter wrote: "It is hoped that the pictures and the comprehensive captions will serve to show the actual process of papermaking in the Orient in years gone by, the design being to enlighten by the use of illustrations and by actual specimens of paper rather than by extended comment."
"The paper specimens, dating from the 14th through 18th centuries, are from China, Japan, Persia, and Tibet; the oldest were removed from block-printed books or scrolls. Each specimen is identified as to paper composition bamboo, mulberry, mitsumata. One is a leaf from from a gold-ruled 17th c. Persian manuscript on paper made entirely from China grass. The large Chinese characters and symbols were engraved by Lankes. Of the 200 copies printed, 50 were destroyed by fire." (The Veatchs)
Hunter's work is of pivotal importance in the history of American book making. Immersed in the Arts and Crafts movement at Elbert Hubbard's Roycroft company, Hunter went on to found the first handmade paper mill in America and to create arguably the world's first "one man" books: books he printed on paper he had made with a typeface he had designed, cut, and cast himself. In Chillicothe, Ohio, he founded Mountain House Press and for the next 46 years dedicated himself to the study of papermaking, travelling around the world for his research and authoring 20 books on the subject.
(Offered by John Windle, Antiquarian Bookseller)
---
Raymond Chandler was born on July 23, 1888, which brings The Big Sleep to mind.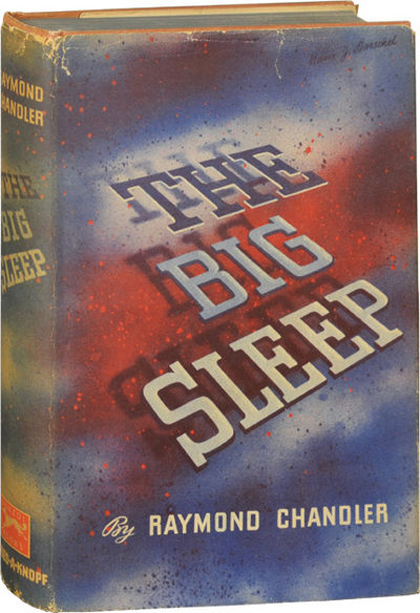 New York: Alfred A. Knopf, 1939. First Edition. First Edition. An attractive, unrestored example of the author's first book, a cornerstone of noir detective fiction, and basis for the Howard Hawks film noir, starring Humphrey Bogart and Lauren Bacall.Near Fine in a Very Good plus dust jacket. Jacket is uniformly toned, but quite nice, with a couple of corner nicks and a few small closed tears. In a custom quarter-leather slipcase and chemise. (Offered by Royal Books, Inc.)
One of our favorite Philip Marlowe scenes is when Marlowe (Bogart) impersonates a rare book collector while investigating.
---
July 24, 1901 is a little-known literary anniversary; that was the day William Sydney Porter, later known as O. Henry, was released from prison and began his career as a prolific short story writer in earnest. (He began writing stories which imprisoned for debt, as it was the only way he could contribute to the care and support of his your daughter.)
These galley slips are both unusual pieces of literary ephemera and rare collectibles for O. Henry fans.
PROOFS WANTED MCCLURE SYNDICATE - PUBLICATION JULY 28 THE GENTLE GRAFTER ... A MIDSUMMER MASQUERADE. [caption title]
[Np: McClure's Syndicate], July 1907.. Two long narrow folio galley slips. Folded in quarters, very good. Two long galleys of this story, prepared for copyright registration and syndicate distribution. While Clarkson asserts that the story was first published via the syndicate in the summer of 1908, copyright is explicitly taken here in 1907. This is the Library of Congress duplicate deposit copy, with dated receipt stamp and with ms. notation that it was entered for copyright on "Jul 15 1907." Copyright deposit copies for other stories in the same sequence, and in the same format, were received by LC in 1907. This story was subsequently collected in the volume of the same general title, THE GENTLE GRAFTER, published in September of 1908. QUEEN'S QUORUM 40. BAL 16276 (ref). CLARKSON, p.36. (Offered by William Reese Company.)
---