The New York Antiquarian Book Fair returns to the Park Avenue Armory March 9-12 for the 57th installment of this annual fiesta of rare books, historical documents, and all kinds of print ephemera. Below you'll find a few highlights from among the many fascinating and rare items that ABAA members will be exhibiting at the show. Contact the dealer referenced for more information.
An Outstanding Album of Italian Political Cartoons
Thirty-Two Magnificent Hand-Colored Lithographs by Antonio Manganaro.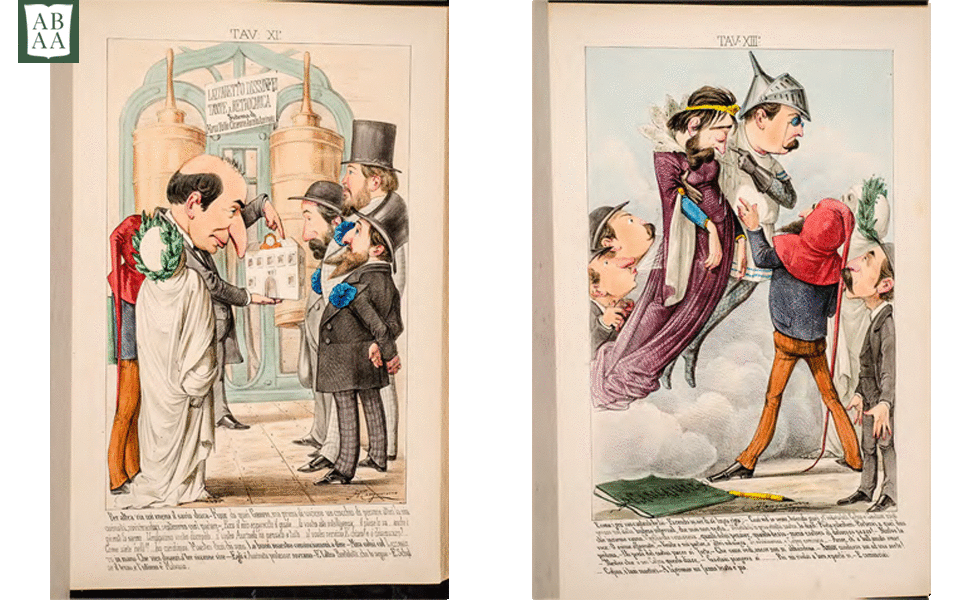 MANGANARO, Antonio. L'Esposizione Marittima Visitata da Dante e Virgilio. [The Maritime Exhibition visited by Dante and Virgil] Allegoria di A. Manganaro. [Naples: 1871].
Folio (18 11/16 x 12 3/8 inches; 475 x 314 mm.). Hand colored lithograph pictorial title-page and thirty-one magnificent hand colored lithograph plates including the final "Chiusura" plate showing Dante holding hands with the 'skeletal' Virgil. All plates mounted on stubs.
Contemporary quarter green calf over green pebbled cloth boards. Covers decoratively ruled in blind, front cover with "Manganaro / L'Esposizione Marittima" stamped in gilt. Spine with five raised bands, lettered in gilt in compartments, marbled end-papers. Spine ends expertly and invisibly restored.
This is an outstanding and fascinating record in thirty-two hand-colored lithographs of the political figures of Italy in the 1860's. The majority of the plates feature the figures of Dante and the 'skeletal' Virgil surrounded by various members of the Italian Bureaucracy. In some way the beautifully hand colored illustrations have the flavor of the great French Political cartoonists such as Honoré Daumier (1808-1879) and Charles Philipon (1800-1861).
We have been unable to locate any copies at auction from 1923 to date, other than one imperfect copy (Christie's, Rome, June 1998 - lacking the last plate). According to OCLC and KVK there are no copies in libraries and institutions worldwide.
(Offered by David Brass Rare Books, Inc., Booth C10)

J.D. Salinger, Franny and Zooey (Inscribed First Edition)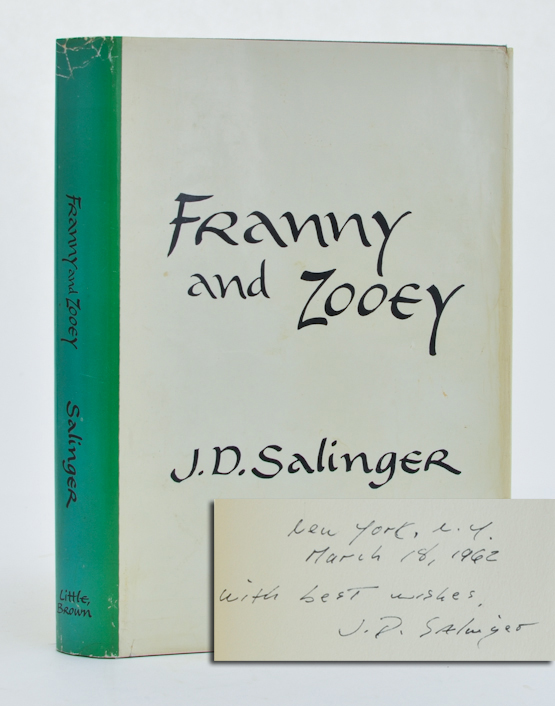 Boston: Little, Brown & Co. 1961. First edition. Octavo. Original blue-grey cloth, gilt lettered spine. With the dust jacket. Jacket spine creased at head and tail, spine of binding and head of front cover sunned, spine slightly rolled, old dampstain at foot of front cover with subsequent cockling of leaves (but no staining). Nevertheless a very good copy in an excellent example of the jacket. First edition, first printing. Presentation copy from the author, inscribed on the half-title: "New York, N.Y. March 18, 1962 with best wishes, J. D. Salinger". Salinger's short story Franny and his novella Zooey were originally published separately in The New Yorker in 1955 and 1957, respectively. The characters Franny and Zooey, both in their twenties, are the two youngest members of the Glass family -- a frequent focus of Salinger's writings. The book was a success and spent 25 weeks at the top of The New York Times Fiction Best Sellers list in 1961 and 1962 and was positively reviewed by John Updike. Books signed by Salinger are most uncommon. Housed in a lovely custom slipcase with chemise.
Offered by Whitmore Rare Books, Booth C19.
The violin maker's sample case of Angelo P Vitalia, New York, ca 1880.
Offered by Palinurus Antiquarian Books, Booth B7.
ONE OF THE EARLIEST KNOWN SIGNED PHOTOS OF WILLIAM BUTLER YEATS.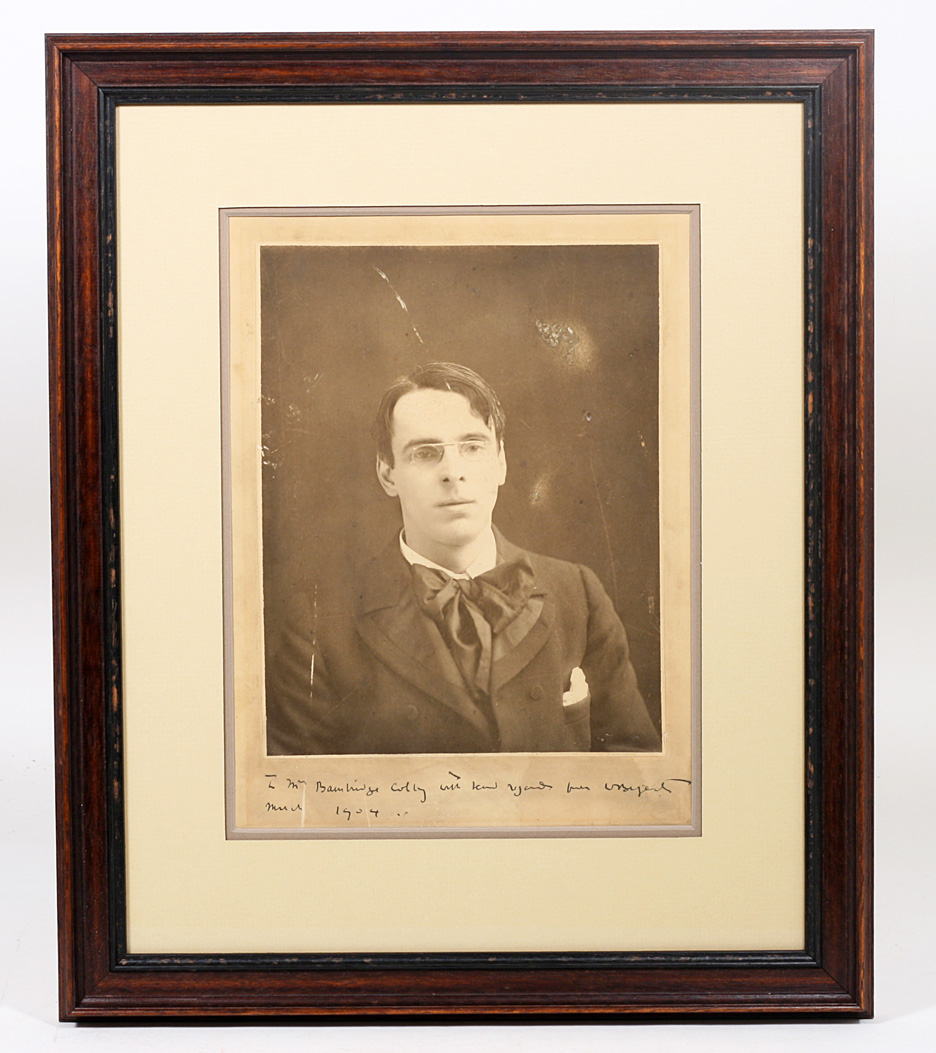 A rare gelatin silver print bust portrait of Yeats as a young man, signed and inscribed by Yeats to U.S. politician and later U.S. secretary of state Bainbridge Colby: "To Mr. Bainbridge Colby with kind regards from WB Yeats March 1904." Inscribed in ink on the flush board mount beneath the photograph.

The photograph is undated but likely predates the inscription by a few years: c.1900, when Yeats was in his mid-thirties. On the verso of the photograph mount is written in pencil: "Young Yeats photo by [????] not to be used without Mr. Yeats permission." (We have not been able to determine the identity of the photographer.)

Yeats traveled to the U.S. for the first time from November 11, 1903 - March 9, 1904, where he presumably met Bainbridge Colby. Colby (1869-1950) was a young and successful lawyer with many well-known clients (including Mark Twain). By 1904 he had already entered politics, having just concluded a term as a member of the New York State Assembly. He would later ascend to U.S. Secretary of State (1920-1921) under Woodrow Wilson and was a champion of the women's suffrage movement. (It was Colby who issued the proclamation announcing that the 19th amendment granting women the right to vote had been ratified.)
Offered by Manhattan Rare Book Company, Booth A33.
LITTLE TOOT by Hardie Gramatky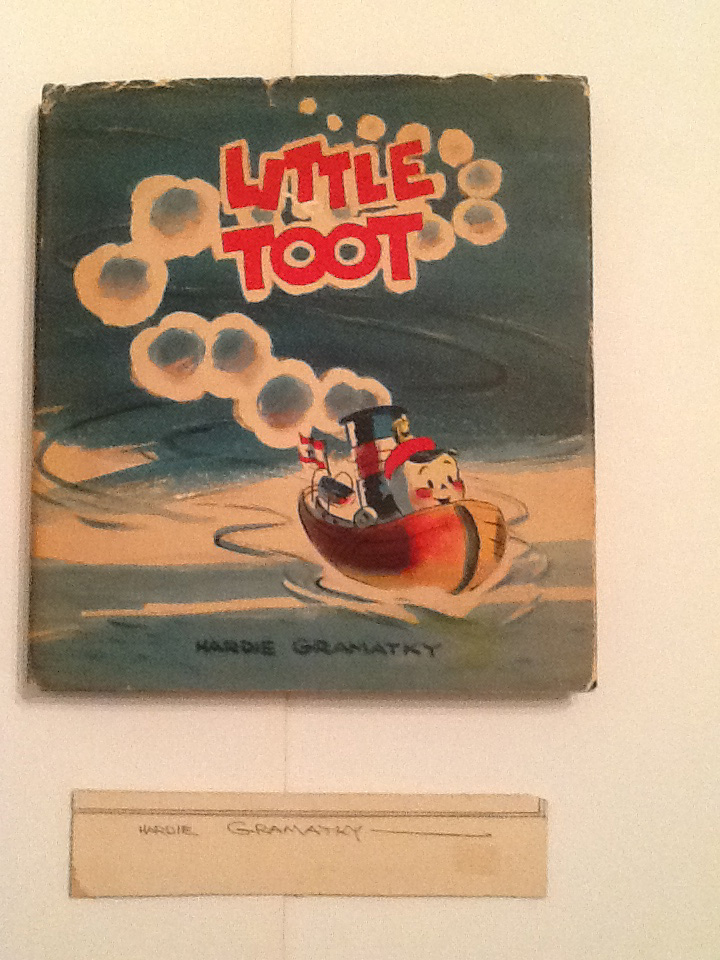 Rare First Edt. in dust jacket, accompanied with Gramatky's original printed autograph on mat board. A juvenile classic!
Offered by Enchanted Books, Booth D29.
Beauvalet St. Victor's Unique Stenciled Album Calligraphique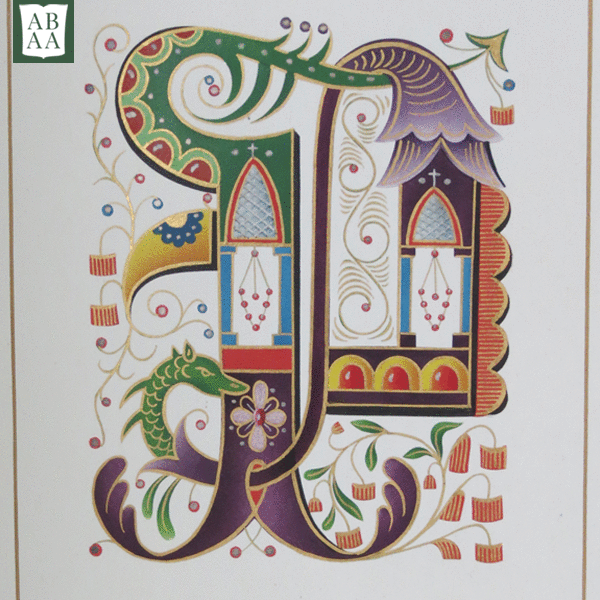 Earliest pochoir? Beauvalet St. Victor's unique stenciled Album Calligraphique with twelve Medieval alphabets. Ca. 1840.
Offered by The Veatchs Arts of the Book. Booth A-25

Lovecraft, H[oward] P[hillips] and C[lifford] M. Eddy, Jr. "CANCER OF SUPERSTITION, THE." AUTOGRAPH MANUSCRIPT (AMs). 19 leaves. Not dated, but circa October 1926.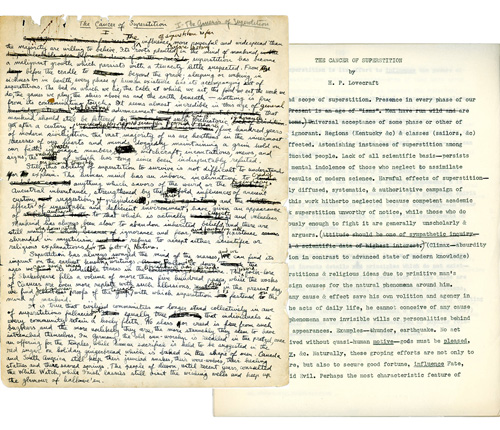 Lovecraft's handwritten outline (published in THE DARK BROTHERHOOD) and Eddy's handwritten and typewritten drafts of the first three chapters are extant. This 19-page handwritten manuscript, edited, revised and copiously annotated by Lovecraft, is Eddy's draft expanded from Lovecraft's handwritten 4 1/2 page 12-part outline (held by Brown University). It is the version from which the typescript sent to Houdini was made (that typescript, missing three leaves of text, was sold at auction by Potter & Potter 9 April 2016 for $33,600).

Eddy's manuscript is divided into three chapters. Chapter I, "The Genesis of Superstition" (leaves 1-8 of this handwritten draft), published in a slightly altered version in THE DARK BROTHERHOOD (1966), pp. 250-61. Chapter II, "The Expansion of Superstition" (leaves 9-14) and Chapter III, "The Fallacy of Superstition" (leaves 15-19), currently unpublished, comprise the remainder of the manuscript.

Part of the manuscript is written on the versos of various discarded drafts, several of which are of considerable interest: (1) verso of leaf 2 is a draft of a letter from Eddy to Houdini, 15 October 1926, asking if he had received "the synopsis of the proposed article on the origin and fallacy of superstition" and if "the requested advance check for $15.00 is on the way together with whatever you wish to offer in the way of annotations & suggestions" (2) verso of leaves 3 and 4 have an earlier draft of "The Cancer of Superstition" (3) versos of leaves 5-8 have discarded pages of a crime story by Eddy (4) verso of leaf 9 is a draft "Questionnaire -- Oct. 19, 1926" directed to Houdini about the scope and direction of the "proposed article which you assigned me, while in Providence, on the origin and fallacy of superstition," and requesting his input (5) verso of leaf 10 is an expanded draft of the "Questionnaire" (6) verso of leaf 14 has a long continuation of the text from leaf 14 in Lovecraft's hand on a discarded earlier draft of leaf 13. The verso of leaf 1 has the beginning of a letter dated 12 October 1926 to the Boston Sunday Post; the versos of leaves 11-13 and 15-19 are blank.

H.P. Lovecraft met Clifford M. Eddy, Jr., a native of Providence, Rhode Island, a published writer of popular fiction and student of mythology and the occult, in 1923 (their first face-to-face meeting, after an exchange of letters, was in Providence at Eddy's home on 9 September 1923). Lovecraft, who met Houdini in New York City in 1924, ghostwrote Houdini's "Imprisoned with the Pharaohs" (aka "Under the Pyramids"), published WEIRD TALES in 1924. In 1926 Houdini hired Lovecraft to write an article attacking astrology, for which he paid $75 (the manuscript of the article, which does not appear to have been published, was sold on eBay in April 2009 ). Then he commissioned Lovecraft and Eddy (who may have done work for him at an earlier date) to jointly ghostwrite a full-length book on superstitions. According to Eddy (handwritten statement dated 9 June 1962): "Back in the middle twenties both H. P. L. and I were doing ghostwriting for the late Harry Houdini. Shortly before Houdini's death, he gave me an assignment to do a complete book for him on the subject of the origin, growth and fallacy of superstition. He furnished me with voluminous notes and ideas that he wanted incorporated in the book and suggested that perhaps H. P. L. whip them into some shape that I could use as a guide. I wrote the first three chapters of the proposed book. The first two were read and approved by Houdini, and the third was in the mail, addressed to him in Detroit, when he was stricken with the appendicitis attack which resulted in his death. About a month after her husband's funeral, Mrs. Houdini advised me that she would prefer to have the work on the proposed book abandoned. Whatever became of the the three chapters that had already been completed, I never learned. Sometime later, at one of our get-togethers, Lovecraft and I were discussing the subject. We both felt that it would be a shame to have wasted all the many hours I had spent in research. We also agreed that it would not be unethical to do an article on the subject which would incorporate most of the factual material which I had unearthed, and he said that if I would undertake to write it, he would gladly help with any necessary revision. The accompanying manuscript is the result of our joint efforts."

Nevertheless, the project seems to have been abandoned by Lovecraft and Eddy as no work appears to have been done following the drafting of these three extant chapters.

The manuscript is accompanied by several documents which amplify its history and establish its provenance: (1) a two-page typewritten letter from Eddy to August Derleth, 17 October 1944, describing this "unpublished, nineteen-page, handwritten dissertation on 'THE CANCER OF SUPERSTITION,' edited, revised and copiously annotated by HPL!" (2) Handwritten account of the origin and progress of the project signed by Eddy and dated 9 June 1962, a statement probably prepared for Derleth who was compiling the material to be published in THE DARK BROTHERHOOD (3) Six-page fair copy typewritten transcription of Lovecraft's 4 1/2 page outline typed by Arkham House for use in THE DARK BROTHERHOOD (4) A photocopy of the telegram sent by Mrs. Harry Houdini in Detroit to Lovecraft in Providence, 26 October 1926: "HOUDINI SERIOUSLY ILL STOP PLEASE HOLD MANUSCRIPT UNTIL FURTHER NOTICE STOP ADVISE EDDY STOP MRS HARRY HOUDINI." On the telegram Lovecraft has written: "This came / tonight -- use / your own judgment / about what to do & / what not to do. / Hastily -- / HPL." Houdini died 31 October 1926. Excellent condition overall.
Offered by John W. Knott, Jr. Bookseller, Booth A5.
Bayrle, Thomas. POP ART. VW Rot, 1969.
16/25. Screenprint, signed, titled, dated and limitation given on the lower right-hand corner front of the sheet by the artist before the image was made, and also on the verso of the image, therefore signed twice. A large and irregular image (left edge measures 22 13/16 inches and the bottom edge measures 32 1/16 inches), Red VW is one of Bayrle's early repetition studies, a Pop Art depiction of the single most iconic symbol of post-World War II Germany: the VW "Beetle." This copy is in fine condition, not having ever had any adhesive on any kind applied to the back. Matted. One of only 25, another copy is located at MOMA in New York.
Offered by Gary Gosen Rare Books & Old Paper, Booth A38.
Andy Warhol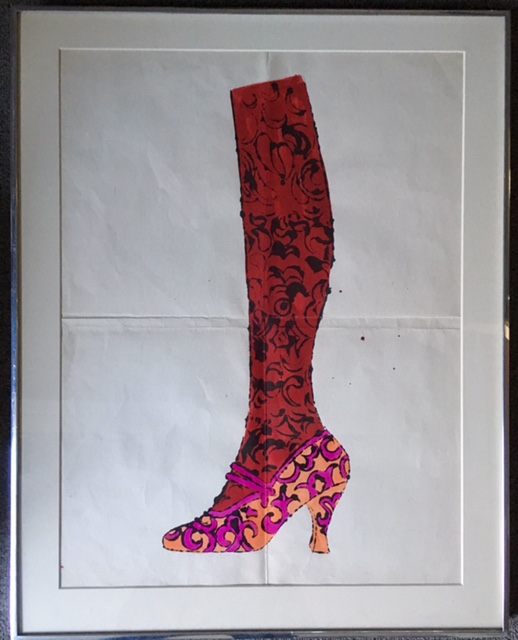 Andy Warhol's extraordinary 1955 "A la Recherche du Shoe Perdu", the very rare complete portfolio with its 18 magnificent hand-colored plates.
Offered by Appledore Books, Booth D26.
PAULI, Wolfgang. Manuscript.
Three pages on two 8 ½ x 11 in. leaves. In German. Princeton, NJ: No later than 1945.
The calculations in the first two pages relate to a generalization of the general theory of relativity that Einstein was working on in connection with his unified field theory. In a paper of June 19, 1945, Einstein had proposed a generalization of the mathematical foundations of general relativity. He proposed to generalize the theory such that distances in space would be invariant (unchanging) not only under changes of the frame of reference (as in the original theory) but also invariant under so-called Hermitian transformations. In a follow-up paper of January 24, 1946 (co-written with E.G. Straus), the authors note that Pauli had shown them that the limitation to Hermitian transformations is not necessary for the theory.
Indeed, in the first two pages of the document Pauli shows that a restriction to Hermitian transformations is problematic, and he suggests an even more general transformation group, and thereby provides a generalization of the alleged structure of space and time that goes further than that proposed by Einstein in his 1945 papers.
The pages were very likely written for Einstein. They are not formally addressed to him, most likely because Einstein and Pauli were both at the same Institute at the time and Pauli could just put his notes in Einstein's departmental pigeonhole himself. Still, the calculations finish on a personal note: "Best regards, on Monday morning I'll come to the Institute, Yours, W. Pauli"; likely an invitation for further discussion between two of the greatest minds of the twentieth century. Einstein was at the Institute for Advanced Studies at Princeton from 1933 to his death in 1955. Pauli was a visiting professor in 1935 and then again from 1940 to 1946. When Pauli received the Nobel Prize in 1945,
Einstein gave a speech in which he called Pauli his intellectual heir. Indeed, there are many signs that Einstein and Pauli had regular contact and conversations on physics during their joint time at Princeton, and the first two pages of the manuscript are likely an important testament to their collaboration.
The third page is also in Pauli's hand, but it is not directly related to the preceding pages, even though it, too, contains differential geometric calculations, related to curvature of spacetime and which paths through spacetime are the straightest ones.
Pauli (1900-1958) was certainly one of the foremost theoretical physicists of modern times. He was one of the co-creators of quantum mechanics, he formulated the Pauli exclusion principle (which allows for a quantum mechanical explanation of the periodic table of chemistry), gave the first theoretical account of electron spin, and successfully predicted the elementary particle we today call the neutrino. Pauli formulated the CPT Theorem, which links the symmetries of space and time to the properties of elementary particles. For decades, he was the nexus of international correspondence on theoretical physics, maybe the last theoretician who overlooked the entire field, and was aptly called "the conscience of physics" by most of his contemporaries due to his relentless criticism of everyone's work, no matter their stature. By the age of 21 Pauli had authored a comprehensive textbook on the general theory of relativity that was immediately praised by Einstein as an astounding piece of work. It remained one of the most important textbooks on the topic for at least four decades.
Offered by B&L Rootenberg Rare Books, Booth B19.
De Civitate Dei - An Extremely Early Printing - Rome 1474
The Press of Ulrich Han - The First Active Printer in Rome
The City of God - St. Augustine - The Efficacy of Grace
With Fine Provenance - Beautifully Decorated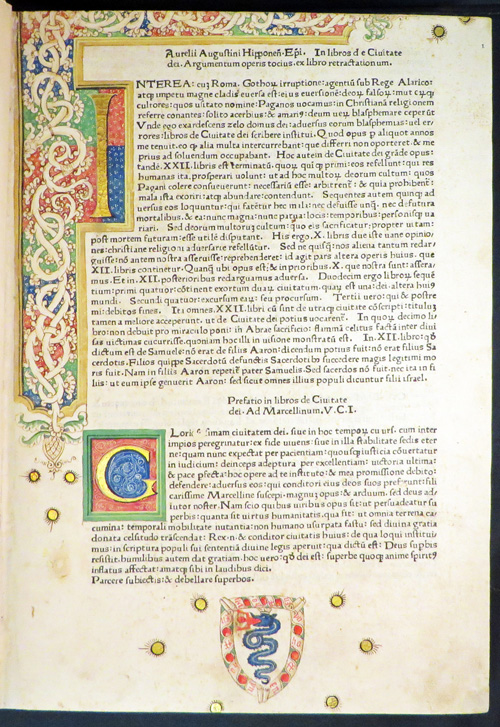 [St. Augustine]. Augustini, Aureliii Hipponen. DE CIVITATE DEI (Rome: Ulrich Han (Gallus) and Simon Nicolai Chardella, 1474, Feb. 4) A Rare Incunable Printing, the first printing by Ulrich Han in Rome, of this landmark text, and only the fifth printing overall. A rare and an unusually early printing of this great work. With Excellent Provenance. The opening leaf with magnificent illuminated gilt initial "I", 15 lines tall on a field of blue, red and green and with further scroll and intertwined vine work extending across the top and down two-thirds of the page in red, blue, green, brown and burnished in gold, a second 9 line gilt initial "G", on a field of green, blue, red and gilt, enclosed in a green box, further gold and black embellishments and a Visconti Biscione, coat of arms of the Duchy of Milan, from the era of the House of Sforza, (likely the fifth or sixth Duke) at the foot in green blue and red. Further rubricated throughout with large initials in blue and red. Folio (350 x 245 mm), bound in later full calf, the boards nicely paneled with a frame in blind, the spines with tall gilt ruled raised bands creating compartments with either gilt lettering or a central gilt tool in a thistle motif, additional giltwork at the spine tips. 248 (of 264) leaves, the work itself textually complete, lacking only 14 leaves of introductory matter, a blank and a final leaf of register. A wonderful survival of this important and early printing, the text handsome and desirable, illuminated decoration on opening leaf trimmed a touch, the final six leaves with old paper repairs ranging in size, overall very clean and fresh, the paper with a nice crispness still to it, only very minor and occasional evidence of soiling, later leaves with some small flaws, the binding with cosmetic wear but still very sturdy, solid and sound.

A RARE AND EARLY INCUNABULAR PRINTING OF ST. AUGUSTINE'S CLASSIC WORK, THE CITY OF GOD, DE CIVITATE DEI. THIS PRINTING, FROM THE PRESS OF ULRICH HAN, the first active printer in Rome and one of the first in all of Italy. This is, an elusive and important printing of the great work. According to Goff, it was preceeded in Rome only by those of Sweynheym and Pannartz in 1468 and 1470. Sweynheym and Pannartz's Subiaco printing (the editio princeps of 1467) and a Venetian printing by Johannes and Vindelinus de Spira (in 1470). Ulric Han is frequently considered to have established printing in Rome, though some would argue that the distinction might in fact, belong to Sweynheym and Pannartz.

The immediate purpose of Augustine in writing THE CITY OF GOD (DE CIVITATE DEI) was as apologia; " the fall of Rome cannot be attributed to the abolition of pagan worship...the happiness of mankind in this and the next world can only be assured by the Christian religion; and St Augustine explains the Christian Church as an organization which would fill the vacuum caused by the break-up of the secular state. There is no opposition between State and Church; the State is not necessarily evil; if it is pervaded by Christian ideals and the God-fearing life, then it approaches true justice and thereby the City of God. DE CIVITATIS DEI is Augustine's most important work. His principal tenet was the immediate efficacy of grace, and his theology remained an influence of profound importance on Franciscans, Cistercians, and others in the Middle Ages, when it was often characterized as being an alternative orthodoxy to the Dominican system of Aquinas.

The first five books deal with the polytheism of Rome, the second five with Greek philosophy, particularly Platonism and Neo-Platonism ...and the last twelve books with the history of time and eternity as set out in the Bible. History is conceived as the struggle between two communities...but history is understood as a continuous evolution of the divine purpose and all forces work towards redemption of man by God's grace, the central figure of Augustine's theology....For the first time a comprehensive survey of human history is presented....In economics Augustine praised labor as a means towards moral perfection...and his contrasting description of a just ruler (imbued with piety, humility, fairness) and the tyrant or Antichrist (imiety, craving for glory) powerfully influenced Renaissance thought.

'The City of God' pervaded the whole Middle Ages...in the struggle between Pope and Emperor both sides drew arguments from it....The idea of international law was partly derived from the book..." PMM. And in our own day Maritain, Niebuhr, Tillich and other great thinkers have drawn inspiration from this great work. Goff A-1234; HCR 2050; Pell 1549; CIBN A-681; Péligry 104; IGI 970; IBE 92; IJL2 42; SI 427; Sajó-Soltész 369; Madsen 392; Lőkkös(Cat BPU) 53; Martín Abad A-237; Günt(L) 2412; Kind(Göttingen) 1925; Döring-Fuchs A-394; Walsh 1310; Bod-inc A-521; Sheppard 2674; Pr 3359; BMC IV 24; GW 2878.
Offered by Buddenbrooks, Inc. Booth C23.
Extensive and Culturally Significant Archive of Approximately 500 Political Posters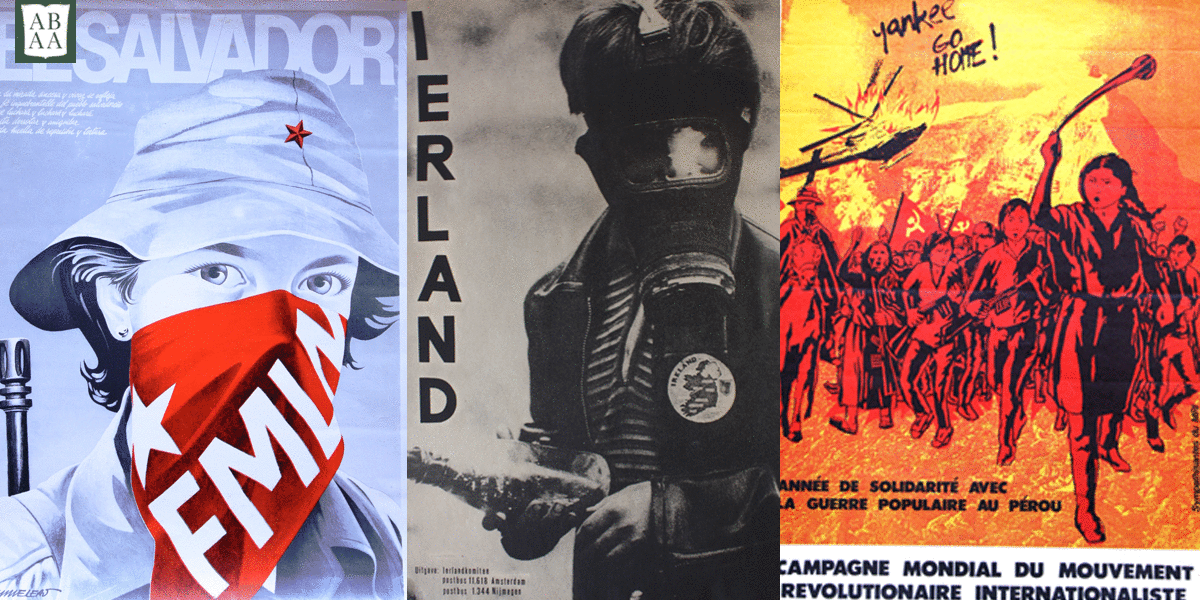 Dated from approximately the 1960s to the 2000s, from a wide variety of leftist and militant groups in Europe, the Middle East, Asia,and Latin America. Various sizes. Various cites. 1960s-2000s.
Offered by F.A. Bernett Books, Booth B18.
James Joyce's EPIPHANIES
Etchings by Susan Weil and Marjorie Van Dyke. Calligraphy by Jerry Kelly.
Published by Vincent FitzGerald & Company in 1987, long out of print.
Offered by Priscilla Juvelis, Inc.. Booth A3.
ROBERTS, Robert. THE HOUSE SERVANT'S DIRECTORY...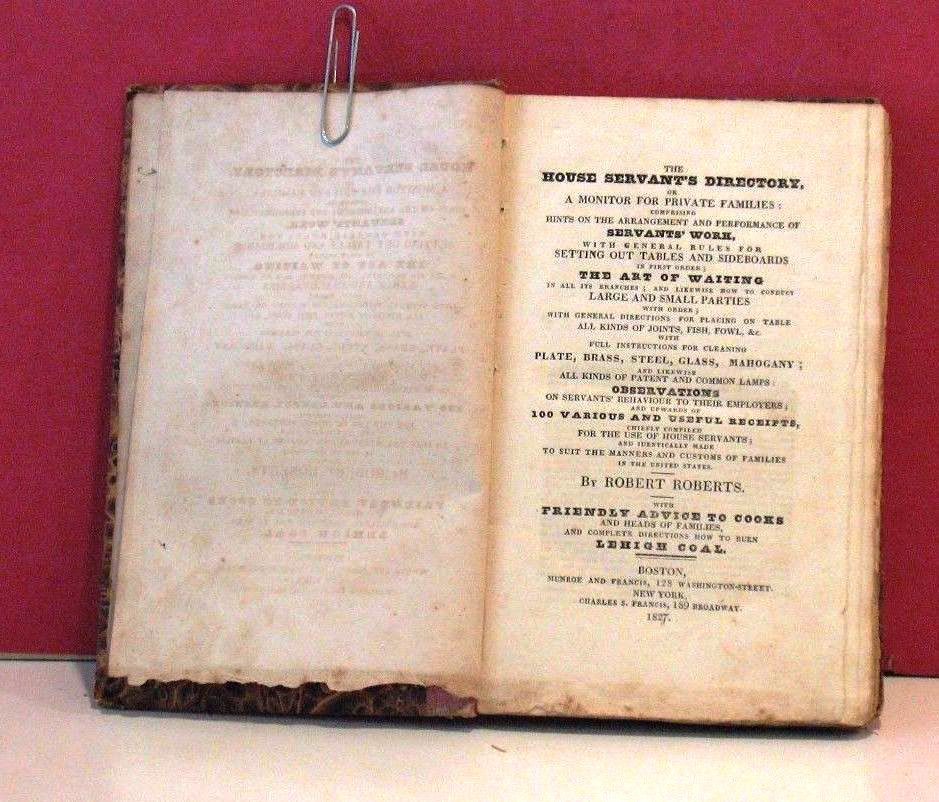 Boston & New York: Munroe and Francis; Charles S. Francis, 1827. First Edition. Duodecimo (4-3/4" x 7-1/2") bound in contemporary, possibly for the publisher, linen-backed marbled boards with an intact
printed paper label spine; 180 pages. A rare example of the FIRST COMMERCIALLY PUBLISHED BOOK WRITTEN BY AN AFRICAN AMERICAN IN THE UNITED STATES and THE FIRST COOKBOOK WRITTEN BY AN AFRICAN-AMERICAN.
The author was a butler at the country estate of U.S. senator and governor of Massachusetts, Christopher Gore, a friend of Daniel Webster's. Owner name of Katherine Laurence dated 27 March 1827 on the front endpaper. Two leaves (pages 73-76) neatly detached and laid in; contents complete and very clean with occasional toning. Some fraying along the spine edge. An excellent example of a very scarce and important title.
Offered by Charles Agvent, Booth E23.

HAMILTON CORRESPONDENCE
A unique collection of original letters, documents and imprints relating to the life and times of Alexander Hamilton, the orphan immigrant founding father who fought for independence, founded our financial system, and fostered a government capable of surviving internal factions and foreign foes — as well as inspiring the hit musical!
Offered by Seth Kaller, Inc., Historic Documents & Legacy Collections, Booths E33-E35
BALTHUS (Balthasar Klossowski de Rola). MITSOU. Quarante Images par Baltusz. Preface de Rainer Maria Rilke.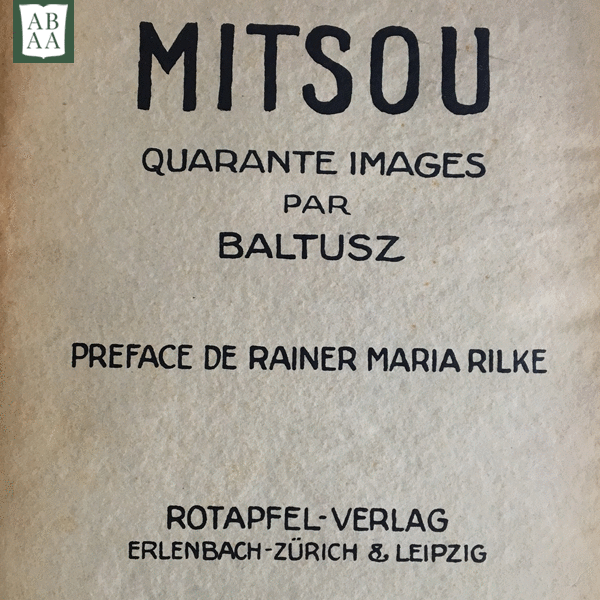 Erlenbach-Zürich & Leipzig: Rotapfel-Verlag, 1921. First edition. 13, [40] pp. Original ivory paper boards. Some browning to covers, spine exterior fragile, browned and chipping slightly; text clean and solid. Forty drawings b
y the then-eleven-year-old Balthasar Klossowski de Rola, wordlessly depicting the true tale of a stray cat's journey in and out of his family's life. The drawings are reminiscent of the work of Frans Masereel, whose work the young artist may have seen. Cats were to be a recurring presence in Balthus' work, indeed a 1935 self-portrait was titled "The King of the Cats," and the final trauma of the cat's disappearance(the last drawing, following his frantic search for the lost cat, shows Balthus weeping inconsolably) can be seen as an early signifier for much of the work that was to follow over the seventy years, an elusive and enigmatic sense of loss. The
book's publication was arranged by Rilke, who was at the time the lover of Balthus' mother; his preface was the first work he composed entirely in French, and this shift was to inspire the verse in French he wrote for the
last six years of his life. Uncommon in the trade, OCLC locates about forty copies spread over multiple records, with less than twenty in America.

Offered by Triolet Rare Books, Booth D30.
MISS LONLYHEARTS (First Edition, First State)
A First Edition, first issue, first state in a stunning example of the exceedingly rare dust jacket. Publisher Liveright went bankrupt on the day of publication and only 800 of the 2000 copies printed were released by the printer in this first state.

Offered by Royal Books, Booth A31
Marcel Duchamp, SCREEN-PRINTED DISK
Amazing original signed screen printed disk designed with a spiraling text in French, one of the last works by the Marcel Duchamp. Produced to be mounted on a record which was issued with SMS magazine no. 2 (April 1968). Signed and dated 1968 by Duchamp at the lower right of the untrimmed sheet.
Offered by Schubertiade Music & Arts, Booth B9
Oliver Twist; or, the Parish Boy's Progress (Charles Dickens) by "Boz."
In Three Volumes. Vol. I. [II. III.] London: Richard Bentley, 1838. First edition, first issue, with the title-page authorship credit to "Boz" instead of Dickens and with the "Fireside" version of the final plate.
Offered by David Brass Books, Inc., Booth C10
An Inquiry into the Nature and Causes of the Wealth of Nations, by Adam Smith
London: Printed for W. Strahan; and T. Cadell, 1776. First edition of the economist's magnum opus and cornerstone of economic thought. Quarto, 2 volumes. Bound in full brown calf, elaborately gilt-decorated spines, red morocco spine labels. In near fine condition. Remarkably clean throughout with some light toning to the title page of volume one and small stamp on the half title page of volume II. An exceptional example of this landmark work.
Offered by Raptis Rare Books, Booth A8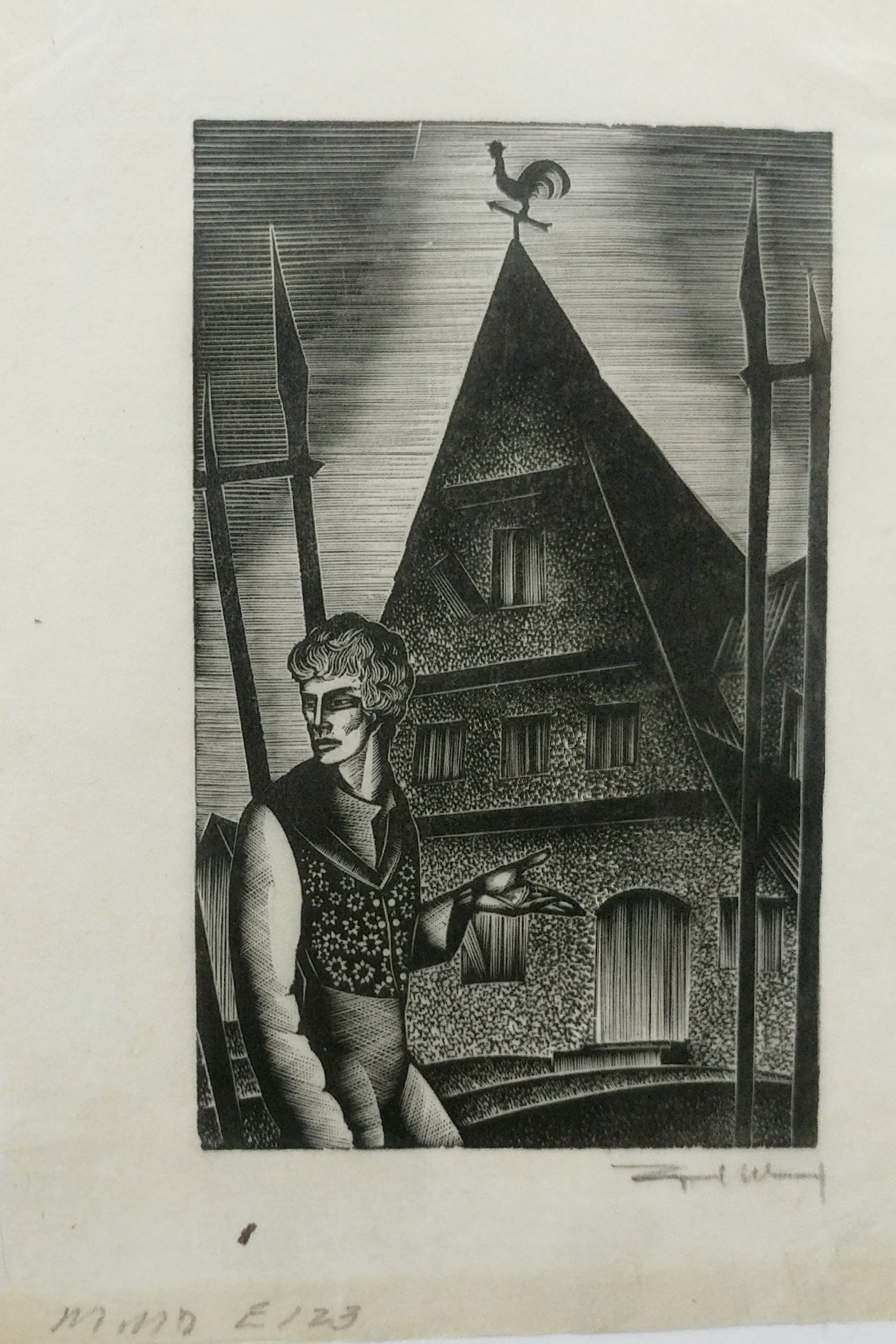 Signed wood block print from Lynd Ward's MAD MAN'S DRUM, printed on Japanese tissue and mounted. Lynd Ward's God's Man was the first American wordless novel and an inspiration for the graphic novels which would proceed it.
Offered by Ken Sanders Books, Booth A9.
Zervos, Christian. Pablo Picasso Oeuvres (Catalogue Raisonne) -- Years 1895-1972.
Paris: Cahiers d'Art, 1942-1978. 33 x 26 cm. Vols. 1-33, 34 volumes in total (Vol. 2 in two parts). Zervos's magisterial, standard catalogue raisonne of Picasso's works. Vol. I is no. 41 of 500 copies, and no. 86 of 700 respectively, No limitations are stated in later volumes. A fine complete set of the indispensable Picasso catalogue raisonne: 15,152 monochrome illustrations on 5,511 pages. Vols. 1-23 uniformly bound in beige basket weave cloth with brown cloth spine labels. Volumes 24-33 in original printed wrappers and glassine, with all glassine in pristine condition save one with small nick. Interior contents very clean and fresh; cloth bound volumes and those in printed wrappers in fine condition.
Offered by Roy Young, Bookseller, Booth D24.
Note: All items subject to prior sale!
For more details about the 2017 New York Antiquarian Book Fair visit www.nyantiquarianbookfair.com...