I first met the poet Frank O'Hara in the early 1990s. I was in the process of abandoning the writing program I was enrolled in at a local university for the much less muddied waters of the religious studies department; and, for his part, Frank had been dead for a little over twenty-five years.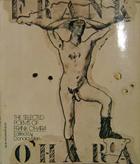 Frank O'Hara died at 8:50 p.m. on July 25, 1966 at Bayview General Hospital on Long Island. Mark Ford, editor of O'Hara's Selected Poems (2008) [not to be confused by The Selected Poems of Frank O'Hara, 1974], succinctly describes the events of the previous evening, a night O'Hara spent with his friends Morris Golde, J. J. Mitchell, and Virgil Thomson clubbing on Fire Island. "The beach taxi in which he and his friend J. J. Mitchell were traveling broke down. As they waited for a replacement to arrive, a Jeep approaching from the opposite direction swerved to avoid the stranded taxi and travelers, and it struck O'Hara."
Frank and I met in a seedy bookshop on campus, a second floor walk-up promisingly dubbed Ice 9. In the airless front room of the shop were displays of toe-curlingly pornographic photo collections, dusty issues of Re/Search featuring Throbbing Gristle and Brion Gysin, and excitingly garish works by Kathy Acker, Jack Black (hobo author of You Can't Win fame), and J. G. Ballard. Perusing the makeshift shelves in the smaller rear room I came across a small display of poetry titles including a healthy dollop from the City Lights Pocket Poets Series. Ginsberg, Ferlinghetti, Kerouac, I ran my finger across the familiar spines. But ho! What's this? I had never come across this dual-toned orange and green volume before. Number nineteen in the series was by some hungry dude named O'Hara. Guess I should check it out.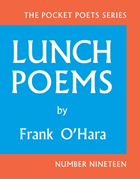 I purchased my first copy (there have been many since as I gave copies away to friends) of Frank O'Hara's Lunch Poems for three bucks that day and quite frankly, if you'll excuse the pun, it was the wisest investment I have ever made. To single out a poem from this collection as The Poem that spun my head around permanently, that sold me entirely on this poet's raucous intimacy would be impossible. Lunch Poems contains such signature O'Hara poems as "A Step Away from Them," "The Day Lady Died," "Ave Maria," and "Poem (Lana Turner has collapsed!)." But for this Pittsburgh boy, it was these lines from "Steps" that sealed the deal:
the Pittsburgh Pirates shout because they won
and in a sense we're all winning
we're alive
He's referring to the Buccos' win in game seven of the 1960 World Series against the New York Yankees . The home run blasted by Bill Mazeroski to finish off the Yanks at Forbes Field was hit less than a half a mile from where I bought Lunch Poems. Frank O'Hara wrote about my hometown as a place of joy, a place of celebration, a place worthy of depiction in poems. This poet so associated with New York City gave me the gift of my own city.
How funny you are today New York
like Ginger Rogers in Swingtime
and St. Bridget's steeple leaning a little to the left
(beginning lines of "Steps")
Frank O'Hara is most closely associated with the so-called New York School of Poets, which originally consisted of O'Hara, John Ashbery, Kenneth Koch, and James Schuyler. The New York School moniker was essentially a marketing gimmick invented by John Bernard Myers, director of the Tibor de Nagy Gallery, to siphon some of the heat generated in the press by the New York School of Painters, namely abstract expressionists such as Jackson Pollock, Willem de Kooning, and Robert Motherwell, over to this small group of young poets Myers was publishing in fine limited editions.
Frank O'Hara's first published collection was A City Winter from Tibor de Nagy Editions in 1952. Myers would go on to publish two further collections of O'Hara's poems, Oranges: 12 Pastorals in connection with a 1953 exhibition of collaborations with the artist Grace Hartigan and Love Poems (Tentative Title) in the spring of 1965, the last collection of O'Hara's work published in his lifetime.
---
By Frank O'Hara
New York: Editions of the Tibor de Nagy Gallery. 1951. First. Illustrated folded and gathered sheets of the first edition, which was limited to 150 numbered copies (this copy unnumbered). With two drawings by Larry Rivers. Minor soiling to the outer wrap else fine in wrappers. A rare advance of unbound format of the poet's scarce first book.
(Offered by Between the Covers Rare books)
---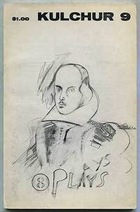 By all accounts O'Hara was a dervish of activity from 1954-64, not only producing a voluminous amount of poems, but also occasional plays, collaborating on films, teaching a poetry workshop at the New School for Social Research, acting as art editor for the quarterly Kulchur, writing monographs on Jackson Pollock, Robert Motherwell, Franz Kline, David Smith, and Reuben Nakian, and working at the Museum of Modern Art, first as an assistant in the International Program where he aided in organizing and overseeing many traveling exhibitions, then as an assistant curator. No wonder he understood the only time to read or write his poems was during squeezed-in lunch hours.
I walk up the muggy street beginning to sun
And have a hamburger and a malted and buy
an ugly NEW WORLD WRITING to see what the poets
in Ghana are up to these days
(from "The Day Lady Died")
O'Hara was featured in an episode of USA: Poetry, which aired on public television (and can be found on YouTube) in 1966, a few months after his death. One brief scene perfectly encapsulates O'Hara's artistic methods: Frank bangs away at a typewriter composing a film script with Alfred Leslie while smoking a cigarette, talking on the telephone (some of which conversation Frank then incorporates into the script which he has not stopped typing), while listening to Leslie's idea for the scene being composed, and at the same time addressing the cameraman.
By 1966, however, O'Hara's poetry production had slowed down considerably, while inversely his responsibilities at MOMA had greatly increased. In the spring of that year O'Hara traveled to the Netherlands to install and introduce a large exhibition of David Smith's work. After returning to New York he curated MOMA's retrospective of Nakian. Only three brief poems have surfaced from those final months.
"Little Elegy for Antonio Machado" was the last poem O'Hara published in his lifetime. It was included in Homage to Antonio Machado, an exhibition announcement for the Tibor de Nagy Gallery. A reader searching for premonitions of O'Hara's own mortality is sure to find some in lines such as, "your mother dead on the hearth / and your heart at rest on the border of constellary futures // no domesticated cemeteries can enshroud your flight / of linear solarities and quiescent tumbrils." The funereal imagery is of less interest to me (it is an elegy after all) than the actual strained quality of the lines themselves. The poet who wrote only a few years earlier,
I wish I were reeling around Paris
instead of reeling around New York
I wish I weren't reeling at all
it is Spring the ice has melted the Ricard is being poured
we are all happy and young and toothless
it is the same as old age
the only thing to do is simply continue
is that simple
yes, it is simple because it is the only thing to do
can you do it
yes, you can because it is the only thing to do
(from "Adieu to Norman, Bon Jour to Joan and Jean-Paul")
feels practically straitjacketed in the lines of the later poem. There's a stiffness to the rhythm in the lines and a labored quality to the imagery ("twisted ropes of sound encrusting our brains"); gone is the lively snap found in O'Hara's earlier and more ecstatic work.
"[Why Are There Flies on the Floor]," dated February 2 of 1966, surfaced in editor Donald Allen's Poems Retrieved, his follow-up volume to the massive The Collected Poems of Frank O'Hara (the first issue of which, from 1971, features a dust jacket with Larry Rivers' portrait of the nude O'Hara – objections from the easily offended compelled the publisher to replace this jacket with a dark green imageless one). While not as tonally dire as his Machado poem, "[Why Are There Flies on the Floor]" still suffers from a noticeable ebb in O'Hara's powers:
Why are there flies on the floor
In February, and the snow mushing outside
And the cats asleep?
Because you came
Back from Paris, to celebrate your return.
Dead flies, sleeping cats, snow gone to mush. This is not the imagery of celebration such as one finds in the earlier poem, "Today," which starts, "Oh! kangaroos, sequins, chocolate sodas!" – rather, this is hushed melancholy. Absent entirely from these last poems is what James Schuyler called O'Hara's "intimate yell". By 1966, O'Hara's poetic voice was reduced to a melancholic whisper.
In a letter to O'Hara dated March 27, 1956, Schuyler offers as fine a description of what it feels like to read O'Hara's best poems: "Your passion always makes me feel like a cloud the wind detaches (at last) from a mountain so I can finally go sailing over all those valleys with their crazy farms and towns." Whether it was O'Hara's workload at the museum, his increased drinking, loneliness (a rapprochement with his lover Vincent Warren, the subject of some of O'Hara's finest love poems, did not pan out) or a combination of all three, the infectious buoyancy described by Schuyler has certainly disappeared.
After Frank O'Hara's death a journal was discovered in his apartment containing his last known poem, a fragment really, dated April 7, 1966 and titled "Oedipus Rex."
He falls; but even in falling
he is higher than those who
fly into the ordinary sun.
Here Frank, even though he is likely referring to the Stravinsky opera "Oedipus Rex" for which his friend Larry Rivers had recently designed the sets, seems to have acknowledged his own diminished powers. Brief and epitaph-like, these are not exactly ringing last words.
O'Hara's finest poems are full of zing, full of love, excitement and surprise, full of "all / the stuff they've always talked about" that "still makes a poem a surprise!" Better then to remember the actual epitaph inscribed on O'Hara's headstone from "In Memory of My Feelings" -- "Grace to be born and live as variously as possible."
---
Selected Items by Frank O'Hara
The American Poetry Review - Volume 6 Number 3
Philadelphia: American Poetry Review, 1977. First edition. Paperback. Very Good. Single issue of this poetry journal printed on newspaper stock. This issue still unfolded. Edited by Stephen Berg et al A notable issue which includes seventeen previously unpublished poems by Frank O'Hara. Also contributions by Marjorie Perloff, Charles Wright, Sonia Sanchez, Richard Hugo, a special section on Hungarian poets and much more. A very clean copy. (Offered by Derringer Books)
---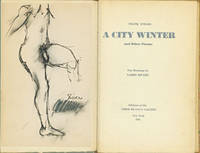 A CITY WINTER AND OTHER POEMS TWO DRAWINGS BY LARRY RIVERS
New York: Editions of the Tibor de Nagy Gallery, 1952. Small quarto. Linen and decorated boards, spine panel lettered in gilt. Frontis and two illustrations by Rivers. Extremities a bit rubbed and modestly darkened, spine a bit sunned and smudged, but a very good copy. First edition, deluxe issue. One of twenty numbered deluxe copies printed on untrimmed Japanese Kochi paper, specially bound, with an original graphite and wash drawing (24.2 x 15.2 cm; 9.5 x 6") by Larry Rivers tipped in to serve as the frontispiece (in this case, of a male nude, signed "Rivers"). The ordinary issue consisted of another 280 copies on Arches (although the colophon called for 130, and many copies were issued unnumbered and without wrappers). Not all of the drawings used for this special issue were signed by the artist. One of the most significant first books of its generation, a key book among those associated with the New York "School" of Poetry, and, in this deluxe issue, an uncommon book. (Offered by William Reese Company)
---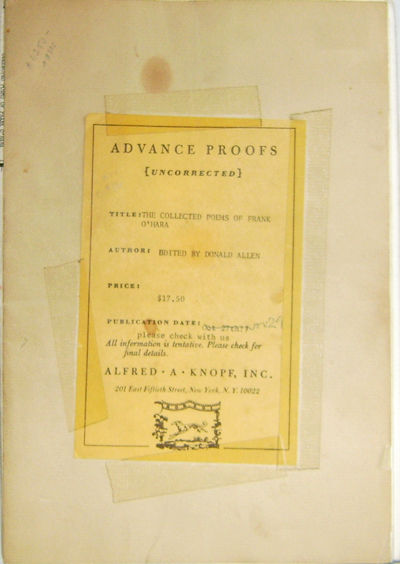 The Collected Poems of Frank O'Hara (Advance Proofs)
New York: Alfred Knopf, 1971. First Edition. Paperback. Very Good. Advance Uncorrected Proofs of this influential collection. Unbound signatures in very good condition. Early state and quite scarce.
(Offered by Derringer Books)
---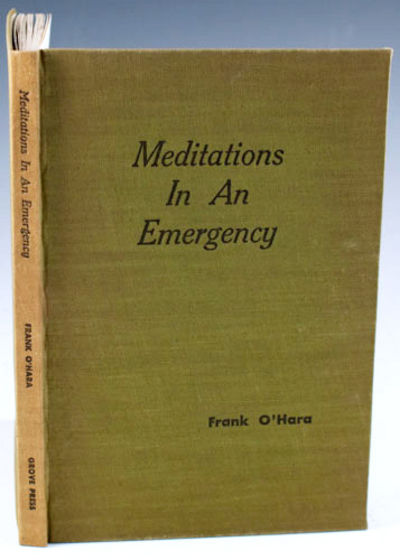 NY: Grove Press, 1957. First edition of O'Hara's second and, arguably, best-known book. One of 75 copies, signed by O'Hara. Presentation copy, inscribed by O'Hara on front endpaper to Morris Golde: "For Morris, from one islander to another." The reference is to Fire Island, where Golde had a summer beach house, and where O'Hara composed "For James Dean," after learning of Dean's death in 1955. In an ironic twist of fate, it was at this same location where, in 1966, O'Hara was struck by a dune buggy and killed. A fine copy in green cloth, the spine of which is far less toned than is usually encountered, housed in publisher's slipcase, which shows light wear and toning. (Offered by Bromer Booksellers, Inc.)
---
by DI PRIMA, DIANE (EDITORS) JAMES WARING, JULIAN BECK, FRANK O'HARA, GERARD MALANGA, FIELDING DAWSON ET AL
New York: The Floating Bear, 1964. First edition. Softcover. Edited by Diane di Prima. Cover by George Herm. Contributions by James Waring, Julian Beck, Frank O'Hara, Gerard Malanga, Fielding Dawson, and numerous others. A very good plus copy in stapled wrappers with some minor soiling to the first and last page. (Offered by Jeff Hirsch Books)
---