Personal confession: normally I am a proponent of all types of blogging. Though I believe the (not-so-old) adage "Don't believe everything you read on the internet," I also find the internet to be a most useful place for information. Some of it genuine… some of it not quite so genuine… some of it kind, some of it negative. In any case, the internet is a fount of information. And I do use it – boy, do I use it!
However, that being said, there is one thing that I cannot make up my mind on how I feel about it. The internet is partially responsible (in my own humble opinion) for making one particular genre of published book not quite as popular anymore.
Nowadays, just about anyone can and does post just about anything they want online. They went on a hike with their girlfriend and found a killer "secret" camping spot? Let's tell the entire online world! (Not so "secret" anymore – so much for skinny dipping!) Did you travel to Versailles with your parents and take pictures of every single item of gold you saw? Post them to Facebook! Gone are the old days where someone went on adventures that others might never experience and went home to write colorful and descriptive tales about their travels. Travel writing had to be good enough, exciting enough and gripping enough to spend money to publish it – it had to appeal to the masses. Now don't get me wrong – I love to travel and always want to write about my "adventures" – but I would rather write them down for a book than blog about them online! Perhaps it is old fashioned of me, but I think that this is a genre that we ought to bring back.
---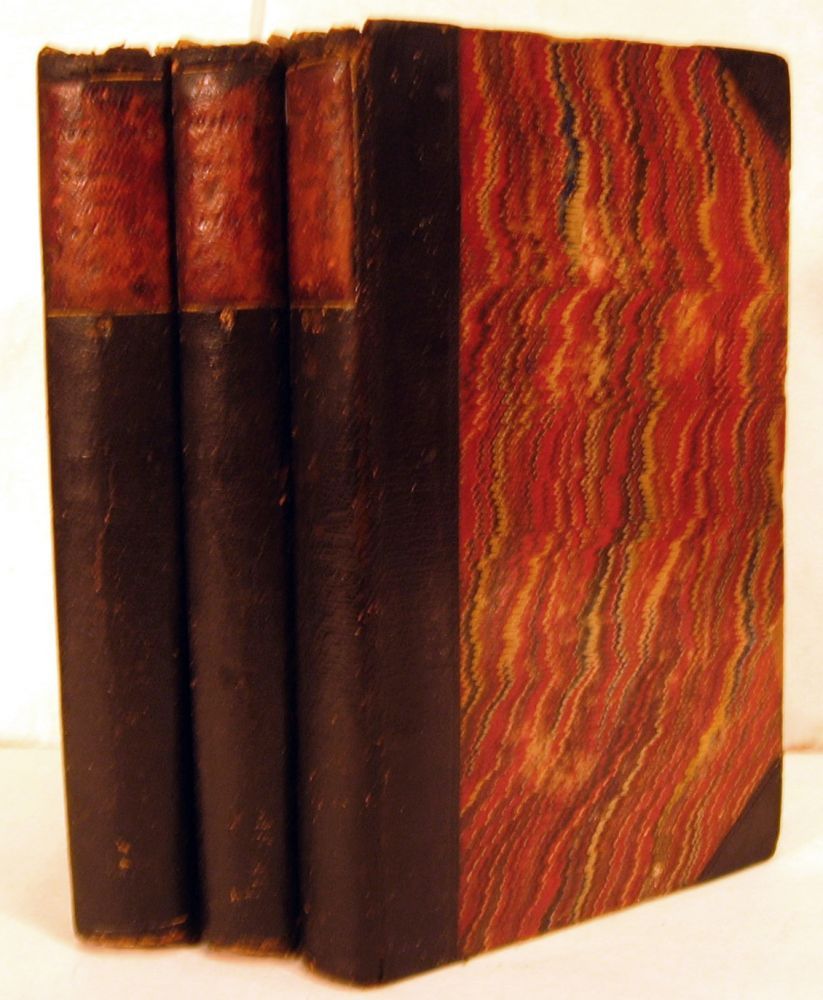 The Description Of Greece By Pausanias, Translated From The Greek.; With Notes, In Which Much Of The Mythology Of The Greeks Is Unfolded From A Theory Which Has Been For Many Years Unknown
London: Priestley And Weale, 1824. New Edition. Hardcover. Contemporary half black calf and marbled boards. Very good. 3 vols.. 409, 341, 392 pages. 23 x 14.5 cm. Five folding engraved views of Athens after James Stuart, two folding engraved plates. Translated by Thomas Taylor.
Pausanias, a Greek of the second century lived during the reigns of Hadrian, Antoninus Pius and Marcus Aurelius was the first to write of the ruins of Troy, Alexandria and Mycenae, and equally adept at describing the art and architecture of Olympia and Delphi, As a Greek living and writing under the auspices of Roman rule he was careful not to revel too loudly in Greece's past glory. (Offered by Roy Young Bookseller, Inc.)
---
Travel Writing began as early as the 2nd century, when Pausanias wrote his Description of Greece and when Gerald of Wales wrote Journey Through Wales and Description of Wales (does it count as travel writing if you are reporting on your own hometown? Apparently so if it was written in 1191 and 1194.). Travel writing was also a fairly common genre in medieval Arabic literature, with the travel journals of Ibn Jubayr (d. 1214) and Ibn Batutta (d. 1377) being the most well-known examples of this genre. In medieval China (the end of the Song Dynasty, in particular, 970 – 1279) travel literature was also widespread, and belonged to a genre the Chinese named "youji wenxue" or "travel record literature." Authors in medieval China wrote narratives, essays and prose that extensively focused on geographical and topographical information – authors like Fan Chengda and Xu Xiake are two of the most celebrated writers of this period's genre – and their descriptions are valuable and amaze academics to this day! Even other nationalities were interested in describing Ancient and Medieval China… Venetian traveler Marco Polo, for example, wrote extensively about his travels and adventures when he reached China in 1271. His writings sparked other adventurers for centuries after his death in 1324 (be they authors or not, such as explorer Christopher Columbus).
---
Delle Merauiglie del Mondo per lui Vedute
by Marco Polo
Venice & Trevigi: Angelo Righettini, 1627. Hardcover. Near Fine. 8vo. [16.5 x 10.5]. 128 pp. including title and full-page woodcut of Polo. Bound in 18th C tree-calf with spine in five decorative compartments. Foxing and marginal waterstain to title, light foxing to first and last quires, marginal dye-staining to scattered leaves. Generally good, internally a very clean copy.
Scarce early 17th C Italian-language edition of Marco Polo's Travels-"the most widely read" version of this classic travelogue, reprinted from the first published Italian text of Polo's masterwork (Venice 1496). While the Venetian explorer's tale was first circulated in a French-language manuscript, and was initially printed in German (1477), it was the edition in the so-called "Venetian dialect" that was most influential. According to Printing and the Mind of Man, "it is probable that the Italian text was the most widely read by the Mediterranean navigators and traders whose adventurousness so greatly extended our knowledge of the globe" (p. 23). "Marco Polo provided Europe with the most comprehensive and authoritative account of the East produced before 1550" (Lach). Additionally, from the standpoint of Italian literature, Olschki notes "the universal value of his book, the first text of an Italian author written in the vernacular to pass, in various languages, beyond the confines of its native land" (Marco Polo's Asia).
In 1271 Marco Polo journeyed overland from Venice to northwestern China in the company of his father and uncle. The Italians spent the next twenty years based in Shantung at the court of Kublai Khan, traveling widely throughout the region as ambassadors before eventually returning to Venice in 1295. Not long after returning from the East, Polo was imprisoned by the Genoese after the Venetians' defeat at Curzola Bay, and it was while in prison that he dictated details of his travels to his fellow inmate Rustichello, a Pisan author of popular romances. Rustichello treated Polo's tale like his other epics, transcribing it in Old French generously sprinkled with Italianisms. The present Righettini edition is illustrated with a full-page woodcut on the verso of the Letter to the Reader, depicting Polo surrounded by four other men as he gestures to his works. The woodcut is possibly a restrike of the woodcut Righettini used for his much smaller (57 ff.) 1590 edition; if not, it appears in the present edition for the first time (see Yule).
(Offered by Martayan Lan, Inc.)
---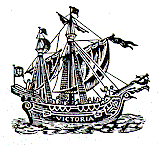 Going further down the chronological ladder of history, in 1589 an English writer known for promoting the settlement of North America by the British, Richard Hakluyt (d. 1616) published his text The Principall Navigations, Voiages and Discoveries of the English Nation - a book (which ended up as three volumes) that detailed lands around the world and was based on as many eyewitness accounts as Hakluyt could find. His texts are widely accepted as the foundations of the "modern" travel literature genre. To this day, the London-based Hakluyt Society publishes scholarly editions of travels, adventures and voyages.
The 1700s is where things become, if I may interject my own personal feelings about it (which I never fail to do), fun. In 18th century Britain, most of the most famous authors worked in the travel literature genre and once published would travel widely (imagine that) and give lectures about their books and their anecdotes. Captain James Cook's diaries, published in 1784, for example, were unbelievably well-known and were some of the most exciting publications to ever be made available to a literate public. Entering into the 1800s, Charles Darwin detailed the HMS Beagle's journey and findings – a combination of travel writing, scientific study and natural history/geography. Not all authors of the period combined science with their studies – some interspersed humor with their anecdotes; authors like Mark Twain and (even our main man) Charles Dickens are good examples of this species of 1800s' travel writers.
---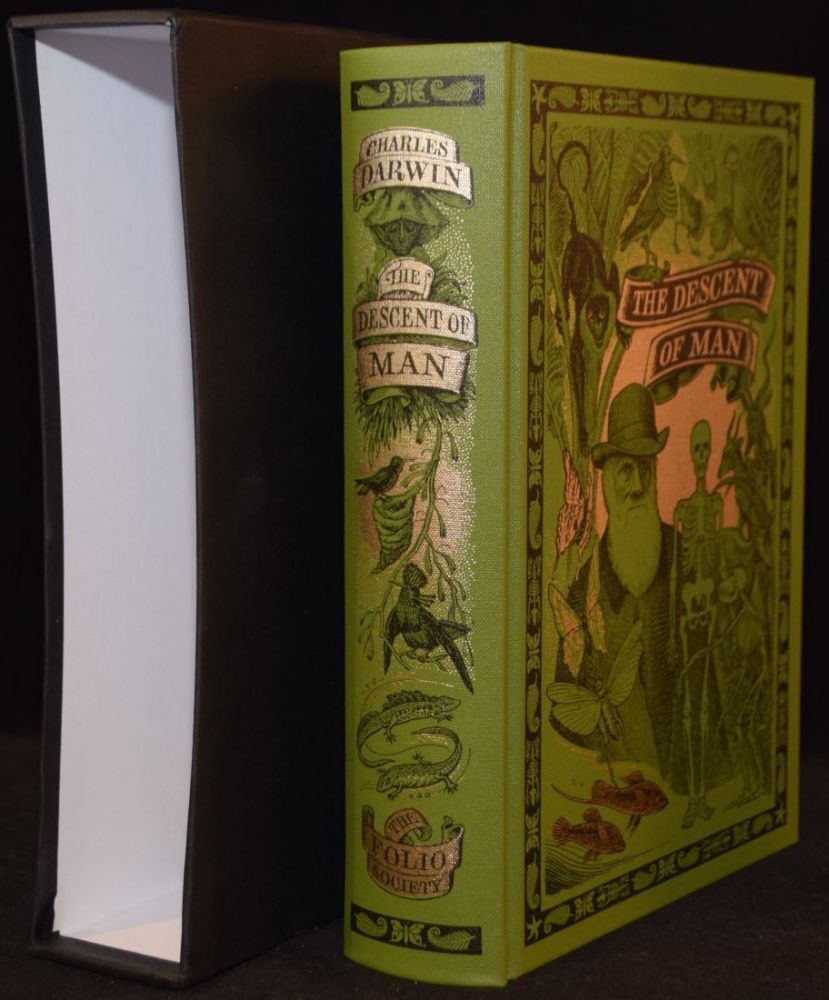 by Charles Darwin.
London: The Folio Society, 2008. Hard Cover. Fine binding. A pristine copy with no marks of any kind, housed in a like slipcase. We removed the shrink-wrap from this copy to price it for sale. Fine binding. (Offered by Black Swan Books, Inc.)
---
Travel writing remained popular through the 20th century, with a higher emphasis on adventure tales, as travel was becoming easier and easier with the advent of different types of transportation – the car and the airplane, in particular. Adventurers and authors like Richard Halliburton made their name by performing acts of bravery (and/or stupidity) and experiencing highly unlikely scenarios.
Humans have not lost the yen to travel and experience… so why has this type of narrative fallen a bit away from its original intent? Because times change! Though this is not a bad thing -- and who knows… perhaps one day I will end up writing my own travel blog -- I still yearn for the days where one could read the Royal Road to Romance and see the adventure and the distant lands in our minds alone –- without seeing a 3D movie about the same things! Who's with me?

Browse books on Travel Writing & Voyages...
---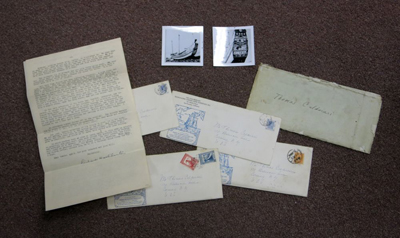 ARCHIVE Of FOUR TLS LETTERS FROM RICHARD HALLIBURTON'S CHINESE JUNK "The SEA DRAGON"
by Richard Haliburton
(San Francisco) Shanghai / Macao / Hong Kong: The Trans-Pacific Chinese Junk Expedition, Inc, 1939. Letters are dated: Nov 20, 1938; Jan 18th, 1939; Jan 27th, 1939; and Feb 16th, 1939. Though typewritten and mimeographed, all four are personally signed by Halliburton. Letters typewritten to buff paper, envelopes with blue seal of the "Sea Dragon" with illustration printed to front. Two black and white Kodak photographs are included, printed in 1957, presumably from a negative of Robert Pullen's famous shots of the "Sea Dragon", taken just before its doomed maiden voyage.
Who took the first aerial picture of Mount Everest after receiving express permission by stunning the Majarajah of Nepal with bi-plane aerobatics? Richard Halliburton was a legendary American travel writer and adventurer. Reading stories of his feats and antics seem surreal -- after all, who flies an airplane upside down over the Taj Mahal?
Halliburton was born in January of 1900 in Brownsville, Tennessee. Deciding at an early age not to settle down and grow old with a wife and family as the rest of his family and friends seemed to be doing. After graduating from Princeton, Halliburton traveled on as many adventures as possible and published his first novel, The Royal Road to Romance, in 1925 at the tender age of 25. His first novel became a bestseller, and was followed by more published adventures in 1927 and 1929. He enjoyed fame and adventures for a little over a decade, before deciding in 1938 that his next grand feat would be to cross the Pacific ocean from Hong Kong to the San Francisco International Exposition in a Chinese Junk ship, made expressly for his purposes. It is on this voyage that Halliburton and the entire crew of the Junk the "Sea Dragon" were lost at sea, having gotten caught in a typhoon. In 1945, a 150-foot ship outline with Chinese lettering washed ashore in California, this thought to possibly be some of the wreckage of the "Sea Dragon."
Letter I: Halliburton describes the arrival in China and purpose of the expedition, as well as his interest in junks stemming from a 1 ft. scale model he sailed as a child. He explains that he chose to use a junk for his journey because of their stability, and notes that it is possible it will not be the smoothest ride. He quips: "If the junk should be small, the storms violent, and the voyage long - all the better. For if there is no hazard, no battle, where is the sport?" He introduces the "friends" of the expedition to his crew of Captain John Welch, Henry von Fehren, "Bru" Potter, among others. Halliburton also spends a significant amount of time discussing the war with China and Japan and the Japanese belief systems.
Letter 2: The second letter discusses the search for an appropriate junk, and the ultimate decision to build their own that could be modified for the journey. Working with the man said to be the best ship-builder in Hong Kong (Mr. Fat Kau), and the appropriation of a few more crew members (a chef and a radio operator).
Letter 3: The third letter, posted from Canton, desribes their taking the Sea Dragon out for a "shake down" cruise, with Mr. Fat Kau as his guest (who, though a builder of ships, had never sailed on one), and with high seas nearly everyone aboard became seasick. Halliburton notes the dry deck despite the high waves and believes he was right about the Sea Dragon's sea-worthiness. Much of the rest of the letter is spent discussing Canton, the disputes between the Chinese and Japanese, the destruction, the looters, and other conditions in the city.
Letter 4: After setting out on their voyage, the Sea Dragon needed to return after only 2 days due to sickness on the boat. Though Halliburton seems only a trifle annoyed at the delay of their voyage, he is excited enough to try again, and leaves his readers with this: "In about another week we plan to leave again, to slip away as quietly as possible, and head east, once more around the southern tip of Formosa - and straight on to Midway. If all goes well, the next letter, the fifth, will carry an American stamp, for Midway Island is American. When this, the fourth letter, reaches you, we'll be a thousand miles along the way - I hope. Many thanks, again, for your interest and good will. Faithfully, Richard Halliburton"
(Offered by Tavistock Books)
---
---