Editor's note: Geoffrey Hill (1932-2016) was considered by many to be the finest poet writing in English of his time. His first poetry appeared in the early 1950s and his last book was published in 2012. His work is dense, lyrical, layered, scholarly, arcane, and sometimes not easily accessible, which makes the rewards of his poetry all the greater for those who take up its challenges. We asked Graham Shearing, an Englishman who has collected and read Hill for many years, to discuss his poetry, and Jett Whitehead, a specialist in modern poetry, to discuss editions of Hill's works.
GRAHAM SHEARING:
Around 1980 I was in a bookshop in Bath, England, when I first found Geoffrey Hill's Tenebrae, then two years since its publication. I was struck by the design of the wrapper and the magical word Tenebrae, with its liturgical associations. I bought one other book, of somewhat lubricious poetry, that day, by a now-forgotten poet (as is so often the case). But I devoured the Hill on the bus back to Downside Abbey, some miles away... the rattle of the bus drowned out in my mind by the force of his "Lacrimae, or, Seven tears figured in seven passionate Pavans" and its deliberate evocation of John Dowland's music.
---
[London]: Andre Deutsch, 1978. paper covered boards, dust jacket. 8vo. paper covered boards, dust jacket. 48 pages. First edition. Duff Cooper Memorial Prize winner 1979 wrap-around. Poetry Society leaflet loosely inserted. Fine. (Offered by Oak Knoll Books)
---


I returned to the slim volume many times after that, and the ecclesiastical setting in which I lived enforced Hill's complex allusions and ambivalences. By chance a few months later Eric Griffiths, a fellow of Trinity College, Cambridge came to stay and we discussed Hill in depth. Hill at that time was a Fellow of Emmanuel College, Cambridge, and was a figure in literary circles in the University. Shortly after, Griffiths sent me a tape recording of the poet reading to a private group at Trinity. So now I had the measured voice of the man to correct my infelicities of interpretation and delivery.

Since then I have everything Hill wrote, in as many editions and formats as possible. Like E.M. Forster, I rate the pursuit of First Editions as little higher than stamp collecting, but nonetheless I have them. I admire the format in which his poetry was first produced and so a second printing doesn't bother me. The series of Collected Editions, culminating in the heavy Broken Hierarchies: Poems 1952-2012 appeal less than the slim volumes. Alas, I have currently mislaid Preghiere (1964). Too slim by far, it has probably slipped into another book and one day I will discover it and read it again.
---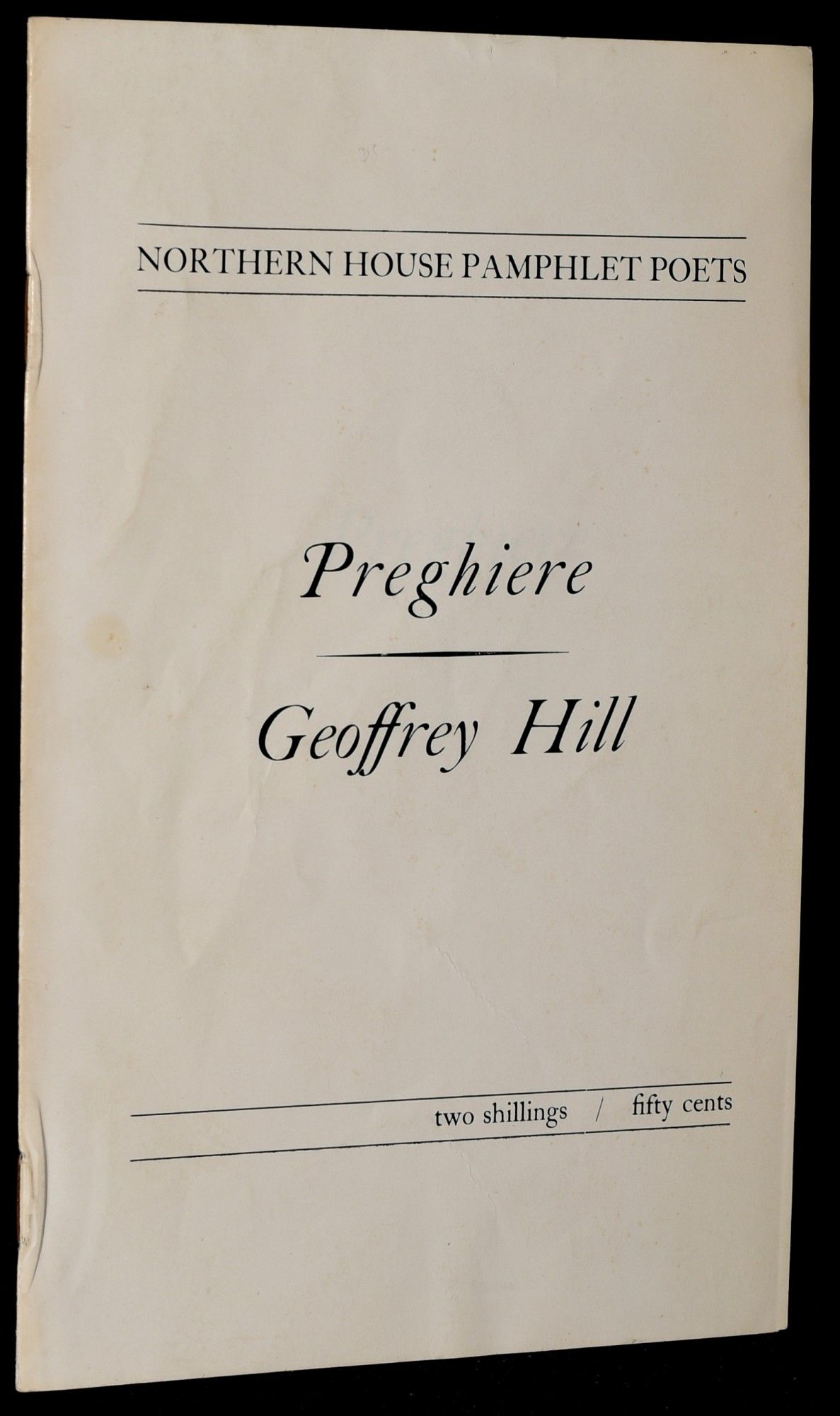 University of Leeds, 1964. Stapled Pamphlet. Very Good binding. With the namestamp of Douglas Hill at the top of the "Acknowledgements" page. Stapled wrappers with a bit of wear. Very Good binding. (Offered by Black Swan Books)
---
The search for a poet whose works appear in so many different formats, issued by so many publishers, in both America and the United Kingdom, is hard. Those issued by the major publishing houses are easy enough, but those little luxury issues, bound in blue morocco, boxed, signed and limited, are still harder. Is the UK title earlier than the US one? Sometimes hard to say. The nicely printed (and rare) issues by the Clutag Press took a deal of finding, largely because there are collectors more diligent than I am.

Hill is a critic and polemicist who wrote hard, crystalline prose in addition to his poetry. I have those books too, and read them, only to be exhausted. He is denser than any contemporary philosopher and I hope, one day, to come to terms with this work as I have with his poems.
---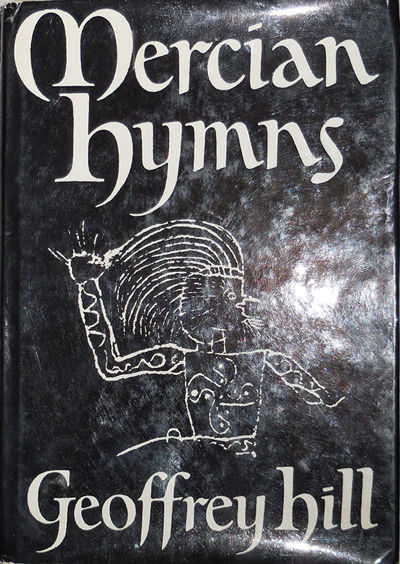 London: Andre Deutch, 1971. First edition. Hardcover. Very Good/very good. Uncommon first hardbound edition of the poet's third book. XXX pp. Simple yellow boards are a bit dinged at corners and lightly soiled. The price-intact dustwrapper is in very good condition overall with some small wear at edges. Afixed to the front endpaper is a "With The Compliments Of Andre Deutch Limited Publishers" bookplate on which Hill has INSCRIBED a message to a fellow author. (Offered by Derringer Books)
---

An English reader, coming from a small country where the niceties of location matter, warms especially to the poetry of place. Mercian Hymns (1971) excavates the rich undersoil of the West Midlands, Hill's birthplace:
Gasholders, russet among fields. MiIldams, marlpools
that lay unstirring. Eel-swarms. Coagulations of
frogs: once, with branches and half-bricks, he
battered a ditchful; then sidled away from the
stillness and silence.


For me all this is poetry to revisit, and gobbets of it stick in the memory. "Ovid in the Third Reich" is perhaps his most-quoted work, from King Log (1968). I remember it verbatim from the first reading. Nor does it tire one from its rereading. Other works of his, obscure and difficult, repay this continual consultation: as an augur revives his prophecy when stirring and re-stirring the entrails.

Some years ago I wrote a short book on two photographers, who were working here in Pittsburgh. Taking up the theme of ut pictura poesis I wrote and asked Hill for permission to use his poetry for my project. To my surprise, it was immediately granted. The gruff voice and the fearsome appearance, as others have noted, was an illusion.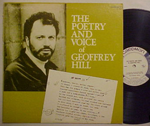 There is a photograph of him by Alistair Elliot on the cover of the sleeve of the Caedmon LP (remember such things?): in a leather jacket, with a white roll-collar and a neatly trimmed beard. He is reminiscent of those portraits of the Catholic martyrs and poets of Elizabethan and Jacobean England he so much admired. At Downside there is preserved in the reliquary cabinet the kneecap of the martyred poet St John Southwell, in a silver case engraved with the symbols of the Passion. Hill would have gazed on it with both irony and passion:

He wounds with ecstasy. All
the wounds are his own.
He wears the martyr's crown.
He is the Lord of Misrule.
He is the Master of the Leaping Figures,
the motley factions.
Revelling in auguries
he is the Weeper of the Valedictions. (Tenebrae 7)
---
JETT WHITEHEAD:
When starting a collection of Geoffrey Hill's poetry, as with most any collection of a single author's work, I suggest collectors attempt to include a variety of his earlier publications. For all practical purposes, Hill's poetry was 'discovered' by Donald Hall when Hall was a student at Oxford University. Hall was editing a series for the Fantasy Press, and he included Hill's poems in NEW POEMS, Volume 1, Number 2, Fantasy Press, 1952. Copies of this publication surface in the trade from time to time, and depending on condition can generally be purchased in the $100-$200 range.
---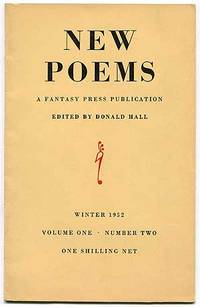 Eynsham, Oxon: Fantasy Press. Winter 1952. Magazine. Octavo. 12pp. Stapled wrappers. Very light wear, else fine. Poetry magazine with early appearances from Adrienne Rich, as well as Robert Bly and F. George Steiner (preceding both their first books by eight years). Also contains contributions from Geoffrey Hill, Elizabeth Jennings, Anthony Thwaite, Brian Morris, Michael Rapier, and Don Collins. A subscription form laid in. (Offered by Between the Covers Rare Books)
---
Also from this period, the collector should watch for copies of OXFORD POETRY 1953 and OXFORD POETRY 1954, both published by Fantasy Press and containing early poems by Hill. Of similar interest for most collectors, try to obtain a copy of NEW POEMS, Volume 2, Number 2, Fantasy Press, 1954, where young Geoffrey Hill serves as the editor.
A 'must have' for any serious Hill collection is a copy of Hill's first solo volume of poetry, FOR THE UNFALLEN, London: Andre Deutsch, 1959. This volume includes some of Hill's poems first published in the Fantasy Press publications mentioned above. This collection of poems was later published in the United States by Dufour Editions, New York, 1960. Most collectors would desire a copy of both the London and New York editions, which generally range in price from $200-$400 depending on condition.
---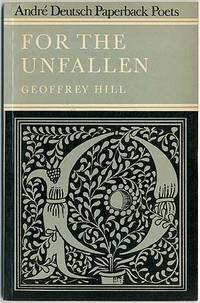 (London): Andre Deutsch. (1971). Third printing. Pictorial wrappers. Near fine with rubbing and edgewear. Poetry. (Offered by Between the Covers Rare Books)
---
Among Hill's most important volumes, collectors should include a copy of KING LOG, London: Andre Deutsch (1968), which was the prize winning title of the Geoffrey Faber Memorial Prize, awarded in 1970. We once handled a copy of this volume that Hill had inscribed to Lady Faber, which sold for $895 nearly twenty years ago. Adding signed and inscribed copies of Hill's books will greatly enhance a collection.
Later issues of Hill's work, including TENEBRAE (1978) and THE TRIUMPH OF LOVE (1998), are easier to find yet important to include. And remember: always seek to find copies of these titles in the best possible condition!
---