The ABAA has recently approved several new members, all of whom have successfully proven themselves to be, in the words of the ABAA Guarantee, "established, knowledgeable, and of excellent reputation." These new members were sponsored by existing members, and have undergone a rigorous screening process. We welcome the newest members of the Antiquarian Booksellers' Association of America.
Full Members
Nick Aretakis, Nick Aretakis Rare Books

Nick Aretakis was born and raised in California, and attended the University of California, at Berkeley, where he received a B.A. in American History. He also has an M.A. in International Relations from the George Washington University, and spent a year in the American History Ph.D. program at the University of Virginia. In the mid-1990s he helped launch the "BookTV" series at C-SPAN television, after which he gravitated toward the world of rare and antiquarian books. In the late 1990s Nick worked part-time for Bartleby's Books of Chevy Chase, Maryland, after which he moved to New Haven, Connecticut, where for fourteen years he was an associate in the Americana Department of the William Reese Company.
Nick and his family moved back to California in 2014 and he began his own firm, specializing in books, manuscripts, maps, prints, and photographs in American history. He deals in Americana of all regions and all periods, with an emphasis on Western Americana and the frontier, politics, law, social history, and diplomacy.
Zhenya Dzhavgova, ZH Books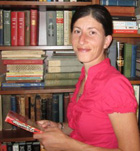 Zhenya Dzhavgova grew up in the beautiful Valley of Roses in central Bulgaria. She has lived in the United States for 12 years and is a computer engineer by education. A lifelong lover of books, out of school and out of work she came across a forum discussion about a "booksellers' boot camp" in Colorado Springs in early 2011. Although she had just the vaguest idea of what the antiquarian book trade really was, Dzhavgova applied for and won the ABAA's Ed Glaser Scholarship to the Colorado Antiquarian Book Seminar (CABS). She also attended the Rare Book School at the University of Virginia.
Realizing that her big advantage in the book trade was the ability to read and understand most of the Slavic languages, Dzhavgova focused on specializing in antiquarian Slavic and Eastern European material, although she also has a diverse inventory of English-language ephemera. She has been a Board Member of the Independent Online Booksellers Association for several years and has published several articles on/about the book trade in the New Yorker and Fine Books & Collections Magazine. Her favorite part of the trade are book fairs, where she loves interacting with institutional and private customers and seeing colleagues.
Fabrizio Govi, Govi Rare Books (gfabbrig@gmail.com)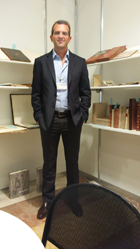 After an education in classical studies at the Liceo classico San Carlo of Modena, Fabrizio Govi studied with the art historian Anna Ottani Cavina at the University of Bologna, where he graduated in 1997, and also for a semester at the University of Göttingen (Germany). His dissertation thesis concerned the rich collection of books, paintings, autographs, coins and drawings gathered at the beginning of the 20th century by Carlo Piancastelli and now preserved in Forlì. He started his career as a bookseller in 1996, joining his father who had founded the Libreria Alberto Govi in 1973.
Govi's main fields of interest are early manuscripts, incunabula and 16th-century books. A thorough understanding of classical languages (particularly Latin) and of the main languages of Western culture (English, French, Spanish, and German) allows him to deal with books and to utilize the scientific publications printed in these languages. Since 2012 all of Govi's catalogues and e-lists are published either in English or in Italian and English.

Having been a committee member and treasurer of the Antiquarian Booksellers Association of Italy (ALAI) for many years, from 2010 to 2015 Govi served as its president. In 2010, he took part as ALAI treasurer in the organization of the ILAB Congress and Fair in Bologna. As ALAI president, he organized in the 2013 ILAB presidents' meeting in Sienna and supervised the organization of two editions of the Milan Book Fair. He is currently secretary to the Breslauer Prize for bibliography.

Since 2005, has been a partner in the historical Swiss company Gilhofer und Ranschburg based in Lucerne. In 2015, he opened Govi Rare Books, Llc. to develop his business in the US.
David Lowenherz, Lion Heart Autographs
Lion Heart Autographs was founded in 1978 by David Lowenherz and specializes in the areas of music, history, art, literature, and science. The thousands of unique signed photographs, letters, documents, and manuscripts are located in Lion Heart's offices in midtown New York City, which also includes a reference library of over 900 volumes for researching the content, authenticity and value of his inventory.
Mr. Lowenherz is a member of the Universal Autograph Collector's Club, the Manuscript Society, the Grolier Club, and co-founder, first president, and former Treasurer of PADA (Professional Autograph Dealer's Association). Mr. Lowenherz has completed appraisals for The New York Times, Carnegie Hall, the songwriter Paul Simon, the Irving Berlin and George Gershwin estates, the estates of Leonard Bernstein and Martha Graham, and many more. In 2004 he was a panelist at the Appraisers Association of America's National Conference speaking on "The Dealer as Appraiser."
Mr. Lowenherz is also the author of The 50 Greatest Love Letters of All Time and The 50 Greatest Letters from America's Wars, and is an avid collector of Robert Frost.
Associate Member
John McDonald, Royal Books
John McDonald joined Royal Books in February of 2008, bringing with him valuable experience from his tenure at Daedelus Books, a large remainder retailer and wholesaler. He began his tenure at Royal Books handling direct orders, the front desk, shipping, and other basic store functions. From there, he moved on to becoming store manager.
Today he works as the store's head cataloger, handles incoming consignments and institutional accounts, acts as a buyer, and attends book fairs. He enjoys the research aspects of cataloging, discovering obscure or forgetten aspects of popular culture, and has developed a particular interest in vintage photographs.