Every week, ABAA members issue new catalogs of rare books and ephemera. Most of the items featured therein are not-yet listed on abaa.org (but there are exceptions, as you'll see below). We scoured the most-recent batch of catalog to bring you a few highlights from within their pages...
A HANDSOMELY ILLUSTRATED REAL GRIMOIRE FOR FANS OF HARRY POTTER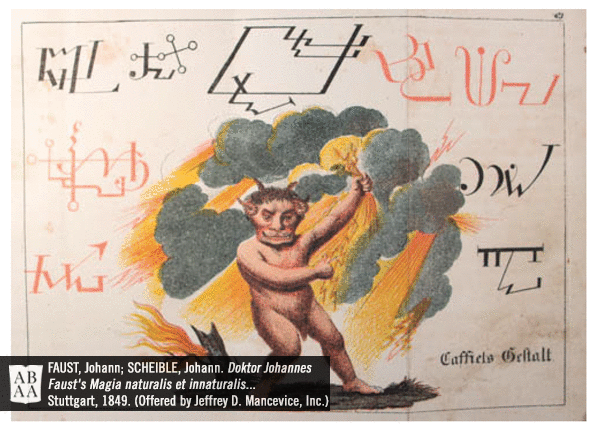 FAUST, Johann; SCHEIBLE, Johann. Doktor Johannes Faust's Magia naturalis et innaturalis, oder, driefacher Höllenzwang, letztes Testament und Siegelkunst. Nach einer kostbar ausgestatteten Handschrift in der Herzogl. Bibliothek zu Koburg vollständig und wortgetreu; herausgegeben in fünf Abtheilungen, mit einter Menge illuminirter Abbildungen auf 146 Tafeln.
Stuttgart: Verlag von J. Scheible (Druck von Fr. Henne), 1849. 8vo, 5 parts in 1 volume. 263, [2], [7] pp. (last 7 pages bookseller's ads). With 146 numbered plates (with illustration no. 19 appearing later in volume on same plate as illustration no. 71) also with plates numbered 109 I, & 109 II (so the total does come to 146 as noted in title) lithograph plates (9 folding, 145 in 2 or more colors). Few minor marginal smudges at beginning of volume and some faint foxing. Very nice copy. Original cloth.
FIRST EDITION of this rare and beautifully illustrated grimoire or Faustbook titled: "Dr. Johannes Faust's Magia naturalis et innaturalis or the Threefold Coercion of Hell, his last testament and the art of the occult sigil (symbol)" which the publisher states was copied from a manuscript from the Ducal Library at Coburg. The work consists of a large collection of spells and incantations often attributed to the 16th-century German doctor Johann Faust, but authorship remains uncertain (Cf. Butler, E.M. Ritual magic,). The main motif of the book is the "Harrowing of Hell" - the descent of Christ into hell - which is reenacted here by the practitioner. However the book consists primarily of a collection of incantations and pacts for spirits of various orders and elements to fulfill the will of the magician and alchemist. They range from grand princes of hell such as Marbuel and Aciel, to sets of seven spirits corresponding to all manner of social statuses, from counts to peasants to fools, to pygmies. The work is famous for its numerous full color illustrations portray these beings, along with the occult sigils (or seals) necessary to compel them. The necessary actions for the spells to work are also illustrated. A reprint of this work is available which we quote from their web site (which describes the work in great detail): "Renown for its rich illustrations, the book is essentially a black-magical grimoire dedicated to the advanced kabbalist, who is instructed in the arte of coercing, binding and making obedient the various spirits and demons. The book is also known as The Black Raven, perhaps in reference to its title page, which shows a black corvid inside a 7 circle." (teufelskunst.com/features/book-reviews/faust-grimoire/). The site claims it was originally printed at Passau in 1505 but as far as I could find this appears to be a fantasy part of the Faust legend. The Stuttgart publisher, Johann Scheible (1809-1866), specialized in books on mysticism and magic which he published under the general series title of "Bibliothek der Zauber-, Geheimniss- und Offenbarungs-Bücher und der Wunder-Hausschatz-Literatur aller Nationen in allen ihren Raritäten und Kuriositäten". The present work consists of the first five parts and is complete as issued. It is also considered his most famous and sought after title because of its extraordinary vivid illustrations of demons, sigils, spells, etc. Advertisements for his other occult titles appear at the end of the volume. An annotated English edition has recently appeared in a limited edition by Nicolás Álvarez Ortiz and published by Enodia Press. A review of the English translation by Daniel Harms notes: "For those who aren't familiar with the book, it serves primarily as a collection of incantations and pacts for spirits of various orders and elements to fulfill the will of the magician. They range from grand princes of hell such as Marbuel and Aciel, to sets of seven spirits corresponding to all manner of social statuses, from counts to peasants to fools, to pygmies. A large number of full color illustrations portray these beings, along with the seals necessary to compel them. These are conducted for various purposes, ranging from fast travel via flying coat to bringing birds and flowers to the magician, but the foremost would seem to be the discovery of buried treasure. There's a great deal in here that should be of interest to many readers of ritual magic." (danharms.wordpress.com/2016/07/27/review-doctor-johannes-fausts-magianaturalis-et-innaturalis/). A very attractive and complete copy with all 146 color lithograph illustrations in very nice condition in its original binding. § Henning I, 3221; Engel 362.
Offered by Jeffrey D. Mancevice, Inc. This item appears in their latest catalog, July 2018. (Item #8.)
Ducks and Rabbits on Velocipedes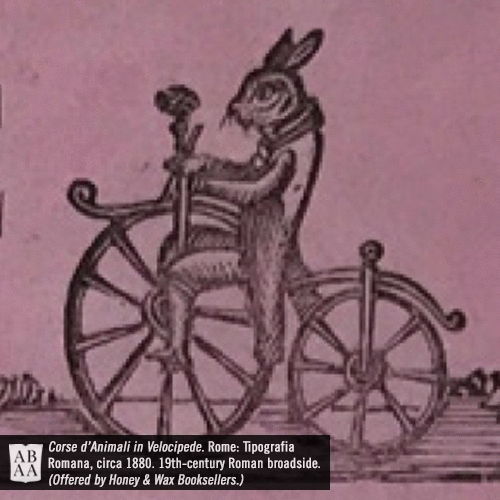 Corse d'Animali in Velocipede. Rome: Tipografia Romana, circa 1880. 19th-century Roman broadside advertising races run by live animals on velocipedes, guaranteed to make even "le persone più serie" laugh. Among the competitors are rabbits, hens, and ducks, all obeying "tutti i comandi" of their coach, Miss Aida. The woodcuts depict a duck and rabbit in fancy dress, riding velocipedes. A surprising survival, in fine condition. Broadside, 9.75 x 6.5, printed in black ink on thin lavender paper. Wood and metal types, two pictorial woodcuts.
Offered by Honey & Wax Booksellers. Found in their latest catalog, 15 New Acquisitions (Item #4). View this item on abaa.org...
Scrapbook of Movie Stars from the Silent Film and Early Talkies Era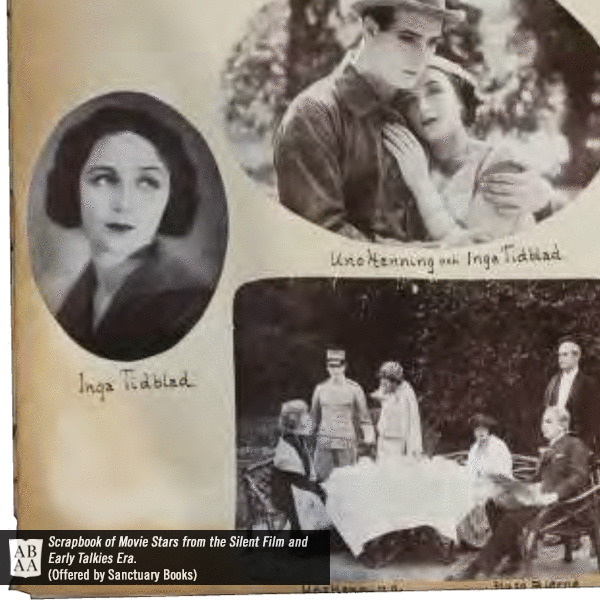 Staple-bound heavy cardstock wraps with tipped on photoillustration of Mae McAvoy, with her name handwritten beneath; pp. 28, each with tipped-on and hand-labeled film stills and photographic images of celebrities, most with tissue guards. Front cover a bit sunned, lightly chipped along the edges; internally bright and clean, remarkably tidy in its layout and preservation. A collection of 110 images of actors from the silent film and early talkies era, including Inga Tidblad, Mona Martensson, Corinne Griffith, Milton Sills, Norma Talmadge, Colleen Moore, Charlie Chaplin, Lillian Gish, and many more. All images are neatly labeled by hand, with an indexed list of the actors handwritten on the inside rear cover.
Offered by Sanctuary Books. Found in their new catalog, Cinema (Page 2). This item is not listed on abaa.org.
Harrison, Jim, "The Same Goose Moon" (Broadside)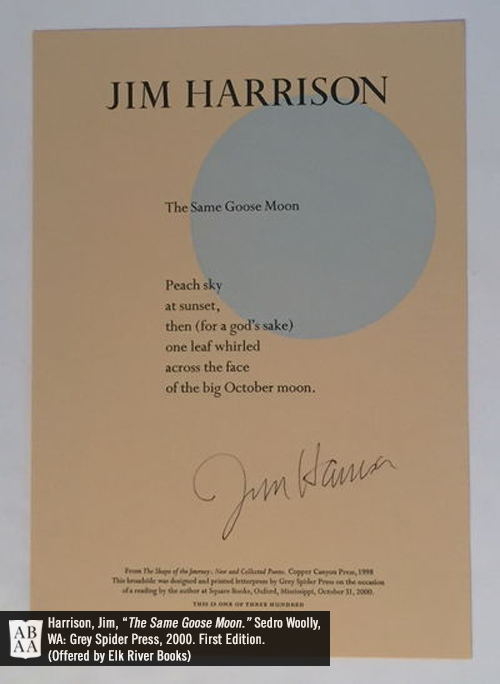 Sedro Woolly, WA: Grey Spider Press, 2000. First Edition. Signed letterpress broadside, 32x22 cm. One of three hundred printed to commemorate Harrison's reading at Square Books in Oxford, Mississippi. Off-white paper with large gray moon accompanying the six line poem, which originally was published in the collection, The Shape of the Journey.
Offered by Elk River Books. Featured in their July 2018 E-list, Number 12: Artists and Broadsides. This item is not listed on abaa.org.
Robert Capa, Slightly Out of Focus.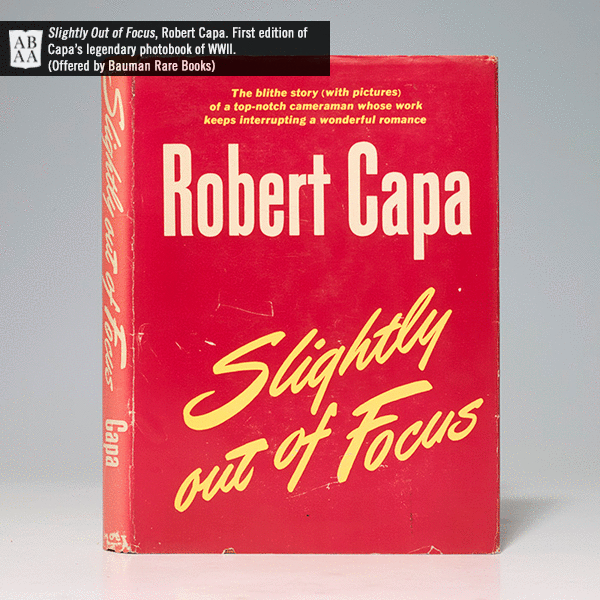 New York: Henry Holt, (1947). Quarto, original russet cloth, original dust jacket.
First edition of Capa's legendary photobook of WWII, with 120 dramatic black-and-white photogravures, many full page, a handsome copy in the original dust jacket.
Following the Spanish Civil War, a conflict that "witnessed the birth of the modern war photographer, exemplified by Capa," this legendary figure came to represent "the 'independent' photojournalist who focuses not so much on the conflict as the people caught up in it" (Parr & Badger, 139). "Robert Capa saw that the real truth of war involved what happened on the edge of battle… War was about life as much as death, Capa told us" (New York Times). "Capa was in a hurry to live… On his way to not becoming a writer, he became—along with his friends Andre Kertesz and Henri Cartier-Bresson—one of the masters of small camera photography. His photographs are great because they reveal the comedy in the tragedy of life, and because they never forget their own terrible limitations. 'It's not easy,' he wrote, 'always to stand aside and be unable to do anything except to record the sufferings around one.' After covering five wars, Capa stepped on a landmine in Vietnam in 1954 and died at age 41, the first American correspondent killed in Vietnam" (Roth, 126). First edition copies of Capa's early work, complete in original dust jackets, are quite scarce. Open Book, 148. Contemporary owner signature dated year of publication. Bookseller ticket.
Book fine; light chipping to ends of toned spine, minor tape reinforcement to verso of extremely good dust jacket.
Offered by Bauman Rare Books. Featured in their new E-list, The Second World War. This item is not listed on abaa.org.
Browse the latest items listed on abaa.org here...
View the most-recent catalogs of rare books from ABAA members here...