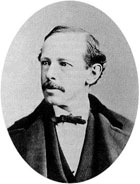 In his day, Horatio Alger, Jr. (1832-1899) was one of the most-famous authors in America. While his books have largely fallen out of print today, everyone is familiar with his main idea, because Horatio Alger, Jr. popularized the "pulling oneself up by the bootstraps" ideal that permeates so much of American life. It's not too much of a stretch to say that Alger gave America its great national myth, that hard work (and clean living) can allow anyone to achieve success — although people often seem to overlook the amount of sheer luck that comes into play in his fiction.
A more-jaundiced reading of Alger's oeuvre would assert that success for Alger was usually defined as social advancement or preferment, and it was usually achieved by finding a wealthy patron through performing a selfless deed or some service (returning a lost wallet or proving ones virtue in some way). Of course, the only individuals who could achieve this social advancement were white males, and the agent of this change was invariably an older white male. Nevertheless, his books were popular after the Civil War, and achieved a huge surge in readership in the early decades of the Twentieth Century.
It wasn't an easy road to success for Alger, the son of a Unitarian Minister and descendant of Puritan ancestors. After attending Harvard -- where Henry Wadsworth Longfellow was part of the faculty -- he published fitfully, and none of his varied early books really found an audience. After a brief attempt to work as a minister was ended by accusations of sexual impropriety, he refocused on his writing career, and found success with stories aimed at young boys.
Ragged Dick was first published in installments in Student and Schoolmate magazine, beginning in 1867. The following year it was published in novel form as Ragged Dick; or, Street Life in New York with the Boot Blacks and was a success. Alger had been living in New York and claims to have interviewed many "Boot Blacks," young boys who lived on the streets and shined shoes for a meager living, during the process of writing Ragged Dick. Five sequels followed, and the book became Alger's biggest success.
---
Ragged Dick; Or, Street Life In New York With The Boot-Blacks (First Edition)
by Horatio Alger, Jr.
Boston: Loring, Publisher, 1868. First edition. Hardcover. 296 pages. 18 x 12 cm. This copy with ad leaf and Dick standing alone with his boot-blacking box: later issues have image of four street boys. Ad leaf here contains two titles in the "Ragged Dick Series," plus three in "Campaign Series." First edition is indicated by two titles only of the former with the second title described as available "In December" 1868. There are also three additional wood engraved illustrations. This story was first published serially in "Student and Schoolmate" [Boston], January - December, 1867, and then issued in book format, 1868. GROLIER AMERICAN HUNDRED 75. PETER PARLEY TO PENROD p.29. Interior contents fresh and clean with very minor scattered toning, mostly marginal. Modern quarter brown cloth and marbled boards. Fine.
Offered by Roy Young Bookseller.
---
Many other books for boys following the same template followed, with titles like Luck and Pluck, Tattered Tom, and Brave and Bold. His initial successes were published by Boston publisher A.K. Loring, who had published Alger's first juvenile novel, Frank's Campaign; or, What Boys Can Do on the Farm for the Camp, in 1864. Alger's theme is most-often summed up as the "Rags to Riches" story, but some critics caution that "Rags to Respectability" is more accurate, as for characters such as Ragged Dick, the journey is from a precarious life on the street to a respectable middle-class existence with an office job, punctual habits, and a modest bank account. Although he was clearly writing "Cinderella" stories, nobody goes all the way from kitchen drudge to princess in Alger's fiction.
Despite his prolific output — he published over 100 books and poems during his lifetime — Alger's financial situation was often precarious, and his critical reputation ebbed and flowed. A trip to the West was organized by his publisher in the 1870s to rejuvenate his stale fiction, but only succeeded in introducing Western locations to Alger's template. He employed several pseudonyms to try to spur interest or excitement and raise sales over the years (including Carl Cantab, Arthur Hamilton, Caroline F. Preston, Arthur Lee Putnam, and Julian Starr), and also applied his formula to the lives of famous Americans like Abraham Lincoln and Daniel Webster.
At his death, he asked Edward Stratemeyer to complete his final novels, which he did under the pen-name Arthur M. Winfield (which Stratemeyer used for his Rover Boys series). His books met with their greatest success in the decades after his death, when cheap editions sold in the millions. As Robert E. Kasper, Executive Director of the Horatio Alger Society, put it, "(w)hether his works possessed literary merit is debatable – whether boys (and girls) liked them is not."
In 1947, the minister and author Normal Vincent Peale (The Power of Positive Thinking) co-founded an association to honor Americans who have overcome difficulties to become successful and named it after Horatio Alger. The Broadway hit Shine!, based on Alger's books Ragged Dick and Silas Snobden's Office Boy, brought the rags to riches template to the stage as a "romp for the whole family," highlighting the scale of Alger's achievement in refining and popularizing this most-enduring American myth.
---
Bertha's Christmas Vision: An Autumn Sheaf (First Editon)
by Horatio Alger, Jr.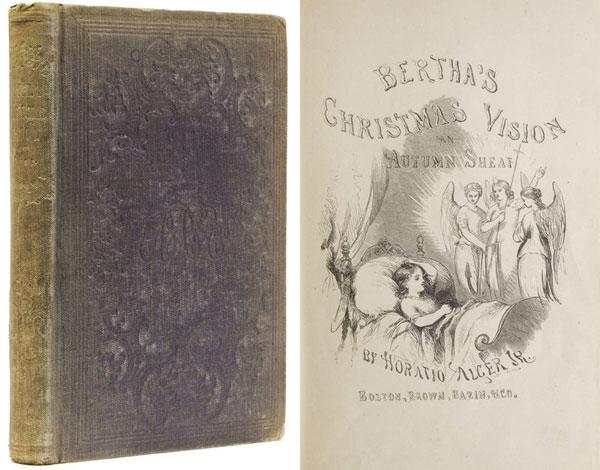 Boston: Brown, Bazin, 1856. First edition of Alger's FIRST BOOK. Wood-engraved frontispiece and additional pictorial title-page, half-title. viii, 248 pp. Publisher's purple cloth, covers blocked in blind, spine gilt; spine faded, top of spine rubbed, with some foxing. Generally a Very Good copy. With the bookplates of Arthur Swann (Sale, Parke-Bernet, 22 March 1960, lot 6); Mildred Greenhill; and H. Bradley Martin (sold for $1300 in his sale in 1990). First edition of Alger's FIRST BOOK. Wood-engraved frontispiece and additional pictorial title-page, half-title. viii, 248 pp.
Alger's first book, published in his 24th year. It is a compilation of sentimental stories and poems, most of which had appeared previously in periodicals. Alger, the son of a unitarian minister was born in Chelsea, Ma. and attended Harvard. He became a prolific author, specialising in rags-to-riches tales.
Offered by James Cummins, Bookseller.
---
Collectors of Horatio Alger Jr. focus naturally on the first editions of his books from the late 1800s, but also seek out the magazines in which they were originally serialized. The cheap reprints published in the early part of the Twentieth Century are relatively common and inexpensive, but are popular for their vivid covers. Sought-after highlights include his first book of poems and short fiction, Bertha's Christmas Vision: An Autumn Sheaf (1856) and first editions of Ragged Dick (1868).
Browse books by Horatio Alger, Jr.
---
Featured items:
The Western Boy; or, The Road to Success (First Edition)
by Horatio Alger, Jr.
[New York: G.W. Carleton & Co, 1878]. First Edition. Hardcover. First serialized in the New York Weekly, June 30 through September 15, 1873. Publisher taken from advertisement facing title page. "The imprint of the American News Co. on the spine is a mystery, for it is evident that Carleton published the book through an arrangement with Street & Smith" (BENNETT 192). Octavo (18.5cm.); original brown pictorial cloth embossed in black, decorative spine in black and gilt with the mysterious "American News Co." at spine foot; 258pp.; illus. title page. Spine a bit cocked, shallow losses to ends; additional rubbing to extremities; soiling to textblock throughout. About Very Good.
Offered by Lorne Bair Rare Books.
Ben Bruce; or, Only a Bowery Newsboy (Alger Series No. 79)
by Horatio Alger, Jr.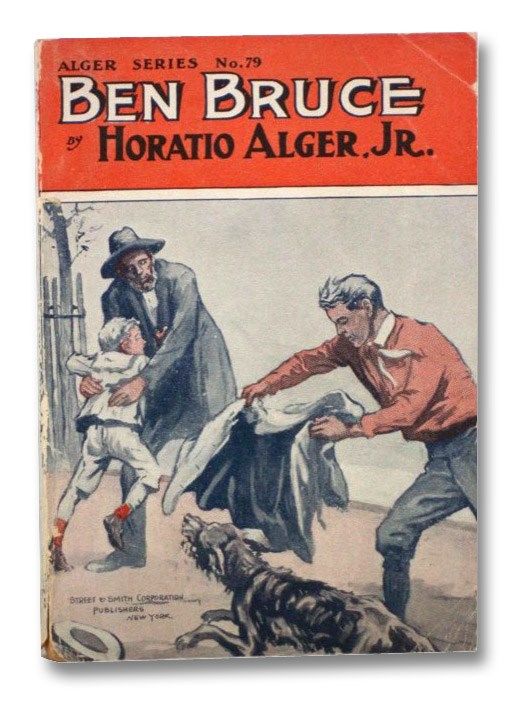 Street & Smith Corporation Publishers, 1919. Trade Paperback. Good. 1919 printing (Bennett p. 187). Two 1 inch tears to spine based, front corners lightly creased, pages toned. We have more books available by this author!. 288 pp. A young adult novel by the author of numerous 'rag to riches' stories in the late 19th and early 20th centuries. Many of Alger's works were released in pulp paperback editions from 1900 to 1926.
Offered by Yesterday's Muse.
PAUL PRESCOTTS CHARGE. A Story for Boys
by Horatio Alger, Jr.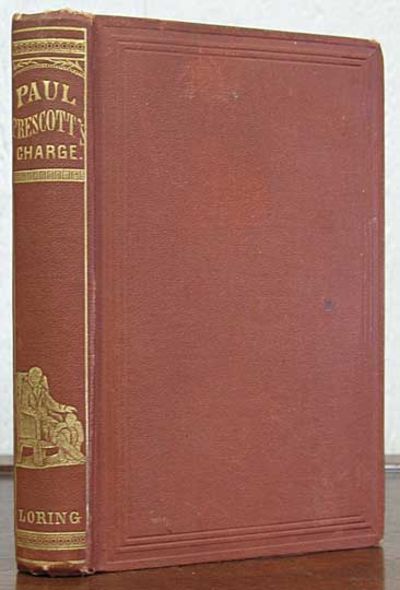 Boston: Loring, Publisher, 1865. 1st book edition (Bennett 135). Originally published as a serial in the New York Sun, "The Gipsy Nurse; or Marked for Life.". Publisher's terra-cotta cloth binding with gilt stamped spine lettering & decorations. Pale yellow eps. Spine gilt bright. Slight lean. Light extremity wear, with one tip just showing board. Period pos to ffep. Withal, a pleasing VG+ copy.. 224, [2 (blank)] pp. Frontis. Inserted plate, p. 174. 12mo. 7-1/16" x 4-3/8."
Offered by Tavistock Books.
by Horatio Alger, Jr.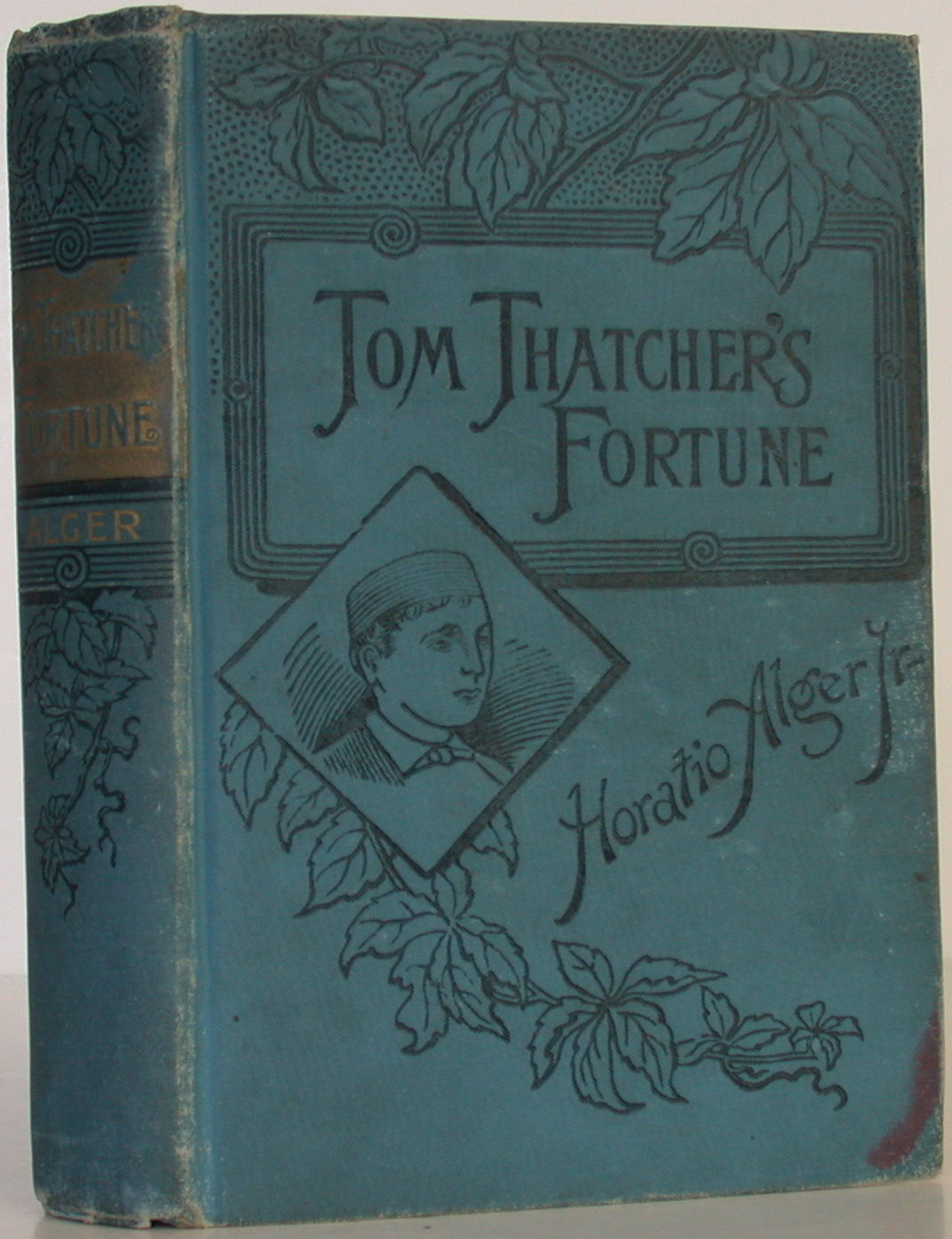 A. L. Burt, 1888. First hardcover edition, very good in decorated blue cloth. Comes in a custom-made collector's slipcase. Very rare in this condition. Closed tear in front free endpaper.. 1st Edition. Hardcover. Very Good.
Offered by Bookbid.
Only an Irish Boy or Andy Burke's Fortunes
by Horatio Alger, Jr.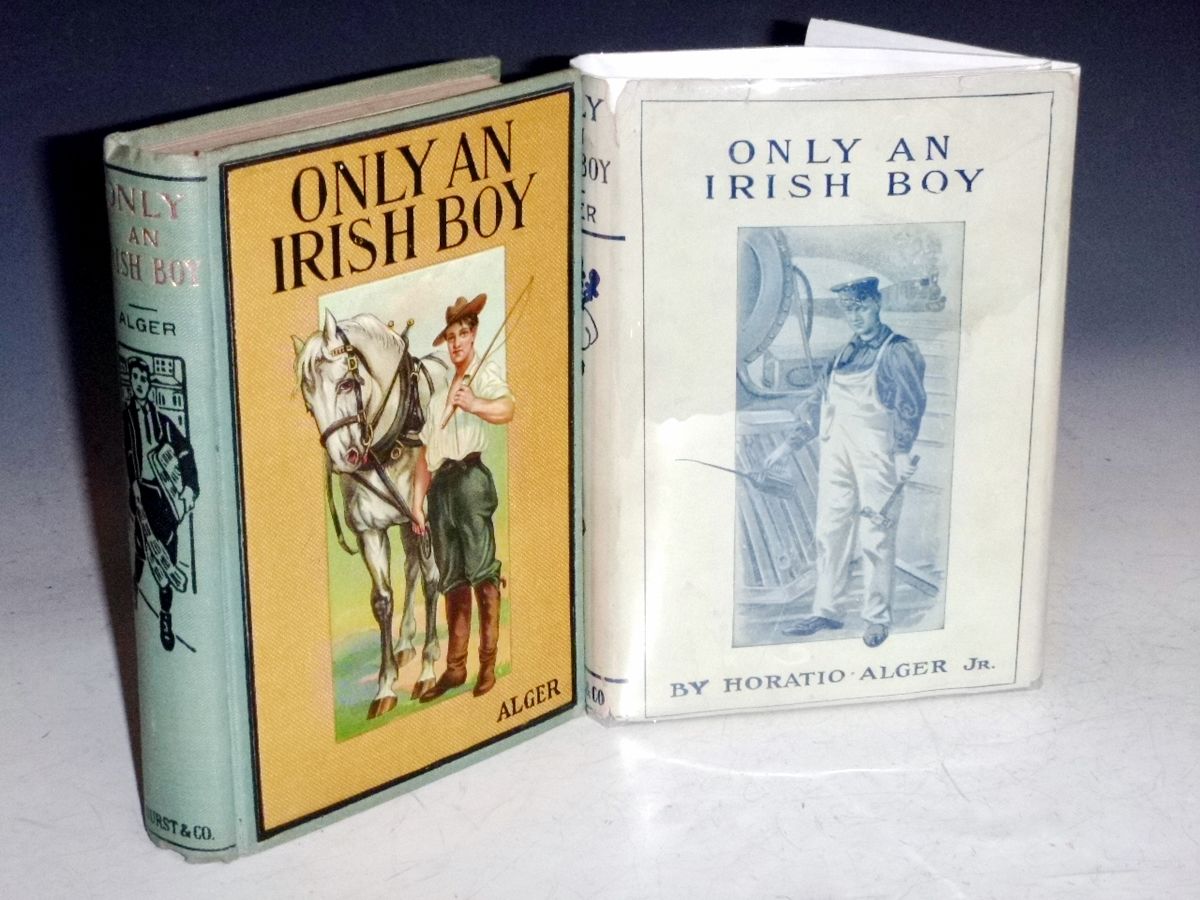 New York, Nd(ca.1900): Hurst and Blackett. Octavo. 254 pages. Not only does this copy have a nice dust jacket but also represents one of the most interesting of Alger's works. This was one of the few Alger books where the protagonist who was a non-Anglo that had the heroic will to make the rags-to-riches success story. Bound in a light blue-green color pictorial cloth depicting Andy Burke and his horse, lettering in black pictorial spine in black, lettering gilt, page 141 has crease, a very good copy in very good pictorial dust jacket lettered and decorated in blue-gray, a few chips to spine and corners.
Offered by Alcuin Autographs.
The Young Miner; or, Tom Nelson in California
by Horatio Alger, Jr. (Introduction by John Seelye)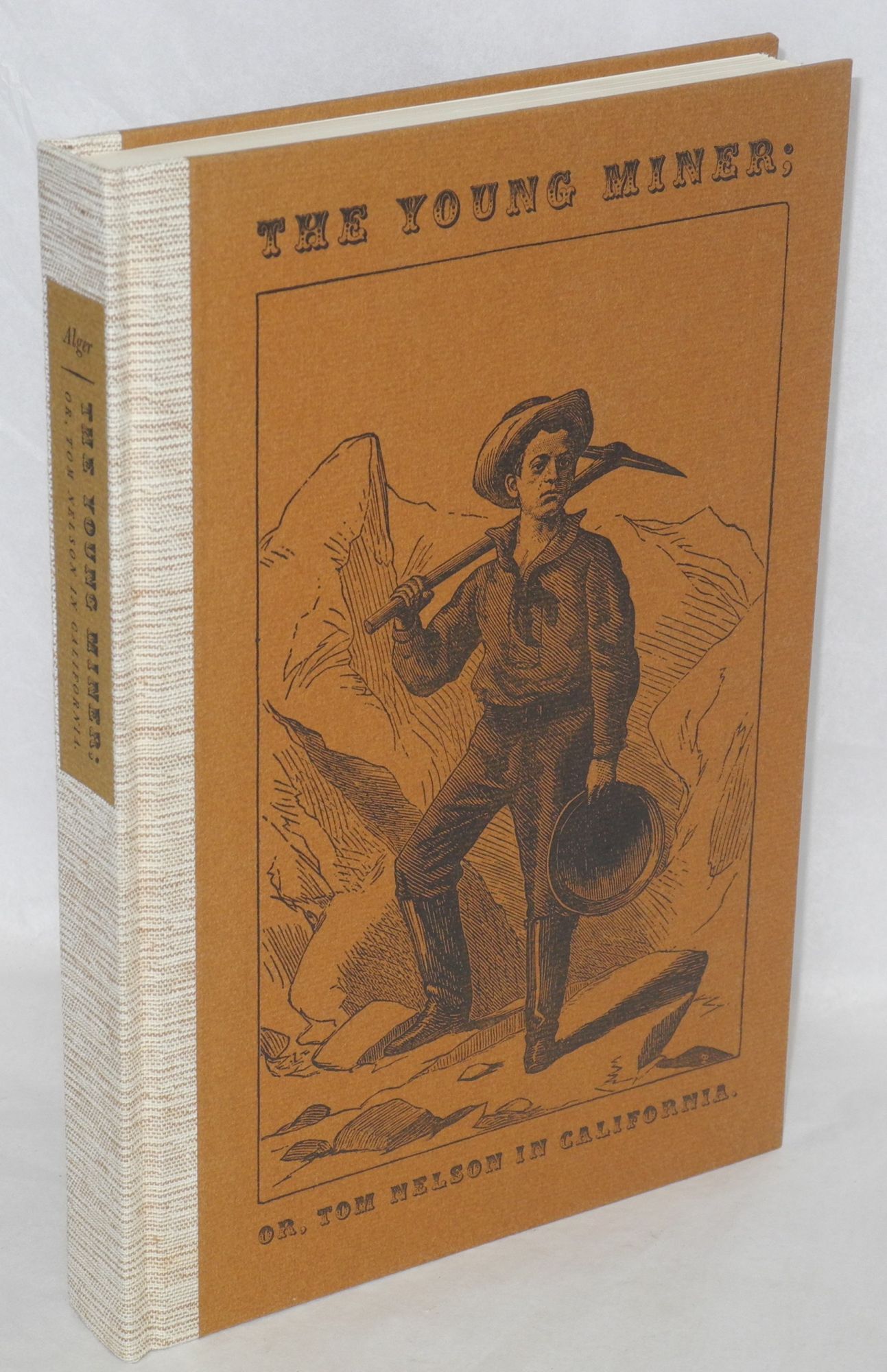 San Francisco: Printed by Adrian Wilson at his Press in Tuscany Alley, San Francisco for the Book Club of California, 1965. Hardcover. xxi, 187p., frontispiece, introduction, bibliographical note, illustrated with reproductions of vintage engravings, very good first edition limited to 450 copies, heavy quarter-cloth backing, illustrated tan paper boards, brown paper title label on spine.
Offered by Bolerium Books.
Strong and Steady; or, Paddle Your Own Canoe (Luck and Pluck Series)
by Horatio Alger, Jr.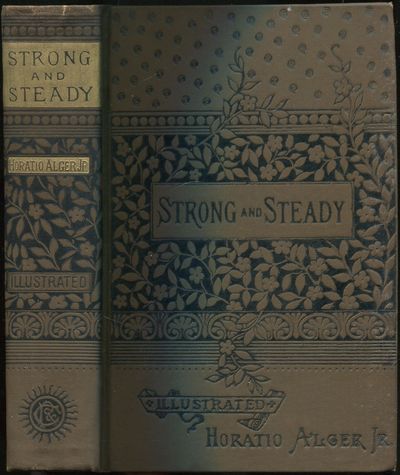 Philadelphia: Porter and Coates, 1871. Hardcover. Very Good. Early printing. Illustrated by Kinnersley, Humphreys. Decorative brown cloth stamped in black and gilt. Contemporary owner's gift inscription on blank preliminary, foxing on preliminary pages and illustrations, gutter cracked, small worm hole on the foredges of the last forty pages, spine cocked, still a very good copy. Volume three only in the "Luck and Pluck Series."
Offered by Between the Covers Rare Books.
From Farm Boy to Senator; Being the History of the Boyhood and Manhood of Daniel Webster
by Horatio Alger, Jr.
J.S. Ogilvie & Co.. Hardcover. New York, 1882. 8vo, 310 pp., publisher's pictorial cloth. A good copy with front hinge starting, else very good with normal wear. Remains usable and attractive. Good. 1882. First Edition.
Offered by Auger Down Books.
---