Meet the latest members of the Antiquarian Booksellers' Association of America.
New Members
Lillian Fraker, Savoy Books (Lanesboro, MA)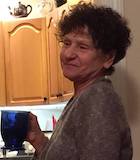 Lillian Fraker was born in New York, grew up in Westchester County and met her husband-to-be, Robert Fraker in college. In 1971 they settled in a rural town in Massachusetts' Berkshires where they started Savoy Books, later moving home and business to Lanesboro, Mass. They kept a general stock of pre-1900 books and paper, specializing in antiquarian horticulture/agriculture, and 19th-century American popular music, and putting together various quirky subject collections -- history of Shorthand, American education, etc.

Savoy Books joined the ABAA under Robert Fraker's name in 1974, exhibiting in every Boston ABAA book fair since then, and in the 1970s and '80s participating in a few New York and California fairs. When Robert died in 2017, Lillian Fraker applied for ABAA membership under her own name. She still has a medium-sized stock of antiquarian books, pamphlets, broadsides, graphics and other ephemera for sale and is happy to be able to continue her 45-year connection with the ABAA community.

Elena Gallego, Elena Gallego Rare Books (San Antonio, TX)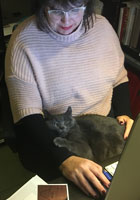 Elena Gallego Rare Books LLC operates from its offices in Madrid and Texas and aims to get professionals, collectors, and lovers of unique artworks closer to the exciting world of the rare books and manuscripts. They specialise in Spanish books, Central and Latin America, and México. Their dedicated and professional team will be happy to share unique pieces for your enjoyment and help you with any question your may have. Their activities started in Spain -- focusing first in the Spanish market -- but given the significant growth of their international customer base, are expanding activities in Europe and USA.
Adrienne Kitts, Austin Abbey Rare Books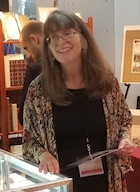 Adrienne Horowitz Kitts started Austin Abbey Rare Books in 2014, and after attending CABS in 2015, began exhibiting at book fairs and selling online. From an early age, she had been a reader and book collector, and in college began collecting revolutionary Americana – now one of her specialties – after some incredibly interesting courses in American history. Twenty years ago, Adrienne saw her first late 19th-century decorated cloth binding and was completely smitten. She became fascinated with the power of book design and how it could affect a reader's perception of a story or narrative. This study holds such fascination that she has named her business for Edwin Austin Abbey, the first American artist designer of book covers to receive wide-spread acclaim for his work.
Adrienne's twenty years as a research scientist and science writer/editor gave her the passion to look beneath the surface to find truth; she continues to use this passion everyday to determine the physical history as well as the literary and artistic truth in the books, manuscripts, and ephemera she sells.
John M. Leger, Le Bookiniste (Hopewell, NJ)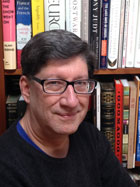 John Leger became a bookseller in 2014 after working for more than three decades as an editor and reporter for The Wall Street Journal. His specialties are poetry, art, theatre, and radicalism, although he occasionally dabbles in Modern Firsts and French literature. The company name, Le Bookiniste, is an Anglicized spelling of bouquiniste: someone who sells books from a green box along the Seine in Paris. While John does not sell from a green box, you can find Le Bookiniste online at www.lebookiniste.com and at book fairs on the East Coast (and in California in 2020). John has opened a retail space devoted to books on art and antiques in Hopewell, New Jersey, a 20-minute drive from the Princeton University campus.
Other new full members:
David Johnson, Pryor-Johnson Rare Books (New York, NY)
Marc Younger, Aleph-Bet Books Inc. (Pound Ridge, NY)
Reinstatement
Robert Gavora, Robert Gavora, Fine and Rare Books (Talent, OR)
Robert Gavora became a member of the ABAA in the late 1980s, and remained one until last year, when he resigned intending to, in his words, "slow down." The life of an antiquarian bookseller is not so easily abandoned, however, and he has now been reinstated as an active member of the ABAA. In 2011, Robert recorded this interview with Taylor Bowie:
Associate Members
Eric Albritton, Ed's Editions (West Columbia, SC)
Eric Albritton is 39 years old and has been a bookseller for approximately 12 of those years. Before joining his father in the book trade, Eric was the Program Director for a foreign exchange organization in China, living there for several years before deciding to return home. Born in Gainesville FL, he now calls Columbia, South Carolina home. Although selling books wasn't the original plan for Eric's life, it has now become his career and he enjoys it every-day. In his spare time, Eric like to cook, camp, and travel --and especially enjoys book-scouting while traveling. Becoming an associate member of ABAA has been something Eric has looked forward to doing for years, and he feels very honored to have finally reached this goal.
Susan Knott, John W. Knott, Jr., Bookseller (Laurel, MD)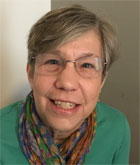 In 2017, Susan Knott retired from teaching high school full time, where she spent the last 15 years teaching video production. Over the years Susan assisted her husband, John Knott, on a regular basis in various areas of the book business, including working the booth at numerous ABAA and local book fairs, packing and shipping books, jacketing books, and various marketing efforts (such as preparing catalogs and creating promotional materials). In 2017, Susan attended CABS, where she was able to focus on learning about areas of the book business that she had not been involved with before, such as cataloging and purchasing books. Since her retirement, Susan has been able to work with John on a full time basis and is pleased to get to know many members of the ABAA.
Madison Rootenberg Schwartz, B & L Rootenberg Rare Books & Manuscripts (Sherman Oaks, CA)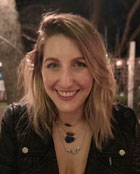 Madison Rootenberg Schwartz is a proud third generation book dealer for Rootenberg Rare Books and Manuscripts. Born and raised in Los Angeles, she now lives in Durham, NC, and is the east coast branch of the business. Having grown up running around the aisles of Antiquarian Book Fairs, Madison says it feels like a home-coming to be a full-time book dealer. Her personal collection (since she was 7 years old) is books on unicorns, and at this point Madison has over 100 works spanning from the sixteenth century to the twentieth, which she plans to write a bibliography on. Madison is also an animal rights advocate and has two rescued dogs that she her husband spoil. Madison's intention is to introduce the younger generations to the fantastic world of book collecting, and continue her search for books on the natural history of mythical creatures.
Other new associate members:
Joe Fay, William Reese Co. (New Haven, CT)